This post is sponsored by Fountain
For me, weeknight dinners need to be quick and easy. My afternoons are usually busy with running the kids to after school sports and activities, helping them with their homework or finishing household chores. When I'm having one of these busy afternoons (I have them a lot), I normally have little desire to be in the kitchen cooking gourmet meals. I much prefer to cook something that can be quickly thrown together, but still tastes good. A stir-fry is a perfect example, and what I like about a stir-fry is that you can usually just use up any vegetables you have in the fridge that are about to spoil.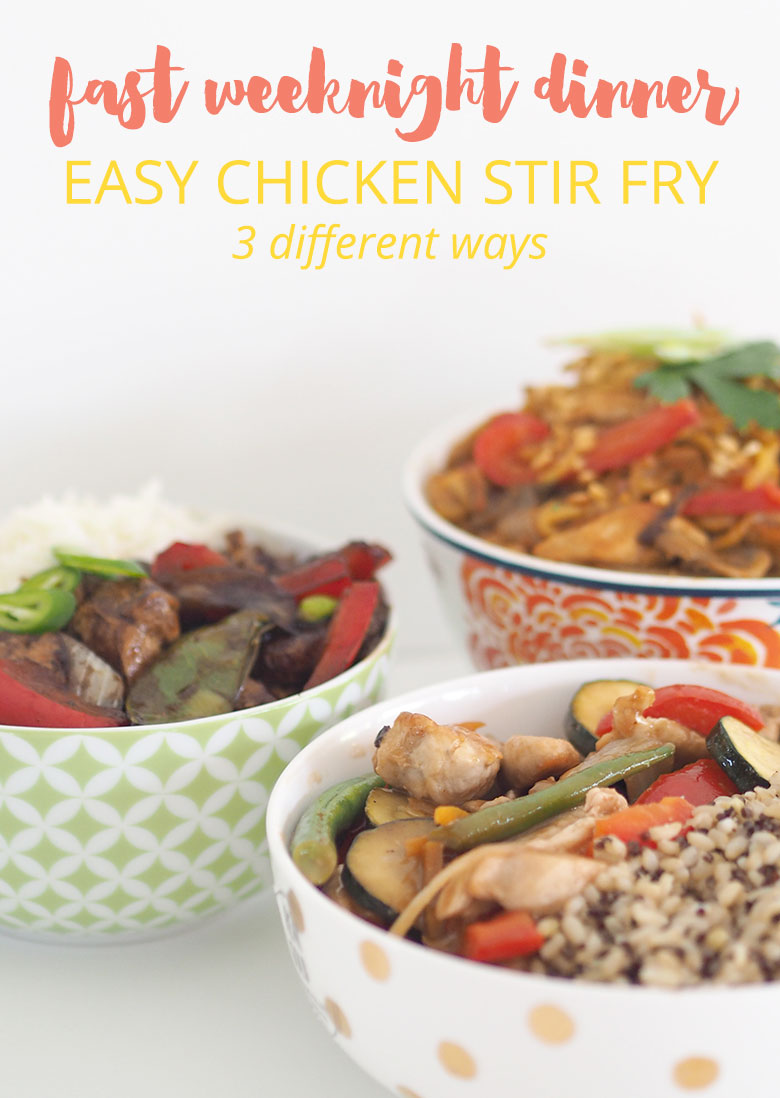 Stir-fries are one of those easy basic dishes, a little bit of this and a little bit of that.  It's a versatile meal, ideal for families, couples or if single, make up a big batch to have for leftovers the next day (lunch or dinner), or freeze so you have serves on hand for another night. I've shared below my very simple step by step guide to this easy weeknight dinner – Chicken Stir-Fry 3 different ways.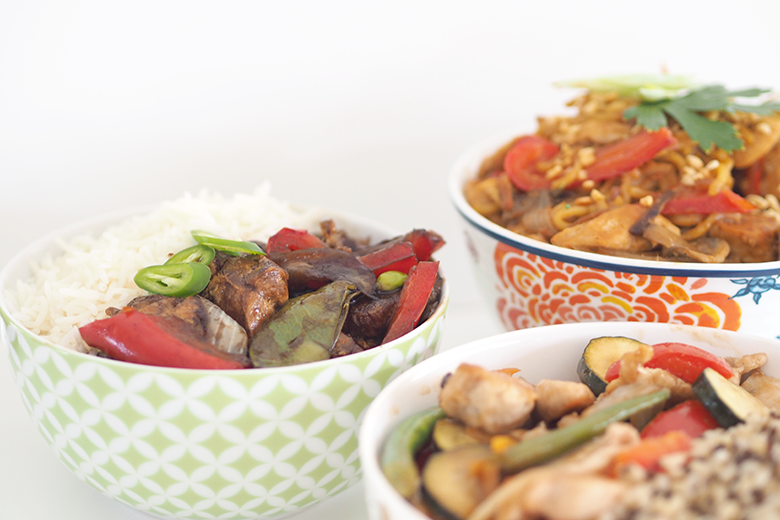 THE PAN
I use a wok pan on my stovetop. However, you can very easily create stir-fries in a deep frypan too.  Heat the pan up, so it's nice and hot!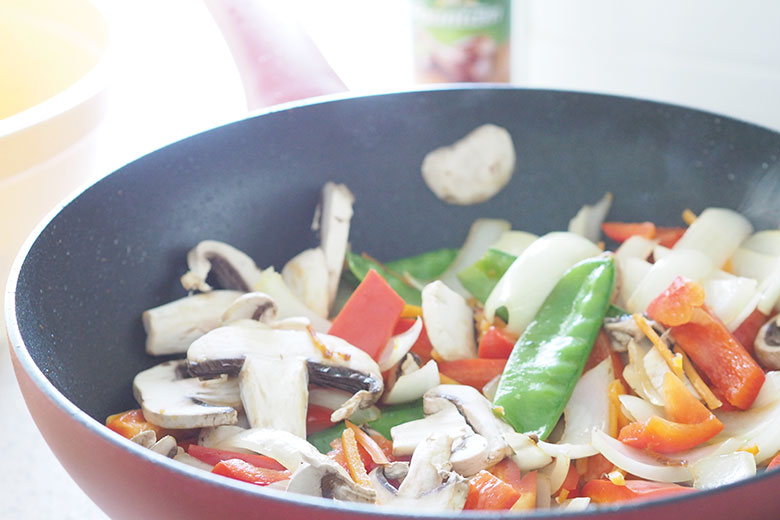 START MAKING YOUR SIDE DISH
There is a great variety of sides that can accompany a stir-fry:
White Rice
Brown Rice
Hokkien Noodles
Rice Noodles
Bread
Start making your side to allow it to cook while you are preparing the stir-fry. I like to use shelf fresh noodles (hokkien or rice noodles) when I'm in a hurry, as they only need to sit for a few minutes in boiling water and then stirred through the stir-fry, they will be ready in less time than it takes to brown the chicken!
CHOOSE SAUCE FLAVOUR
Recent studies have proven that most Australians want flavour in their food, but consider themselves too time poor to experiment. You can use your own homemade sauce (which I often do). However, I like shortcuts and also often use premade sauces in my weeknight meals as they are easy to use and are full of various flavours and spices, which equals minimum effort, win, win!
Fountain has recently given their sauce packaging a makeover. They're still the same sauces you love, but with a fresh new look! This trusted Australian brand has been loved for generations in my family; I still remember my Nan placing Fountain Tomato Sauce on the table for every meal when I was a child – sweet memories.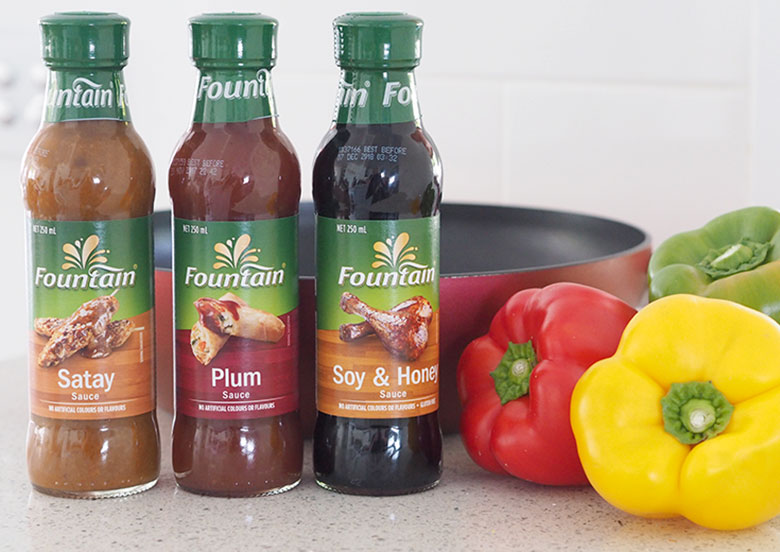 One may think that a 'sauce' is for dipping…. no, it can be used for so much more, including as a marinade, finishing sauce or recipe base. For stir-fries, you can use it as the key ingredient to tie all the flavours together. I keep bottles of Fountain's Plum, Soy & Honey, and Satay Sauce in my pantry. You may not need the whole jar depending on the amount of meat and vegetables you add, just keep the leftovers in the fridge to use at a later time. They already contain garlic and spices, so it really is a great weeknight meal idea for busy mums, giving you the option to bring a different flavour to the table every time.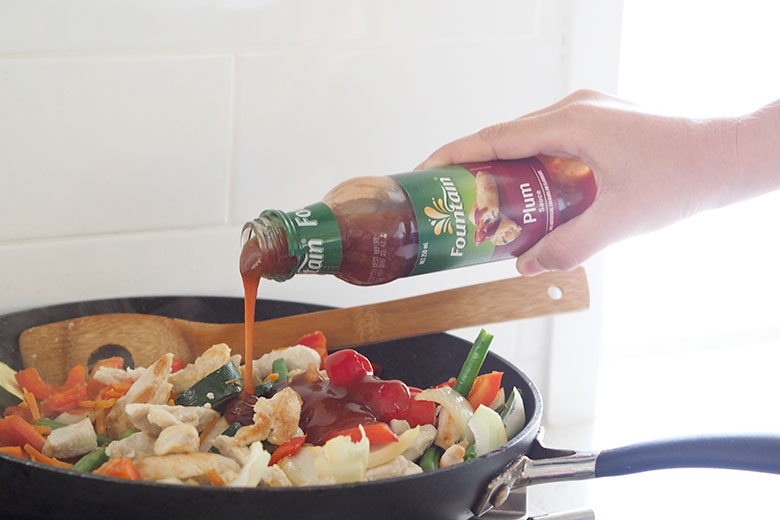 The best thing about Fountain's variety of sauces is that they make cooking and meal planning simple and stress-free, as they have a range of flavours available to suit all tastes without the need for countless ingredients and hours spent in the kitchen. With their wide variety of flavours in the range, it will help satisfy even the pickiest of eaters.
Fountain variety sauce range can be purchased from Woolworths, Coles and selected independent grocers.
BE PREPARED
Stir-fries are very fast to cook, so it's important that you prepare and chop up all your vegetables before you start.  I like to slice mine up into manageable bite-sized pieces.
BROWN THE MEAT
Thinly slice your meat into similar sized long strips.  Any protein can be used in a stir-fry, I have given examples below of this one basic stir-fry recipe 3 ways using chicken; however you can use:
Chicken
Beef
Lamb
Pork
Fish
or no protein at all
You need to heat your pan to the highest temperature. Add a tablespoon of oil. When the oil has heated through, add half of your meat and cook until browned.  Once brown, remove it from the pan and repeat with remaining protein. Doing this in two steps will help prevent the meat from juicing up and poaching which won't brown. Remove protein from the pan. The protein does not need to be thoroughly cooked, it will continue cooking later.
I use 500-750g of protein for my growing family of 5.
ADD VEGETABLES
The beauty of stir-fries is that you can add whatever vegetables you have in the fridge. I usually use any of the following:
Brown onion
Red capsicum
Mushrooms
Carrot
Beans
Zucchini
Cabbage
Cauliflower
Snap peas
If needed, drizzle a little more oil onto the pan to prevent the vegetables from sticking.  Some vegetables take longer than others to cook. i.e thick cut carrots, so add these first to ensure they are cooked through. However, to save time, slice carrots thinly so they can be cooked with all vegetables.
I use approximately 3-4 cups of vegetables to serve 5.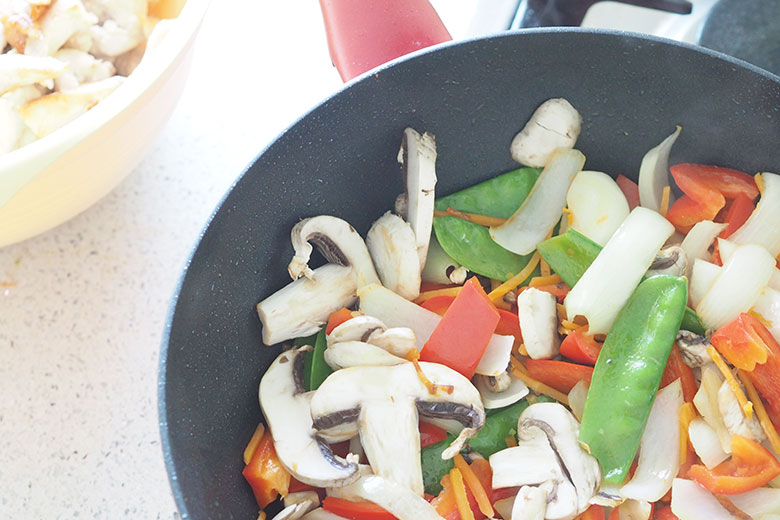 COMBINE ALL INGREDIENTS
Add protein and your desired sauce into the pan, toss to combine and continue cooking until sauce has heated, approximately 3-5 minutes. This will be enough time for the protein to cook through completely.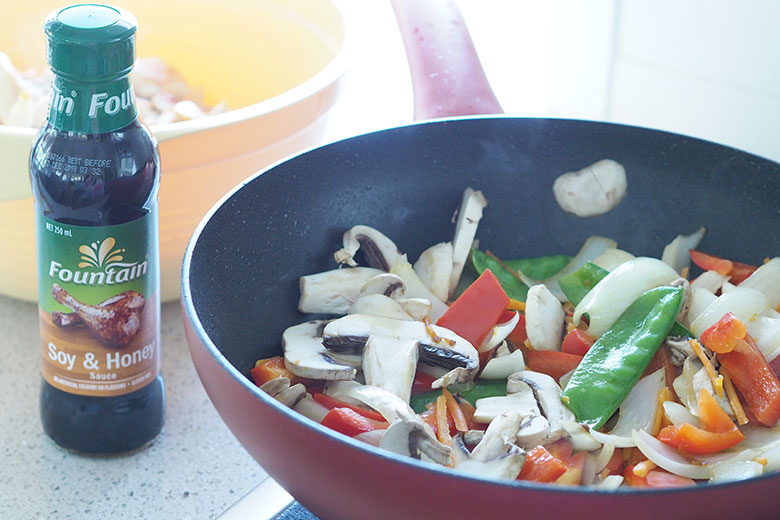 Then serve with your side.  There you have it as simple as that!
CHICKEN STIR-FRY 3 DIFFERENT WAYS
SATAY CHICKEN WITH HOKKIEN NOODLES – 500g Chicken, 3 cups vegetables – onion, red capsicum, carrot, broccoli, mushrooms, Hokkien Noodles and 1 bottle of Fountain Satay Sauce.  Fill empty sauce bottle half way, shake and empty into pan, this will thin the sauce and help give the noodles a lovely coating. Add noodles (cooked following packet directions) to pan, stir to combine. Serve.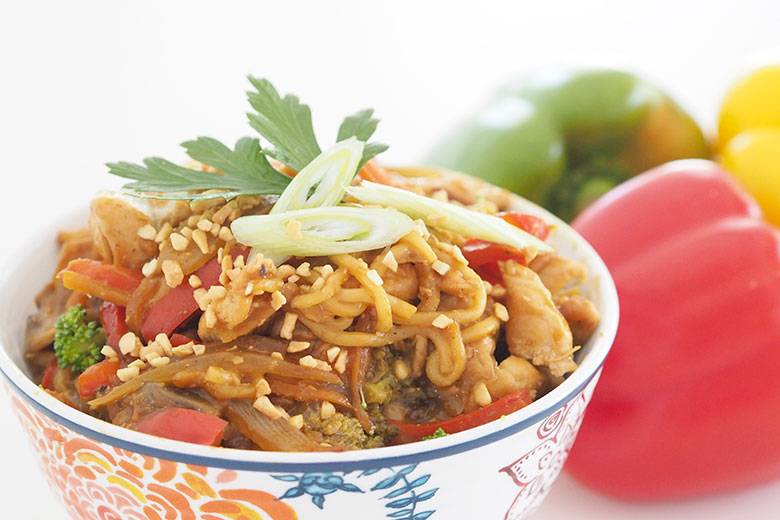 SOY & HONEY CHICKEN WITH RICE – 500g Chicken, 4 cups vegetables – onion, red capsicum, carrot, snow peas, mushrooms, White Rice and 1/4-1/2 bottle Fountain Soy & Honey Sauce.  Add an amount of sauce to suit your taste, as this is a strong flavour and coats the meat and vegetables well.  Serve with rice. Put the remaining sauce in the fridge.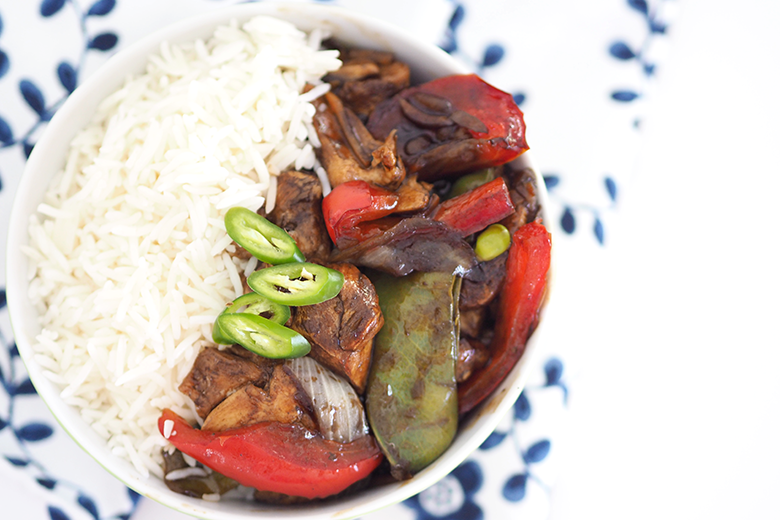 PLUM CHICKEN WITH BROWN RICE AND QUINOA –500g Chicken, 3 cups vegetables – onion, red capsicum, carrot, zucchini, beans and 1 bottle of Fountain Plum Sauce.  Serve with 90-second Mixed Brown Rice and Quinoa.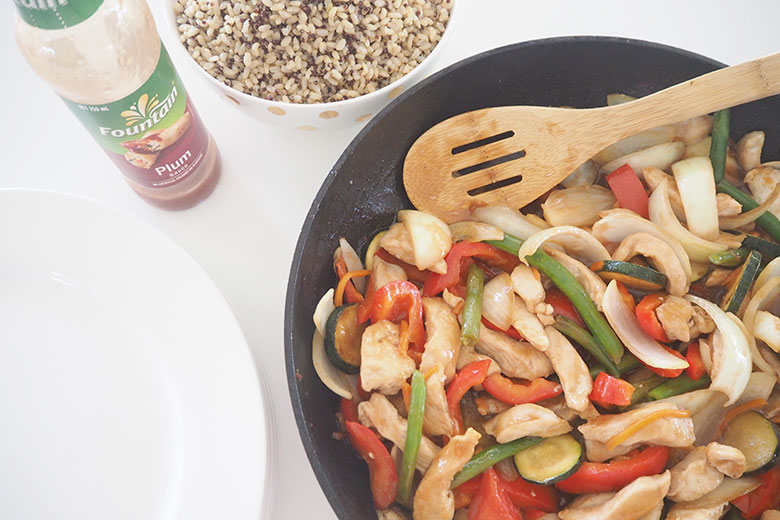 What is your best shortcut to make weeknight meals faster?
This post is run in accordance with my disclosure policy.