Make the groundhog task of the weekly grocery shop and quick and easy process.
Do you have a system in place for your weekly grocery shopping and meal planning? I find if I organise everything, starting with meal planning to writing down my shopping list, doing the grocery shopping, washing and chopping up of all the food and keeping it all organised in the fridge, my weeknights are less stressful and I can enjoy my evenings with my family.
1. Meal Planning
I start with meal planning and writing out my dinners on a meal planner for all the family to see. Saves them asking every day 'what's for dinner'.  I use the Magnetic Weekly Meal Planner.  You can find more about meal planning here along with some meal ideas. I love meal planning for a few reasons, I like to balance out the protein for the week, saves me buying extra at the grocery shop and on those evenings that I know I'm going to be busy I can plan a simple meal.
2. Shopping list
Then if you like to go to the grocery store write out a shopping list based on the meals you have planned for the week. Our shopping lists are grouped into sections to make it easier when you're at the store and not going back and forth between the aisles. This may also help you to not go off track and buy things you don't need.
3. Grocery shopping 
I do my shopping online with either pick up or delivery from our local Woolworths (find some of our coupon codes to help you save at checkout here) , I love it, saves me so much time. I began online grocery shopping about two years ago, and I don't think I will ever go back to shopping in store! It saves me so much time, and I find it saves me money which is better for my grocery budget. I have actually got the whole process down to quite a fine art so it's very quick and easy for me.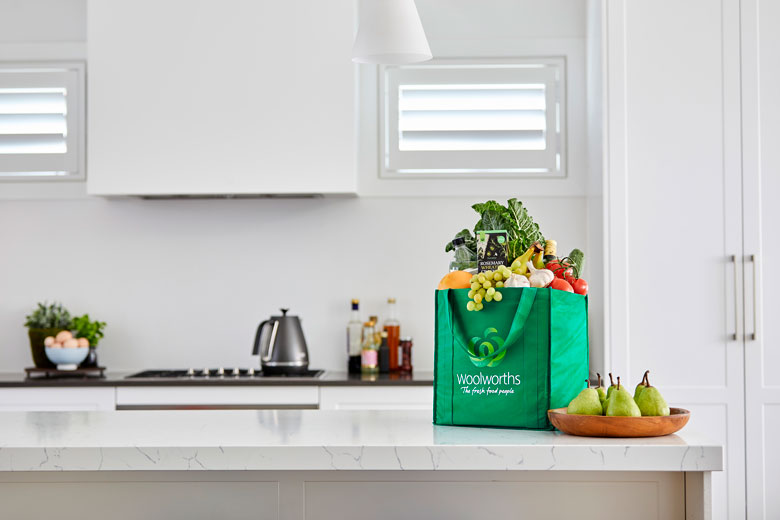 4. WASH FRUIT AND VEGETABLES
Then when the groceries come home, I wash and chop up all fruit and vegetables. I find this helps for those busy evenings to make cooking dinner quicker and having all the fruit washed and chopped promotes healthier snacking. 
5. Organise Fridge
An organised fridge helps prevent food wastage and makes it easier to find what you need when during food preparation and cooking. I love the turntables at the top of the fridge maximise the space and makes sure that items don't get lost. 
How to organise your fridge so that you can maximise its space and utility. An organised fridge helps prevent food wastage and makes it easier to find what you need when during food preparation and cooking. Continue Reading