Yesterday I shared with you my Breakfast Fruit Biscuit recipe which I like to have on hand for before school snacks, for those mornings the kids go to school extra early and want to eat something before they start school. I want to share with you these new Mini Snack Lunchboxes that I have been using for snacks for the kids early mornings.  They are great for me too, I have been packing myself a healthy snack along with the kid's school lunches to have at my desk, there is no excuse to not snack healthy.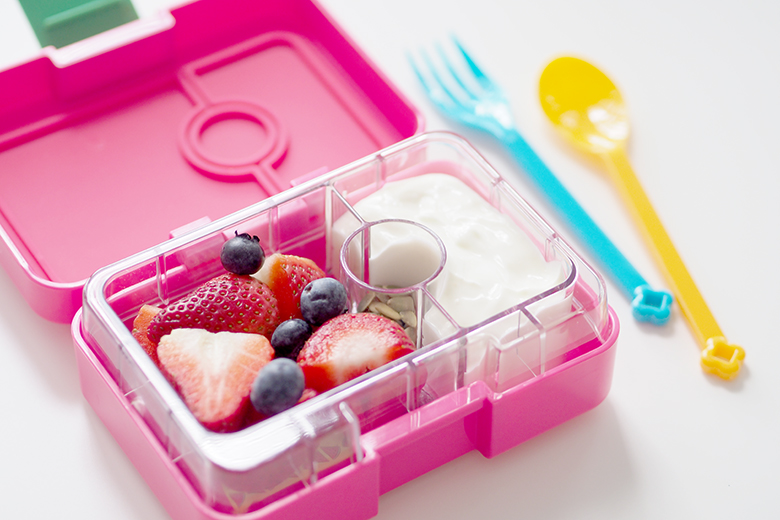 Fork and spoon available online. They come in a pack of 10 each, with 5 different colours in each packet.  
Like the larger Yumbox these Yumbox MiniSnack are leakproof. The Yumbox's unique single lid seals all food compartments individually so everything stays in its place. So you can pack wet foods like watermelon, yoghurt, dips. It's not recommended to put in liquids like water, soups or watery dressings or oily vinaigrettes into the Yumbox MiniSnack as they may leak into other compartments.
Great tip: One trick that can help keep vinaigrettes in place is to dress the salad and top it with a few croutons. The croutons will absorb excess oil/liquid and keep the vinaigrette from seeping into a neighboring compartment.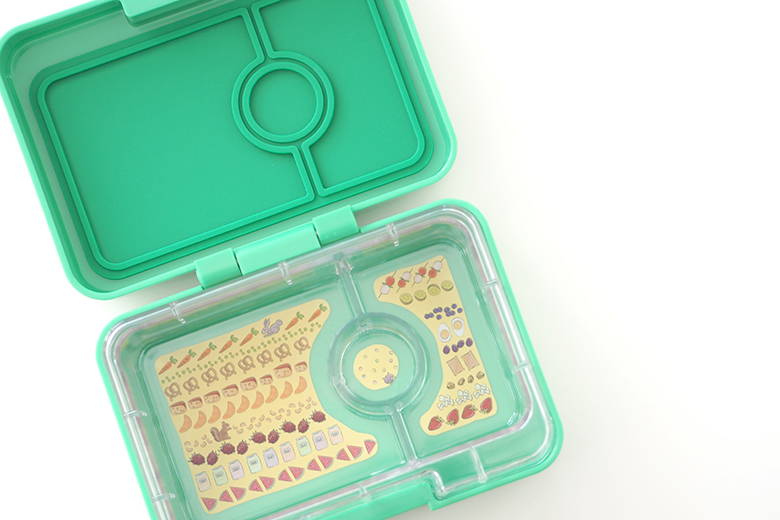 They are the perfect little size for morning tea, before and/or after school snacks, school, kindy, work or as I do pack healthy snacks for home, which is great for portion control.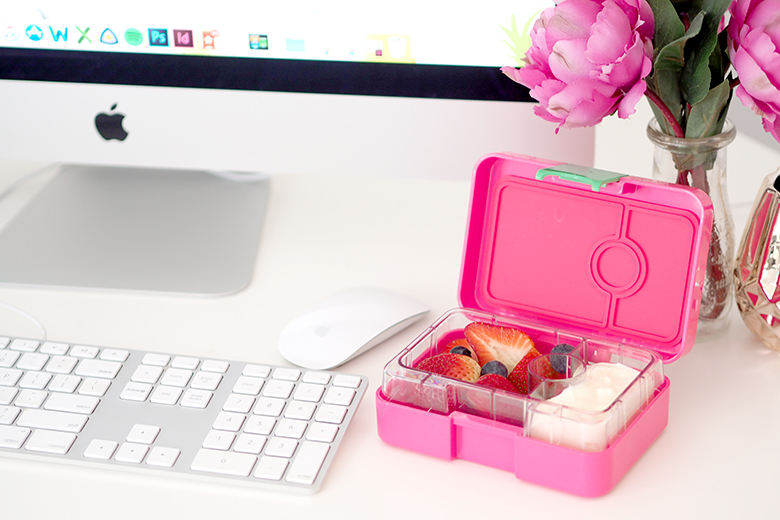 It has a 3 compartment food tray for a selection of foods. Some serving ideas could be:
Yoghurt and fruit
Cheese, crackers and fruit
Crackers, dip and vegetables sticks
vegetable sticks and salsa
Custard and fruit
Yoghurt, muesli and fruit
vegetables and chicken
salad and meat
sausage rolls, tomato sauce and fruit
The large food well is 3/4 cup, smaller well 1/3 cup, plus a little dip well, which holds a good heaped tablespoon. I do suggest not putting crackers into the fridge overnight with the cheese, as they will go soggy.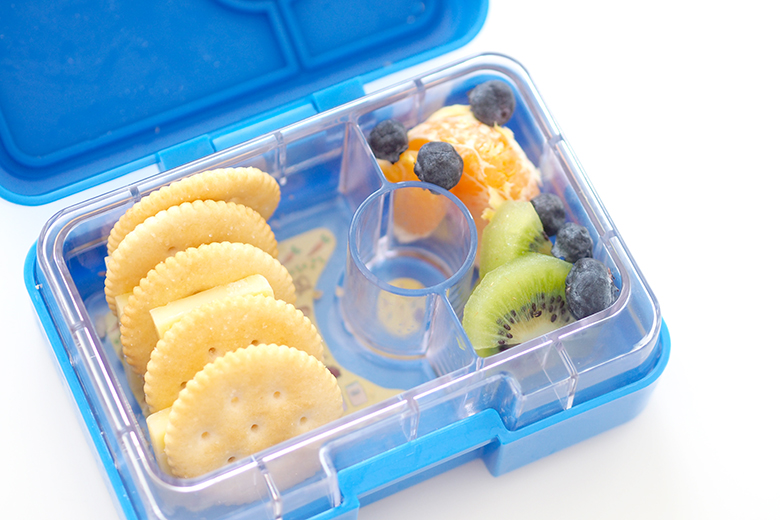 The Yumbox MiniSnack is easy to clean, the removable tray is dishwasher friendly (top rack only) however it's not recommended you put the outer shell in the dishwasher, I find it easy to just hand wash them.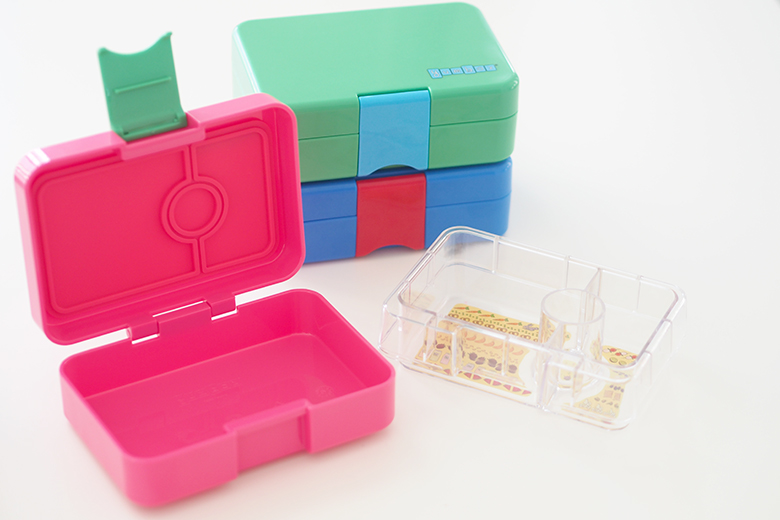 These Yumbox MiniSnacks are available in three colours
Cherie Pink
Ami Green
Ciel Blue
These snack boxes are 15cm (length) x 10cm (width) x 5cm (height) and they are BPA free and phthalates free. Made of food safe materials.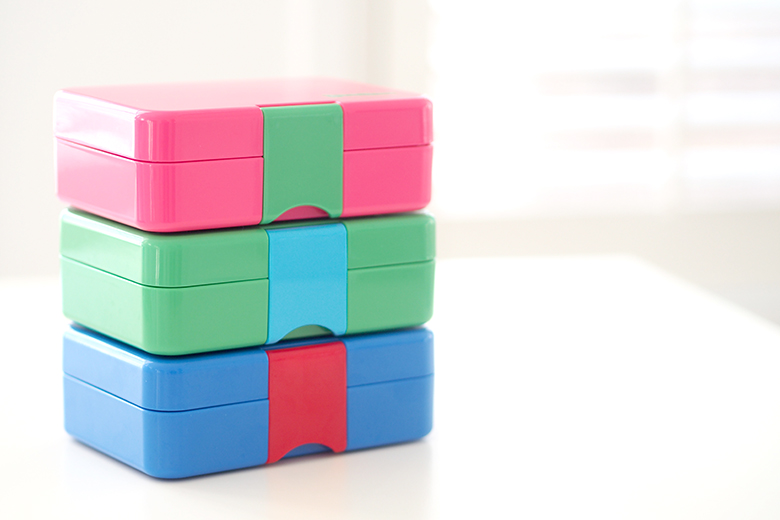 Note: this post contains affiliate links, purchases made through these links provide a small amount of commission to me (at absolutely no extra cost to you). Thank you for using the link and supporting The Organised Housewife.
What do you snack on at home before lunch?
---
You may like some of the recipes:
HOMEMADE HUMMUS – I often make up batches of homemade hummus to keep in the fridge. In my humble opinion, homemade is so much better than store brought, plus hummus is so quick and easy to make.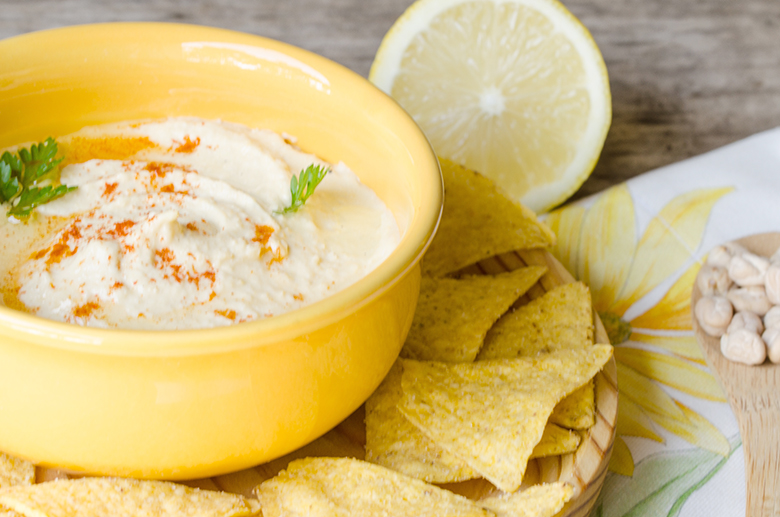 CHEESE & BACON MINI QUICHES – Mini Quiches are delightful snacks to have for parties, morning tea or food to put in kids lunchboxes. This is a super easy recipe. I usually make them up, freeze them and put into the kids lunchboxes frozen. They will be defrosted by lunchtime.