One of my kids favourite lunch box snacks for school and on weekends are Vegemite and Cheese Pasty Scrolls. Sometimes I do make them from scratch but when I don't have time I cheat. I have to thank my good friend Annaliese for introducing me to this super easy Vegemite and Cheese Pasty Scrolls recipe many years ago.
I originally posted this recipe on 8th March 2012, I have updated it with new photos.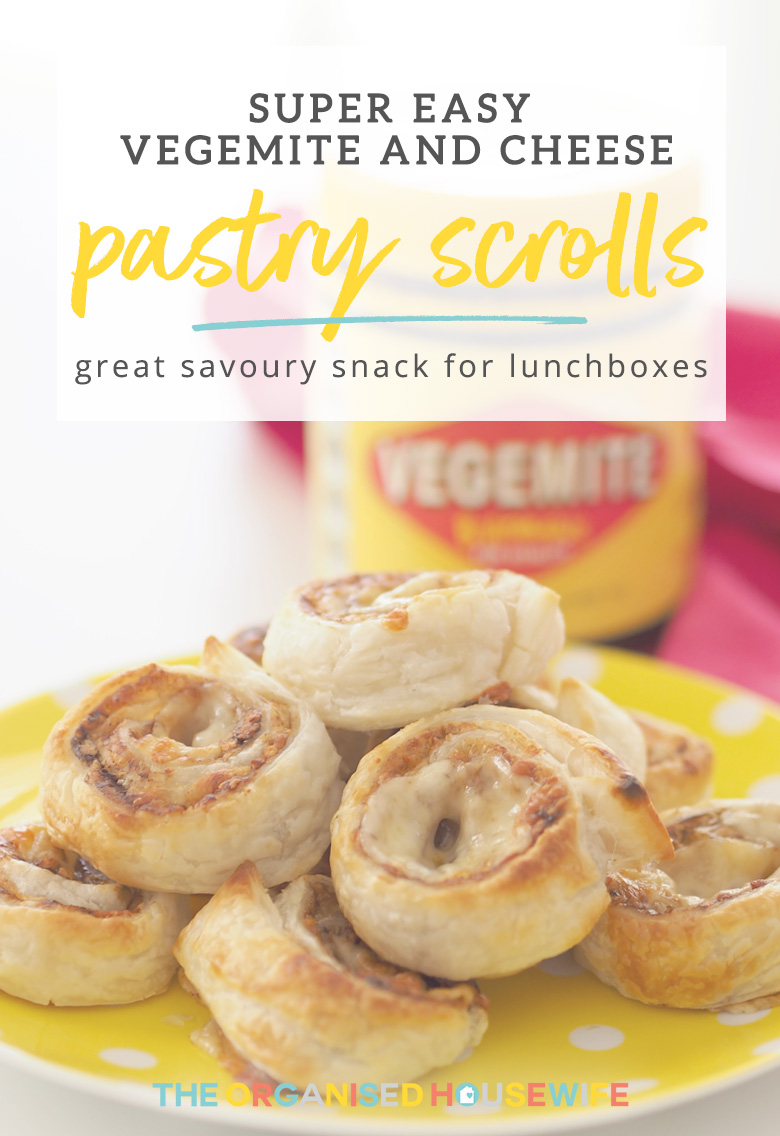 I am now into the routine of making the kids lunches the night before, so I whip up a batch of these while I am cooking dinner and put them in the lunchboxes ready for the next day.  When the kids were younger I used to make them in the morning to pop into their lunchbox for that day so they are a little fresher and crisp.
Preheat your oven to 220°C, fan forced. Thaw out your puff pastry. Then spread with vegemite.  The amount really depends on how much you like vegemite to how much you want to use, I light a medium-thick spread, which is about 1-1.5 tablespoons.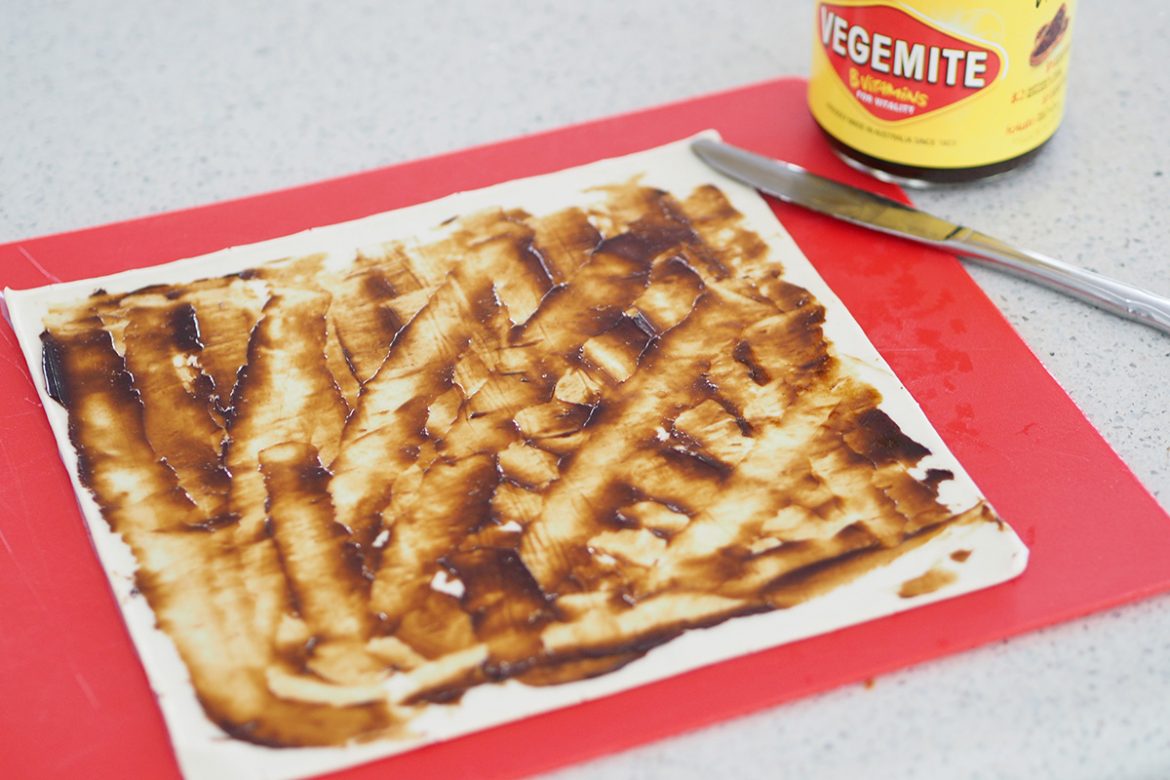 Then generously sprinkle with grated cheese.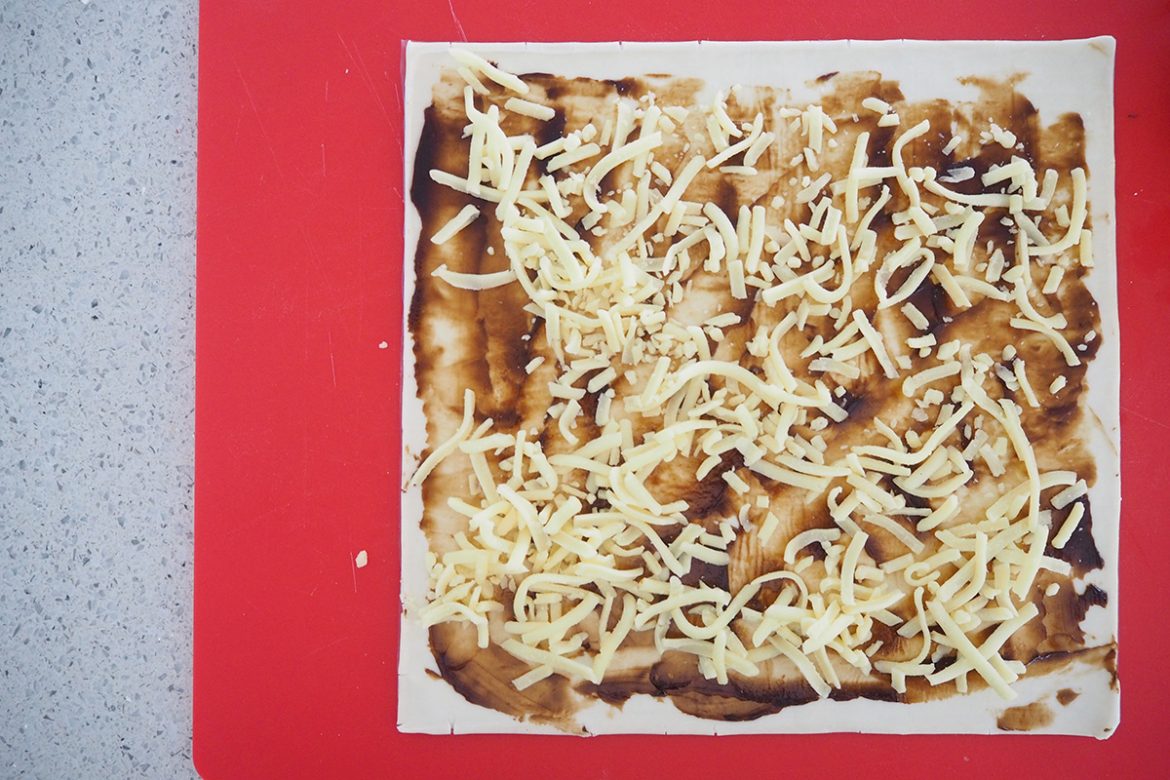 Roll the pastry up into a log.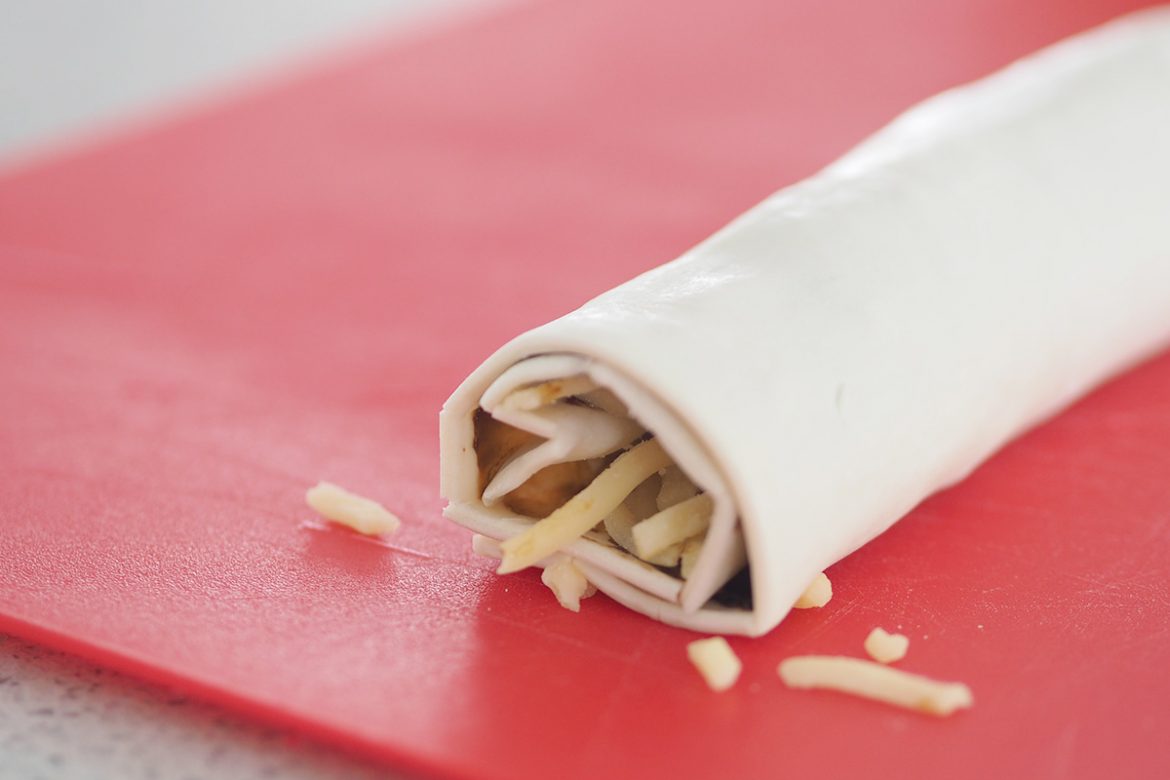 Slice into 1.5cm slices.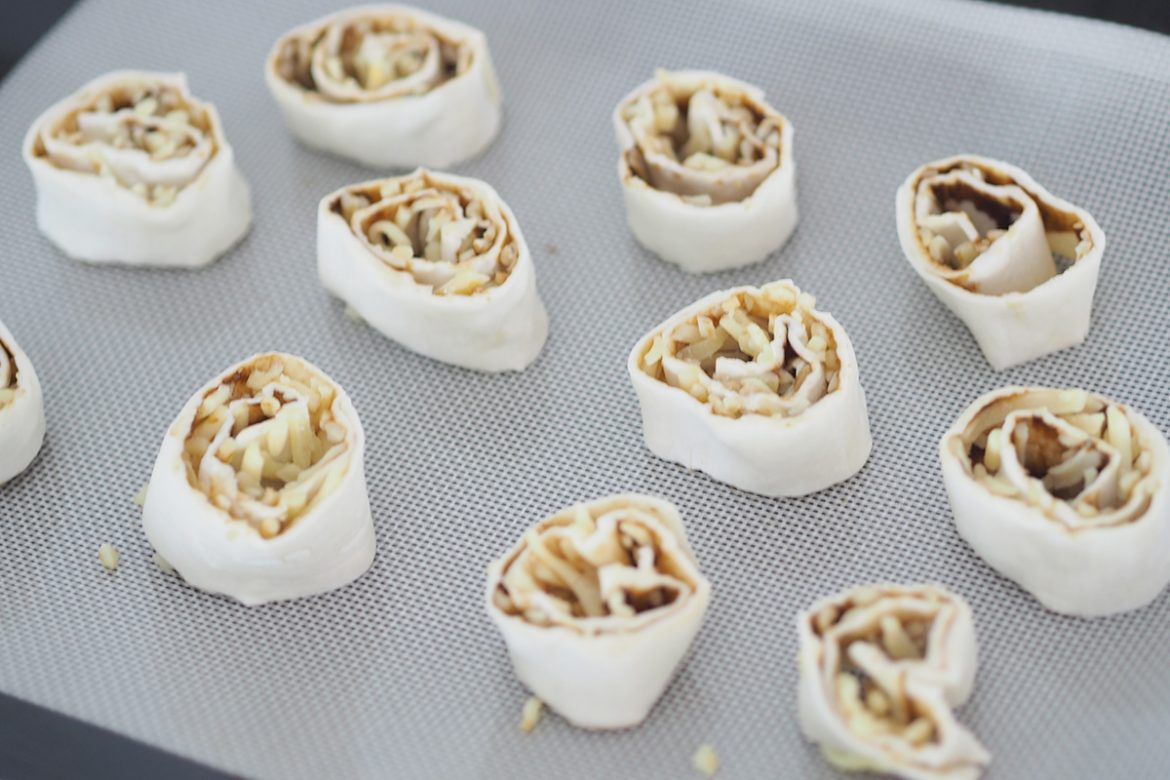 Bake in oven for 8-12 minutes.  These can cook quickly depending on how good your fan works in your oven.  I'd check on them at 8 minutes and again at 10, cook until they are golden. Allow to cool for 5-10 minutes before eating or putting in lunchboxes.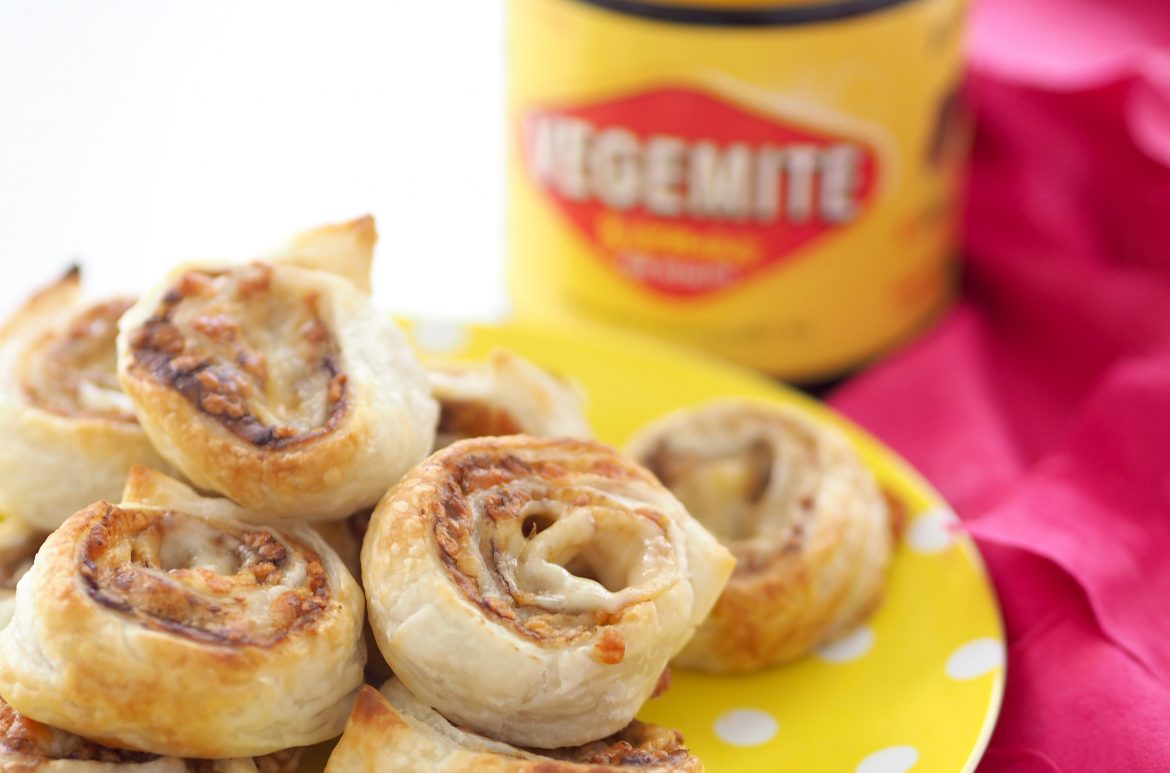 Super easy Vegemite and Cheese scrolls

| | | |
| --- | --- | --- |
| Prep Time | Cook Time | Total Time |
| 10 mins | 15 mins | 25 mins |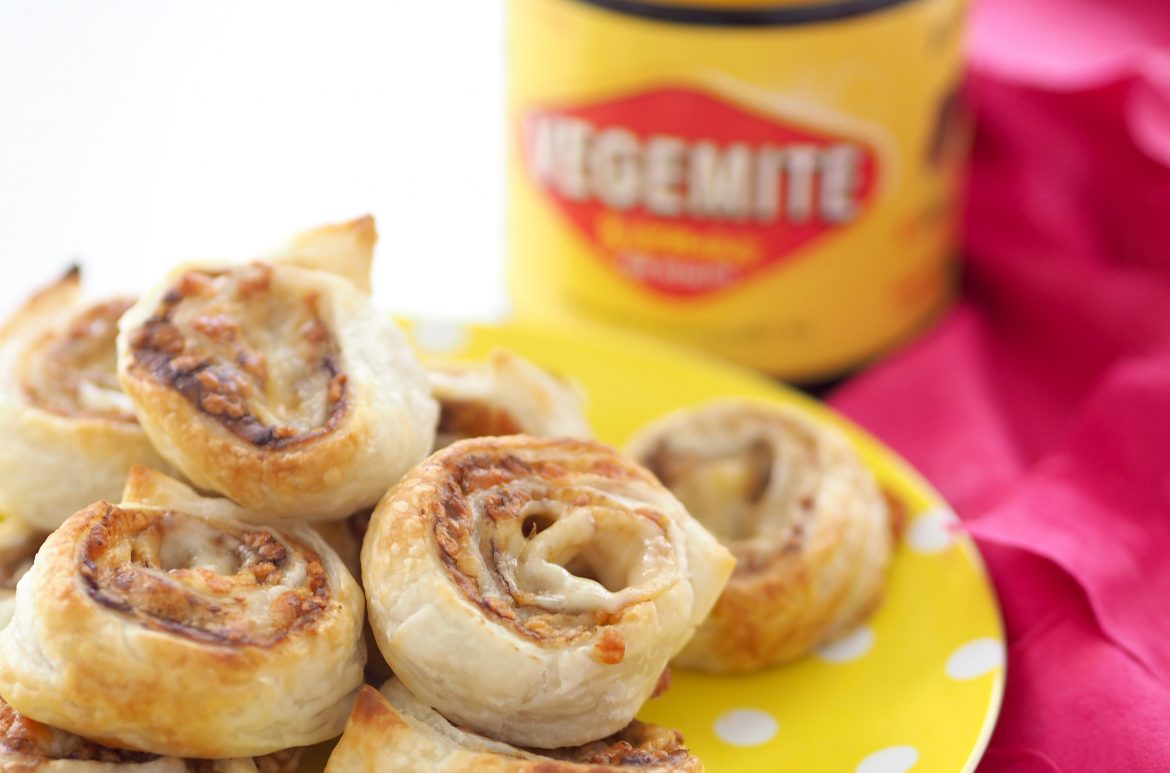 Ingredients
1 sheet puff pastry
1-2 tablespoons vegemite
1/2-3/4 cup grated cheese
Instructions
Preheat oven to 220°C, fan forced.
Allow pastry to thaw.
Once thawed, spread with vegemite.
Generously sprinkle with cheese.
Roll into a log.
Slice into 1.5cm pieces.
Place on a greased baking tray and cook in oven for 8-12 minutes, or until golden.
Allow to cool slightly before eating.
By Kat – The Organised Housewife
WHAT IS YOUR FAVOURITE QUICK AND EASY SAVOURY LUNCHBOX SNACK?
---
RECIPES YOU MAY ALSO LIKE…
SUPER EASY PIZZA SCROLLS – These super easy pizza scrolls are just that. They make for a great lazy weekend lunch, plate to share or lunch idea for the kids school lunch box. View recipe here.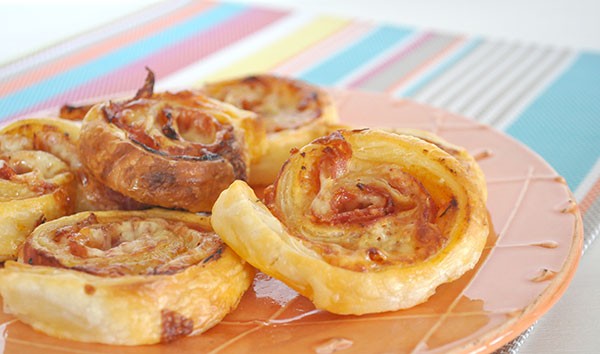 2 INGREDIENT LUNCHBOX SCROLLS – Only 2 ingredients needed to make these super easy scrolls. Quickly make the kids some scrolls for thier school lunchbox flavoured in so many different ways. View my recipe here.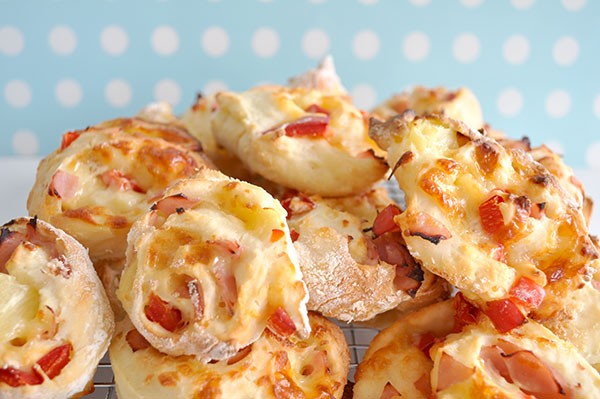 FRITTATA BITES – I really love my cheese and bacon mini quiche recipe, often making some and freezing for kids school lunch box. This frittata bites recipe would have to be one of my next favourites. I sometimes make these up for lunch over the weekend using up any vegetables or meat that are lingering in the fridge. View recipe here.