Heaps of sandwich filling ideas for kids school lunches. Find some lunchbox inspiration with over 100 sandwich filling suggestions.
The good old sandwich is lunchbox staple for a reason, it is quite fast to make and put together, and the bread is a perfect vehicle for all sorts of sandwich filling contents. I've put together a comprehensive list of sandwich filling ideas to help you with your lunchbox packing for back to school. If you're looking for ideas that aren't sandwiches have a look at my 20 non-sandwich lunch ideas.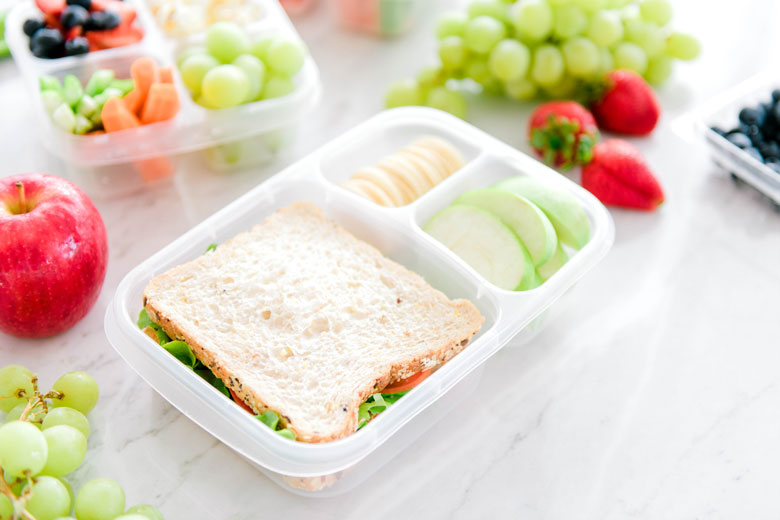 SPREADS
Peanut Butter
Vegemite
Honey
Marmite
Promite
Jam
Nutella
Biscoff or Biscuit Spread
Savoury Paste Spread – like Peck's Devilled Ham Paste
Spread Combinations
Peanut butter & honey
PB & J
Vegemite & Cheese
Honey & Banana
Vegemite & Lettuce
Apricot jam & sliced banana
Vegemite & avocado
Vegemite & honey
Peanut butter, grated carrot, sprouts and sultanas
Jam & cream cheese
Peanut butter & banana
Peanut butter, cheese, lettuce & sultanas
Egg
Egg & mayonnaise
Egg & lettuce
Egg, mayonaise & lettuce
Curried Egg
Curried Egg & lettuce
Egg salad
Egg, bacon & BBQ sauce
Egg BLT (bacon, lettuce & tomato)
Egg, cream cheese & rocket
HAM
Plain Ham (or with a sauce)
Ham and salad
Ham, cheese & tomato
Ham, cheese & mayonnaise
Leg ham, cheese & baby spinach
Ham, cheese & rhubarb relish
Ham, cheese & mustard
Ham, cucumber & Heksenkaas (Dutch cream cheese w/ garlic & leek)
Ham salad sandwich with cottage cheese
Ham off the bone, fresh tomato, salt & pepper on fresh white bread
Ham, cheese, tomato, crunchy lettuce, beetroot, salt & pepper
Ham & coleslaw
Ham, cream cheese, tomato, cucumber, spinach & avocado
Chicken and Turkey
Chicken, lettuce & mayonnaise
Chicken & salad
Chicken & avocado
Chicken, cheese & mayonaise
Chicken, cheese & lettuce
Chicken, cheese & avocado
Satay chicken & salad
Chicken, pesto & salad
Chicken, celery, mayonnaise & spring onion
Chicken, avocado, lettuce & mayonnaise
Chicken, salad with wholegrain mustard & lemon
Roast chicken & pasta salad
Roast chicken, apple, walnuts & mayonnaise
Chicken, BBQ sauce & cream cheese
Chicken loaf and grapes (this is a community member's favourite sandwich filling)
Chicken, mayonnaise & dill pickle
Chicken, grated carrot & lettuce
Chicken schnitzel, mayonnaise & lettuce
Chicken, aioli & lettuce
American style fried chicken
Chicken, cheese & pineapple (this is great toasted)
Chicken, greek yoghurt, grated cucumber & lime
Chicken & coleslaw
Turkey, salad and mayonaise
Turkey, cheese & cranberry sauce
Turkey, capsicum and avocado
Roast turkey, cheese, lettuce & cranberry sauce
Turkey, bacon, lettuce & tomato
Fish
Tuna & mayonnaise
Tuna, cheese & mayonnaise
Smoked salmon, cream cheese with salad leaves
Tuna, egg & mayonnaise
Fish fingers
Tuna, avocado & cheese
Salmon & avocado
Tuna, mayonnaise & lettuce
Tuna & salad
Tuna & coleslaw
To help you out with your Back to School Essentials, we have made Organised HQ a one stop shop to help you get organised and prepared the new school year or new school term. We have lunchboxes, drink bottles, lunch bags, checklists, school lunch ebooks, routine charts for the kids, all to help you get ahead with your organising and so much more.
Salad & Vegetarian
Salad sandwich
Salad, beetroot & cheese
Spiced mashed potato & sauce
Mung Beans & mayonnaise
Cucumber
Cucumber & mayonaise
Baked beans
Grated carrot, sultanas & cream cheese
Avocado feta smash
Carrot & hummus
Tinned spaghetti
Cucumber, carrot & cheese
Grilled capsicum & zucchini with cheese & sauce
Avocado & hummus
Coleslaw
Other Meat Fillings
Roast beef & mustard
Roast beef & salad
BLT (bacon, lettuce, tomato)
Corned Beef/Silverside, lettuce, cheese, tomato & mustard
Silverside, mayonnaise, red onion, tomato with salt & pepper
Sausage Sandwich with sauce
Devon or lunch meat & sauce
Salami, cheese & chilli mayonnaise
Pulled BBQ Beef & coleslaw
Pulled pork & coleslaw
Roast pork, salad & apple sauce
Roast pork, cheese & basil pesto (also great toasted)
Rissoles & sauce
Bacon, brie & cranberry sauce
Liverwurst
Spaghetti bolognese
pastrami, cheese, tomato & rocket
Cheese
Plain cheese
Cheese & corn relish
Cheese & mustard pickles
Cheese, tomato sauce & pizza topping herbs (also great toasted)
Cheese & beetroot
Cream cheese, diced celery & sultanas
Cheese & vegemite
Cream cheese & red pesto
Cheese & aioli
Cheese & cucumber
Cottage cheese & tomato
What is your favourite sandwich filling?