When my kids come grocery shopping with me, every time they 'try' and get me to add something I don't normally buy to the cart (I'm positive we all have that same issue!!).  There are some great products on the shelves that so appealing to the kids eyes, but typically most are full of sugar or so expensive.  One in particular my kids always ask for are the yoghurt pouches.  Yes the yoghurt inside is a healthy option, but as an individual serve they are so expensive.
As an alternative you can make your own using a reusable pouch.  There are so many different reusable pouches on the market these days, but I do like to use My Lil Pouch, as it's made by a mum of 4 here in South East Queensland.  Instead of buying pre-packed, processed and extremely long shelf life store pouches Sarah put her ideas into motion and created a pouch that is environmentally friendly, durable and reliable and made of a quality food-grade material free from BPA, PVC and Phthalate. It's ideal for a wide range of uses, is cheap to buy and can be used over and over again.
I usually purchase the cheapest 1kg tub of yoghurt, in this case this one was $3.60. I then fill the pouches, 1 tub would fill approximately 15 pouches.  Now the kids can have a portioned quantity of yoghurt ready for when they need a snack, or to add to their lunch boxes.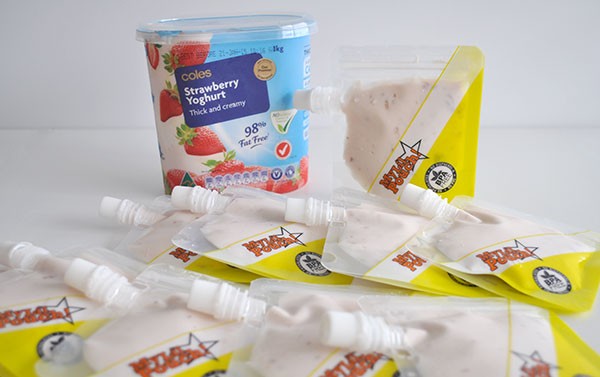 I push a hole into the top of the sealed yoghurt tub and squeeze out to yoghurt to fill the pouch.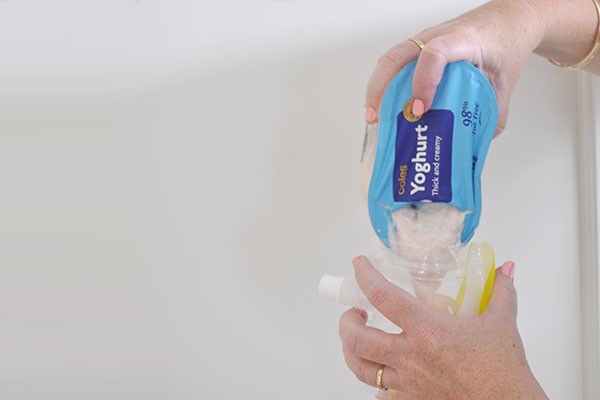 Reuseable Pouch Ideas
Why pouches and not small containers? I mix it up between them both, but find the kids like the novelty of the pouch every now and then.  Ideally these would be perfect for toddlers with loads of different options to fill:
fruit puree
vegetable puree
jelly
sorbet
custard/yogo
smoothies/milkshake
Milo Oat Buzzies!
This is a great recipe for the kids if they do sports before school starts or have breakfast on the go, a delicious oat, milk and milo pouch.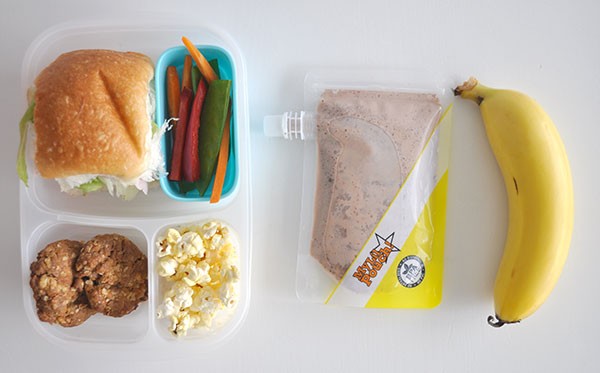 Print
Milo oat Buzzies!
Author:
Category:

[url href="https://theorganisedhousewife.com.au/category/lunchbox-ideas/" target="_blank"]Lunch box[/url], [url href="https://theorganisedhousewife.com.au/category/recipes/drinks-recipes/" target="_blank"]Drink[/url]
2 cups

of cooked oats

2 tablespoons

of Milo

2 tablespoons

of honey
Roughly

1/2 cup

milk
Instructions
Place all ingredients into a blender and process until well combined.
Pour into your pouch to fill line.
My Lil Pouches are available online here.
Do you have a favourite pouch recipe? Please share!!
Click here to view all other posts in our Back to School Series