A few weeks ago I wasn't feeling the greatest so my wonderful husband very sweetly let me sleep in and he got up and made the kids their lunches.  It was cold and miserable outside, he thought out of the square (or lunchbox in this case) and remembered I had some Thermos in the back of the cupboard, he pulled them out and made each of the kids some 2 minute noodles for lunch and put them in a thermos to keep warm.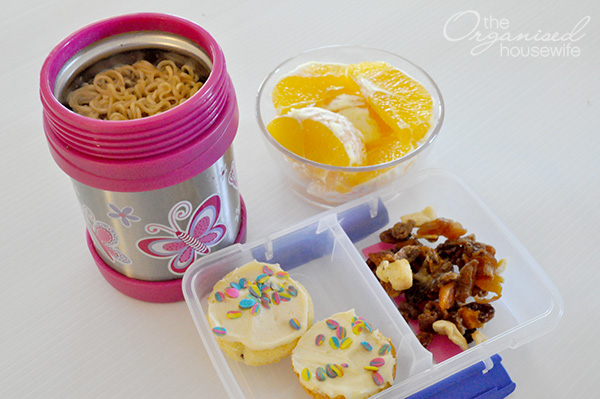 I purchased our Thermos a few years ago from Kmart, I am certain they still stock them, they weren't expensive at all, under $10 I am sure.
I was asked a few questions in regards to using the Thermos on facebook and instagram:
asked if I sell 'the organised husband' as a prototype in my shop… LOL
mentioned they had never thought of sending a hot lunch
offered their suggestions of contents for a Thermos lunch (find them below)
only one or two people picked on the 'not so healthy' aspect of this lunch.  I strive to make my kids lunches as healthy as possible, but this one day that I was unwell, hubby took it upon himself to make the lunches, I think the gesture far outweighed one unhealthy lunchbox for the week.
Does the Thermos keep the noodles hot?  Yes it certainly did.  Hubby kept the water in the noodles (I would have removed the water), non of the kids complained it was soggy nor cold and both asked if they could have it again.
Is the Thermos leak proof?  Yes the one that I purchased certainly is, the lid screws on making it liquid tight.
How to use a Thermos for school lunches
Warm up thermos by filling it with boiling water and allow to sit for 10 minutes, empty water.

Fill Thermos with hot contents (eg, hot noodles)
Secure lid tight, place in lunch bag and remember to include a spoon/fork.
Ideas to include for hot school lunches
chicken soup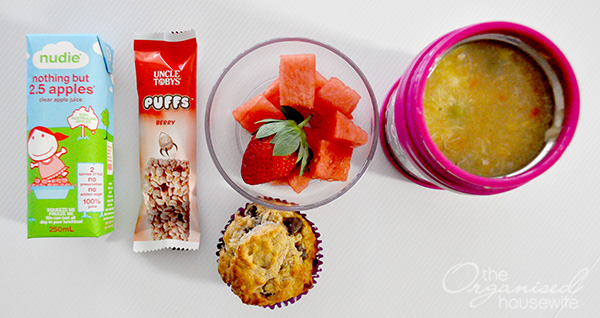 left overs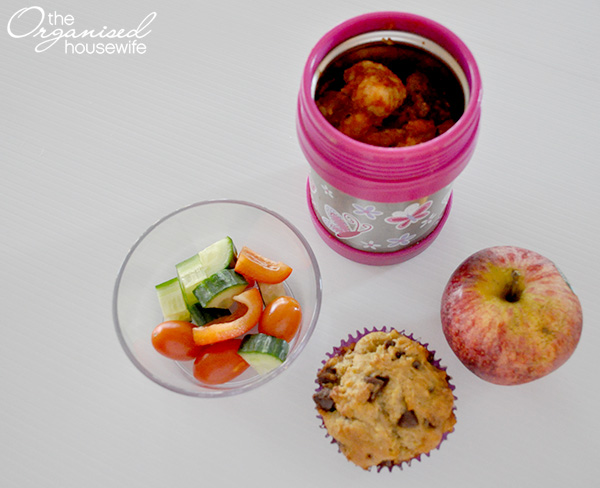 Fried Rice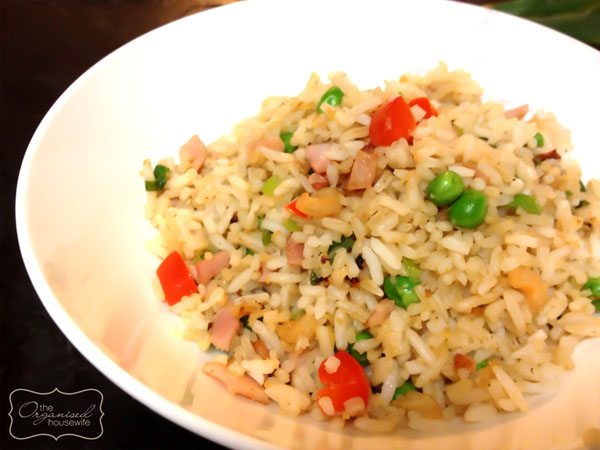 Thank you to all the readers that shared their ideas for hot school lunches, I love how this community can share awesome ideas.
Homemade Fried Rice (shown above)
Homemade soup, my kids favourite is chicken & corn chowder
Spaghetti Bolognese, make it different and use chicken
Stir fries
Ravioli
2 minute noodles
Baked beans
Chow mein
Tinned spaghetti
Left over dinner
Pasta
Cheerios
Meatballs
macaroni and cheese
Do you pack hot lunches for your kids?  What are their favourite hot lunches?

Where you can buy a Thermos
In store at Kmart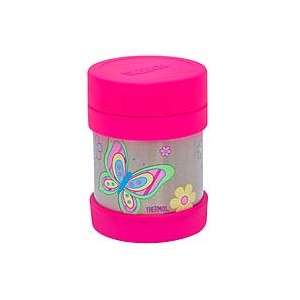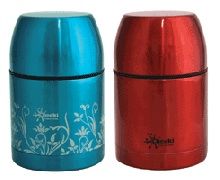 Nic-Nac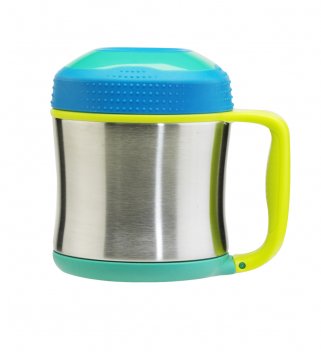 Living Eco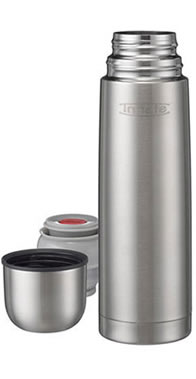 Not Another Baby Shop