This post is sponsored by Sunbites
My kids are growing fast, the twins are both taller than me now, but we won't talk about that I am still in denial.  As they are growing they are asking for more food in their lunchbox.  However I don't want to fill their lunchbox with the wrong food.  I try to stick to a few simple guidelines, this also makes it easier for me when shopping for the week to get the right foods.
My Lunchbox food guidelines
Fruit
Baking
Fruit and/or vegetable
Snack
Sandwich, wrap or salad
Fruit & vegetables
I pack two pieces of fruit in the kids lunch boxes as they have a fruit break during their first session of school.  I also include a piece of fruit to have with their morning tea or lunch, their choice.  I pack most fruits – grapes, kiwifruit, strawberries, apples (read here how to stop apples from going brown), rockmelon, mandarin etc. I put oranges, watermelon (the really juicy fruits) in a container of their own to keep the juice contained. I also include a mixture of vegetable items like cucumber, carrot, capsicum, tomato and cheese cubes for something different.
Baking
I love to bake and always have something ready for school lunches in the freezer. I freeze baking as I rarely have time to bake fresh muffins, slices or biscuits through the week.  I spend a few hours in the kitchen every 2nd weekend and bake lunchbox treats and then freeze them.  I place the baked item frozen into the lunch boxes, they are always defrosted by morning tea time.  I have recently started making the kids a variety of 'balls' for their lunches.
Snacks
This is usually what we call something with crunch or texture, a filler for the lunchbox.  After the kids have had their morning tea or lunch they are still a little peckish, this snack is usually items like, popcorn, rice crackers, grainwaves, pretzels, soy crisps etc.
HOMEMADE SNACK IDEAS: I like to keep a good supply of homemade baked biscuits, muffins etc in my freezer.  I place them frozen in the kids lunchboxes, and they are always defrosted by morning tea time. Here are some of my favourites:
Breakfast Fruit Biscuits
and find my 50+ Freezer Friendly Lunch Box Ideas to help you fill your freezer!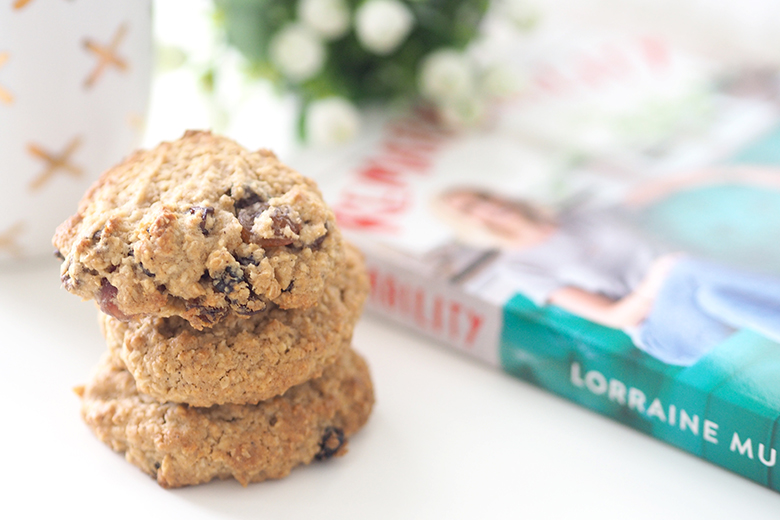 STORE BOUGHT SNACK IDEAS: We have really enjoyed Sunbites Grainwaves for many years now, we love the sour cream and chives variety they are so hard to stop eating as they are so good!  The added benefit to the Grainwaves is they are a better option to the regular potato chips as they contain 30% less fat and are 60% wholegrain.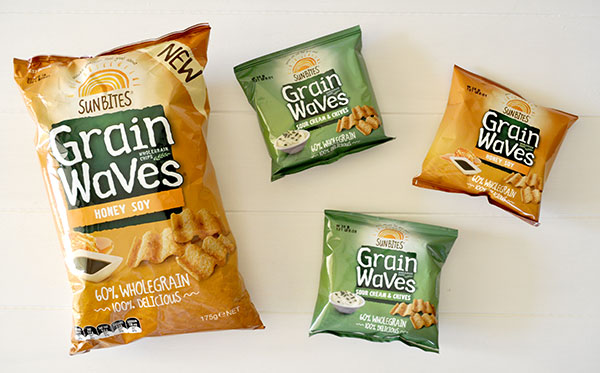 I've also found the kids are really enjoying the new Sunbites Popcorn (they come in three flavours sour cream & chives, sweet & salt and lightly salted).  They are airpopped and like the grainwaves they come in convenient snack size packs, which I really like as I can put some in my handbag and snack on if I am out and about.  Usually I purchase all my snacks in the larger packets, keep them in an airtight container in the pantry and then serve only what's needed into the lunch boxes, this then creates a rubbish free lunchbox.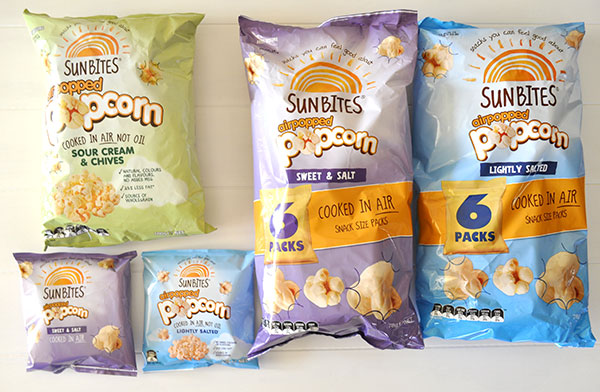 Sandwich, wrap or salad
A sandwich is our typical go-to lunch item, but there are days that I change it up by using a tortilla wrap or bread roll.  The kids also really enjoy  salads through summer, like this pasta salad and hot food through winter.
---
Lunchbox Ideas
Fruit – Mandarin & Grapes | Snack – Sunbites Airpopped Popcorn
Lunch – Ham & Lettuce Sandwich | Baking – Weetbix & Banana Muffin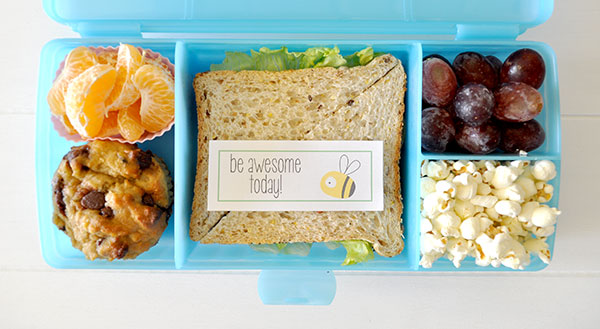 Fruit – Kiwifruit & Tomato, Carrot, Cucumber and Capsicum
Snack – Sunbites Grainwaves | Lunch – Shredded Chicken, Lettuce, Avocado and Cheese Wrap | Baking – Apricot Balls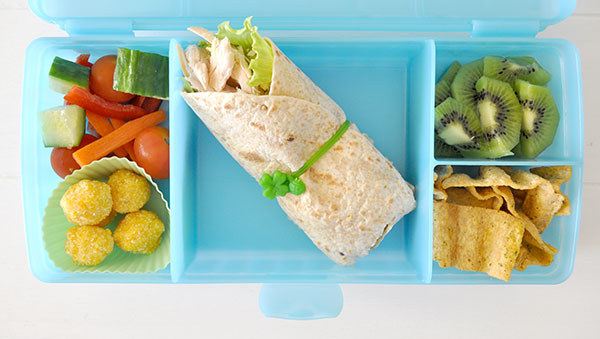 These silicone wrap bands are great for keeping tortilla wraps together in the lunchbox, available from Lhere.
What are your kids favourite lunchbox snacks?
This post was coordinated by The Remarkables Group and run in accordance with my disclosure policy