Wow look at this lunchbox, thankyou to reader Lynn for sharing: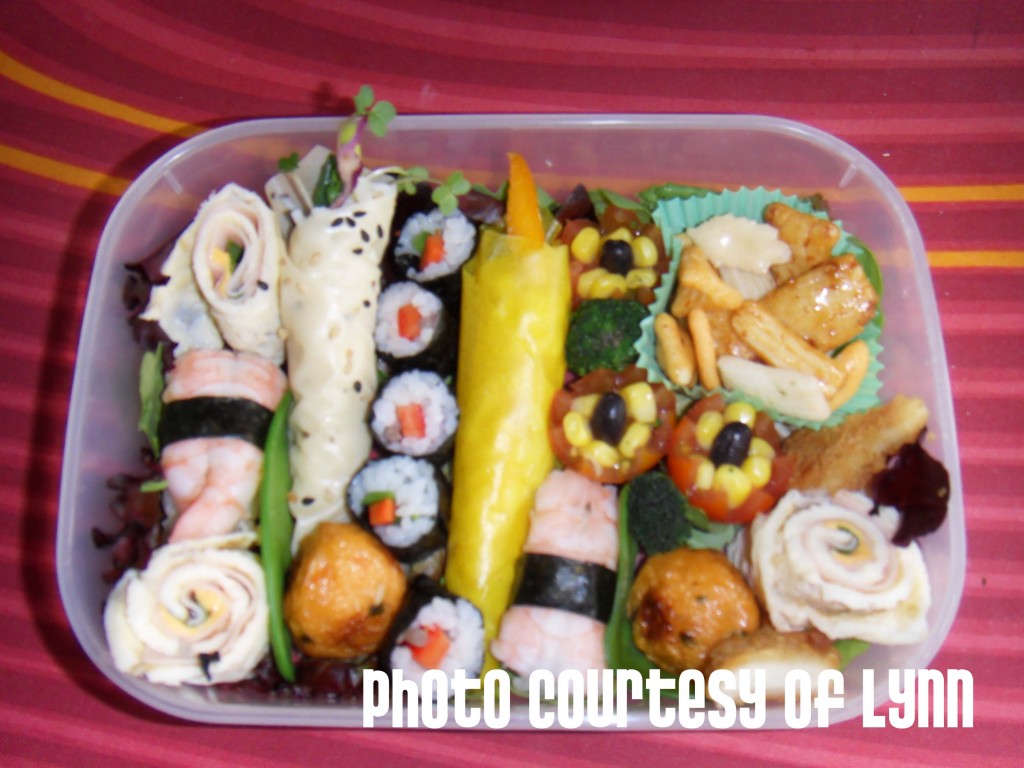 This lunchbox is for my son, I makes him things like this 2 or 3 times a week. It's in the Japanese BENTO style, even though I don't have all the 'proper' bento equipment such as rice moulds or cute sticks or boxes. He really enjoys these because there are lots of different things and they look appetising. The only problem is that the other mums keep asking me to make them for their kids too as they want the same as he does for lunch.  Lynn I would as the same thing, this looks so delicious, super job!!
Lunchbox contents:
Thin egg pancakes rolled up with ham and cheese and sliced
Fish balls made by putting fish in a blender with parsley and seasoning, pulsing and then shaping into balls then fried. I make a load of these and put in the freezer ready to use when needed.
Cherry tomatoes cut in half zig zag and put some corn kernels and a black bean in the centre to look like flowers.
Sushi made with carrot and green pepper.
Flattened shrimp on rice sealed with seaweed.
A paper cupcake case filled with Japanese crackers.
A small pice of grilled breaded chicken halved.
The two wraps are soy paper (like rice paper but made with soy) one turmeric flavour and one sesame flavour, filled with rice and peppers.
All sitting on a bed of lettuce with a mangetout, some boccoli and and cress.