Thankyou everybody for your support the last few day's, I couldn't believe was a hassle it was to change software over.  Thankfully we are up and running again.  Your emails and facebook messages were so lovely, thanks again 🙂
I really wanted to share this lunch box with you.  Thankyou to reader Gillian sending in a picture of your son's lunchbox.  Gillian's son is on a strict diet, he must avoid food colours, additives & preservatives to avoid ADHD. 
Lunchbox contents:
Old Time Bakery Gluten Free wraps (from Mrs Flannerys) filled with creamed cheese, sliced chicken, grated carrot, & sprouts.
'Stickies' – beetroot, black olives, mushrooms, and cubed chicken.
Gluten Free pretzels.
Sliced apple
That's a super healthy lunch box!!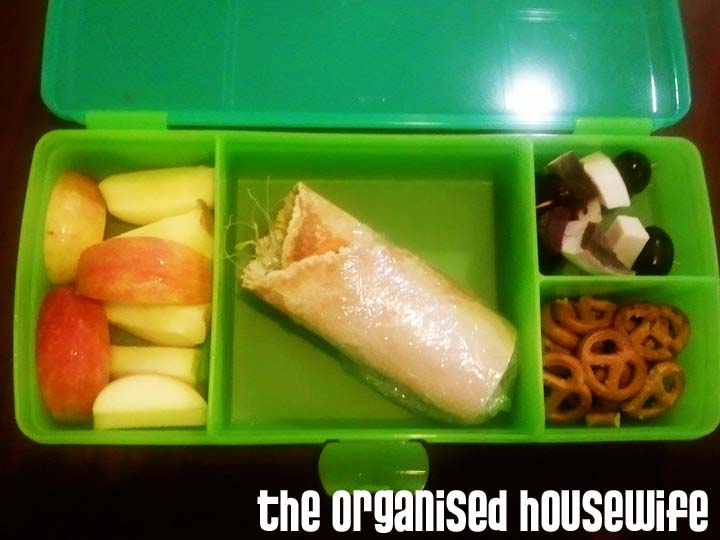 More Foods Gillian uses:
Kumut Bread which has very low-level gluten (costs $6ish per loaf) – I buy the bread from Mrs Flannereys.  Kumut is related to wheat but not an issue for him or me as we are both wheat intolerant.
A lot of the stuff I buy is Gluten Free, piklet mix, cake / muffin mix.
Bake alot using Rice flours and GF flour mixes.
All the numbers and names below can cause Hyperactivity.102 & E102 Tartazine
104 & E104 Quinoline Yellow
107 & E107 Yellow 2G
110 & E110 Sunset yellow FCF (yellow No 6)
120 & E120 Carmines or Cochineal
122 & E122 Azorubine, Carmoisine
123 & E123 Amaranth (red no 2)
124 & E124 Brilliant Scarlet, Ponceau 4R
127 & E127 Erythrosine (red No 3)
E128 Red 2G
129 & E129 Allura Red AC
E131 Patent Blue
132 & E132 Indigotine, Indigo Camine
133 & E133 Brilliant Blue FCF
142 & E142 Food Green S
150 & E150 Caramel
151 & E151 Brilliant Black BN, Active vegetable carbons
E154 Brown FK, Kipper Brown, Food Brown
155 & E155 Brown HT, Chocolate Brown HT
160(b) & E160(b) Annatto extracts
E180 Pigment Rubine, Latol rubine200 & E200-203 Sorbic Acid and Sorbates
210 & E210 Benzoic Acid
211 & E211 Sodium benzoate
220 & E220 Sulphur Dioxide
E228 Potassium hydrogen sulphite, Potassium bisulphite
250 & E250 Sodium Nitrite
251 & E251 Sodium Nitrite
252 & E252 Potassium Nitrite
280 & 281 & 282 & 283 Propionic acid & propionates319 & E319 Tert-butlhdroquinone
320 & E320 Butylated hydroquinone
321 & E321 Butylated hydroxytoluene (BHT)421 & E421 Mannitol620, 621, 622, 623, 624, 625 Glutamates
627 & E627 Disodium Guanylate951 Aspartame
If you have a lunchbox you would like to share, please email me a photo and description on what's inside to [email protected]
–