The Organised Housewife's Lunch Box Recipe Cookbook is now available to order! This cookbook is a special collection of my favourite, delicious, easy and freezer friendly sweet and savoury muffins, biscuits, slices and more.
I worked super hard on this special project, and am so excited to be able to say that I have now published my very first cookbook. It has been a long time coming, due to the requests by so many in my community, and I've finally done it. My Lunch Box Recipe cookbook is a special collection of my favourite lunch box recipes. The cookbook is packed full of delicious, nut free, freezer-friendly recipes that I have been baking for my own kid's school lunch boxes for years.
I have always enjoyed baking for my family! The moment Scotty and I moved in together, I was making some of my favourite recipes my Nan shared with me as I was growing up, like Anzac biscuits and cornflake cookies, which are my 2 favourite go-to recipes. Before kids I always added homemade treats to our work lunches and now I add them to the kid's lunch boxes too. This cookbook has 50 different sweet and savoury recipes that are all nut-free so they can be used for school lunch boxes too.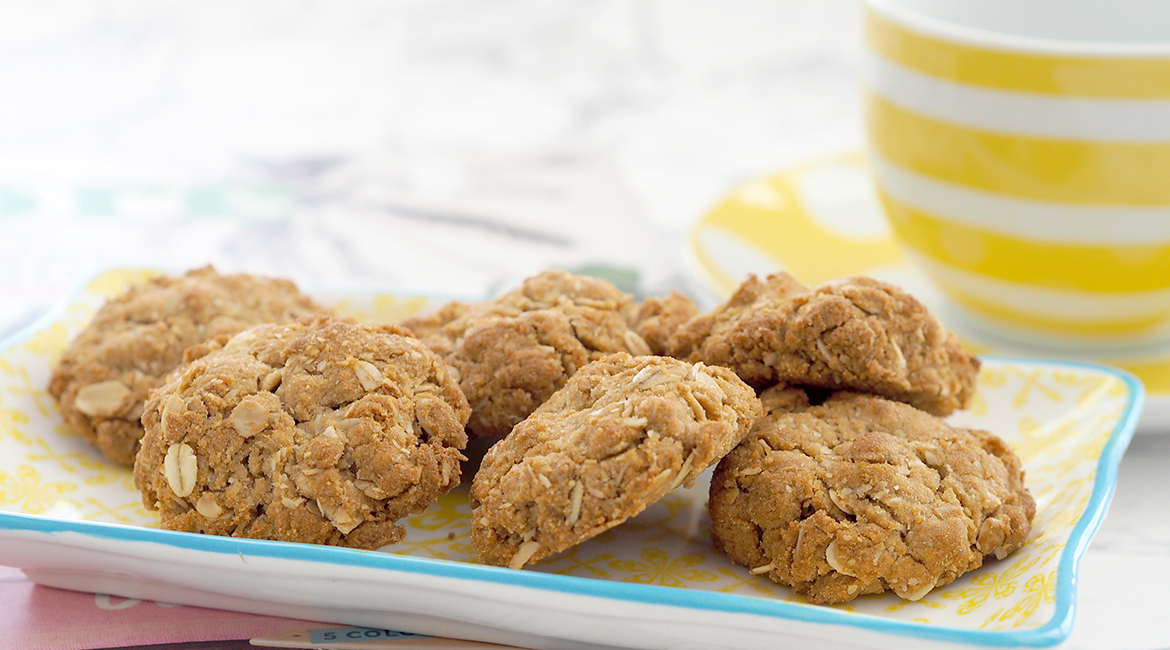 As most of you know, I'm a great fan of batch-baking because it saves me so much time. During school holidays I make up 4-6 recipes at a time to fill the freezer up, and then I can relax for a few weekends. If you're not into doing a big bake up, try dedicating some time every second weekend to baking a batch of muffins or biscuits and freeze for everyone's school lunch boxes. Freezing muffins, slices, cakes or scrolls makes packing lunch boxes so much easier, and it should make it easier for you too.
The kids love it when I bake, sometimes my baked goods don't even make their way to the freezer. When I bake in the kitchen, the kids will hover around, waiting to lick the spoon, bowl or swipe a freshly baked treat. It's the yummy smell wafting from the kitchen that usually attracts them.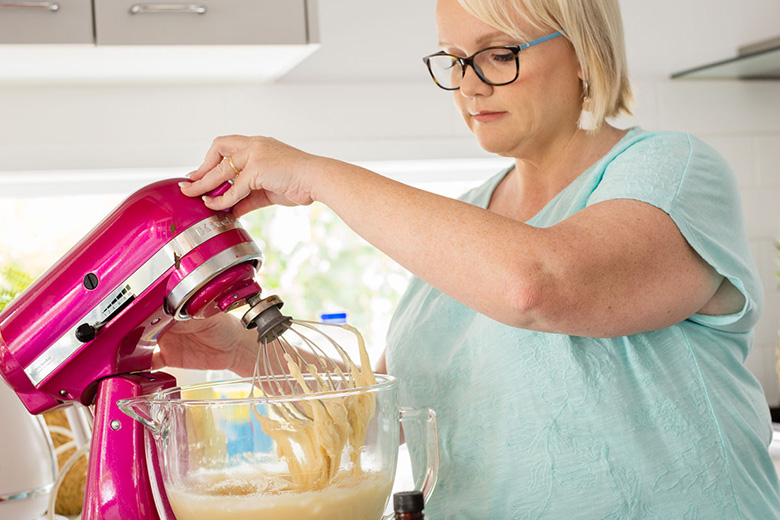 LUNCH BOX RECIPE COOKBOOK
Preparing a balanced lunch box with variety every day can be a challenge. As we edge towards the end of the week, we are tired and the food may no longer be fresh in the fridge or pantry. Instead of resorting to processed pre-packaged foods or canteen snacks, fill your freezer up with using some of my recipes for muffins, cookies, bliss balls, slices and more. You'll find some recipes even sneak in vegetables. You have to try my zucchini chocolate brownies!
Now you too can create scrumptious home baked morning teas and lunches for school and work for your family, by following my easy recipes in my new Lunch Box Recipes cookbook.
50 sweet and savoury recipes, each with full-colour photo.
Help you add variety to lunch boxes
Reduce the use of pre-packaged foods and take control of the lunch box routine by having food ready and available as all recipes are freezer-friendly
Save money not buying tuckshop or work lunches
Less trips to the grocery store stocking up on food for lunches throughout the week
Perfect for beginner bakers, right through to the more experienced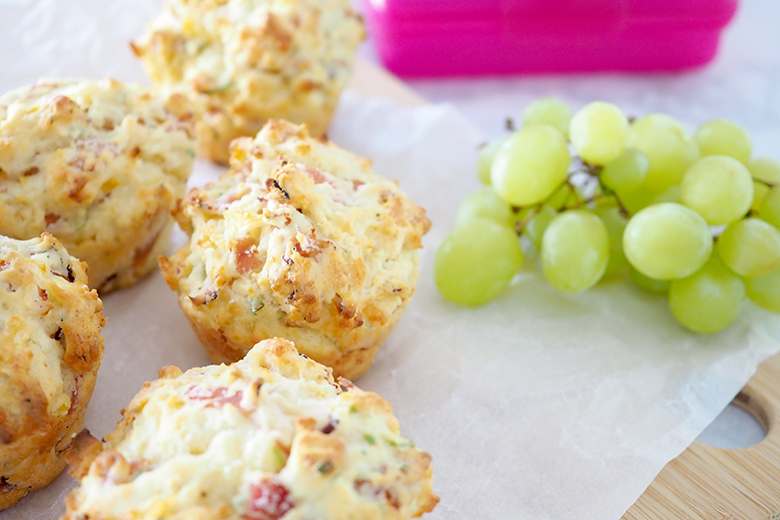 I cannot wait for you to get your hands on my cookbook. I love mine, because it's super handy to reach for when I'm in the baking mood! It will make the morning lunch box packing madness and a quick dash to the shops for food for lunch boxes a thing of the past by having a freezer full of homemade goodies all ready to put into lunch boxes. Whether it's for the kid's, yours or your partner's lunch box, or simply to have on hand for morning or afternoon tea, to have with a cuppa or to serve to guests, everyone will enjoy these recipes.
This 128-page soft cover cookbook is full of all my favourite go-to recipes, which are all effortless to make. Here's a preview of some of the delicious lunch box recipes included in the cookbook:
Banana Weet-Bix Muffins
Apricot Yoghurt Muffins
Chocolate Chip Cornflake Cookies
Banana Bread
Fruity Bliss Balls
Zucchini Chocolate Brownies
Cheese and Vegemite Scrolls
Bacon, Cheese and Vegetable Muffins
Sausage Rolls
Mini Quiches
plus 40 more easy recipes……..
Many recipes can be found on the blog, but having them in one easy to use cookbook makes it so much simpler for you to store on your bookshelf and grab it when you're ready to bake!
PURCHASE: My Lunch Box Recipe Cookbook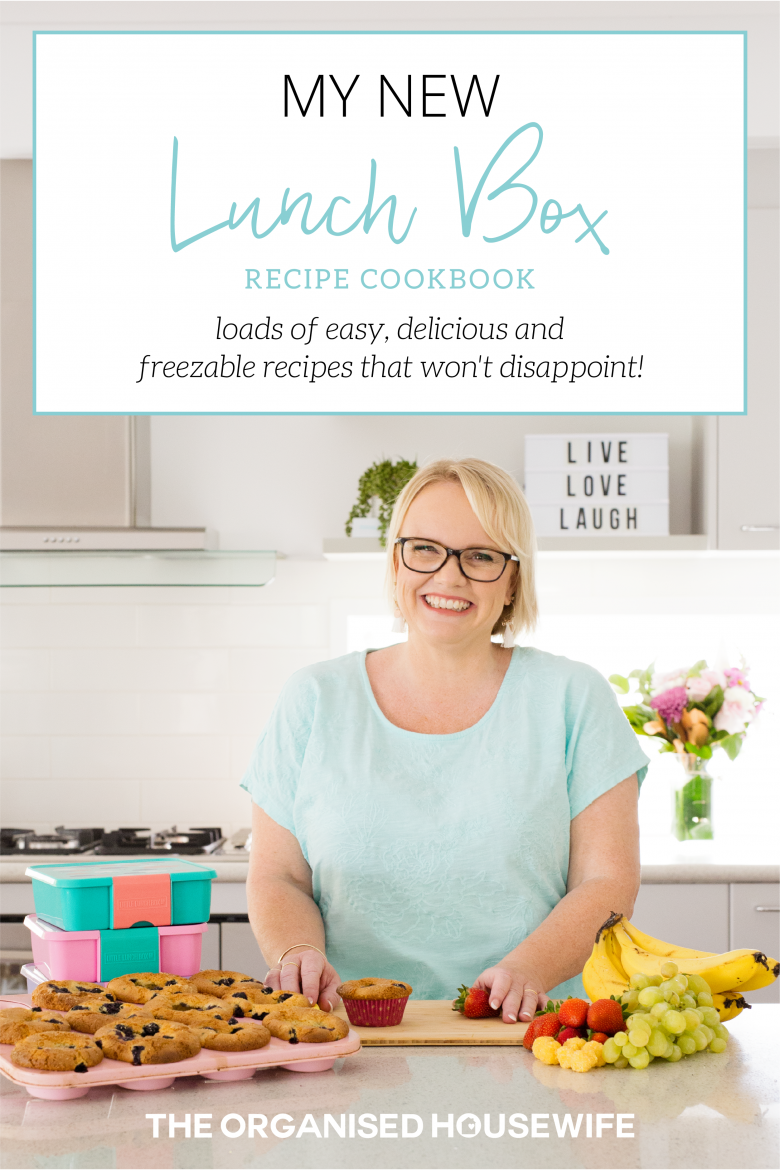 What's your favourite thing to bake?