A lunchbox idea to help you add some variety to what you pack for lunches. This lunch idea could work for every member of the family.
A yummy healthy packed lunch is so important for not only our kids but ourselves as well! In the past, I have often made sure everyone else had a nice packed lunch and not done so for myself! One way I have been making sure to not repeat this mistake is to prep food that everyone likes and eats. Making up a big batch of an item, like zucchini slice or a salad like the pumpkin couscous one below just for lunches, means there is a great option that everyone can take. 
Click links below to find more posts and resources I have about lunch boxes:
MORNING TEA
Yoghurt + Muesli. You could add some fresh or frozen berries too. I love this little bento lunchbox for muesli and yoghurt, as the divider is removable, so you can easily mix it all up.
LUNCH
Roast Pumpkin couscous salad. Find a pumpkin couscous salad recipe here. On busy weeks there is nothing wrong with taking a shortcut like using a pre-made salad from the supermarket!
AFTERNOON TEA
Strawberries, almonds and yoghurt covered sultanas.  (Be aware of what your child's school nut policy is before including almonds)
What did you pack for lunches today?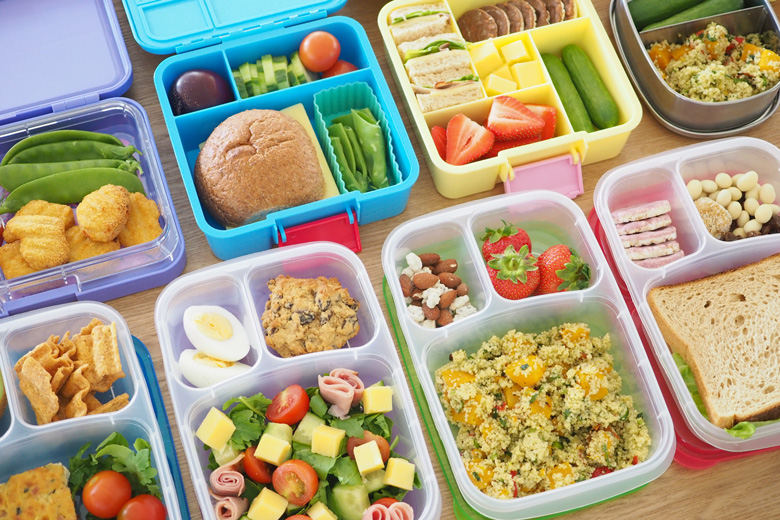 20 NON SANDWICH LUNCH IDEAS
Non sandwich ideas for school lunch boxes. I've put together 20 ideas to inspire you for school lunches that aren't sandwiches! It's nice to add some variety to the school lunches, and some kids just really don't like sandwiches. Continue Reading
DIVIDED LUNCH BOX - SET OF 5
Organising a school or work lunch that's rich in variety is simple with these bento-style 3 Compartment Lunchboxes.
Designed for children (or adults!) who like variety, this compact and easy-to-open lunchboxes come in a pack of five with a variety of colours, making them an affordable option for lunch on the go. Available in a snack size and a large size.