School lunchbox inspiration with this healthy and yummy school lunch idea that is easy to put together and rubbish free.
When I make school lunches my goal is for them to be quick and easy to put together as well as healthy and nutritious. To help you with some ideas for making school lunches (that the kids actually eat!), I  periodically share kids lunch box ideas to help inspire you. This easy peasy lunch idea comes packed with variety, can be thrown together in under 10 minutes, and is 100% waste free!
Click links below to find more posts and resources I have about kids lunch boxes:
Bulk baking tips
Lunch Box Recipes Cookbook – over 50 freezer-friendly recipes

MORNING TEA
Plain yoghurt + Muesli + Berries

LUNCH
Easy Ham Salad: To make this: add a bottom layer of salad leaves, top with cucumber pieces, cheese chunks, cherry tomato halves and rolled up strips of ham. Add a very small amount of salad dressing if your child likes dressing.
Now I know many of you might think that kids will turn their noses up at salad for lunch. But often I find kids will enjoy a salad if it is presented to them in the right way. Kids love nibble foods and I have found that a salad with chunky pieces in it does get eaten. Only include items that they like and eat. Make sure none of the salad leaves you use are the bitter types. If they hate tomatoes but like capsicum then use capsicum pieces instead. Don't add a dressing unless they like it.

Afternoon Tea
Boiled egg + raisin and oat biscuit.
MAKE THIS: My Chewy Raisin and Oat Biscuit Recipe
---
FOR MORE LUNCHBOX INSPIRATION – check out my Lunch Box Recipes Cookbook
The cookbook includes over 50 freezer-friendly recipes that make for perfect no-fridge, no-heat lunches ideal for school, work, or even picnics! Making lunches can be easy and affordable with my Lunch Box Recipes Cookbook. Now the whole family – not just the kids – can quickly grab a tasty sandwich alternative (sweet or savoury) straight from the freezer each morning.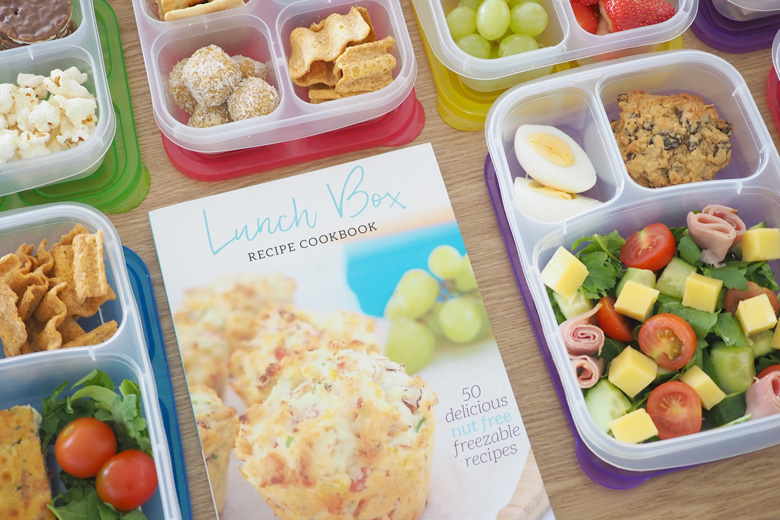 What is for lunch today at your house?
---
Pin this image below to Pinterest!