Find some school lunch box inspiration with this easy and quick to make lunchbox idea that is healthy and delicious!
Sometimes coming up with different ideas of what to pack in your child's school lunches can feel overwhelming. Lunch box packing can feel like ground hog day, and you end up repeating the same things over and over again. So I will be sharing some lunch box ideas to help you beat the lunch box rut! I'm a firm believer that lunches don't need to be elaborate masterpieces, but rather healthy and yummy food that you can quickly prepare and pack. I find the best way to make sure I am including enough variety is to plan out what I am going to pack for lunches for the whole week with my lunch box planner.
See the links below to find more posts I have shared about kids lunch boxes:
Bulk baking tips
Lunch Box Recipes Cookbook – over 50 freezer-friendly recipes

I have included ideas for both morning tea and lunch time for you. Sometimes younger children find it helpful to have their food for the day separated into two lunchboxes for both school breaks. This way they don't end up eating all their lunch in one break with nothing left for second break.
The lunchboxes (pictured below) are my favourite type that I have been using for years. They are airtight, so food stays  fresh, and that you can pack waste-free lunches! The divided sections means that you can easily keep a variety of items separate from each other. Available two different sizes; a snack size and a larger size for main lunch items.
These lunch boxes are sold in a rainbow pack of five for each type, and are available from my online shop here.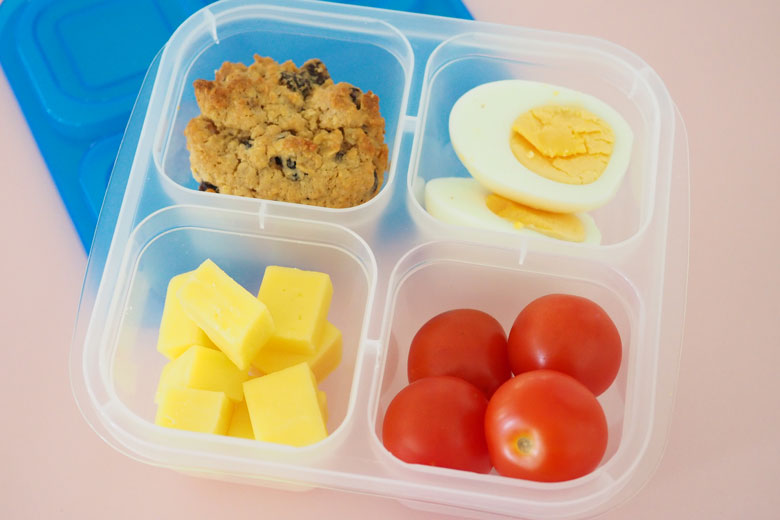 MORNING TEA
Cheese cubes + cherry tomatoes + boiled egg + raisin and oat biscuit.
MAKE THIS: My Chewy Raisin and Oat Biscuit Recipe
LUNCH
Ham, lettuce and cheese sliders + berries and white choc chips + baked pea crisps.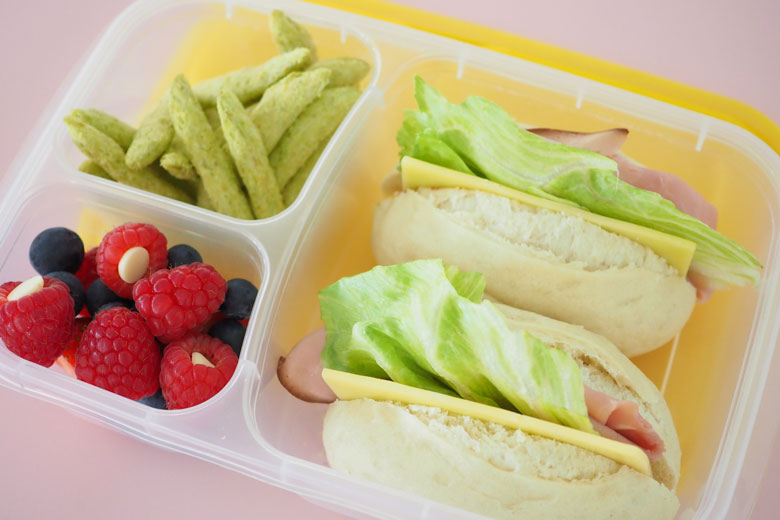 ---
FOR MORE LUNCHBOX INSPIRATION – check out my Lunch Box Recipes Cookbook
The cookbook includes over 50 freezer-friendly recipes that make for perfect no-fridge, no-heat lunches ideal for school, work, or even picnics! Making lunches can be easy and affordable with my Lunch Box Recipes Cookbook. Now the whole family – not just the kids – can quickly grab a tasty sandwich alternative (sweet or savoury) straight from the freezer each morning.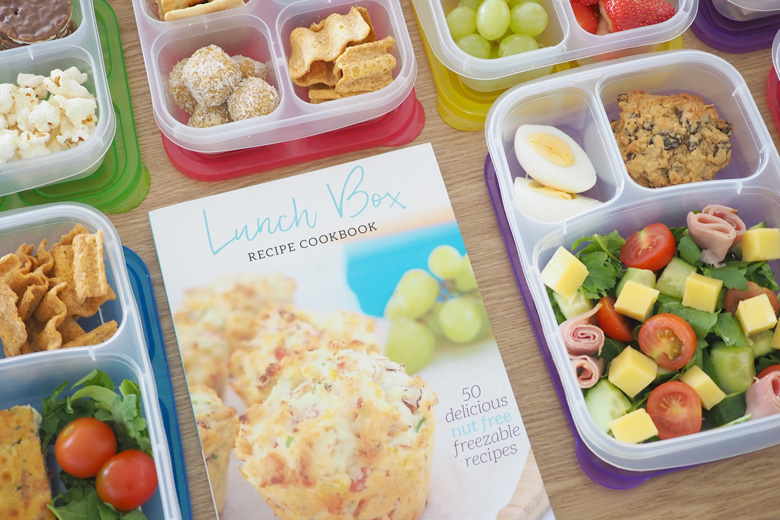 What did you pack for lunch for your child today?
---
Pin this image below to Pinterest!