I've already started sending some hot lunches to school with my kids. It's currently quite cold on the Gold Coast and my family are starting to enjoy warmer dishes for lunch and dinner. Kids will be going on school holidays soon so here are some hot lunch ideas for when they head back for term three smack-bang in the middle of winter! They will thank you for it. Most of these are good dinner ideas and can be used for lunch leftovers. The kids love having something in their thermos and keeps them warm at lunch time, plus it is something fun and different to the typical sandwiches I give them.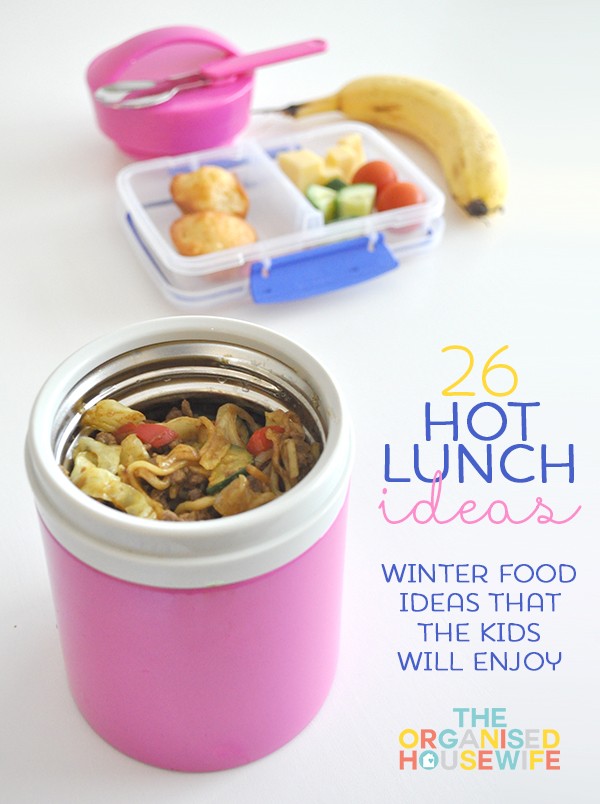 HOW TO USE A THERMOS
Warm up thermos by filling it with boiling water and allow to sit for 10 minutes, empty water.
Fill Thermos with hot contents (eg, hot noodles, hot dinner left overs)
Secure lid tight, place in lunch bag and remember to include a spoon/fork.

---
WHERE TO FIND INSULATED JARS/THERMOSES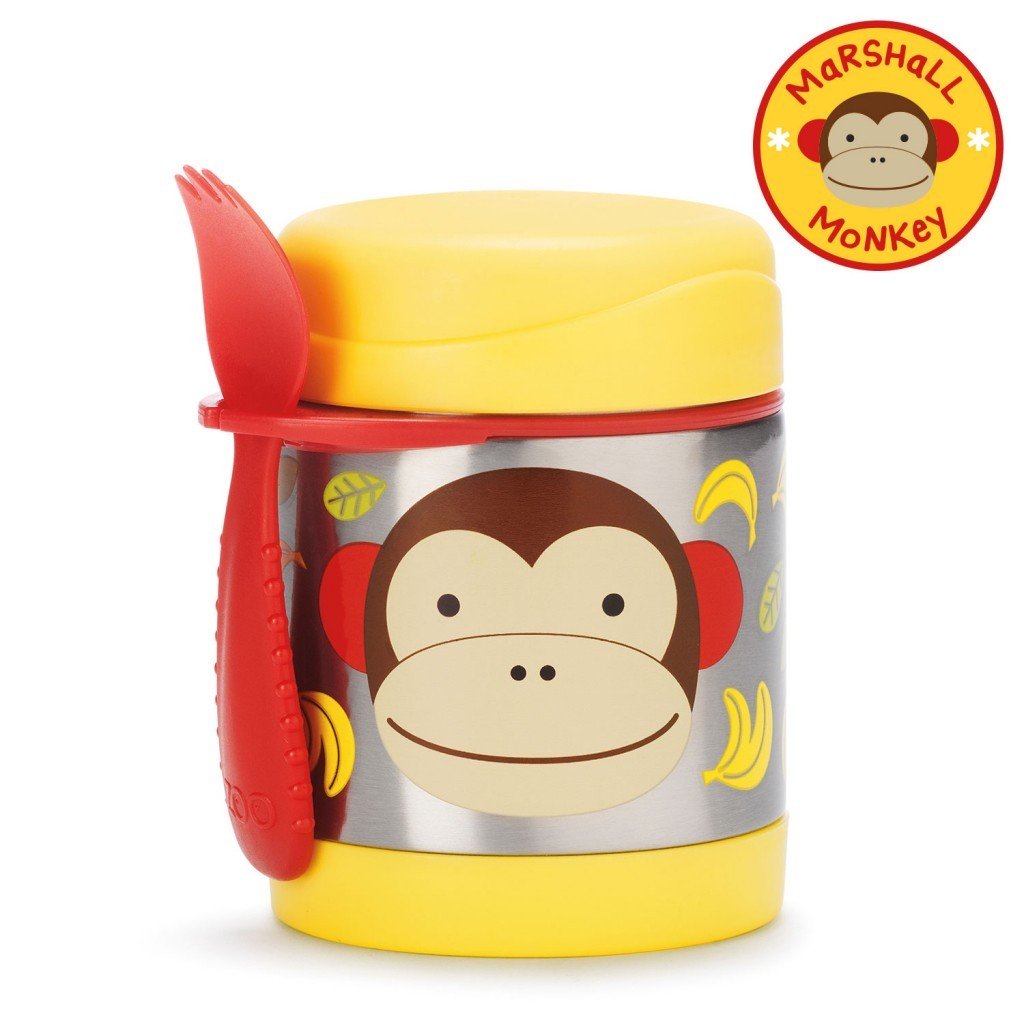 Skip Hop Zoo-Kids Lunchboxes – Insulated Food Jar
The BPA-free, stainless steel, insulated food jar will be perfect for keeping items cold for up to 5 hours, and items warm for up to 7 hours. The food jar comes with a spork and a handy built-in holder for children are ready for meals on the go, with ease.
Size (cm): 9.4l x 8.75w x 12h
Capacity (mL): 325
---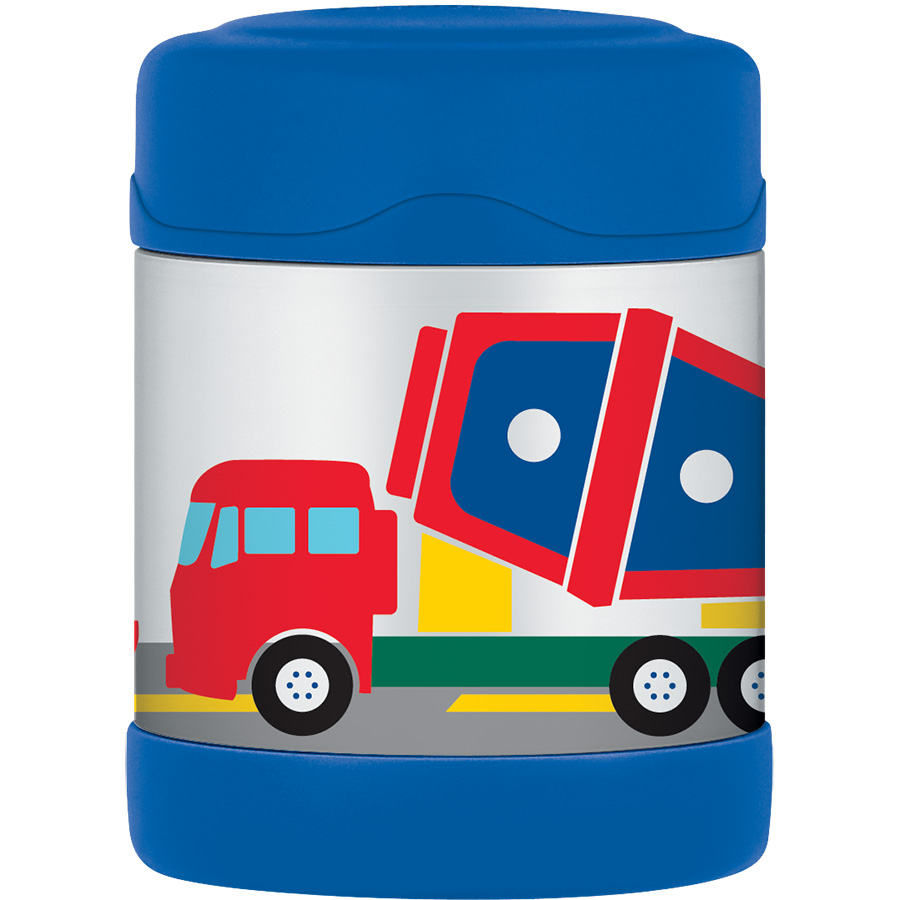 Thermos FUNtainer Insulated Stainless Steel Food Jar
Smart and stylish insulated stainless steel food jars from Thermos are a great way to keep food fresh and yummy for up to 5 hours and cold for up to 7 hours. The durable stainless steel interior and exterior withstands daily wear and tear. The extra wide mouth is easy to fill, eat from and clean.
Size (cm): 9.7l x 12h x 9.7w
Capacity (mL): 290
---
Japanese Insulated Food Jars (Large) With Matching Lunchbags
These fantastically crafted Insulated Food Jar range from Japan are great for school lunches – soup, noodles, leftover dinner, stirfries, pasta salad, green salad, rice salads, desserts. Sealed to perfection they will keep your food hot or cold for approximately 6 hours. Available in 4 different colours and 520mLs, 570mLs or 900mLs.
AVAILABLE ONLINE HERE
---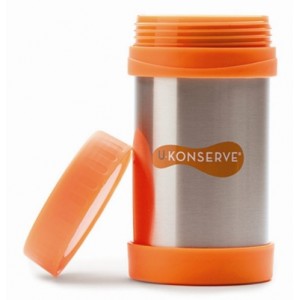 U-Konserve Steel Insulated Food Jar
Stainless steel lunch boxes get bright and cheery! U-Konserve presents the gorgeous neon coloured insulated food jars that are leak-proof and keep your food hot or cold for hours!! Available in Eggplant, Neon Orange and Neon Pink.
Size (cm): 16.5h x 9w
---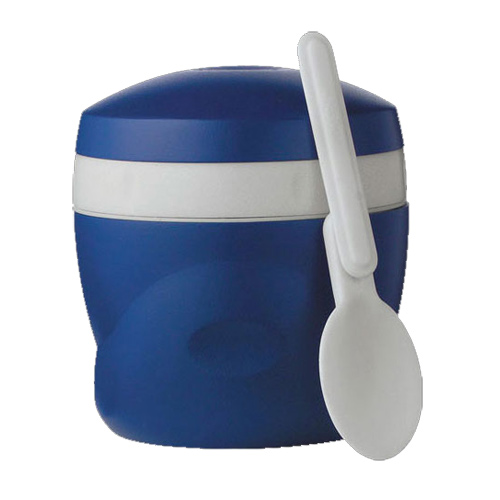 Thermos-Insulated Snack Jars
Insulated snack jars from Thermos will keep lunches nice and chilled easily and conveniently. This wide-mouth, durable plastic food storage container comes with a collapsible spoon that stores inside. The collapsible, folding spoon makes it easy for you to pack and serve in one go.
Size (in): 4.8l x 4.8d x 4h
Capacity (mL): 240
---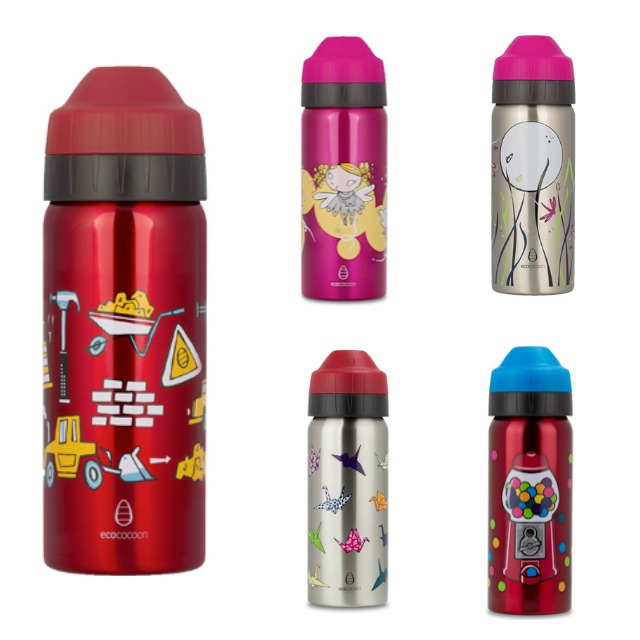 Ecococoon Stainless Steel Bottle
I've been using this bottle for the days the kids aren't feeling on top of the world, but still good enough for school. I fill it with some hot chocolate. The kids said it was still hot at lunch time which was 6 hours after I made it! It is leak-free and vacuum insulated which means that cold and warm drinks will keep that way.
Size (cm): 7w x 23h, Capacity (mL): 500
AVAILABLE ONLINE HERE
(15% discount using coupon code – Organisedhousewife. Ends 30th June 2017).
---
Hot school lunch ideas
BEEF CHOW MEIN – A great way for the kids to get some extra vegetables into them! Find my recipe here.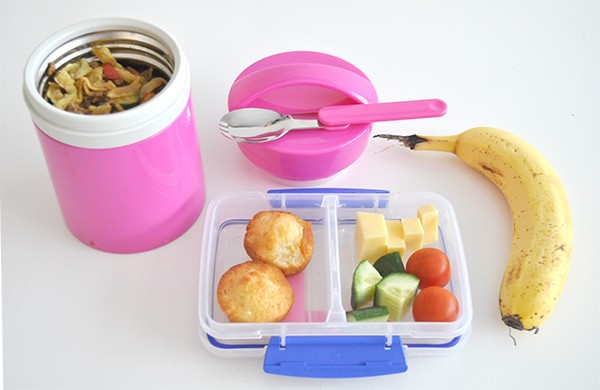 MEATBALLS – A hearty lunch idea. Serve with pasta or vegetables. Idea found via Nom Nom Paleo. Find my recipe here.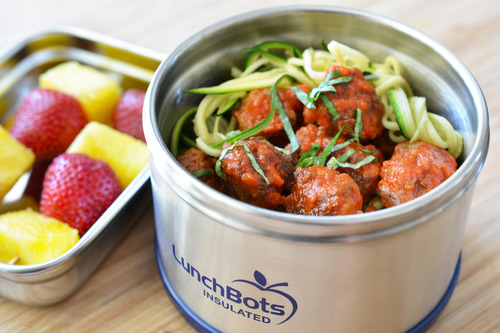 PASTA – Pasta bakes or one pan pasta dishes make great re-heatable lunches. Find my pasta bakes here.
CHICKEN NUGGETS – The morning of packing kids lunches, put some nuggets in the oven, pop into a thermos and send to school with a little tub of tomato sauce.
FRIED RICE – This would have to be one of my kids favourites, my recipe is really easy and can use up any vegetables you have in the fridge. Find my recipe here or try Epicurious' teriyaki fried rice here.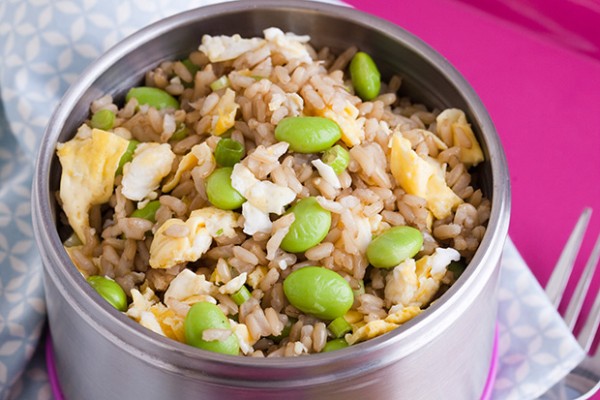 TACO MINCE – Pack some corn chips into the kids lunchbox so they can scoop the mince from the thermos for a little mini taco bite.
RAVIOLI – I don't make ravioli, I quite like the ones you can buy in the cold section at the supermarket, they also have different flavour of sauces you can easily heat and pour over.
CASSEROLE – Filled with chunky meat and vegetables. Find a collection of casseroles here.
MACARONI AND CHEESE – Make your own or purchase from supermarket. To make it a little more nutritious add some carrot, capsicum, celery and stir through some meat such as ham, chicken or mince. Find a Veggie Mac and Cheese recipe here.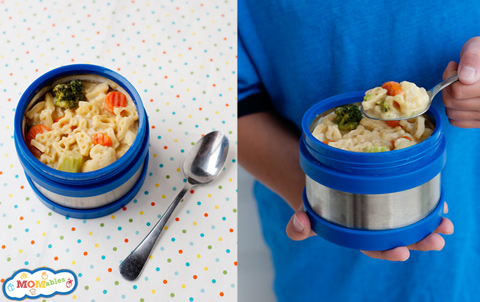 SPAGHETTI BOLOGNESE – Place spaghetti on the bottom and top with some sauce. Find my sauce recipe here.
PORRIDGE – Breakfast for lunch or morning tea, stir through some fruits such as apple or peaches.
SOUP – Serve the kids with their favourite soup and some bread for dipping. Find my super easy roast pumpkin soup recipe here.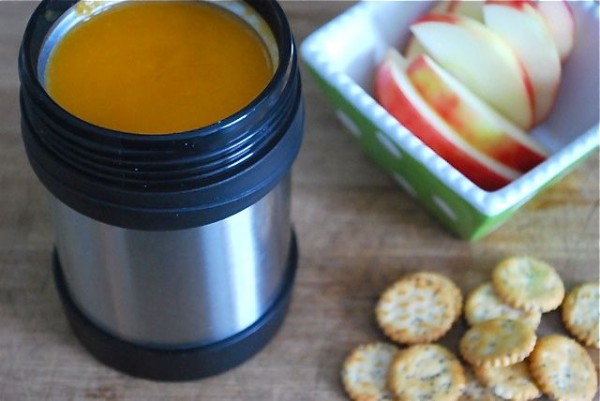 ---
More kids hot thermos lunch ideas:
What hot food do you pack your kids?
Note: this post has been updated with new title and photos, it was originally posted on 3rd June 2015.