This post is sponsored by Coles

Soon we will all be back into routine of preparing delicious and nutritious school lunches for the kids.  Crafting together a variety of choices so they don't get bored with the 'everyday' food, as we don't want it returned and our little treasures going hungry.  Ensuring we give them enough so they don't starve and creating a balanced healthy lunch box will give them enough energy to help them concentrate through their school day.  Frazzled at the thought??
What do you struggle with most when it comes to packing lunch boxes?
---
Creating a delicious & healthy lunchbox doesn't need to be hard.  I have shared my lunchbox food guidelines with you which you can read in more detail here. Having these guidelines makes planning school lunches easier and ensures that I create a balanced healthy lunchbox.
MY LUNCHBOX FOOD GUIDELINES
Fruit
Baking
Fruit and/or vegetable
Snack
Sandwich, wrap or salad
Below I have shared some healthy food options following the guideline above.
Fruit
Fresh fruit is always a healthy and convenient addition to the lunchbox.  I've shared below how I store fruit in the kids lunch boxes.
Bananas – whole
Apples – whole or sliced, read more about how to stop apples from going brown
Mandarin's – whole or if I am feeling extra nice I peel them
Kiwifruit – peeled and sliced
Grapes – off stem
Oranges – peeled and diced
Watermelon – diced
Pineapple – diced
Pears – whole
Note: Typically I use whatever fruit is in season and on special at the supermarket. You can see the 12 weekly fresh specials Coles have here to help you with planning and keeping the grocery bill down, they vary each week.
Healthy lunchbox idea: mandarin, kiwifruit and grapes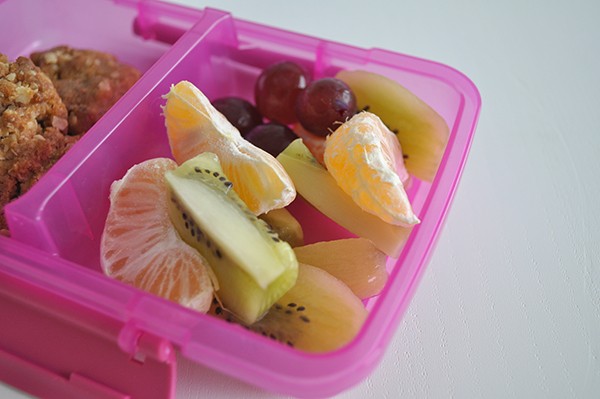 Vegetables
Add an element of crunch with vegetables to their lunch boxes.  Adding some dip like hummus as variety.
Carrot
Cucumber
Capsicum
Celery
Snap peas
Cherry Tomatoes
Healthy lunchbox idea: Grapes, hummus, celery, carrot & capsicum sticks, cinnamon crumb muffin and chicken & lettuce sandwich.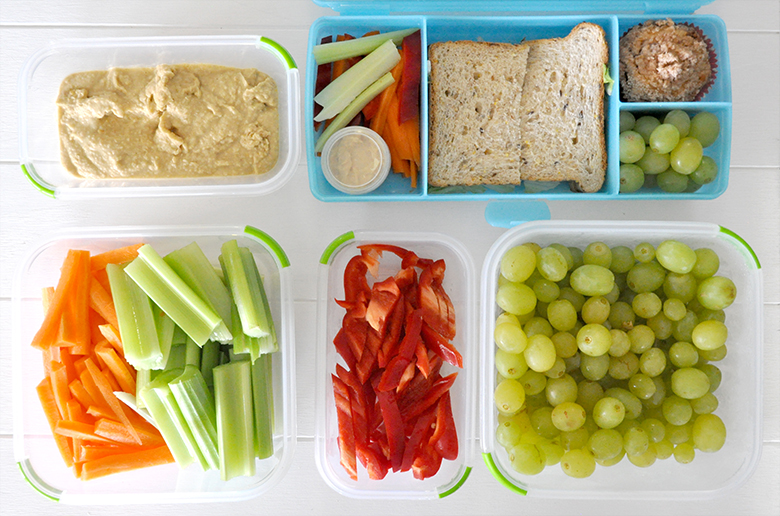 Snacks
Dairy items will add the calcium portion to the lunchbox, which is need for growing kids.  Snacks low in sugar will help give the kids an extra boost of energy for their long day at school.
Cheese
Yoghurt
Pretzels
Rice Crackers
Dried fruit
Popcorn
Healthy lunchbox idea: Peach and Cream Cheese Muffin, kiwi fruit slices, Peckish Rice Crackers, carrot, capsicum & snowpeas and cheese & lettuce sandwich.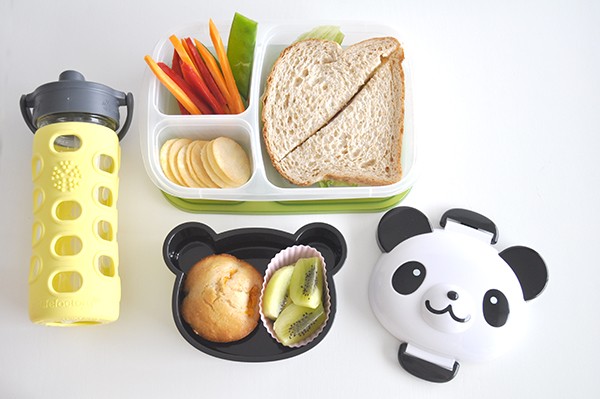 Baking
I always have baking in the freezer specifically for kids lunch boxes, with a variety of healthy fruit muffins to treats like choc chip biscuits.  You can view all my recipes here.
Muffins
Biscuits
Slices
Protein Balls
Muesli bars
Cake
Sweet Scrolls
Scones
Healthy lunchbox idea: Mandarin, homemade cheese shapes and Choc-chip, Coconut and Oat Biscuits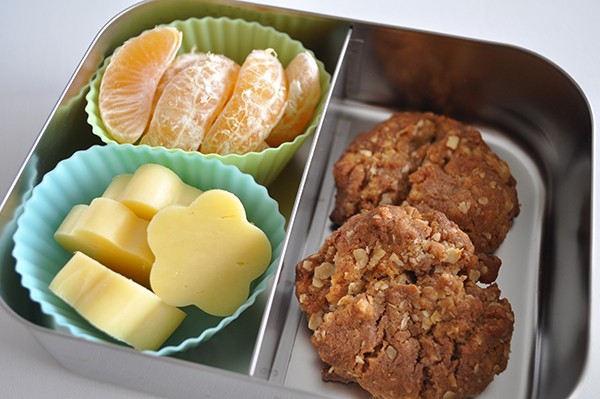 Main Lunch
In most cases a sandwich is a typical lunch for many, with a wide range of sandwich fillings to chose from (that is a whole blog post in itself), it is important to have protein added to the filling such as egg (if acceptable at your school), meats and or cheese.
Sandwich
Bread roll
Wraps
Savoury muffins
Scrolls
Salad
Left overs
Crackers
Sushi
Healthy lunchbox idea: Popcorn, cherry tomatos, sliced ham and Corn, Spinach & Feta Muffin (recipe can be found in the current FREE Coles magazine).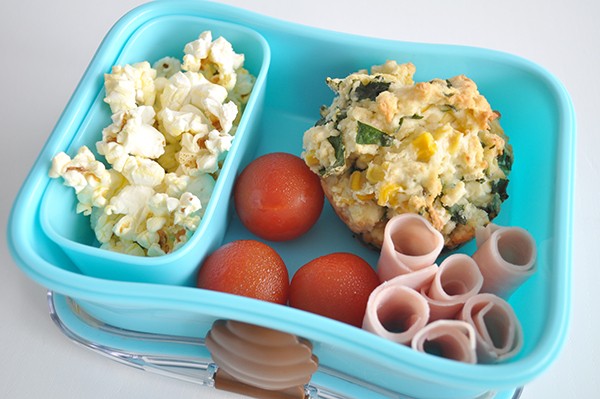 How to prevent soggy bread
My kids love tomato on their sandwiches, however if the sandwich is not assembled correctly the bread can go soggy.  Here's the trick: use the cheese as a barrier between the bread and the wetter food like tomato or cucumber.  I place the ham and cheese onto the bread and tomato and lettuce in-between.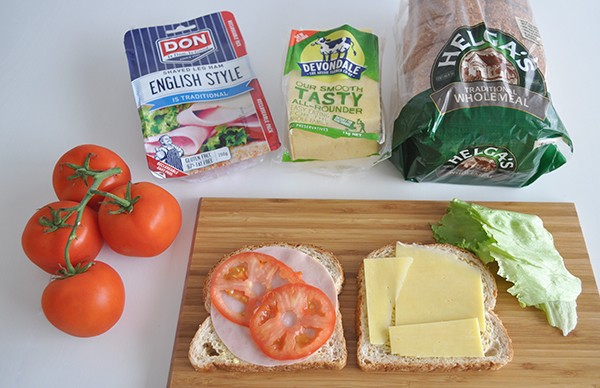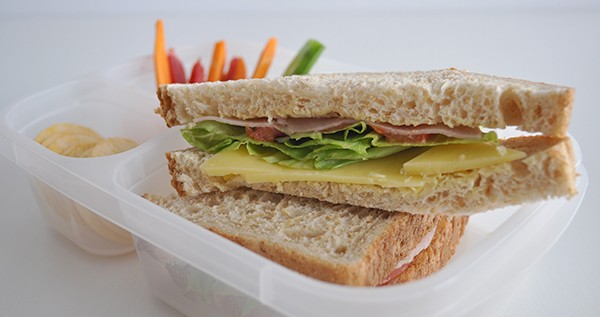 Drink
Kids will get really thirsty at school, it's best not to give them juices, milks or sugary drinks, plain water is always the best option.
This post was coordinated by The Remarkables Group and run in accordance with my disclosure policy