Aah, the dreaded "what's for lunch today mum" will be back in full play soon.  Sometimes I find lunches are really hard to keep fun and exciting.  From the comments and emails I have been receiving you all need help in this area.  So I have put together some ideas to help you.  Like last year, I will continue posting lunchbox ideas each Tuesday for you.  You will find last years Lunchbox Ideas HERE.
More about this lunch below + recipe links here.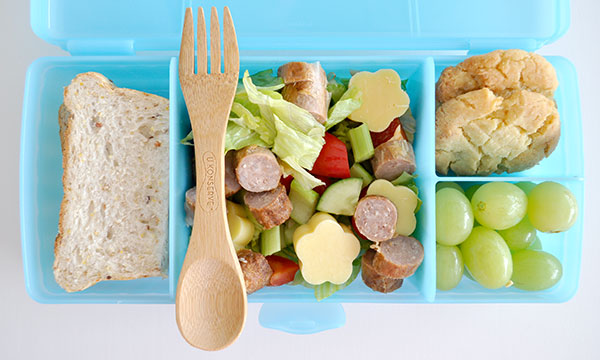 Here are some more Kids School Lunch Ideas:
Wraps/Sandwiches
Egg, lettuce and mayo (add a bit of curry to be adventurous)
Ham, cheese, spinach leaves, carrot and tomato
Roast meat, tomato and cheese
Avocado, chicken and lettuce
Lettuce with Vegemite or Promite
Peanut butter and sultanas
Chicken, carrot and cheese
Turkey, bean sprouts and cranberry sauce
Tuna, corn kernels and mayo
Ideas instead of bread
Sushi
Scrolls
Bread rolls, with fillings like above
Hot dog shaped bread rolls, with fillings like above
Rice cakes
Tip – Place meat on one slice of bread and lettuce on other with all other salads in between to prevent the bread from getting too soggy
Salads
Fried Rice
Noodle Salad – Chicken 2min noodles, chicken, carrots, capsicum, onion (all diced) and shredded spinach leaves with a little drizzle of soy sauce
Garden salad
Snacks
Grapes
Kiwi fruit
Apple
Pear
Oranges
mandarin segments
Fruit tubs
Dried fruit
Cubed cheese
Cubed cucumber
Cherry tomatoes
Carrot sticks
Celery sticks with cheese spread
Crackers
Boiled egg
Sliced deli meat
Mini muffins, savory or fruit
Pikelets
Homemade muesli bars
Popcorn
Pretzels
Fruit bites
I have taken some photo's of after school snacks I have made for my kids to eat while at their afternoon sport activity.
Reduce your cost and purchase a tub of yoghurt and pour into individual portions.  Here we have vanilla yoghurt and strawberries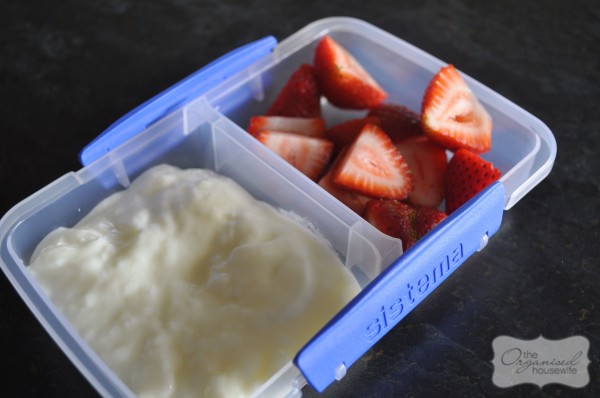 Rice crackers & cheese. You could also add to this some diced or sliced ham.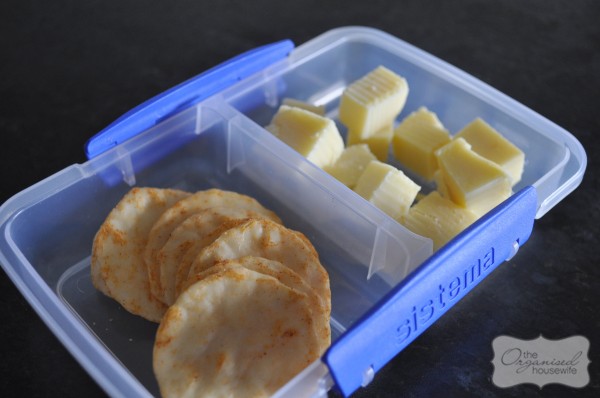 Cherry tomatoes, olives and cubed cheese, my son loves this.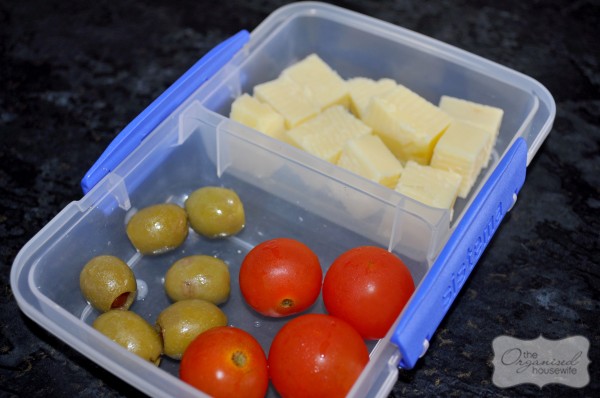 Another saving, all items here were purchased in larger quantities (eg, 1kg of sultanas, box of tiny teddies) and made into individual servings.  No need to buy little packets.  Here we have sultanas with Tiny Teddies, Nutri-grain and rice bubbles.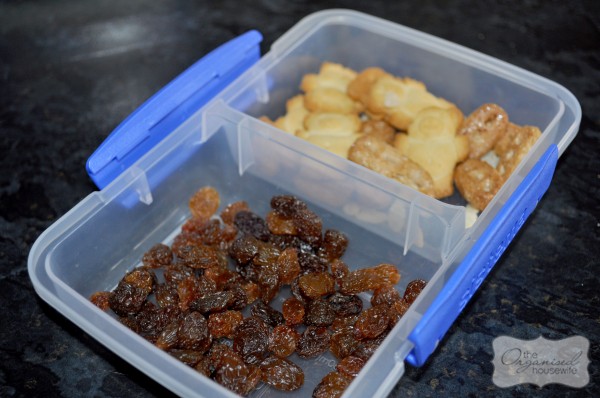 Do you have any lunchbox snack ideas?