School mornings can end up chaotic, but with a little routine and planning, you can make the school lunch packing madness a simple and easy process by planning ahead. During the school holidays, I spend a few hours doing a big bake up, making snacks and lunches to have on hand to place into the kid's lunchboxes. I have quite a few go-to favourite freezer friendly lunch box recipes, which I have just conveniently put together in one place for you. I make muffins, cookies, quiches, scrolls, scones and more. The day I bake them I place them all in the freezer.  I grab it out of the freezer, pack it into the lunchboxes frozen and by morning tea time they are defrosted. There are a few benefits to this process:
Saves money, not buying pre-made items from the bakery or grocery store
Control sugar content
Always have something available to pack into lunchboxes
Below I will share my process for when I plan my big freezer lunchbox bake up.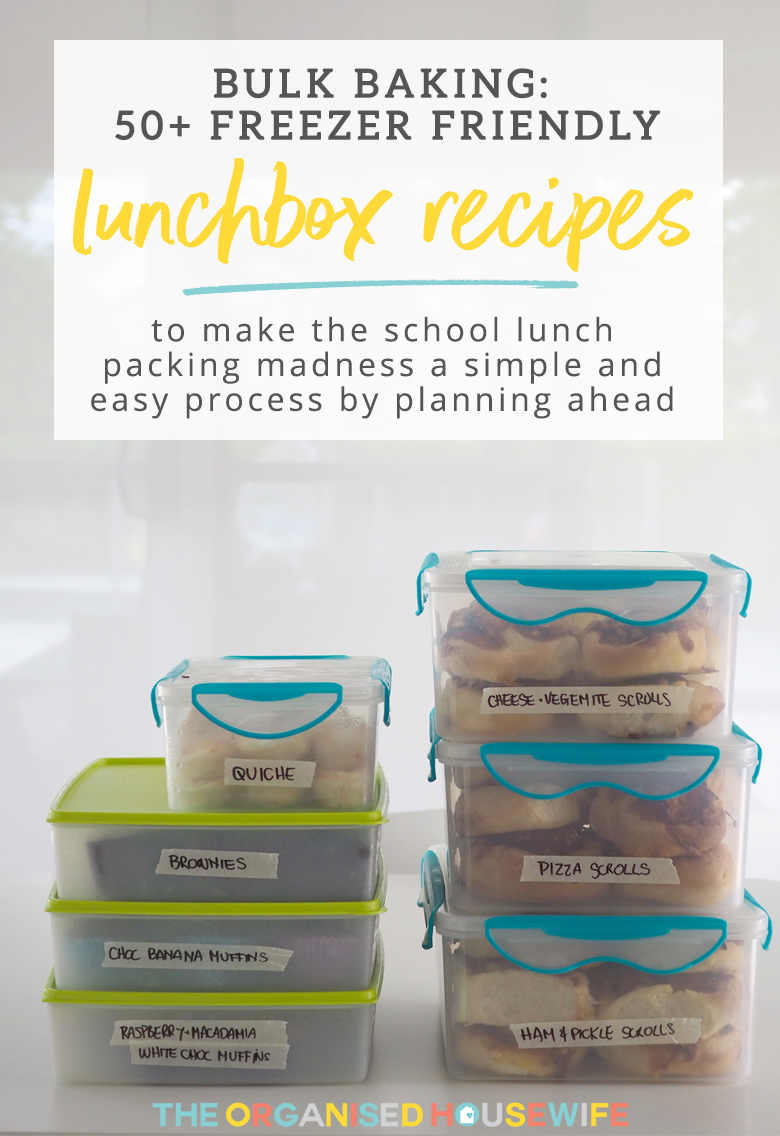 1. ENSURE YOU HAVE ENOUGH EQUIPMENT, STORAGE & ROOM
ROOM IN YOUR FREEZER – This is the best starting point, ensure you have enough room to store how much you want to bake up.  I am lucky enough to have an extra fridge and freezer in our garage that stores drinks and all my freezer baking.
FREEZER SAFE CONTAINERS – An airtight container is best to protect it from freezer burn.  Ideally, you want the container large enough to fit on the shelf of your freezer and to fit a full batch of muffins or biscuits.  I prefer rectangle or square containers over round, as round containers waste precious space in the freezer.
  I have been using containers that I have had for years but noticed they are no longer airtight, so I'm on the look out for new airtight containers. These Decor clip containers have been great so far.
BAKING TRAYS – Such as muffin pans or baking sheets for scrolls and cookies. I like to use silicone muffin pans for my mini quiches to prevent the puff pastry from sticking.
SILICONE MAT – I like to use silicone mats on my biscuit baking trays instead of baking paper, it saves money and reduces landfill.
COOLING RACKS – it's ideal to transfer your baked items off the baking trays to allow them to cool on the cooling racks to prevent them from cooking any further or going soggy.  I place a tablecloth over the dining table and lay out the oven racks, I find this easier than over the kitchen bench as it gives me more space in the kitchen.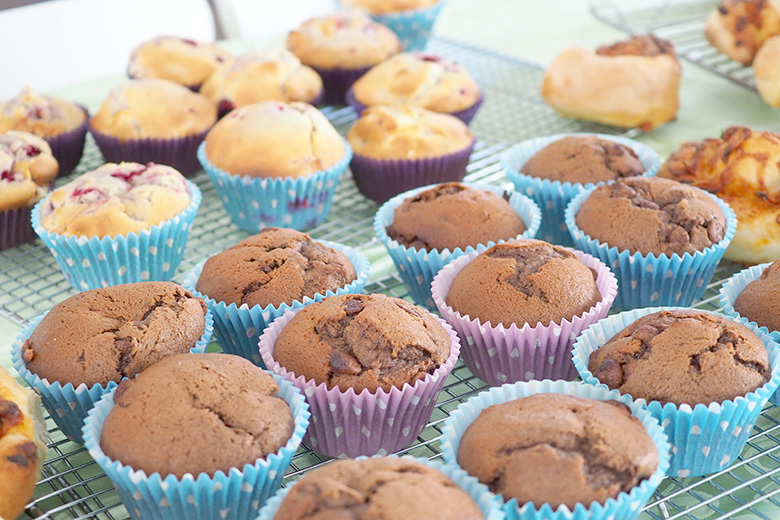 2. GATHER TOGETHER RECIPES
Gather together a few recipes that you would like to bake, remembering to create variety.  I typically bake:
2-3 batches of muffins
2 batches of biscuits
2 batches of scrolls
1 batch of quiche or sausage rolls
1 batch of something sweet – scones, banana bread or pikelets
  I have just released my new eBook 50+ Freezer Friendly Lunch Box Recipes, which has all my favourite lunch box recipes that I cook my kids.  Each of these recipes is freezer friendly for you to make for lunch boxes or to have on hand for after-school snacks. Rather than scrolling through my blog for recipes, they are all now conveniently in one place, click here to purchase.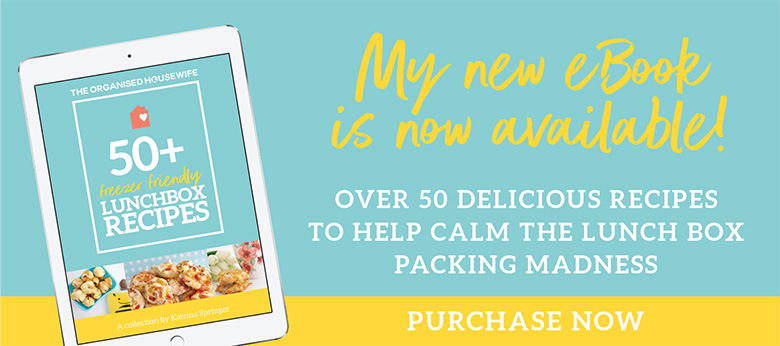 Please note some recipes do contain nuts.  Please observe all safe allergy precautions and school regulations when including nuts. Alternatively, you could substitute the nuts with seeds, dried fruit, oats or shredded coconut depending on the recipe.
Or you can find my recipes on the blog:
3. PLAN THE TIME FOR A BAKING SESSION
It may sound ridiculous to some, but I block out time in my calendar for my freezer baking session, because there was one school holiday period that I didn't and I ran out of time to do a big bake up, then the following weekends were packed with running kids around that I just didn't get time to do it and that's when I realised how much I appreciated having a freezer full of lunchbox snacks.  So now I block out 3-4 hours in my calendar to ensure I allocate time to doing it.
4. WRITE YOUR SHOPPING LIST
I created this grocery list to make shopping easier for myself, this list will help you save time while walking up and down the aisles at the supermarket by listing all your required groceries in the provided categories.
  My grocery list is available as an instant download here or purchase my A5 shopping list notepad here.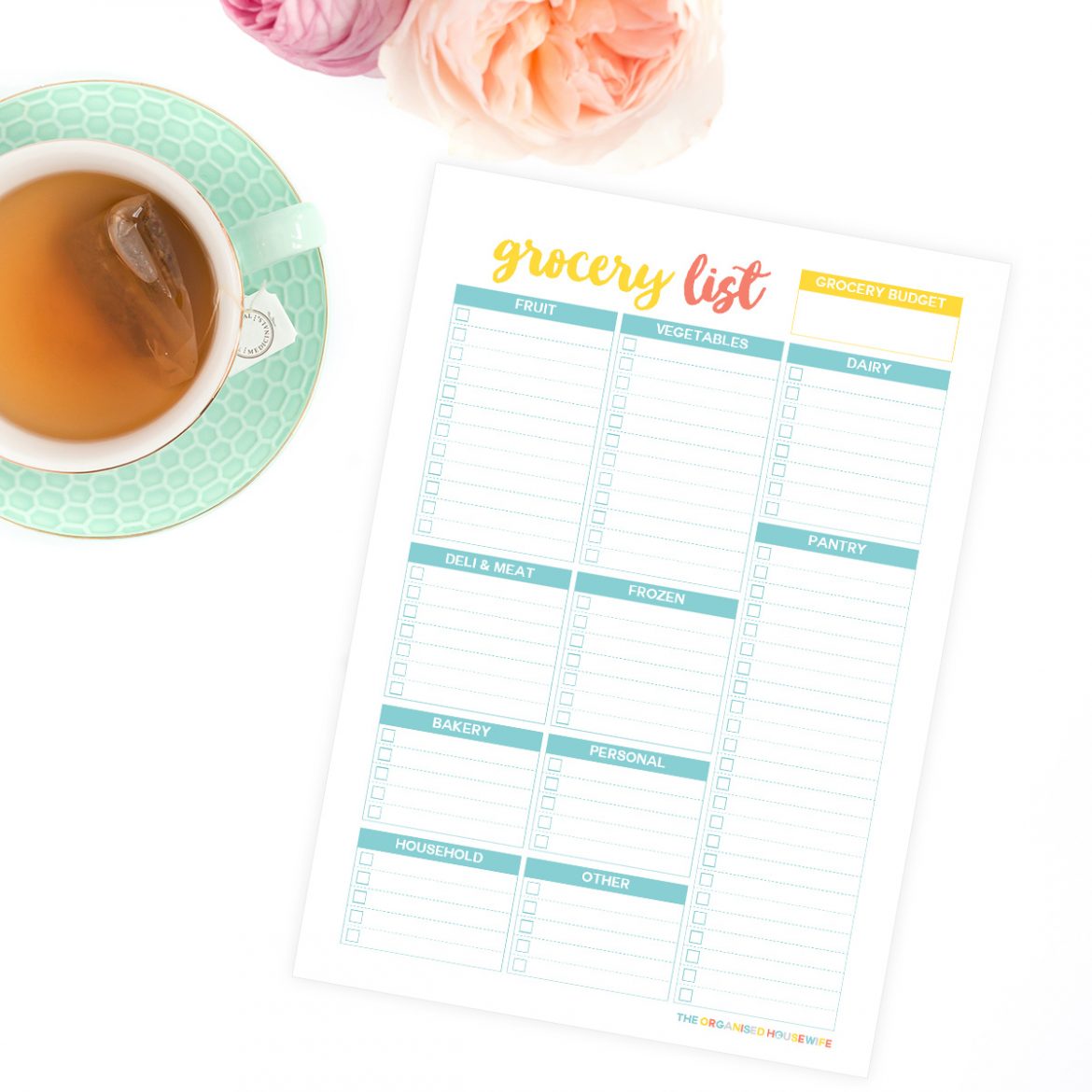 5. GET GROCERIES
I like to purchase my groceries the day before my big bake up session as I like to do my baking in the early morning, so then I have the rest of the day to spend with the family.
6. READ THROUGH YOUR RECIPES
Read through your recipes to see if there is anything that needs to pre-prepping, soaking, marinating, cooling etc. This will give you a good indication of what you should bake first.  I usually bake whatever recipe is required longest in the oven first, so then I can prepare the next recipe as it's baking.  All the recipes in my 50+ Freezer Friendly Lunch Box Recipes eBook are super simple and don't require a huge amount of time to bake.
7. STORING FREEZABLE BAKING
On the day I make the baked items I place them directly into an airtight container to ensure they are frozen as fresh as can be.  I don't use any freezer sheets or freezer bags as I find if using a good quality airtight container you don't need it, which then eliminates the extra expense and waste.  Freezing on the same day as baking means that when defrosted they will be just as fresh as the day it was baked.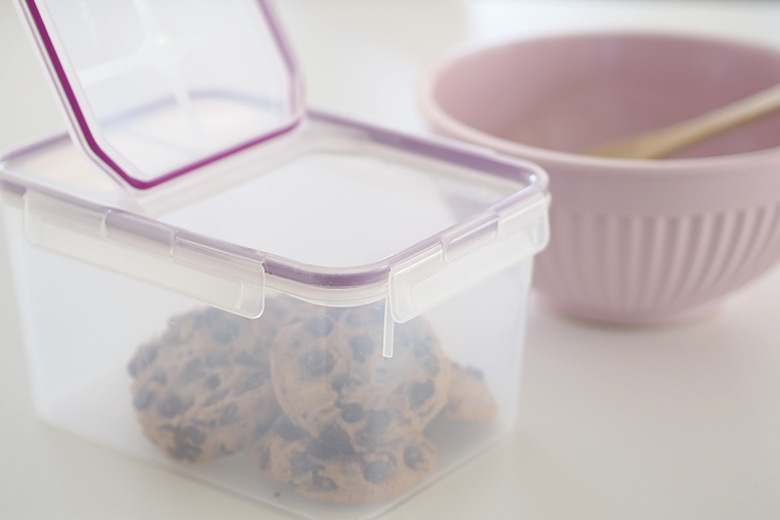 these containers are no longer available 
8. DON'T FORGET TO LABEL
I use masking tape on my containers to easily identify what's in the container.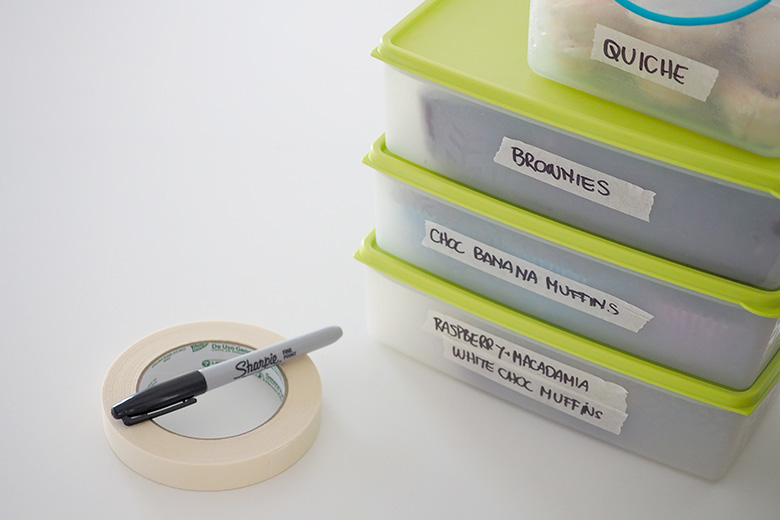 There you go, my tips on how to prepare for a big lunchbox freezer baking session.  I hope this helps you to create a little calm on those chaotic school mornings.
Tell me, what do you find most challenging when it comes to packing lunch boxes?
TAKE YOUR PLANNING A STEP FURTHER WITH MY LUNCH BOX PLANNER – Planning food for lunch boxes is essential. Kids need to have a healthy nutritious lunch. Using this planner will ensure we have those types of food in the fridge and pantry.  At the beginning of each week, plan what food you need to add to your grocery list to fill their lunch boxes for the week. Use this planner to plan and also ensure you remember to eat the food you purchased.
  Available in my shop as an instant download, 2 designs to choose from, click here to read more.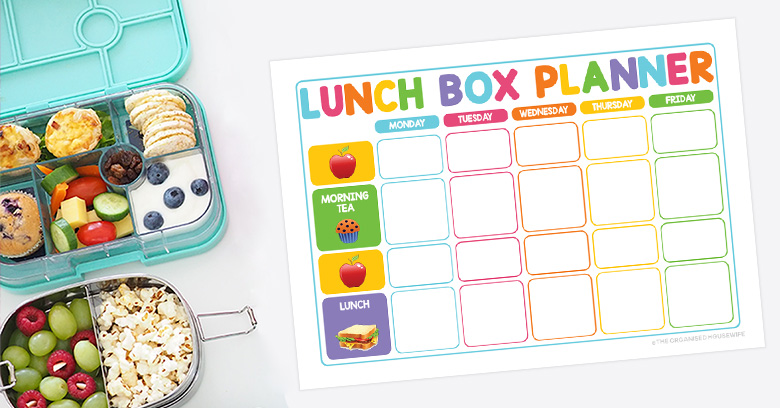 PLAN YOUR DINNERS – Create a plan for your lunches and meals so you will eat balanced meals throughout the week.  Planning ahead will save you on those busy nights that you can plan an easy dish or slow cooker meal rather than getting take out.
  Available in my shop as an instant download, several designs to choose from, click here to read more.