Thankyou to the lovely Marita from Stuff with Thing for contributing to today's lunch box idea post:
My 5yo Heidi is nut allergic, dairy, fish and red food colouring intolerant. She also has sensory processing disorder (part of the autism thing) and will not eat food that touches. Can be challenging 😀
Heidi's lunchbox includes:
organic honey sandwiches with wholemeal bread
apple pieces
in a silicone cupcake container to keep it separate a white peach quartered to remove stone.
A fork so Heidi doesn't have to touch the apple or peach with her fingers.
At the front is a home made berry muffin with cream cheese icing – a small amount of dairy in the cream cheese icing wont upset her tummy but a large amount would.
Icepack to keep it all cold inside the insulated lunch bag – as she prefers her food chilled.
Bottle of water (not pictured) for her drink.
 Thankyou Marita for sharing Heidi's lunchbox and your great ideas.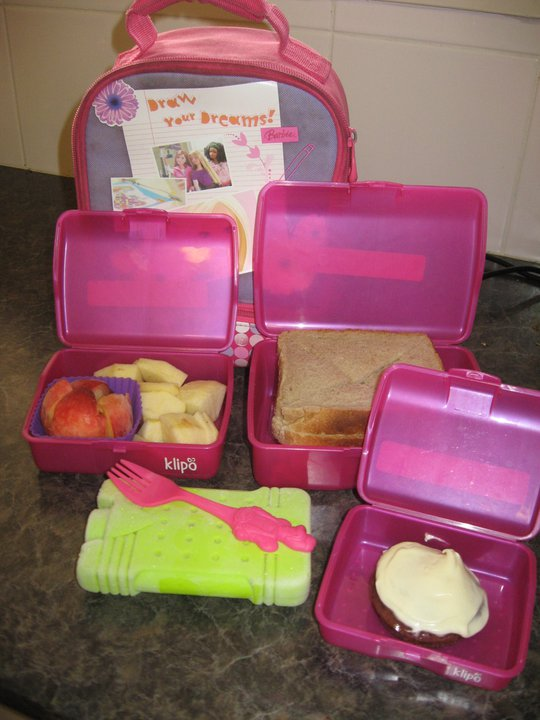 Spiced fruit muffins2 cups Self Raising Flour
1/2 cup Brown Sugar
2 teaspoons All Spice
2 large Eggs
1/2 cup pureed pear (substitute for the canola oil required in the recipe)
1 400g tin mixed berries
Heat oven to 200C.
In a large bowl, mix the flour, sugar and all spice.
In another bowl beat the eggs with a fork, mix in pear puree and berries.
Fold into dry ingredients until just dampened.
Spoon into muffin pans – makes 12 large muffins or 24 smaller muffins.
Bake for 10-12 minutes.
Cream Cheese Icing
Beat together 2 Tbsp cream cheese and 2 Tbsp room temperature butter (we use Nutelex), 1/2 tsp vanilla and 2 cups icing sugar. Spread over cooled muffins.
If I made the cream cheese icing again I'd probably use 4 Tbsp of cream cheese and no butter.
If you have any great lunchbox ideas, please email a picture and details to [email protected]