This post is sponsored by Cygnett
The day has rolled around again where we hug our dads a little bit tighter and laugh a little bit longer at their awful 'Dad jokes' – Sunday 3rd September is Father's Day! I don't know about you, but my husband loves anything technology. Keep your Dad up to date with the latest technology and give him a gift that will keep his phone charged, his iPad cosy or music playing comfortably in his ears. Here are ten tech gadgets Dad will want this Father's Day + a really cool giveaway!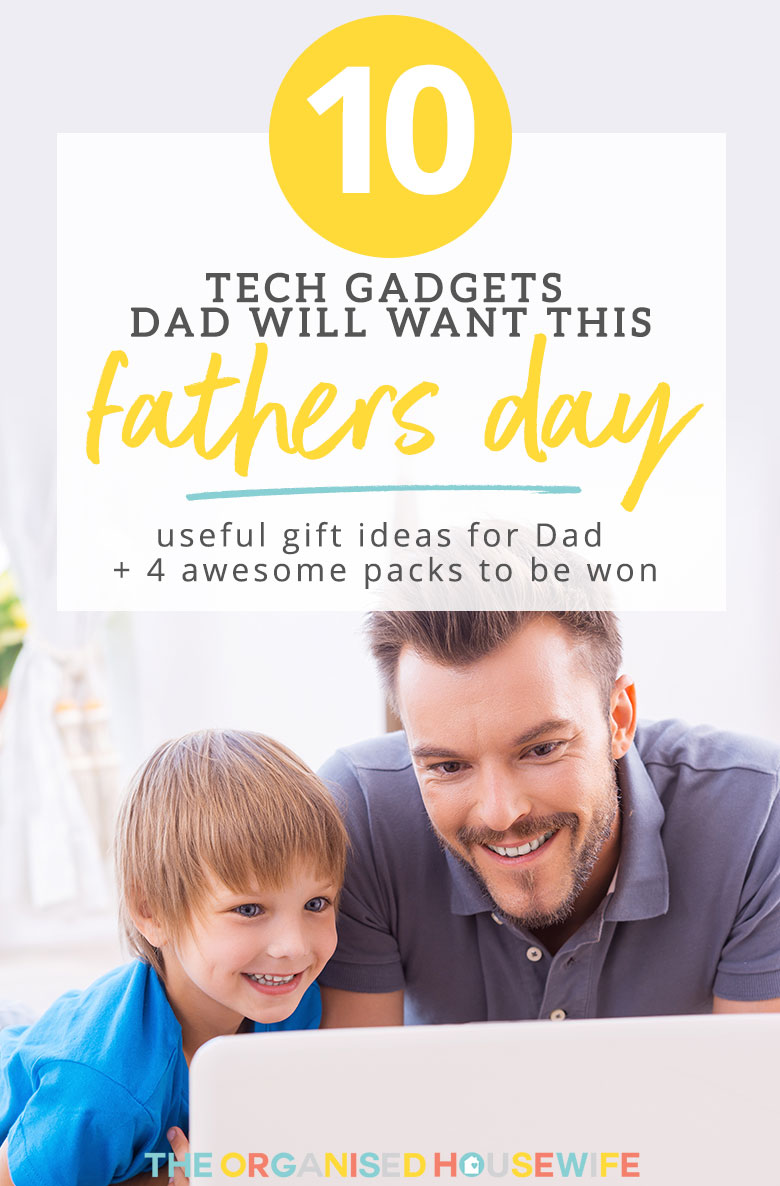 Ten Tech Gadgets Dad Will Want This Father's Day
1. PORTABLE POWER BANKS – We all rely on our phones throughout the day, for work, social media, book meetings, navigation, etc. The list is endless with how clever the phones are these days and there's nothing worse than running out of battery when you're in the middle of something. Power banks are convenient and reliable on-the-go battery chargers which can be kept in the car, backpack or briefcase. These power banks will ensure Dad never loses power again.
There are quite a few different power banks available, giving you from three to ten smartphone charges. My hubby listens to music through his phone at home and in the car, which chews through the battery, so he loves having a power bank on hand to keep his phone charged. I am packing one in my travel bag when I go overseas in the next few weeks so I can use my iPad on the plane to work and watch movies.
My favourite power bank is Cygnett's 6,000mAh Portable Power Bank, but depending on your usage you might prefer one of the other power banks in the rage. Full range of ChargeUp Power Banks available here.
Cygnett's 6,000mAh power bank features:
Up to 4 x smartphone charges
2 x USB Ports
Will power your smartphone, tablet, camera, portable speakers and fitness trackers – any device that uses a USB connection to charge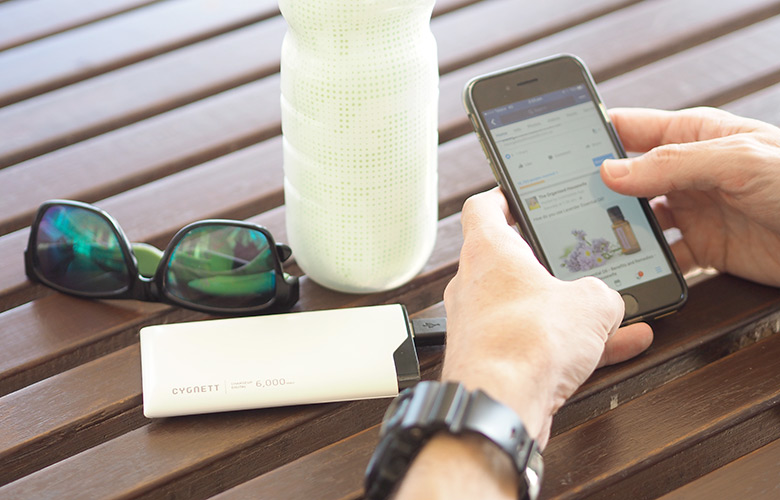 2. IN-CAR PHONE HOLDERS – Don't have satellite navigation or bluetooth in your car? You can use these Magnetic Mounts available for either your vent or dash & window depending on your preference. They provide you with hands-free access to your smartphone via the easy to install magnetic hold system. I know my Dad would love this as he travels around Australia in his caravan quite a lot (grey-nomads!). Having the phone holder near him (rather than laying in the centre console) will make it easier for him to get to his next destination without touching his phone while he is driving, I like the idea of him staying safe!
Features for the Cygnett MagMount 360 Vent Car Mount:
Mounts quickly and securely to the vent using strong magnets.
Compatible with devices such as your smartphone, tablet, GPS or GoPro
The 360 Car Mounts are available here.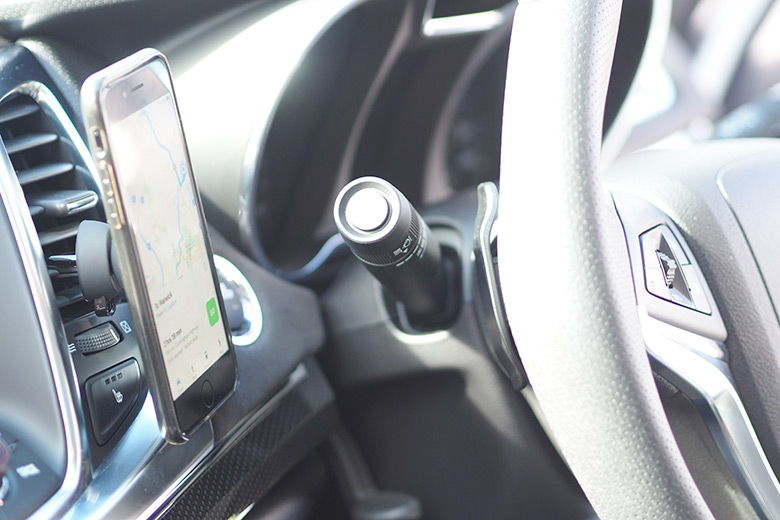 3. WIRELESS EARPHONES – These wireless earphones will offer Dad freedom and comfort when he's active at the gym, playing sport, walking between meetings or driving. The FreeRun Wireless Earphones are compatible with many devices such as smartphones, tablets, computers and gaming consoles. My hubby, enjoys wearing these wireless earphones at the gym as there are no long cords getting in the way of his workout and they block out the noise around him.
Features of Cygnett Wireless Bluetooth FreeRun Earphones:
Lasts for up to 5x hours
Easily connect to your device with Bluetooth®
Outstanding quality sound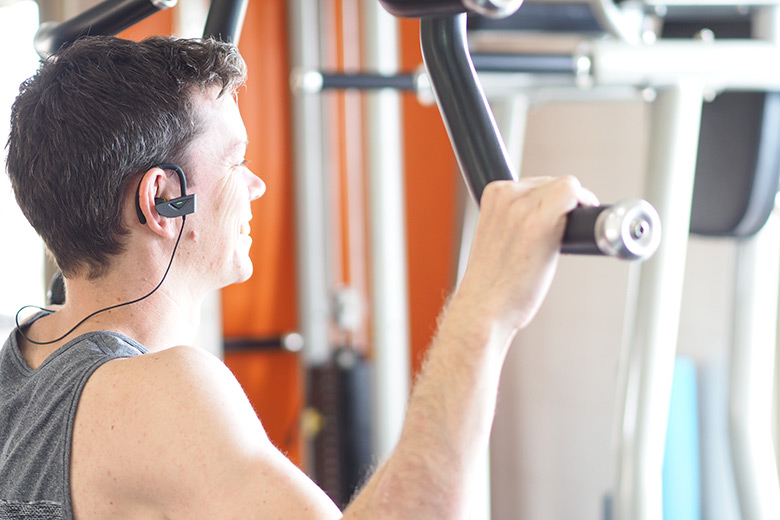 4. JUMP STARTER – Give Dad the power he needs to jump start his car, boat, jet ski and motorcycle in a convenient emergency kit that is also be useful for camping. Small enough to store conveniently in Dad's car, it's safe, effective and quick! Bonus: not only does this charge his vehicle, it will charge Dad's smartphone, tablet, camera, phone and more!
Features of Cygnett ChargeUpAuto 12,000mAh Jump Starter & Power Pack:
Safely jump-start a dead battery in seconds
Dual USB port for up to 10x smartphone charges
Built in LED multi-function torch
20x jump starts per charge
View more details about the ChargeUp Auto Jump Starters here.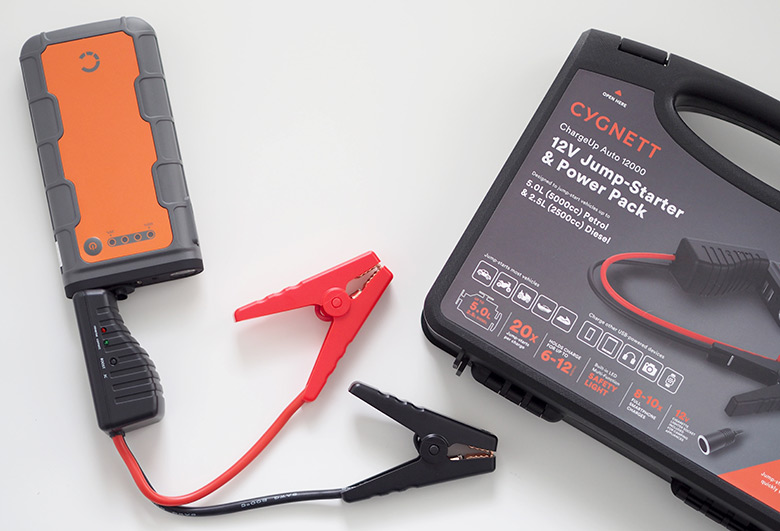 5. IPHONE AND IPAD CASES – Not only will they help protect Dad's devices but the iPad case is super handy as it has a textured grip system which means the iPad can be viewed from multiple angles. This helps with the glare from behind you making it easier to read the screen. I like to search and view my recipes with the iPad more upright, but when scrolling through and replying to comments on Facebook I find it more comfortable in the slightly upright view.
Features of Cygnett TeckView iPad 9.7-inch case:
Magnetic latch closure
Durable, slim and lightweight design
Available in black and grey, red and grey, lilac, and navy blue
Features of iPhone 7 case:
Compatible with iPhone 7
Clear shell and frame
View the various cases for iPhone, iPad, Samsung and tablets here.

6. LIGHTNING CABLE – With every device needing a cable these days, it's easy for the office desk or charging station to look a mess. Lightning cables will not only help keep his office desk tidier, but these shorter cables are also a great travel accessory. They can reduce space in the suitcase/briefcase or car. I use a 3m cable for when I like to use my phone on the couch but need to charge it at the same time. The extra cable length gives me the freedom to sit comfortably while it's charging in a power point near me. My hubby uses a 10cm lightning cable to charge his phone at the computer, less cable to get tangled up!
Features of the Cygnett Lightning Cables:
Fast-charge and sync
Compact 10cm cable
Available in a variety of colours
Check out the different Lightning Cables here.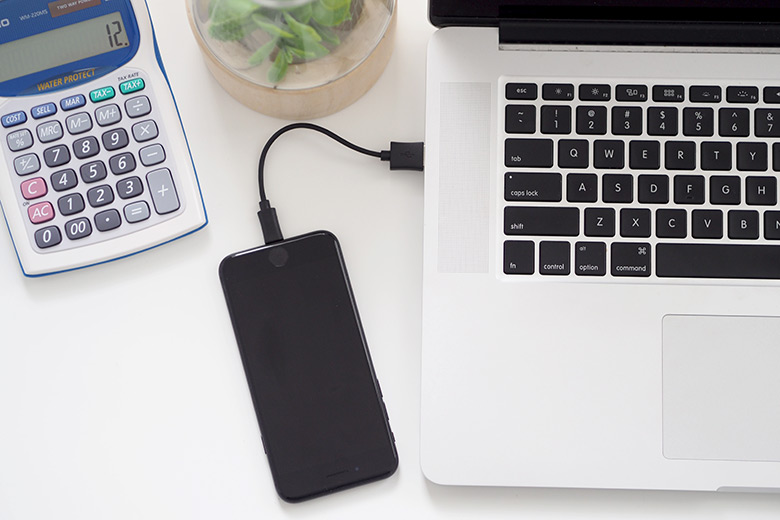 7. MINI CAR CHARGER – If dad doesn't have a USB port in his car he'll like this. Help Dad keep his Apple devices charged and connected on the road – the perfect car companion. There really will be no excuse for Dad to not have a charged phone!
Features of Cygnett FlashPower Mini II Car Charger with Lightning Cable:
Fast-charging 2.1 Amp output
Compatible with all Apple devices with a Lightning™ connector
1m cable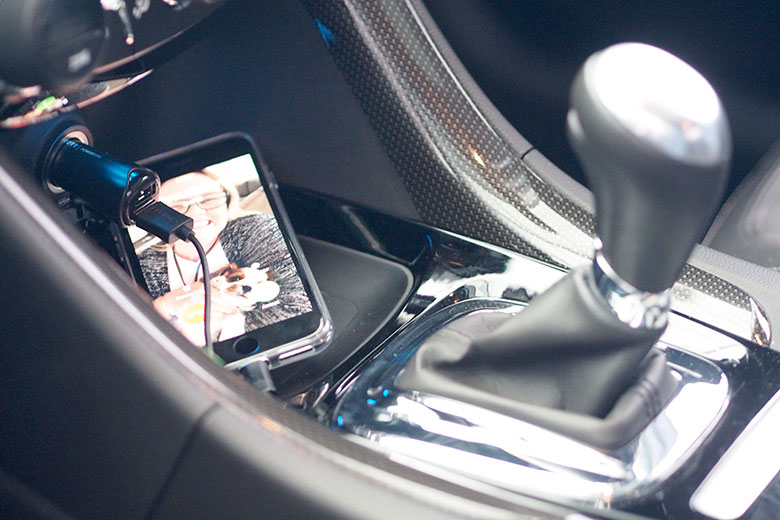 8. CHARGING HUB – With so many devices and cables these days it's hard to find enough ports in your computer to charge everything at the same time. Using a charging hub and 10cm lightening cables it will help keep the desk tidier. I actually find this charging hub very handy as my little MacBook laptop doesn't have a USB port, this makes it hard to charge devices. Plugging in the charging hub (which has a reversible USB connector, so I can use on my laptop or my desktop) gives me access to not only one USB port but multiple ports, which is great for smartphones to tablets, Go Pros, speakers and fitness devices.
Features of Cygnett Lightspeed Hub:
Fast-charge up to 3 devices at once
Smart charging chip reroutes power to connected devices
Includes power cable
View the range of USB Charging Hubs here.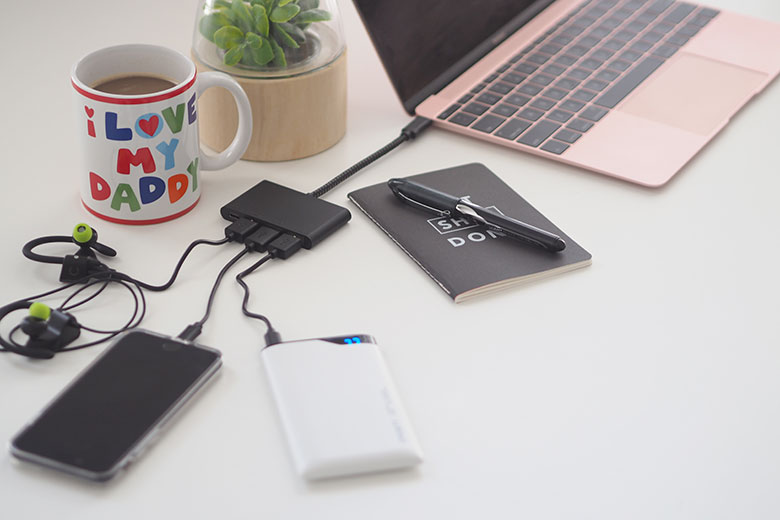 9. BLUETOOTH CAMERA SELFIE STICK & TRIPOD – Give Dad the job of taking the family photos and capture his favourite memories with this easy-to-use detachable tripod with Bluetooth connection. I often take selfies, but I only have the reach my little arm gives me, using the selfie stick allows me to capture more of the area around me. I'll be borrowing this from my hubby and taking it on my upcoming trip to the Maldives!
Features of GoStick Bluetooth Camera Selfie Stick & Tripod:
Secure universal cradle for your smartphone
GoPro mount compatible
Bluetooth® remote that attaches neatly to the stick (not compatible with GoPro)
Collapsible and detachable tripod
Twist-lock telescope extends to 62cm
Durable aluminium construction
Soft grip handle
GoStick Bluetooth Camera Selfie Stick & Tripod available here.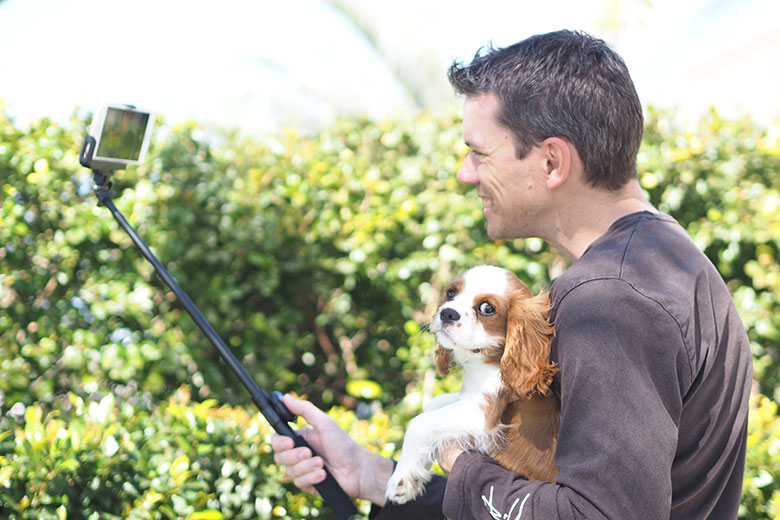 so wish I could read Zoe's mind! The selfie stick will be fabulous for our upcoming holidays to Disneyland, make it easier to get some great family shots!
10. STYLUS PEN – Take the stress and frustration out of hitting the wrong button with a stylish ball point pen when using his digital devices.
Features of Dual Stylus PrecisionWriter with Ballpoint Pen:
Smooth soft-gliding
Visible contact point
Ballpoint pen
Compatible with tablet and smartphone touch screens
View the different Stylus pen's available here.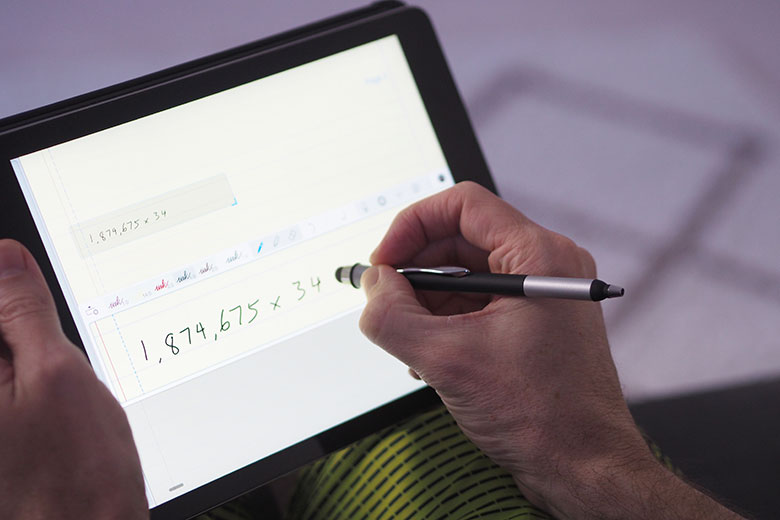 Cygnett inspires new ways of working, playing and living with technology through their large range of digital accessory products for smartphones, tablets, cameras and more. The range includes their market leading power banks, cables, chargers, and cases, designed to create a better digital experience and help you stay connected on-the-go.
You can purchase their products through Cygnett's website or in store at leading Australian retailers such as JB Hi-Fi, Harvey Norman, The Good Guys and more. Check out Cygnett's Facebook and Instagram accounts for more information and design inspiration.
---

WIN 1 OF 4 CYGNETT PACKS!
With special thanks to Cygnett for this awesome giveaway!
This giveaway is now closed! Thank you to all those who entered.
Congratulations to Liz, Francesca, Kylie and Tara. You have won the following prize:
MAJOR PRIZE – 1 lucky winner will receive a 20,000 Power Bank, 6,000 Power Bank, 7,500 ChargeUp Auto, Free Run Headphones and Selfie Stick and Tripod, valued at $369.55.
VALUE PACK – 3 lucky winners will each receive a 10,000 Power Bank, 2,500 Power Bank, Free Run Headphones and a USB Charging Hub, each valued at $239.80.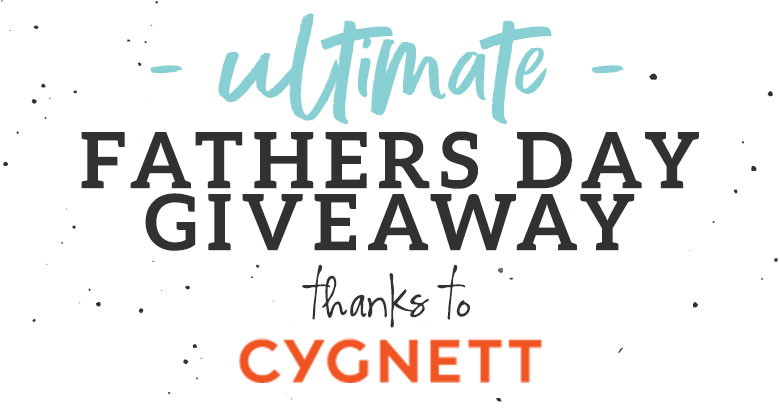 HOW TO ENTER:
Tell me in the comments below 'What Tech Gadget do you think Dad would love and why?'
---
GIVEAWAY TERMS AND CONDITIONS – This giveaway run in accordance with my disclosure policy, please read the terms and conditions below:

1. Entries must be made on The Organised Housewife blog, comments on social media are invalid. 2. Entries close 11.59pm AEST Wednesday 30th August 2017. 3. One entry per household and open to Australian residents only. 4. This giveaway is a game of skill. The judge's decision is final and no correspondence will be entered into. 5. Total prize pool is valued at $1088.95. 1 winner will receive the major prize and 3 winners will each receive one value pack. 6. Winners will be contacted by email, please ensure you leave your email address. 7. If I have not received a reply from the winner within 7 days the prize will be forfeited and awarded to the entry judged to be the next best. 8. The Organised Housewife will take no responsibility for any delay, loss or damage to prizes sent to winners.