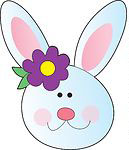 Sadly our school don't have easter bonnet parades.  It was once said it was because of the different religions in the school but last year it was because of all the other activities through the year that they couldn't fit in so many.  I was sad to see the Easter Bonnet Parade was the chosen event to cross off the school calendar.
Thankfully though I had the chance to make bonnets with the kids while they were at kindy, we had so much fun putting them together.  I remember loving the parade as a child so I'm sad that my kids can't enjoy the same fun through primary school.  But understandably there are parents that don't have the time or desire to make them.
To get my easter bonnet fix this year I would love to put together a gallery of Easter Bonnet photo's to showcase to help give you some ideas and inspiration if you are creating one with your child this year.
Would you like to share your kids easter bonnet photo's from previous years??