I have always admired those that decorate eggs at Easter, their time and patience they put into it.  There are so many Creative DIY Easter Egg Decorating Ideas out there in the wide world web, so I have created this little collection.  Do you decorate eggs? What is your best tip?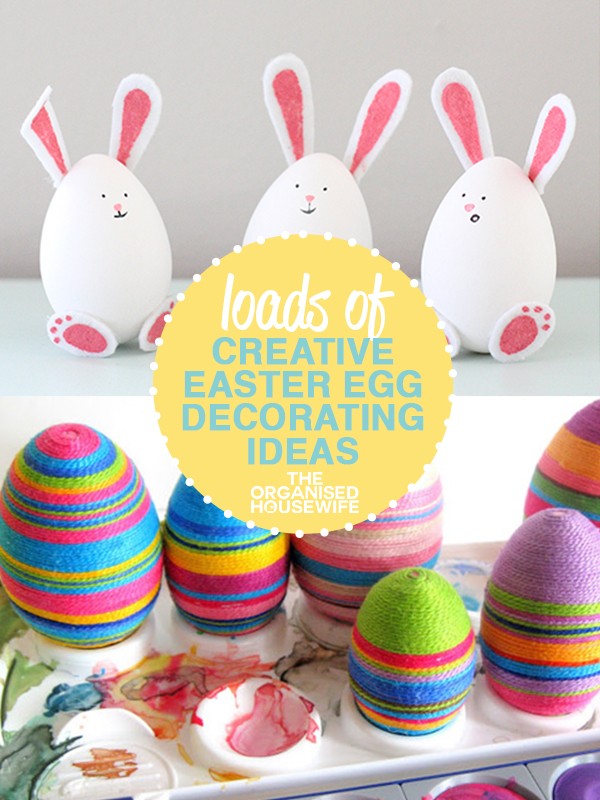 Creative DIY Easter Egg Decorating Ideas
Nail polish easter eggs – Pour nail polish into water, swirl around and then dip the egg. The most important and fantastic thing is choosing your favorite nail polish combination colors. Idea found via Camille Styles.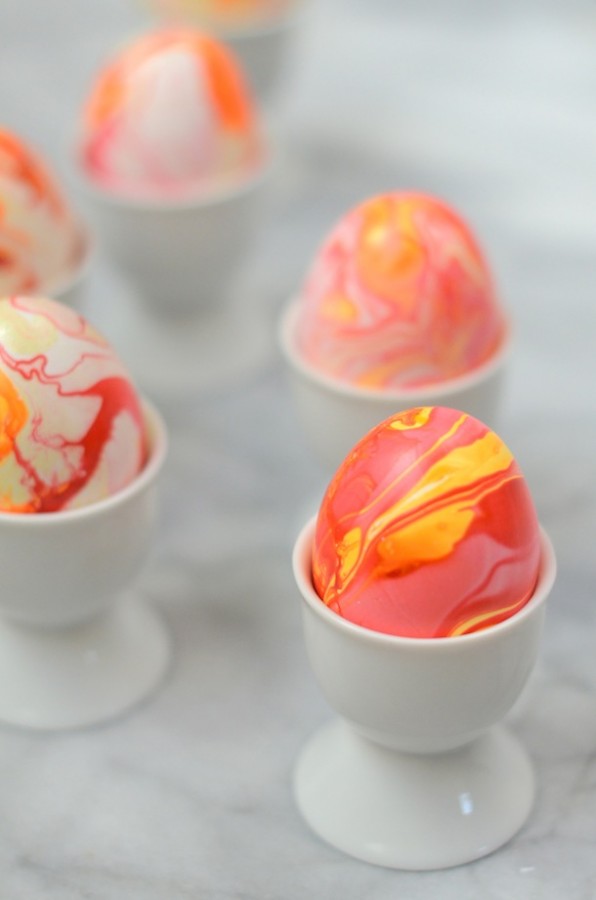 Swirled Easter Eggs – You can get this with only 3 simple steps: dye base color, get swirls through shaving cream and roll the eggs. Step by step tutorial available at ehow.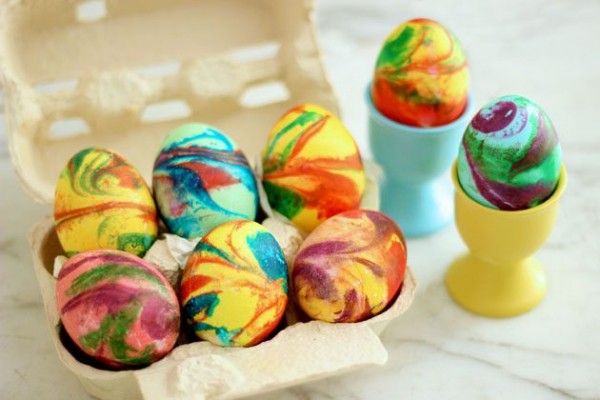 Polka-Dot Glitter Eggs – Using a crafts punch, punch circles from double-sided adhesive. Attach them to the eggs. Pour different colors of glitter into separate bowls. Roll each egg in glitter; remove excess with a clean paintbrush. For a multicolor egg, place a few stickers on an egg at a time. Roll in glitter, remove excess, adhere more circles, and repeat with a different color of glitter. Found via bhg.com.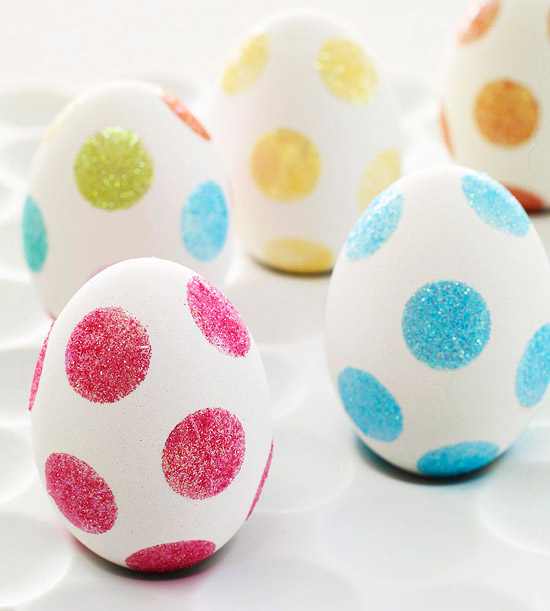 Crochet Easter Egg Holder – Place a few of these crocheted Easter egg holders on branches in a vase and you'll have the perfect centerpiece for Easter. A fun project for the older kids! Free pattern can be found at LVLY.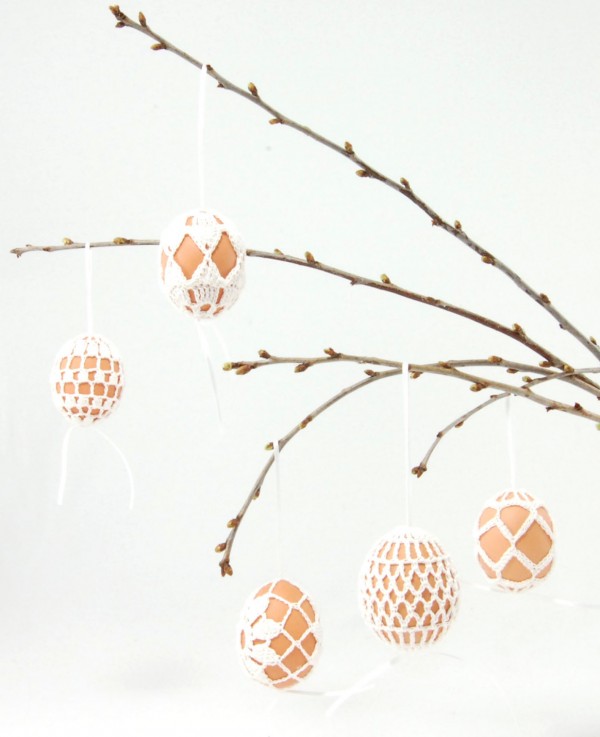 Stripe Eggs – Make a bold and colorful statement by striping your eggs with loops of thread. A perfect DIY Easter egg project for all the thread heads out there! Image credit Craftberry Bush, however tutorial is no longer available.
Use a bit of leftover wool, start at one end of a ball of wool (to get a striped effect, use wool that's dyed multiple colors) and make a 1/2-inch coil. Hot-glue the coil to one end of your egg, and press with your fingers to secure. Wrap the yarn slowly around the egg, securing with dabs of hot glue at 1/4-inch intervals. When you're close to the other end of your egg, cut the yarn and finish your coil. this tutorial found at bhg.com.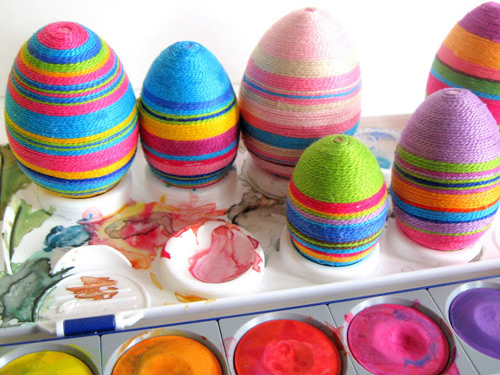 Rubber Band Patterned Easter Eggs – Create minimal patterns on your Easter eggs using rubber bands! Simply wrap the egg with a couple of rubber bands and add the colored dye of your choice. Your kids will have a blast making patterns with this super easy technique. Idea found via Chocolate Shavings.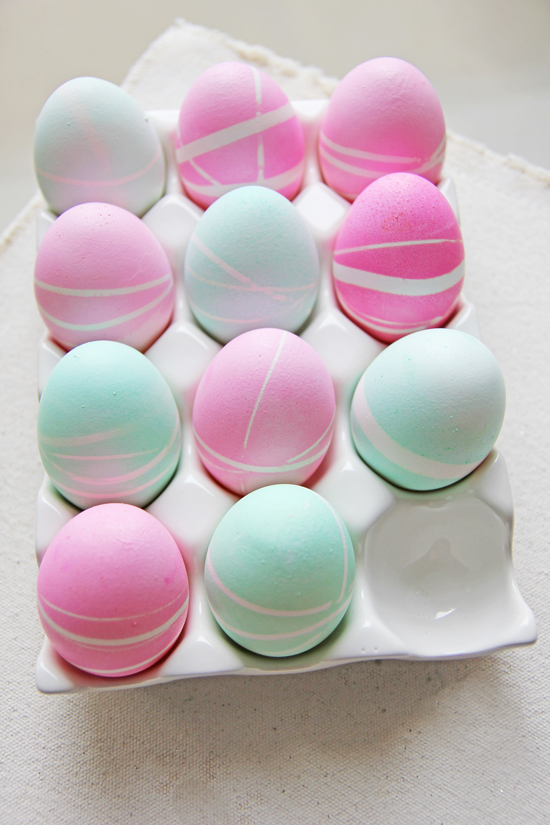 Minion Easter Eggs – dyed Easter eggs with moveable eyes and string to resemble Minion goggles. Tutorial via a pumpkin and princess.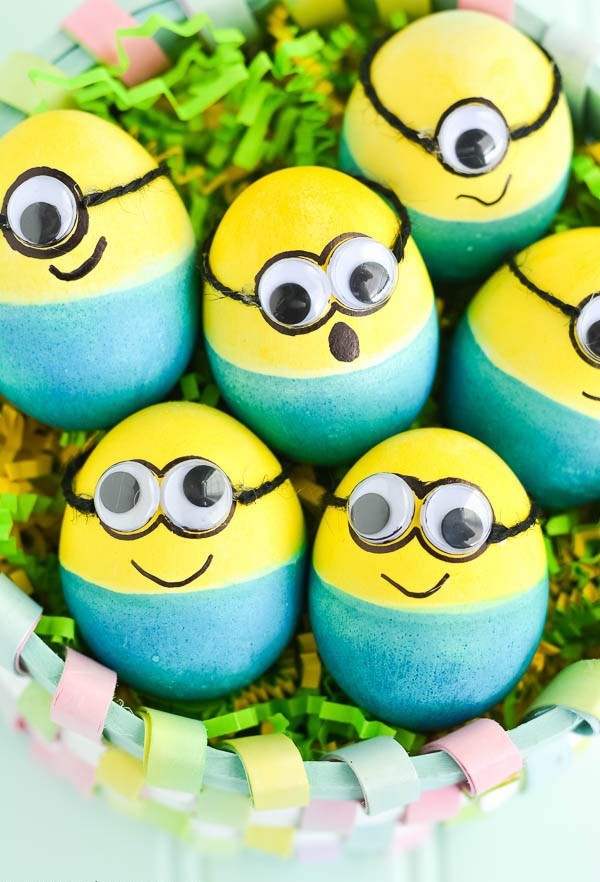 Easter Fools Jelly Filled Eggs – I'm not sure about this one, I'm wondering how difficult it would be to peel the egg, but I think this is a fun idea! The colorful, wobbly jelly will add an extra element of shock and surprise for your little breakfast guests on Easter morning. Clever idea found via Oh Happy Day!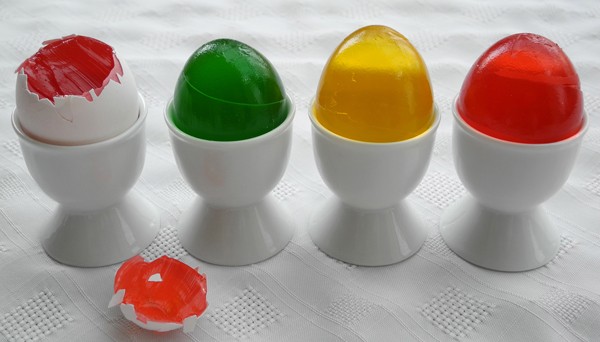 Painted Easter Eggs – The whole family will love making these fun and creative painted Easter eggs. Simply find several colors of washable tempera paint and 1/2-inch-wide flat paintbrushes, then let them go wild with designs! Idea found via bhg.com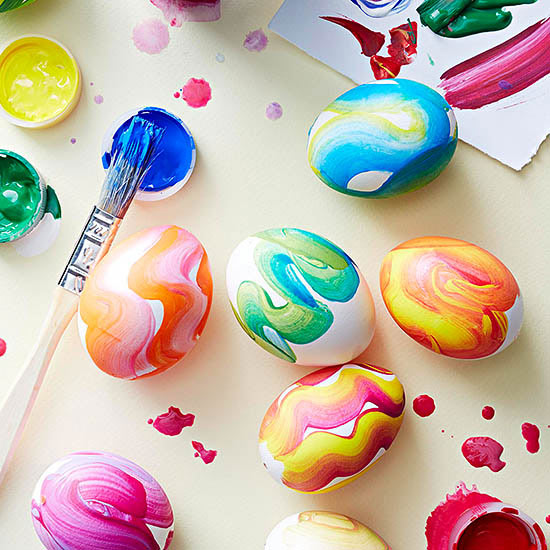 Permanent-Marker Doodled Eggs – If you love to doodle and draw, this simple Easter egg idea is just for you! All you'll need are a few hard-cooked eggs, a permanent marker, and a lot of creativity. more tips via bhg.com.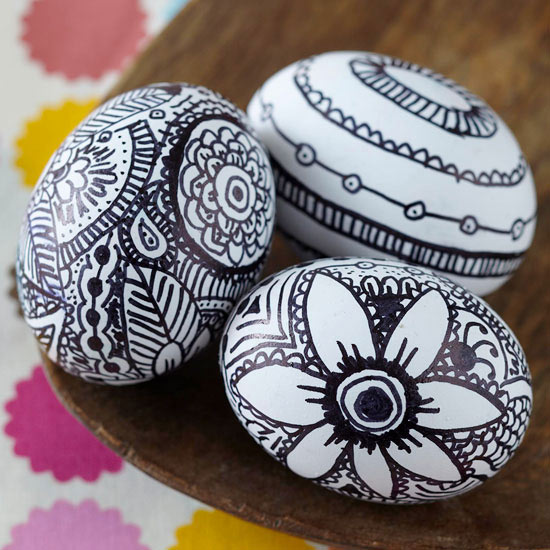 More black and white ideas -use two thicknesses of sharpie, and made an effort to vary techniques and visual weights for each pattern. found via obviously sweet.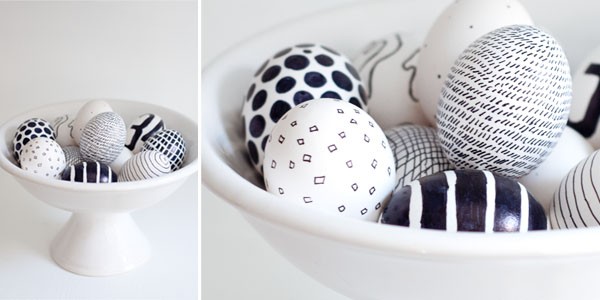 Eggheads with hair – If you get them ready four or five days beforehand  they will have grown a full head of hair ready for the Easter weekend – which you can then snip off to enjoy with an egg sandwich. Found via Nurture Store.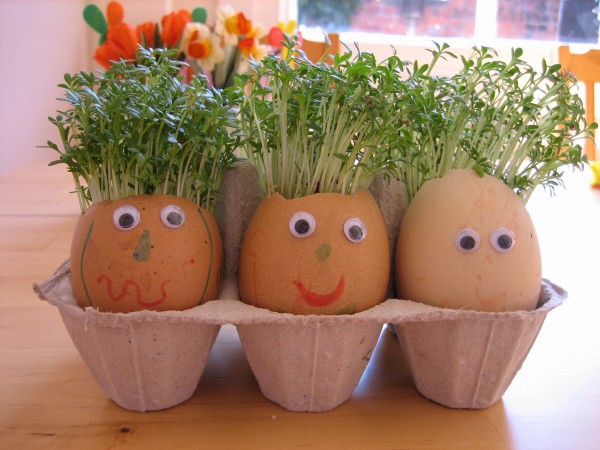 Emoji Easter Eggs – I am sure these will put smiles on many faces – see how to draw the emoji's at Studio DIY.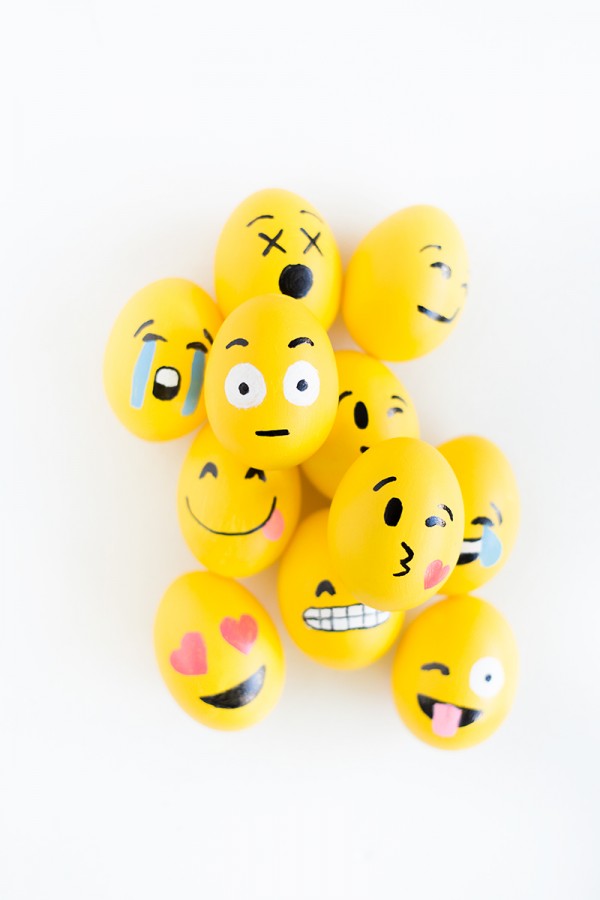 Ice Cream Cone Easter Eggs – think outside the box when it comes to Easter eggs, with some fun and easy DIY paintable designs. Idea found via Kara's party ideas.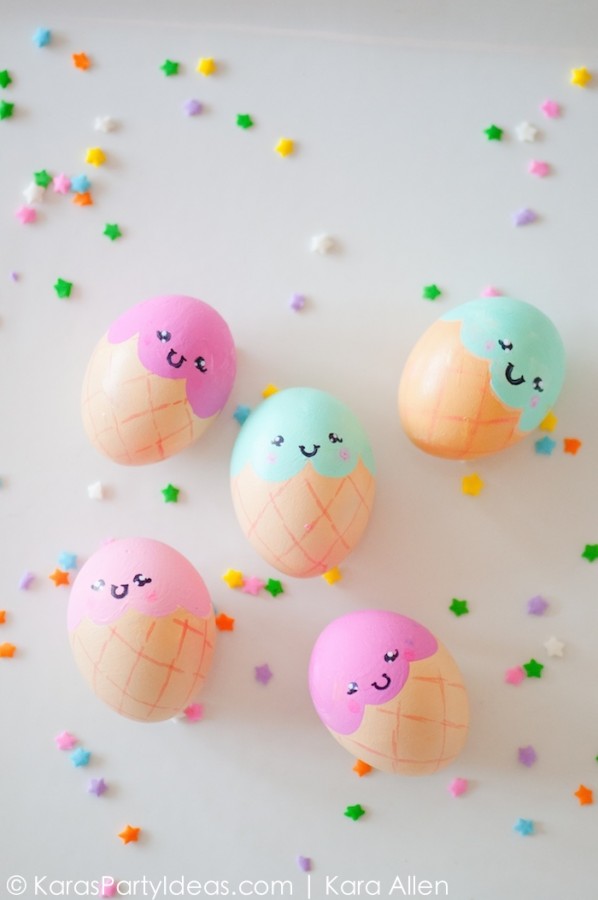 Easter Bunny Eggs – These cute little Easter Bunny Eggs are so charming and easy to make! Idea found via littlered window.
Do you decorate eggs? What is your best tip?