Make or Build A Gingerbread House as a fun family Christmas tradition.
One of my family's Christmas traditions when the kids were little was to build a Gingerbread House together every year. Our family traditions have changed and evolved over the years, now that they are older, some years we haven't always had the time to make a Gingerbread House together. This Christmas, after the year we have had in 2020, I think we are valuing all the more connecting with family and friends and reviving old traditions and treasuring special moments with loved ones. My little niece came over to visit on the weekend, and it was so much fun building a gingerbread house with her and my daughter, eating lollies as much as using them, making chocolate shapes on GLAD to be Green Compostable Brown Bake Paper to decorate the house whilst we listened to Christmas music. The afternoon really took me back to special memories from when my children were smaller. Who knows, maybe one day I will be making Gingerbread Houses with my grandchildren!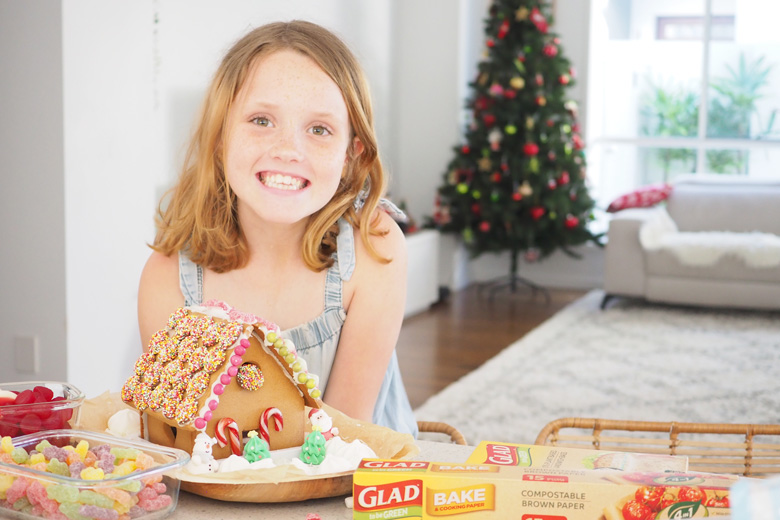 in partnership with GLAD
Christmas and its traditions look different for every family, do what works best for yours. The very first year our family started this tradition I made our gingerbread from scratch…it was a little bit burnt and some pieces broke, but we still managed to put something together. Don't make this activity harder than it needs to be, this should be something fun to do! After I found Gingerbread House Kits at the shops, we always used those. They are perfect if you are short on time. If you would like to try making one from scratch this recipe has a template for the house that you could trace out onto your GLAD to be Green Compostable Brown Bake Paper. I would love to see your family's gingerbread houses, whether you make one or build one!
  Find this Ginger Bread House Recipe & Template here.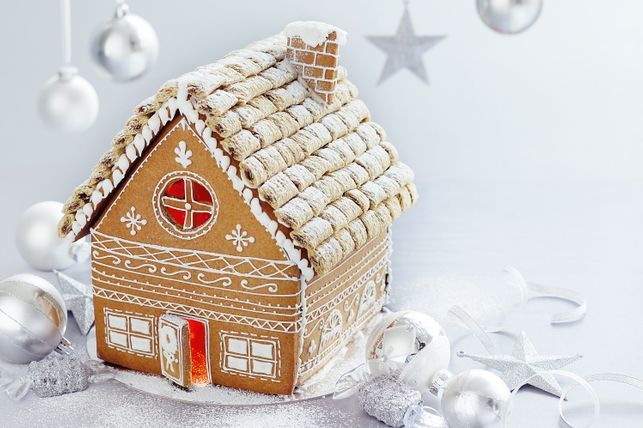 Use Royal Icing or melted White Chocolate to glue the house panels together. The Glad to be Green Plant Based Sandwich Bags are perfect to use to pipe the icing. Simply fill the bag with the melted chocolate or icing, seal it up, and snip one corner off the bag. They are so much easier to use than a traditional piping bag. There is less chance of the icing drying out too quickly and reduces the possibility of mess. It's much easier to control and use for smaller hands too.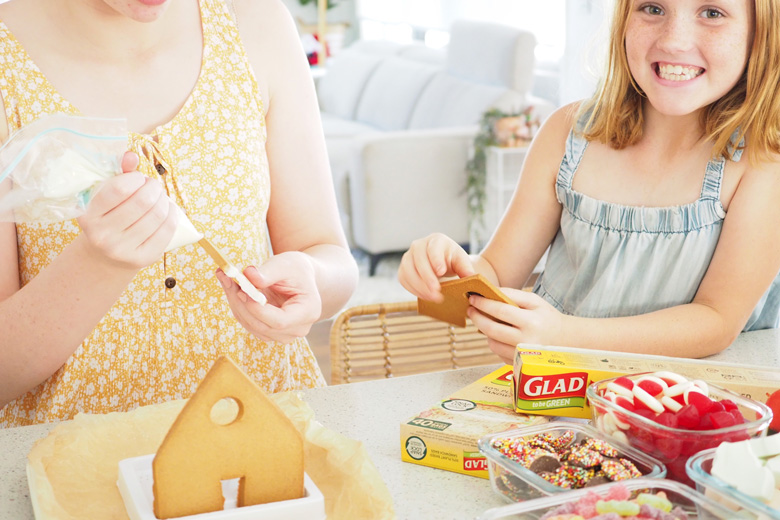 I used a sheet of GLAD to be Green Compostable Brown Bake Paper underneath my house while we were assembling it and decorating it to catch any drips and mess, it made for a much faster clean up! I love that the paper is compostable, so I can use it guilt-free. Attach the front and a side wall of your house to your tray or base and each other with the icing or melted chocolate. Add the other walls. Let it set for a few minutes. Attach the roof panels last.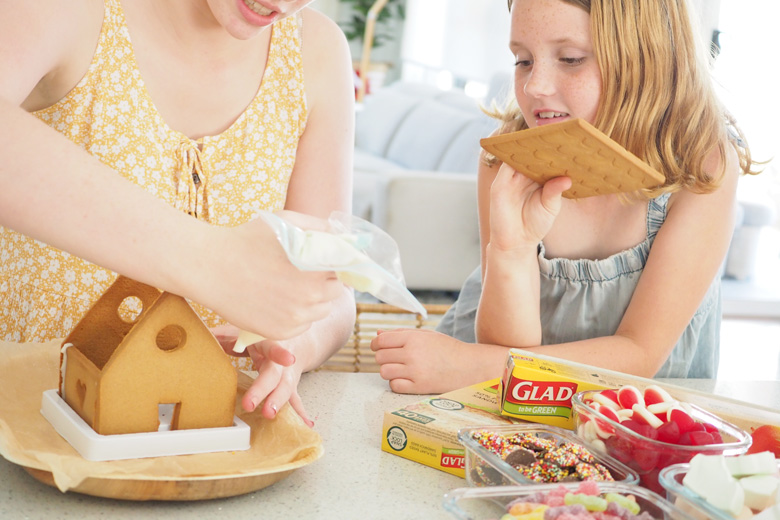 Once your house has set securely you now get to the extra fun part – decorating! Attach your lollies of choice, I love using freckles and candy canes. You could even use some small toys for non-lolly decorations. If you have excess melted chocolate, you can make your own decorations by piping some shapes to set onto your  GLAD to be Green Compostable Brown Bake Paper to make your own decorations. You could make chocolate trees, stars or snowflakes for decorations.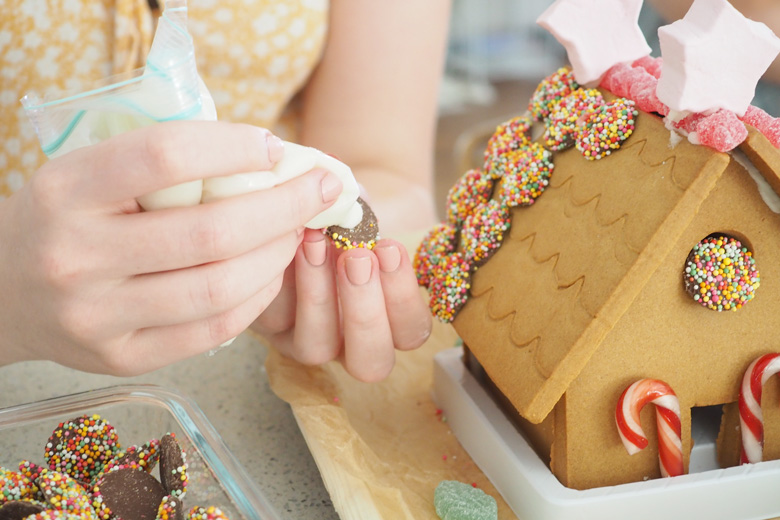 I hope you feel inspired to have a go at this fun family tradition whether you make your own Gingerbread House from scratch or have fun building and decorating a kit one!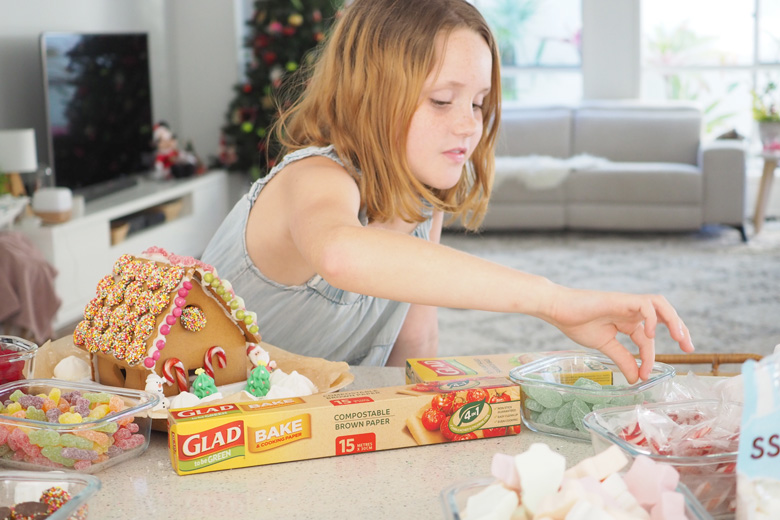 This post is run in accordance with my disclosure policy.
Are you going to make a Gingerbread House this Christmas?
---
Pin this image below to Pinterest!