Tackle Christmas like a boss with a Christmas Planner that puts you back in control of gift giving, budgeting, meal prep, Christmas events, and SO MUCH MORE!
Christmas can be an overwhelming and stressful time. Budgets get blown out, time seems to speed up, our to-do lists feel never ending, and then there's the rigmarole of events, presents, travel details, and the expectations of family and friends. It creeps up on us from nowhere, and just as the year starts to wind down, we're expected to wind up.
As with all parts of our lives and our homes, Christmas too can be broken down, organised and planned. We can empty our busy minds on to paper, and take control of the 101 facets of a fancy feast, the ever growing gift list, balance our budgets and so much more!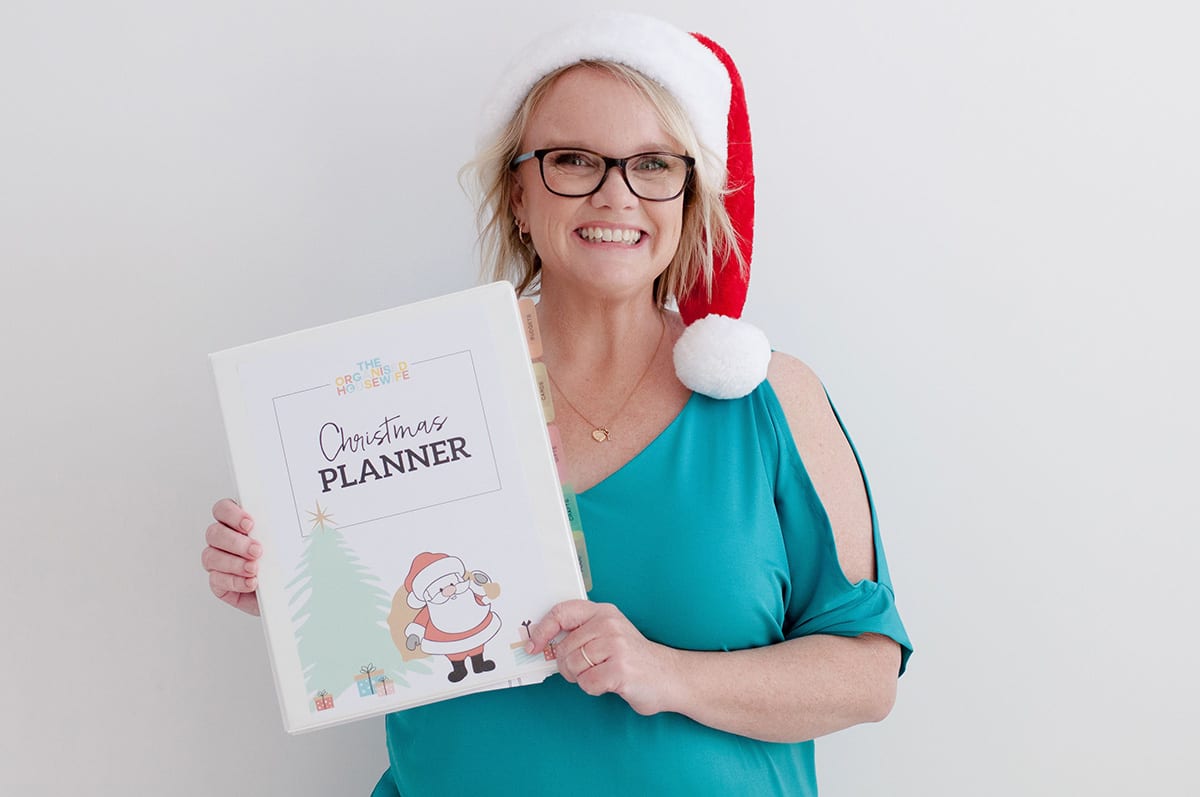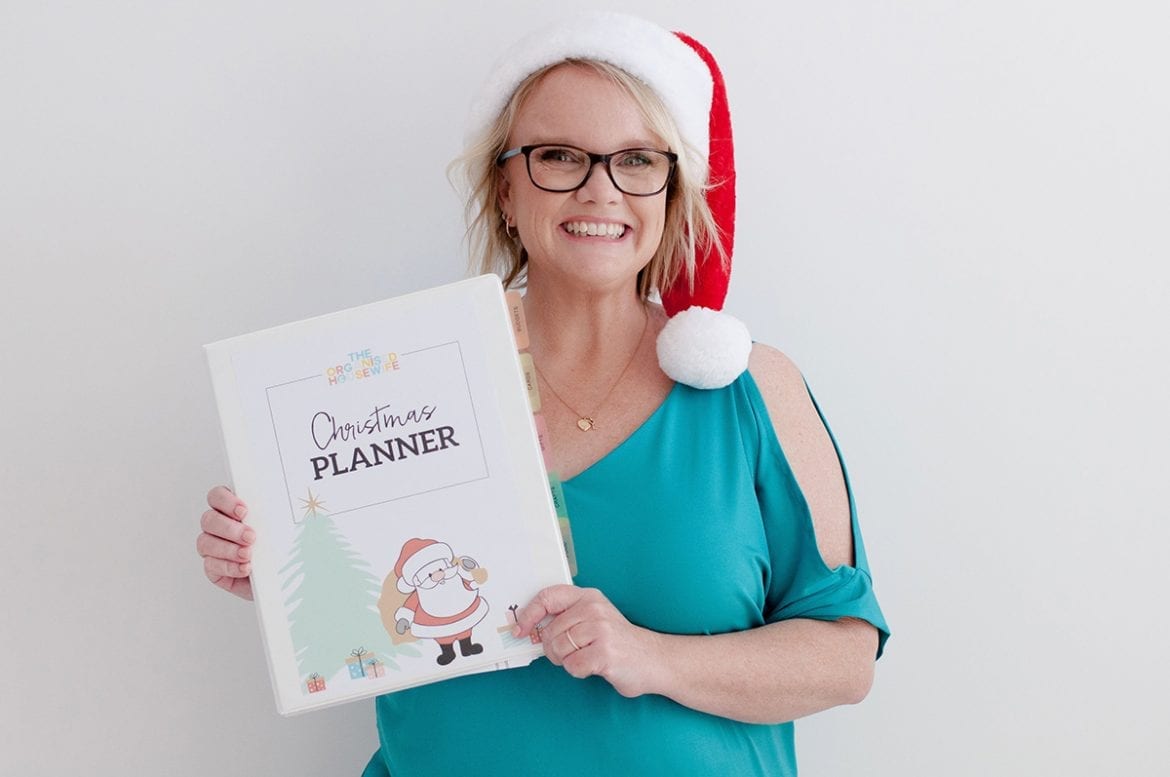 I have never left you high and dry with any other part of your home life, and I am not going to start now. This is why I have endeavoured to make your Christmas run smoothly and stress-free with the creation of the most epic Christmas Planner you have ever seen!
No more frantically wrapping presents the night before Christmas only to realise you've bought too many, not enough, discovered one child has WAY more than another, or even worse – you've forgotten where you even hid the presents or the stocking fillers (I have actually done this before!). Forget going over budget, and last minute trips to the shops. Get ahead, chill the bill, and start to enjoy your Christmas the way you deserve to.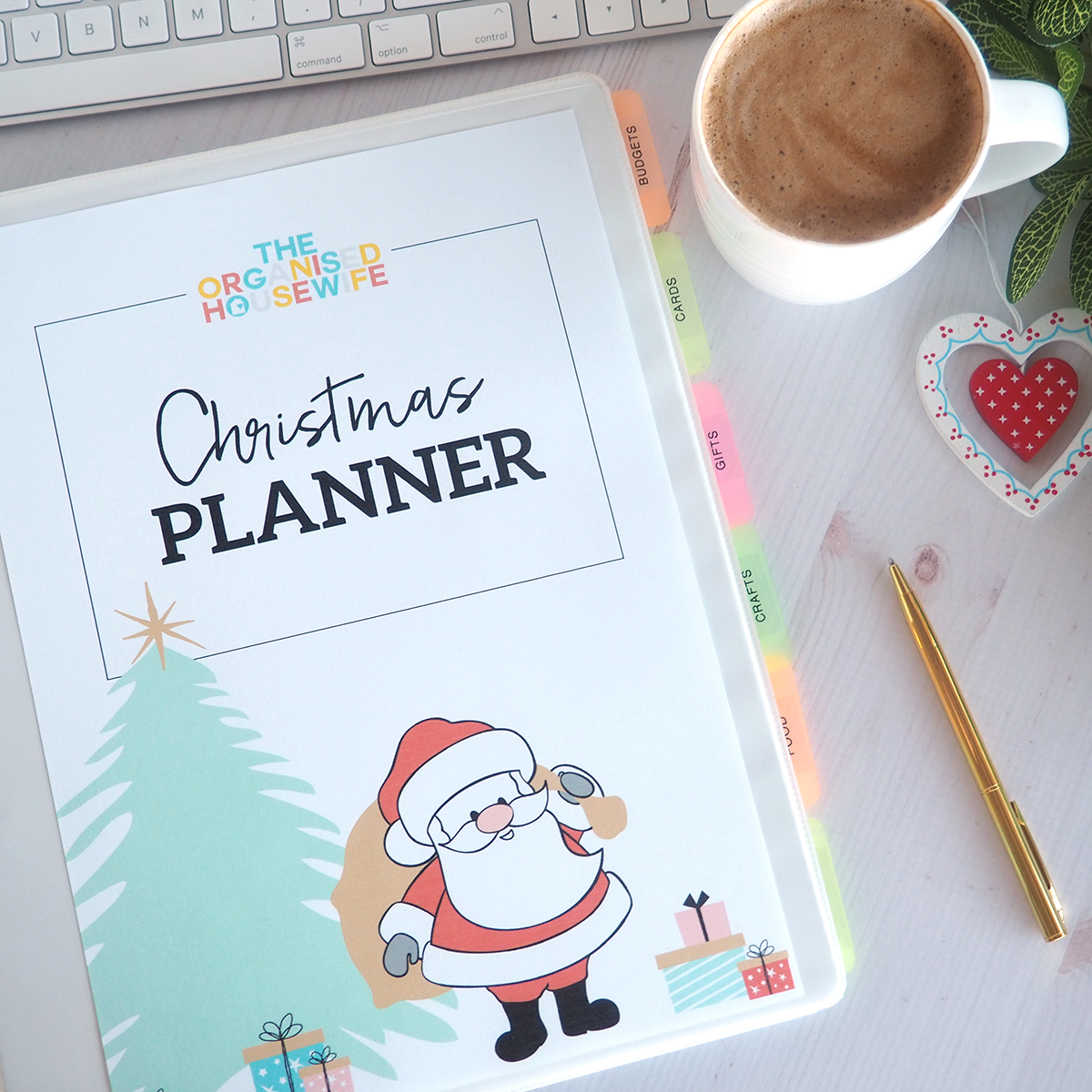 The Christmas Planner – At A Glimpse
This planner literally covers everything! I have you sorted for monthly planners from June to Christmas, weekly planners throughout December, and even a breakdown of Christmas Eve, Christmas Day, and Boxing Day. No more trying to remember what photos you want to capture, how to manage your budget, what gifts to get and how you're going to afford them, or even what shops you need to remember to visit – this is all included! There's a spot for Christmas cards you need to send as well as ones received, recipes to try and others to remember, even traditions to uphold and inspiration for creating new ones.
My Christmas Planner really has EVERYTHING you need to make this Christmas a time for family, fun, memories and marvellous merriment.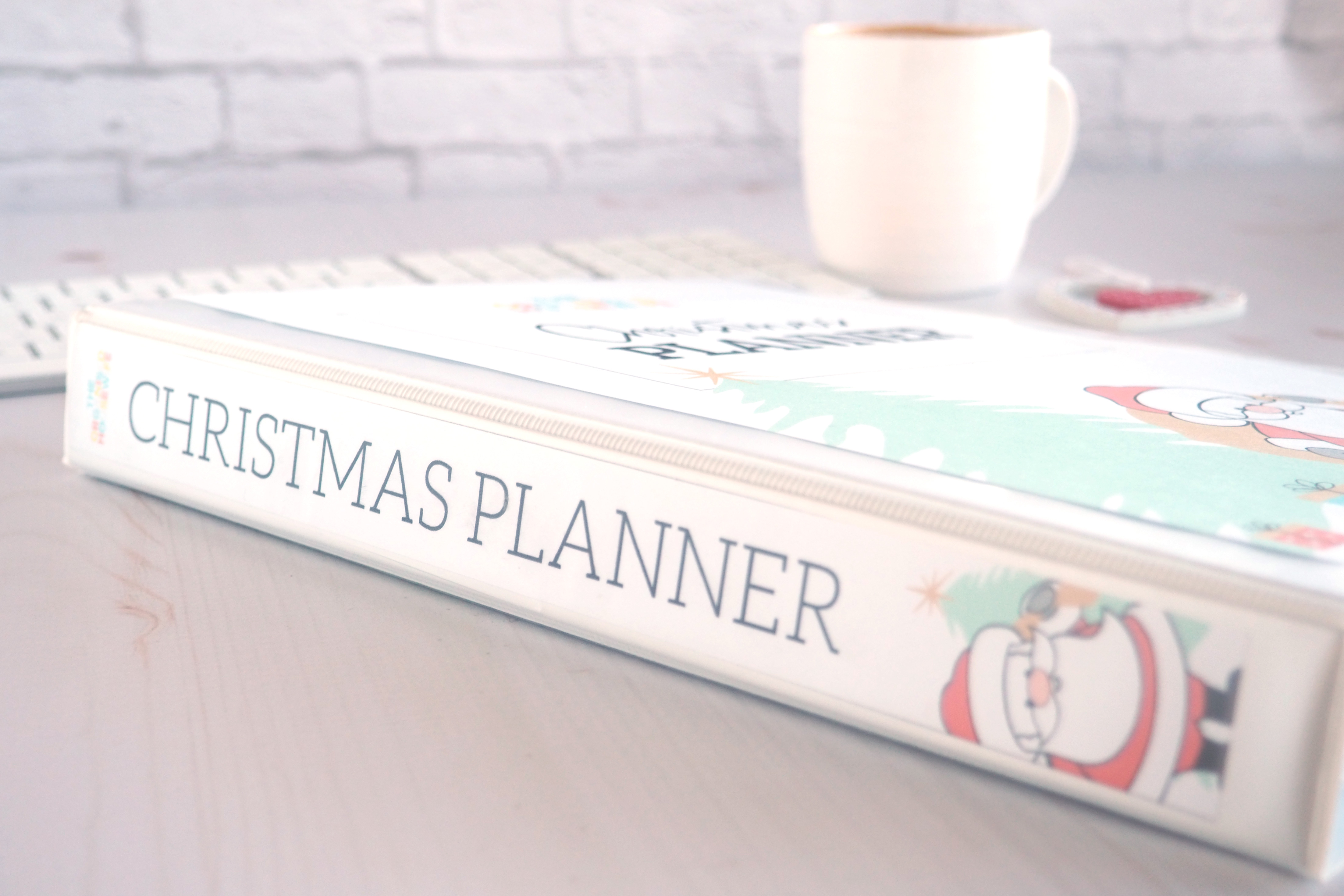 The Design
Whilst I have created Christmas planners for you before, this year's design has a few key points that differentiate it from the rest. First and foremost, it can be used year after year after year! No more needing to purchase a new one each year (unless you want to update the calendar part of the planner, which you can do for just $4.95 – you'll get an instantly downloadable file, so simply purchase and print, easy peasy!).
The new stylish design of my Christmas Planner is beautifully timeless, and is best described as a perfect balance between calming white space and a sprinkle of cotton candy wonderland. It's elegant, calming for the mind, and a little bit of fun too.
The pretty colours are not a traditional Christmas palette, but more a subtle take on chic festivity. The step away from a bold Christmas design also means you won't feel like you're jumping the gun when you start your Christmas pre-planning mid year… which is exactly what I recommend you do (take advantage of those mid-year toy sales people!).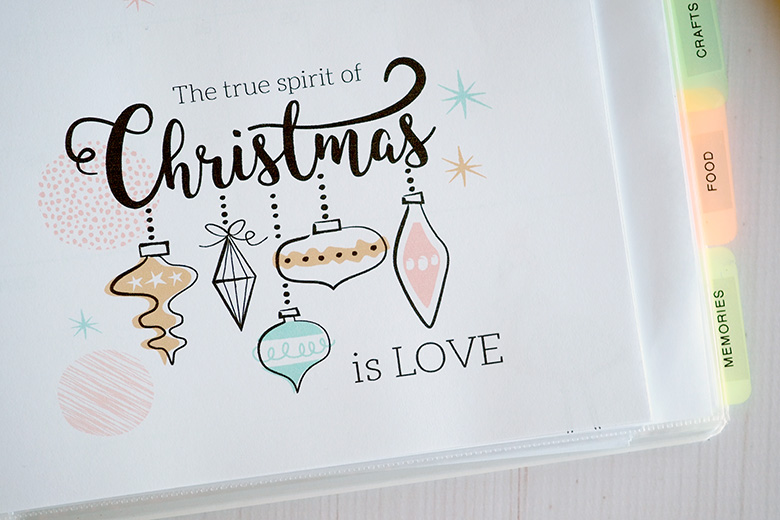 A BreakDown Of The Christmas Planner
I wasn't lying when I said this 83 page planner included a lot. Here's a breakdown of the sections and pages, and in addition to these there's also a front cover and spine label so you can easily keep your planner in a pretty folder, ready to roll out year after year.
GOALS
The Christmas Goals page helps you to set 5 intentions for this Christmas – which I am a big believer in! Speak it and it shall be. Would you like to spend more time with the kids, keep your spendings under a certain amount, enjoy quality time with Nanna, or put on a feast for the extended family. Whatever your heart desires, write it down, and then use the rest of the planner to put those wheels in motion and make it happen.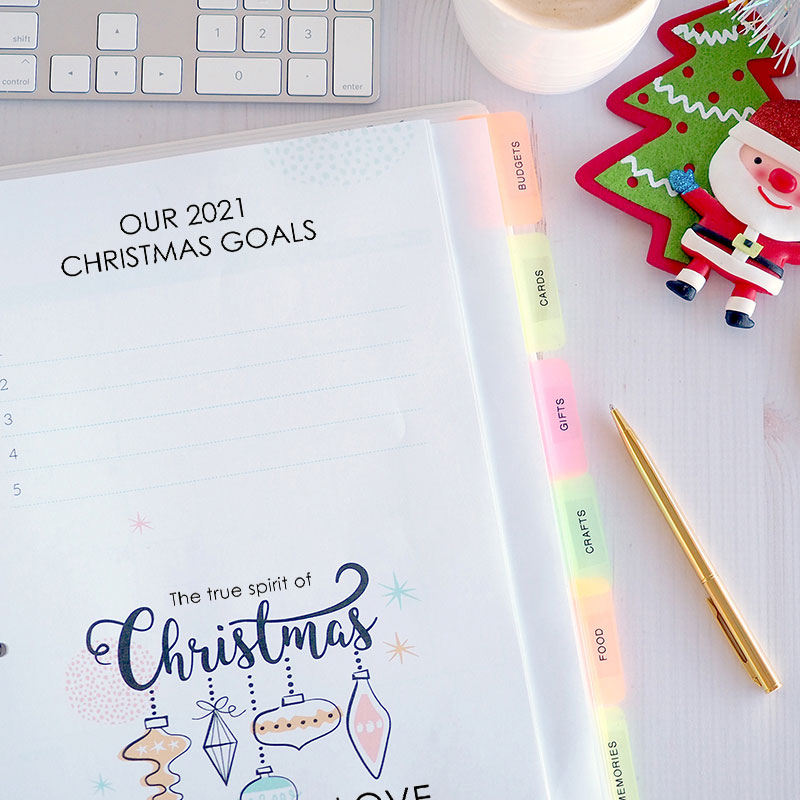 CALENDAR
Plan shopping trips, start nutting out handmade gift ideas, and make use of those fabulous mid-year toy sales with the monthly calendars. As time ticks closer, the December weekly planner will help you get your head around events, last minute things to buy, cleaning jobs etc, so that you don't feel overwhelmed (TIP: the checklist section listed next means you don't even need to think about what things need to be remembered – I've done that for you too!). As Christmas rolls around, the detailed planners for the big three days ensures schedules and tasks such as cooking, present wrapping and family guests arriving, are taken care of with limited fuss.
2021 June – December Calendars
December Weekly Planner
Christmas Eve, Christmas Day and Boxing Day Planners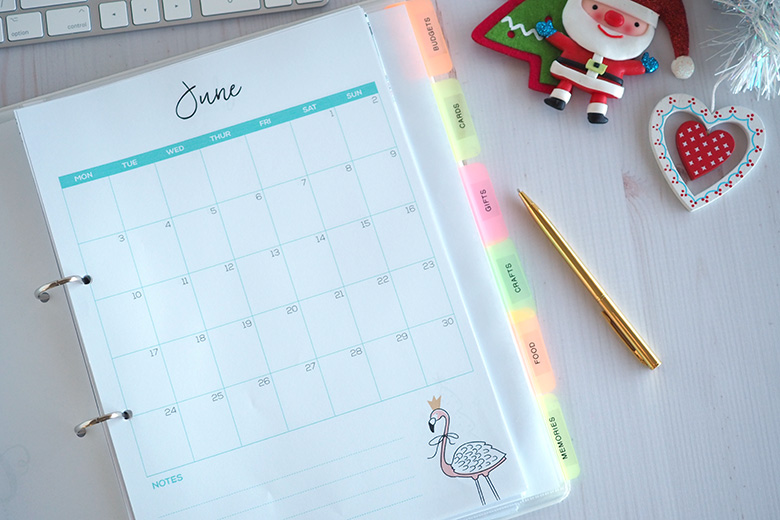 CHECKLISTS
My checklists are designed to take the guess-work and stress out of your ever growing Christmas to-do list. I have given you the common tasks for all areas – from gifts to cards, decorating, photos you don't want missed, meal planning and so much more – with space for you to add additional ones if need be. These checklists will help you tackle your tasks head on, whilst still ensuring that smile stays firmly on your dial.
Organise
Gifts
Cards
Mail
Decorate
Meal Plan
Christmas Photo List
Guest List
Christmas Bucket List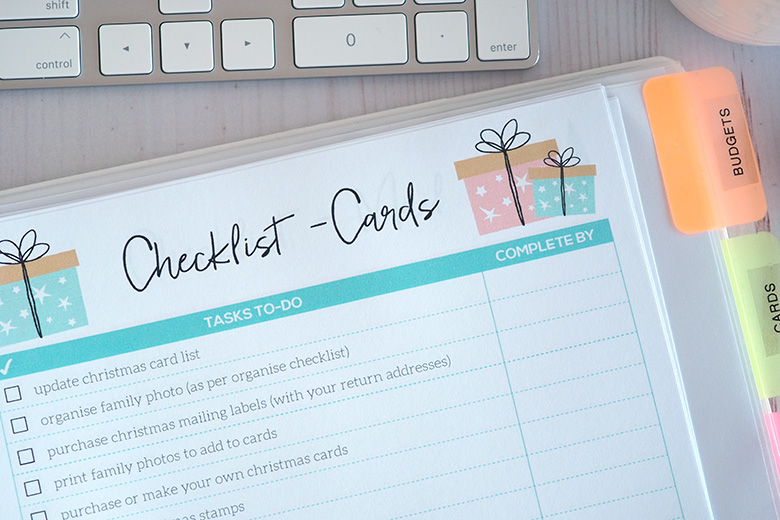 BUDGET
Don't let the stress of money ruin Christmas! By getting prepared early, and having some forethought around gifts, food, events, decoration and more, you will be surprised at just how far you can push those pennies.
Gifts
Food
Events
Decorations
Other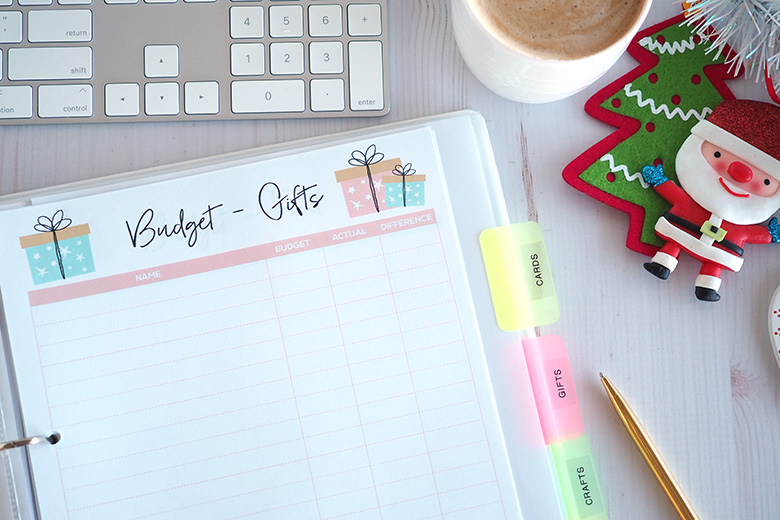 CARDS
I love to gift Christmas cards, but feel a bit 'meh' when I am given a card from someone I had forgotten to write one for. This part of the planner will help you keep track of not only who you've sent cards to, but who sent ones to you. This is an invaluable resource for when I do my Christmas cards the next year – plus I have all the names and addresses in one central spot. There is even a Kid's Card List to help your kids take initiative with their own card giving as it includes a Merry Christmas writing template that the kids can copy out into their own Christmas cards.
Christmas Card List
Kid's Card List
Address Book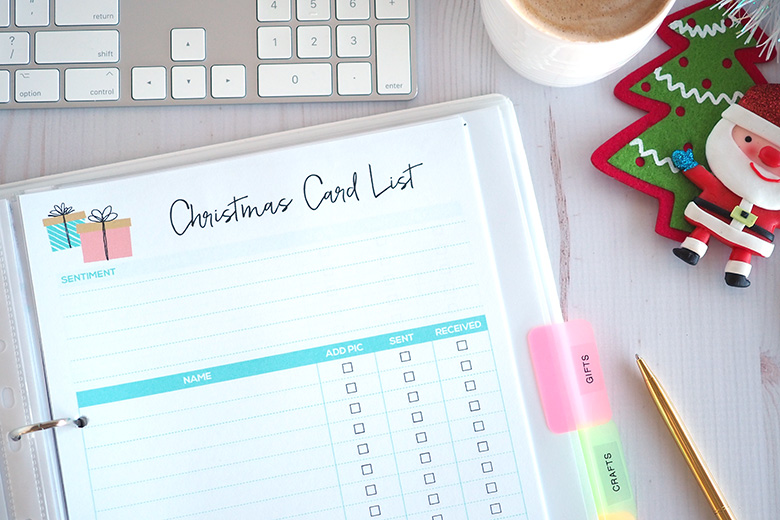 GIFTS
I start buying my Christmas gifts from about July, and it's very easy to lose track of what I have on lay-by, the items I'm expecting in the mail, and what I have bought for who (and also where I have hidden them!). These Gift Lists help me keep track of all that, whilst also ensuring I stick to my budget. This section also covers stocking stuffers, advent calendar fillers, helps you keep track of login details for online orders, create shopping lists (to better utilise your time), and even has a spot for you to nut out handmade gift ideas.
Gift List – Kids
Gift List – Family
Gift List – Friends
Stocking Stuffers
Advent Calendar
Shopping List
Online Gift Orders
Password Tracker
Lay-by
Hidden Gift list
Handmade Gifts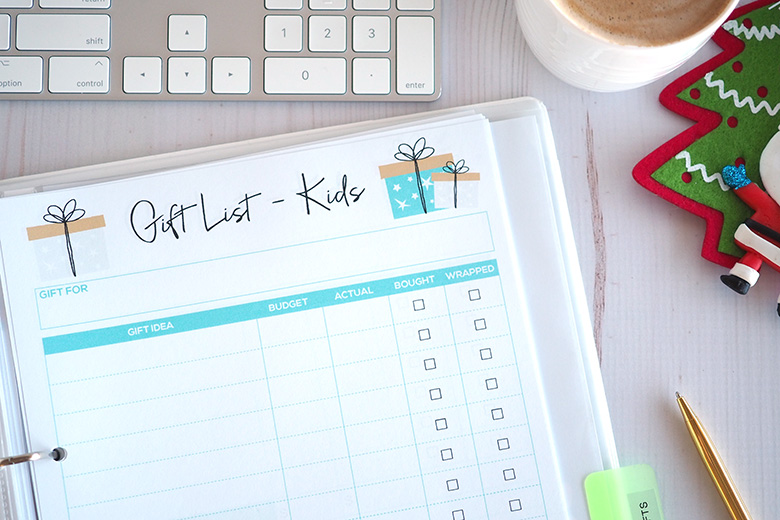 CRAFTS
Let your imagination run wild in this section – be it craft ideas for school parades, making your own Christmas cards, creating decorations for the house or tree – the sky really is the limit! There is a space to paste your inspiring pic, list the items needed, and create your to-do list.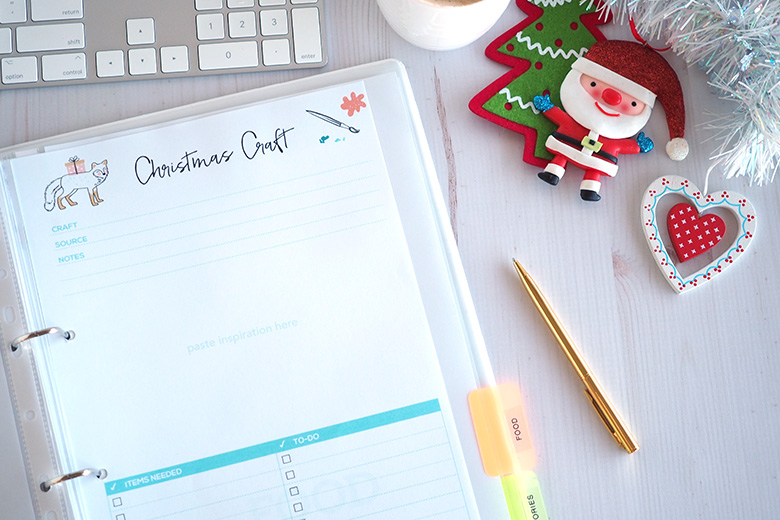 FOOD
Delicious tasty food is possibly my favourite thing about Christmas, and this section covers it all! From favourite recipes to baking lists, ingredients needed, recipes you plan to try, an detailed meal planners to get you through the Christmas Eve to Boxing Day period, and grocery lists that tie the whole thing together.
Favourite Christmas Recipes
Christmas Baking
Christmas Recipes
Recipes To Try
Christmas Eve Meal Planner
Christmas Day Meal Planner
Boxing Day Meal Planner
Christmas Grocery List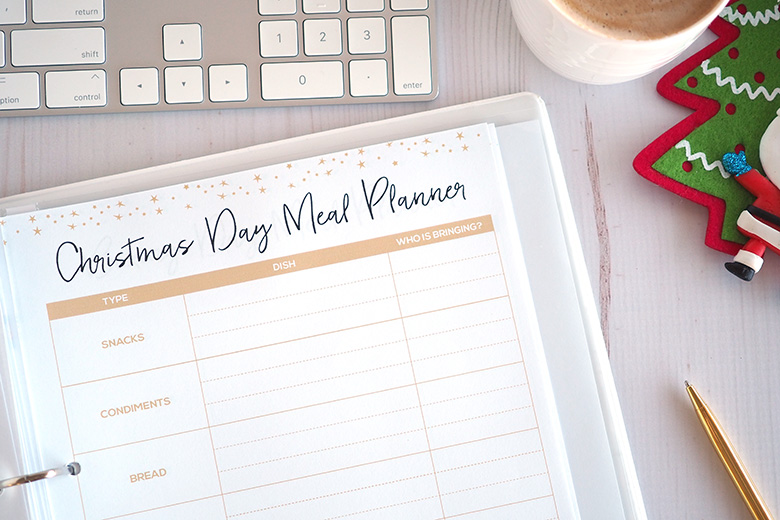 MEMORIES
Don't let the Christmas memories fade away at the same time as the fairy lights, instead keep them alive by writing them down and building on them year on year. This section – in addition to helping turn memories into traditions – provides a space to easily keep note of who gifted you what. Another very special part of this planner that is incredibly dear to my heart, is the Ornaments List, which stems from my own tradition of gifting each of my children a new ornament each year. I record these here, so that when my children leave home (oh I hate to even think of that!) they can take all their ornaments with them.
Christmas Traditions
Christmas Memories
Ornament Memory List
Christmas Gifts Received