My birthday is shortly after Christmas and my hubby is very sweet and usually puts the Christmas tree down the day before my birthday. Soon Christmas will be over and time to pack away your Christmas decorations, but before you do I wanted to show you how I have organised our decorations.
Each year I decorate the tree differently, I went through a stage a few years ago I liked the pink, blue and silver theme on the tree, however this year I wanted the traditional red and green. So as you can imagine I have quite a collection of ornaments. I like to organise the ornaments by colour to make it easier to decorate the tree and not having to rummage through and damage them.
I have purchased a few glass ornaments this holiday season, I will wrap them in tissue paper before storing them to ensure they don't break.
I'm using the Easi Store 6 Shoe Underbed storage boxes to store the decorations. Each box has 6 compartments with removable dividers so you can create bigger spaces like I have below for our Christmas linens and plates. In this box I am storing tablecloths, tea-towels, Santa sacks, Christmas cookie cutters, cups and plates.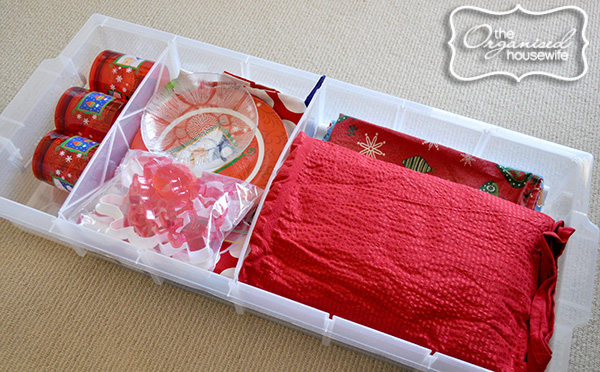 We have a lot of tinsel, we decorate inside and out of the house with tinsel, but have been very tame this year with how much we have put on the tree. I roll the tinsel around my hand and place into the storage box.
I like to store all the Christmas DVDs, CDs, hair ties, colouring and activity books away through the year, clutter free approach only have it out when needed. In this box I also store candles, Santa hats, reindeer ears and stockings.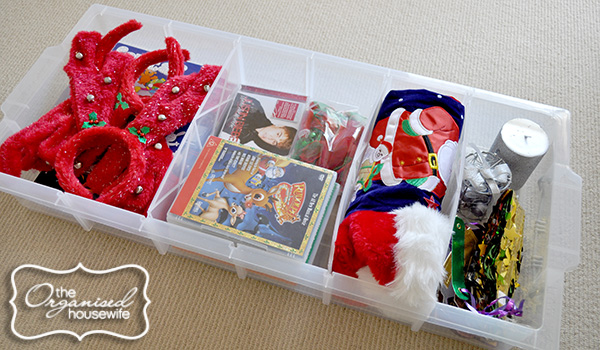 I used a big 90L Easi Store Box on Wheels to store all the bulky Christmas decorations. I use plastic shopping bags to wrap around the products to protect them. While these Christmas ornaments are on display I place our usual ornaments in this box. Eg, I put a santa where a gorgeous vase and Buddha sits, I put the vase and Buddha away so it still looks tidy and clutter free.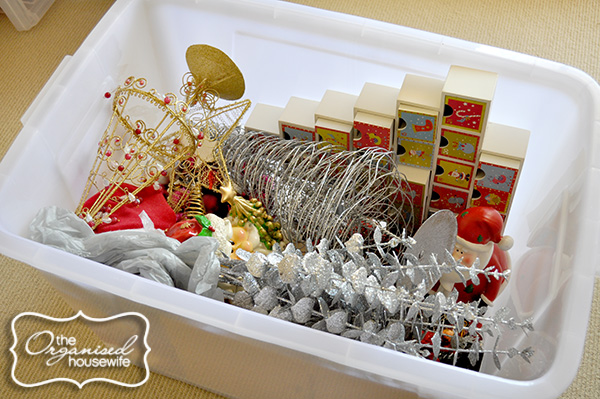 All these storage tubs have lids so they can be stacked on top of each other. I keep ours in the top of our walk in robe, but we are hoping to put up some shelves in the garage soon to create some extra space in our wardrobe.
When I picked these up at my local Howards Storage World they were on display and used to sort Lego, brilliant idea as they are on wheels they can easily slide underneath the bed and be brought out when the kids want to play with them.
The Easi Store 6 Shoe Underbed with Wheels storage boxes can be found in store and online at Howards Storage World.