47 days till Christmas Day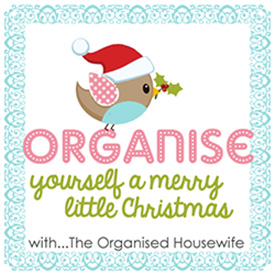 'Organise yourself a Merry Little Christmas' is a series that will help you to have everything planned and ready for Christmas day.
Each day I will be sharing a new Christmas task to ensure you have completed everything needed by Christmas Day,  yummy Christmas recipes, fun Christmas activities. a gift guide with ideas on what to buy or make your loved ones and more.
Use 'The Organised Housewife Christmas Planner' to help organise tasks throughout the series.  This 45 page planner will keep all your checklists, planners, budget, travel information and more together in one folder.  It is available as a digital download so you will receive it instantly after purchase and can start organising!

 Today's Tasks:
1. Purchase and organise advent calendar gifts.  Create a little basket/bag specifically for these gifts.
Using an advent calendar to countdown till Christmas has been a fun tradition I started with my kids.  Each family use an advent calendar differently, we start from 25 and work our way to 1.  I put the gift in the calendar the night before (just so snooping eyes don't peek when I'm not looking, because kids do that), the kids open the next day on the advent calendar the following  morning.  There are times that I may have purchased something that's too big for the little drawer we have, so I place a note in the drawer and give them a clue where its hiding in the house (like a treasure hunt).  The advent calendar tradition has been so much fun.
Throughout the year I usually pick up little bits and pieces to add to the kids advent calendar and stockings.  Sometimes it's easy to 'over buy' so use the advent calendar gift page in your planner to plan what gifts will be given on which day and it will also show you how many extra bits you need.
Advent calendar ideas
Click here to view ideas and see what advent calendar we use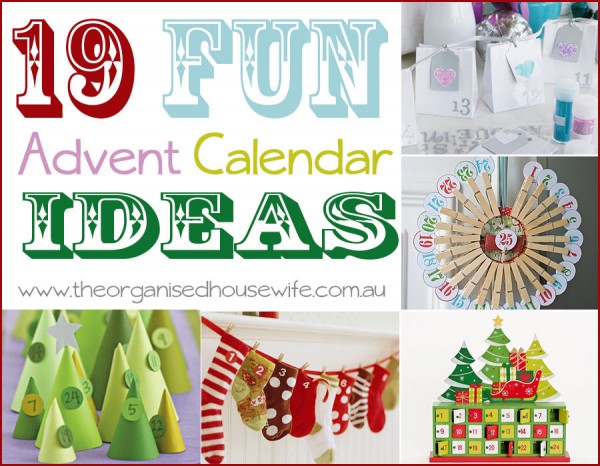 Below are some advent calendar gift ideas
click on image to download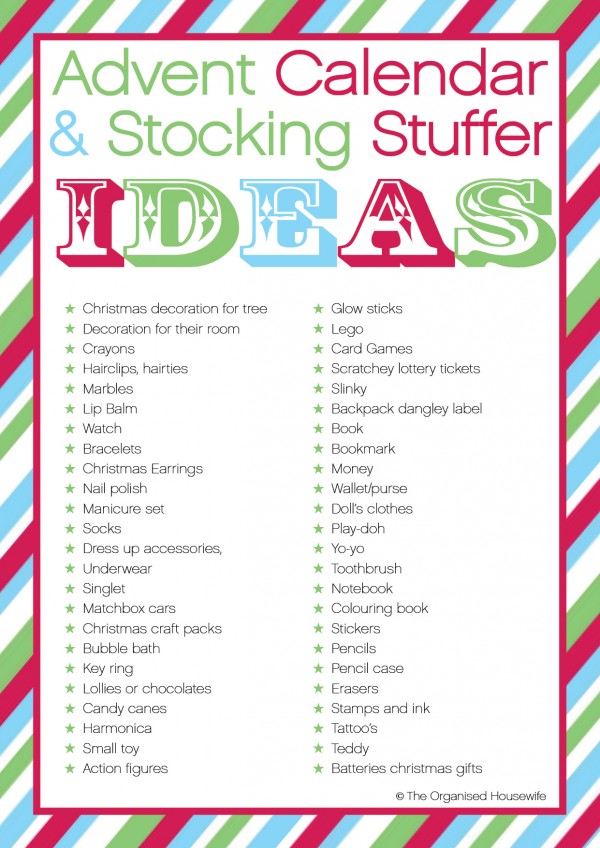 I don't give little gifts every day, there are days were I add a little note which may include an activity like decorating the tree, making a Christmas craft item, baking, take a drive to look at Christmas lights etc.
 Click here to see more details and find link to download free Advent Calendar activity notes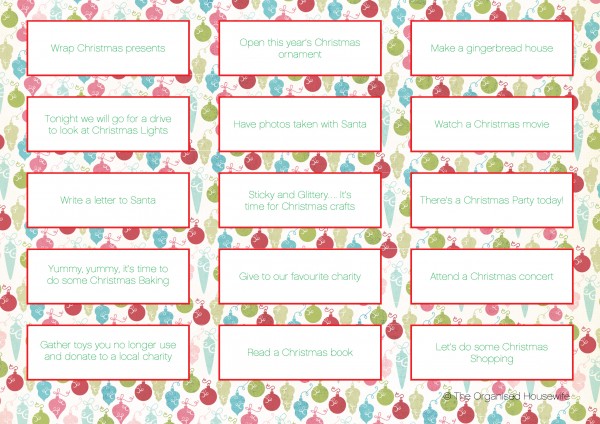 Christmas Posters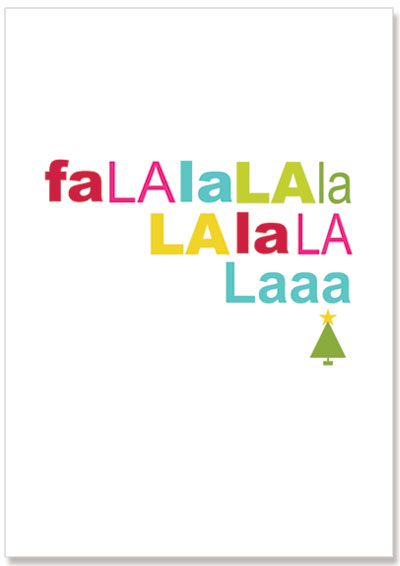 Three A4 printable posters to add a little Christmas cheer. "Fa la la la laa", "Merry and Bright" and "Peace on Earth Good Will to All."
Find more details at Picklebums
Bloggers are welcome to submit a recipe, see page here

Mini Christmas Puddings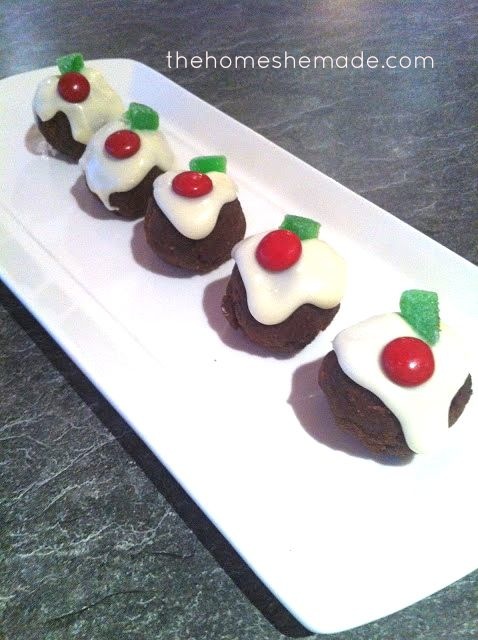 Easy Mini Christmas Pudding recipe – perfect for a home made Christmas gift or serve when guests come to celebrate the festivities.
They keep in the fridge for a good few weeks
Find more details at The Home She Made
Bloggers are welcome to submit an activity, see page here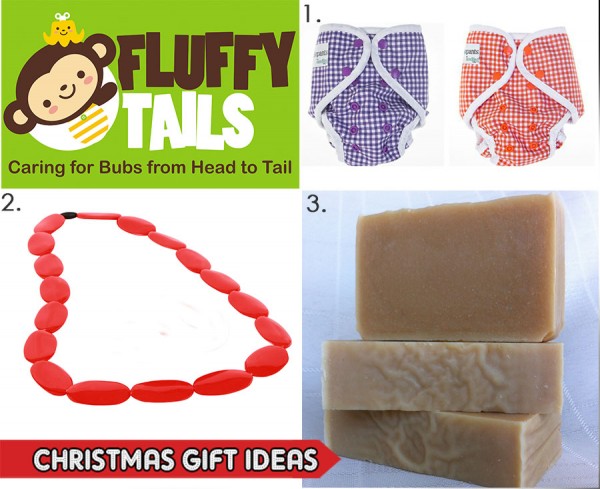 Fluffy Tails is an online store stocking gorgeous products for mums and bubs including swim nappies, teething products, toilet training products, modern cloth nappies and baby carriers.
Fluffy Tails  |  1. Paddle Pants Swim Nappies|  2. MummaBubba Teething Alice Bead Necklace  |  3. Handmade Soaps
 Online businesses gift submissions welcome, visit this page here

 52 Reasons I love you
 
Sweet idea for your loved one
Find more details at PaperVine

Purchase an Elf on the Shelf from The Book Depository, they are the cheapest I have found and offer free shipping to Australia.  Use the Elf on the Shelf Planner, notes from Elf, letters from Santa acknowledging good and bad behaviour, plus elf report and more.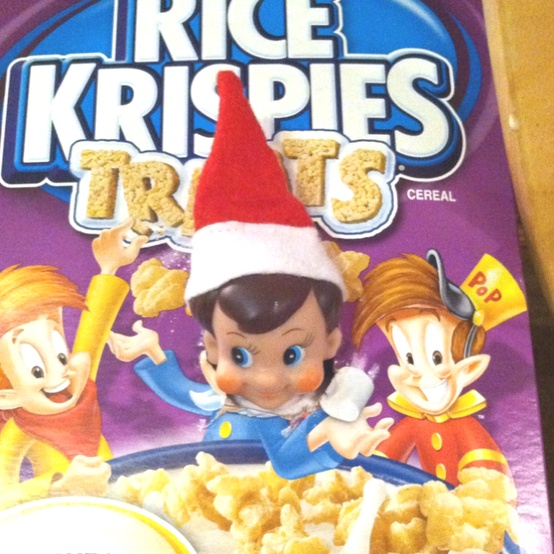 Disclosure:  In addition to my own gift ideas I have received compensation to add some businesses.  Paid affiliate links may be used throughout this series.

7 THINGS I DO EACH DAY TO KEEP THE HOME CLEAN AND ORGANISED
Subscribe to my weekly newsletter to receive blog updates in our inbox + this FREE eBook sharing some of my top tips that you can adapt in your own home.