4 days till Christmas Day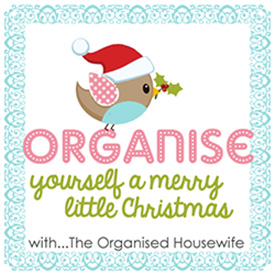 'Organise yourself a Merry Little Christmas' is a series that will help you to have everything planned and ready for Christmas day.
Each day I will be sharing a new Christmas task to ensure you have completed everything needed by Christmas Day,  yummy Christmas recipes, fun Christmas activities. a gift guide with ideas on what to buy or make your loved ones and more.
Use 'The Organised Housewife Christmas Planner' to help organise tasks throughout the series.  This 45 page planner will keep all your checklists, planners, budget, travel information and more together in one folder.  It is available as a digital download so you will receive it instantly after purchase and can start organising!

 Today's Tasks:
This weekend shop for fresh ingredients
Make a timeline for cooking Christmas Day meals
Spend time wrapping presents
If you like to be extra organised, you could write a list of people you need to buy gifts for in the next 6 months, ready for when you visit the boxing day sales 🙂
Breath, find time to relax and enjoy this silly season

Chocolate Butternut Snap Tartlets
Find more details at Arnotts (click image above for recipe)
Fruit Cake
idea from Good Maker (click image above for recipe)

<!– end LinkyTools script –>