5 days till Christmas Day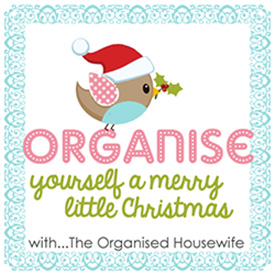 'Organise yourself a Merry Little Christmas' is a series that will help you to have everything planned and ready for Christmas day.  
Each day I will be sharing a new Christmas task to ensure you have completed everything needed by Christmas Day,  yummy Christmas recipes, fun Christmas activities. a gift guide with ideas on what to buy or make your loved ones and more.
Use 'The Organised Housewife Christmas Planner' to help organise tasks throughout the series.  This 45 page planner will keep all your checklists, planners, budget, travel information and more together in one folder.  It is available as a digital download so you will receive it instantly after purchase and can start organising!

 Today's Tasks:
Make sure you have enough and the right sizes of batteries for Christmas morning.

Aussie Pavlova Layer Cake with Red Berries
idea from MyFoodBook (click image above for recipe)
Boozy Sultana Cupcake with Brandy Butter Frosting
This recipe uses a brown sugar brand that we don't have in Australia, you can easily use one from our supermarkets.
Find more details at Witmworths Sugar (click image above for recipe) 

Christmas Playdough
Find more details at Children's Books Daily (click image above to view details)

<!– end LinkyTools script –>
7 THINGS I DO EACH DAY TO KEEP THE HOME CLEAN AND ORGANISED
Subscribe to my weekly newsletter to receive blog updates in our inbox + this FREE eBook sharing some of my top tips that you can adapt in your own home.