14 days till Christmas Day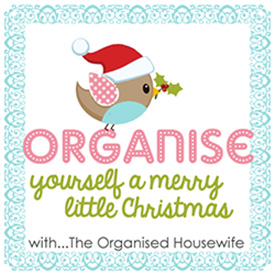 'Organise yourself a Merry Little Christmas' is a series that will help you to have everything planned and ready for Christmas day.
Each day I will be sharing a new Christmas task to ensure you have completed everything needed by Christmas Day,  yummy Christmas recipes, fun Christmas activities. a gift guide with ideas on what to buy or make your loved ones and more.
Use 'The Organised Housewife Christmas Planner' to help organise tasks throughout the series.  This 45 page planner will keep all your checklists, planners, budget, travel information and more together in one folder.  It is available as a digital download so you will receive it instantly after purchase and can start organising!

 Today's Tasks:
Write your Christmas Grocery List.  Grab a few food items over the next few weeks when you do your weekly shop, this will save a big grocery bill a few days before Christmas.  Remembering each time you have purchased something from your list to tick it off so you don't double up.
Do you have guests staying with you over the holidays?  Make sure you have everything needed so they have a comfortable stay:
Create a guest basket to include necessities and special items like:

Nibbles
Soap
Sunscreen
Tissues
Magazine
Shampoo and conditioner
Hand cream
Notepad and pen
Extra roll of toilet paper, just in case they run out they know where to find some quickly.
All our family and friends live locally so we rarely have overnight visitors.  However we do have one interstate family member that we welcome with open arms each year.  As we don't have a spare bedroom I set up one of the girls rooms for her.  The girls enjoy bunking together for a few days, great bonding time.  I prepare the room by taking out the doll's house, removing a few teddies from on top of the chest of drawers, tidy the bedside table and change the linens on the bed from a pretty fairies doona and butterfly sheets to plain coloured sheets and a floral quilt.  I like to add a few nibbles in case they are hungry and don't feel comfortable asking for food.
To make our guest comfortable I like to leave a little basket of goodies on the bedside table.
Clear the bedside table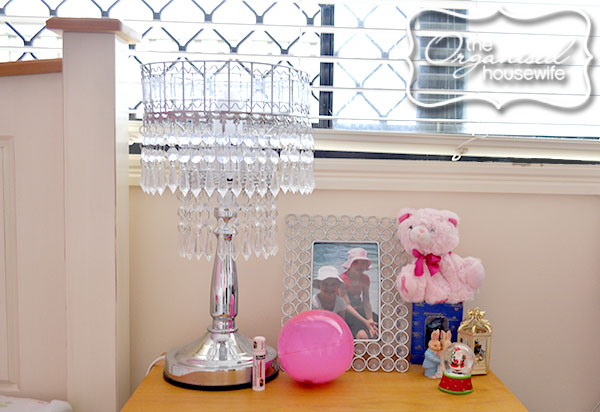 Create a guest basket, I decorated the basket with some Christmas ribbon and a tag, in the spirit of Christmas of course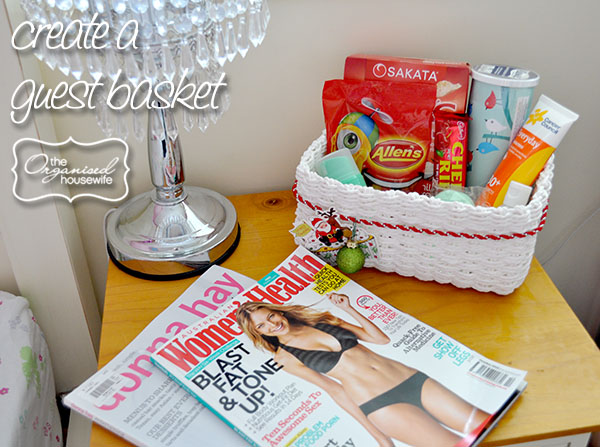 I included a few goodies, cherry ripe, jelly beans, sunscreen as we have had some hot weather and don't want her to get sunburnt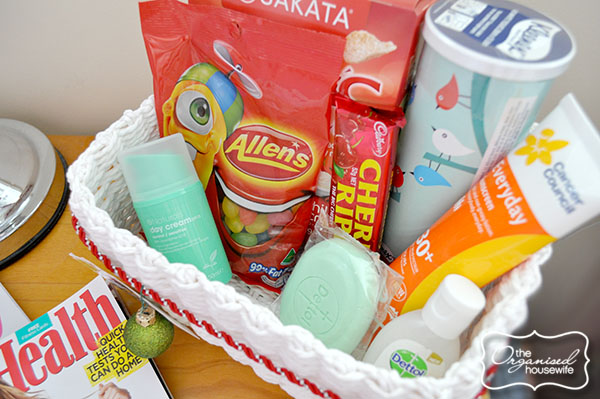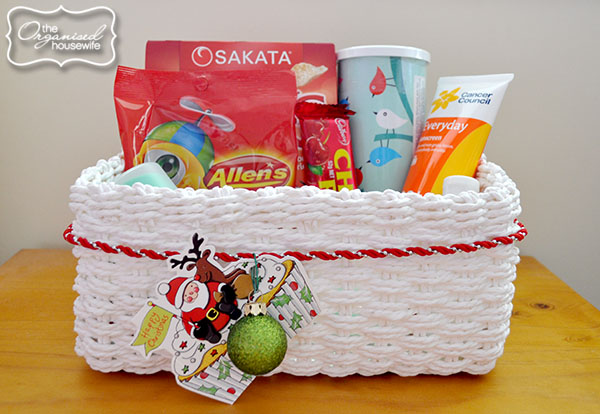 I have temporarily repurposed a basket from my daughters top drawer of her bedside table, it helps her organise all her precious items and favourite books.  They are very sturdy and hold their shape really well.  As you know I like to be organised and having a little basket in the top drawer makes it easier to keep tidy and find things faster when needed.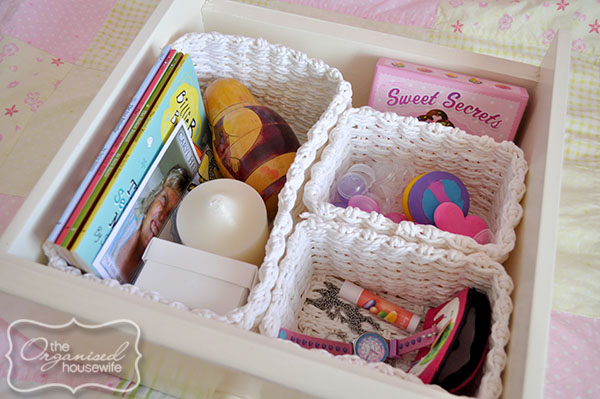 The Pippa 3pc Nursery Basket Set is from Mor-Stor's stylish range of baskets, tubs and cubes (cubes are perfect for the expedit like the cubes I use in my walk in robe and I also use the hyacinth baskets to hide our ironing).  They are the perfect size to organise the nappy area, with the large basket for storing nappies and the smaller for nappy creams, powders, moisturiser, singlets etc.   Really baskets can be used for anything, give as a baby shower gift filled with goodies, store matchbox cars, arts and crafts, hair ties and headbands, stationery, action figures, small bits and pieces from board games and so much more.  I love the great range of colours, blue, green, hot pink, red and white, something to suit all bedroom colours.
Find more details about the Pippa 3pc Nursery Set

Traditional Fruit Salad

Find more details at Taste.com.au
Bloggers are welcome to submit a recipe, see page here

Button Ornament 
Find more details at Just me & him… and her and him

Purchase an Elf on the Shelf from The Book Depository, they are the cheapest I have found and offer free shipping to Australia.  Use the Elf on the Shelf Planner, notes from Elf, letters from Santa acknowledging good and bad behaviour, plus elf report and more.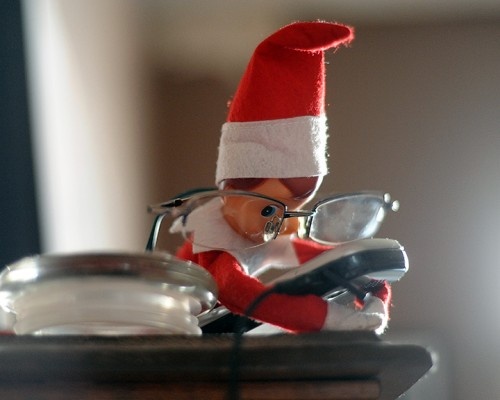 idea found via Pinterest
Disclosure:  In addition to my own gift ideas I have received compensation to add some businesses.  Paid affiliate links may be used throughout this series.

7 THINGS I DO EACH DAY TO KEEP THE HOME CLEAN AND ORGANISED
Subscribe to my weekly newsletter to receive blog updates in our inbox + this FREE eBook sharing some of my top tips that you can adapt in your own home.