28 days till Christmas Day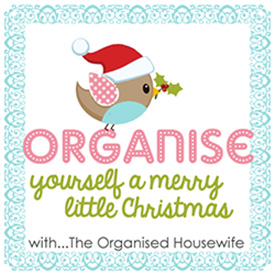 'Organise yourself a Merry Little Christmas' is a series that will help you to have everything planned and ready for Christmas day.
Each day I will be sharing a new Christmas task to ensure you have completed everything needed by Christmas Day,  yummy Christmas recipes, fun Christmas activities. a gift guide with ideas on what to buy or make your loved ones and more.
Use 'The Organised Housewife Christmas Planner' to help organise tasks throughout the series.  This 45 page planner will keep all your checklists, planners, budget, travel information and more together in one folder.  It is available as a digital download so you will receive it instantly after purchase and can start organising!

Today's Tasks:
Today's task is to catch up on some of the previous tasks you have not finished, such as writing cards, putting final touches to your gift list or finishing your budget.  At the bottom of this post you will find a list of all the previous days to this series for you to easily view all the tasks.

Cookies in a Jar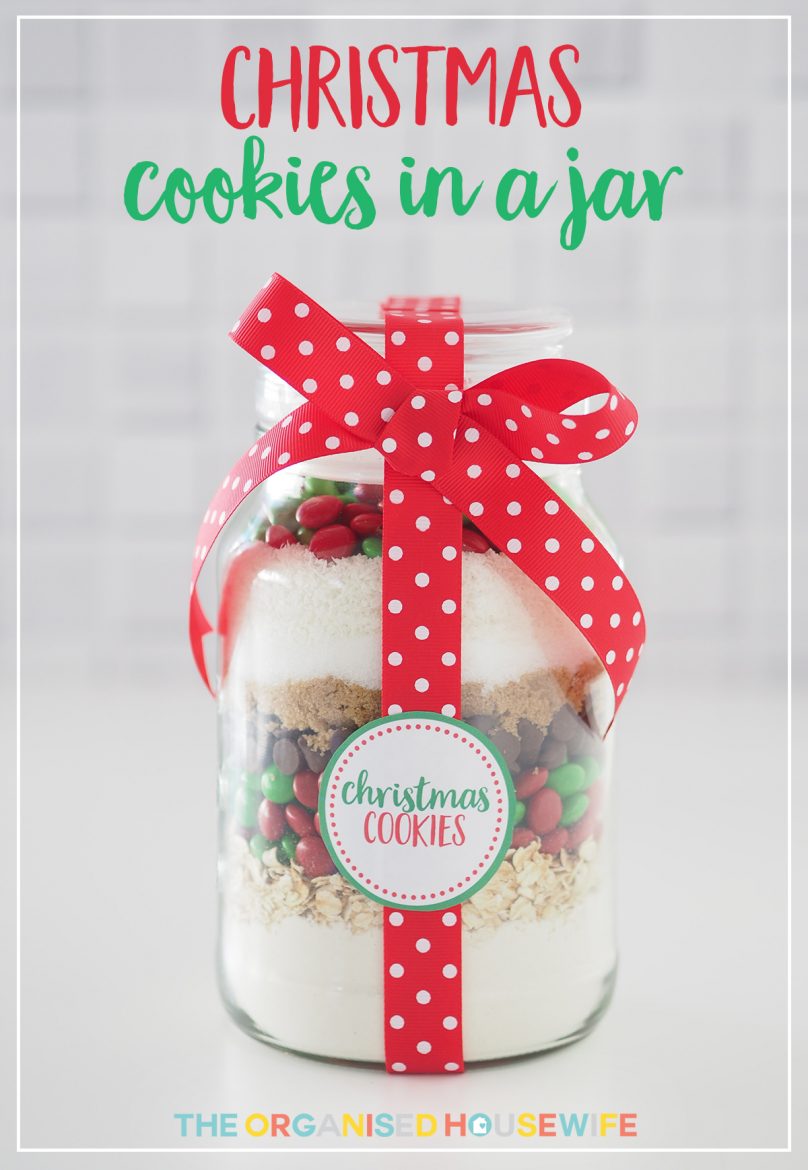 Last year I gave my neighbour a Christmas cookie mix in a jar as a Chrissy gift.  She was so thrilled to receive it, because she was having visitors later that week and this would be so helpful to have the mix ready to make a batch of cookies as having a new bub she didn't find time to bake as much as she used to.
Cookie mix in a jar is so easy to put together and makes such a wonderful gift to give instead of a box of chocolates.
Read what to put in the jar here.

Wine Gift Pack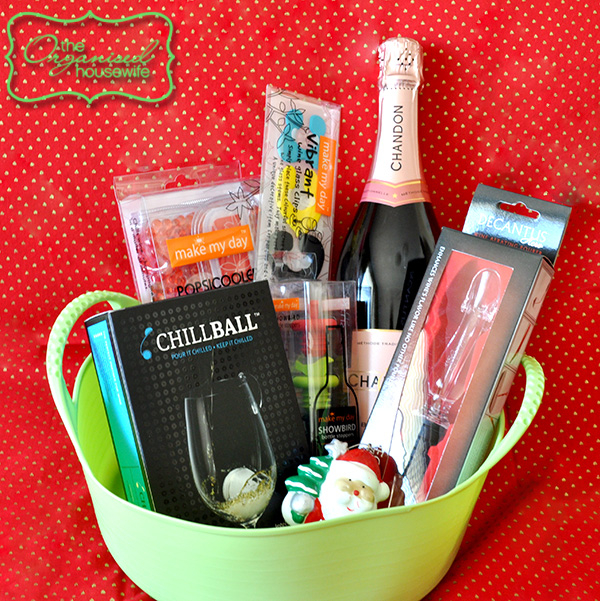 Create your own gift basket with items you know the recipient will love.  I've put together this pack for a friend that has everything and doesn't need anything more.  But she does love to throw parties, so this pack is perfect for her!
5L TubTrug
Use the TubTrug to store all the items you will give in the gift pack, wrap with clear or red cellophane and decorate with a ribbon.  The TubTrug can then be filled with ice and store drinks while guests are visiting.
Decantus Areo Wine Pourer
Decanting a bottle can add a little extra something to its bouquet.
Chill balls
the perfect partner for wine. They look stylish in a wine glass, provides a long chill, doesnt dilute or effect flavour, safe reusable and hygienic.
Popsicooler
A bottle cooler that chills win, champagne and other drinks in a matter of minutes
 Vibrant Wine Glass Clips
Place the clips around wine glass stems, decorative idea so guests don't mix glasses
Showbird Bottle Stoppers
A colourful way to seal your wine bottles.

Christmas Rice Bubble Slice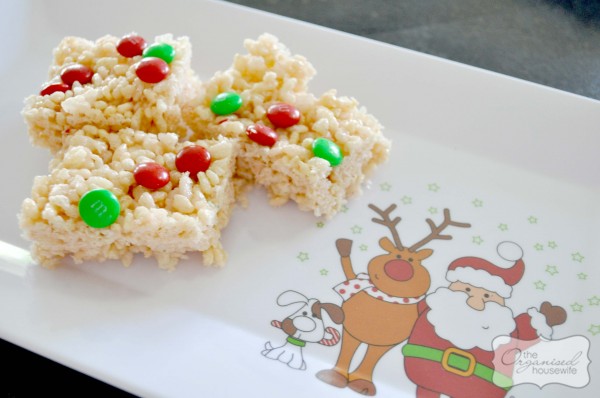 Find the recipe here

Christmas Colouring Page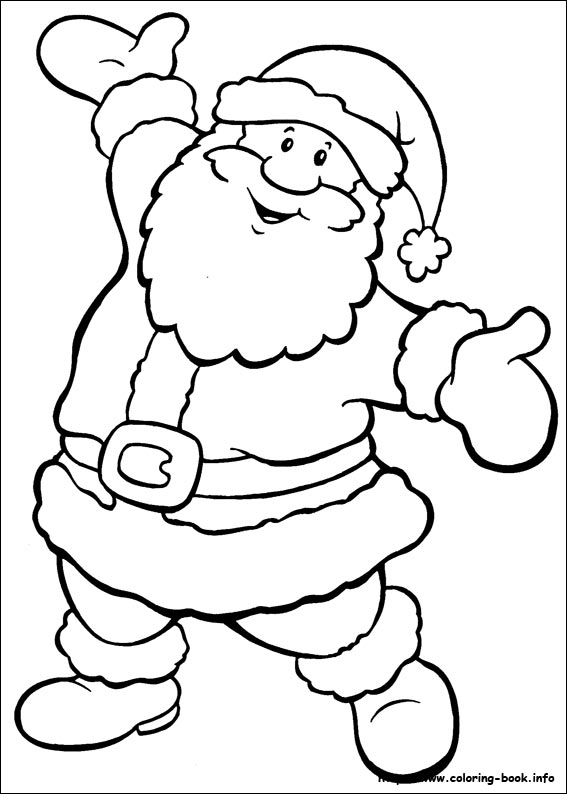 This santa colouring page makes me smile
Find more details at Colouring Book

Purchase an Elf on the Shelf from The Book Depository, they are the cheapest I have found and offer free shipping to Australia.  Use the Elf on the Shelf Planner, notes from Elf, letters from Santa acknowledging good and bad behaviour, plus elf report and more.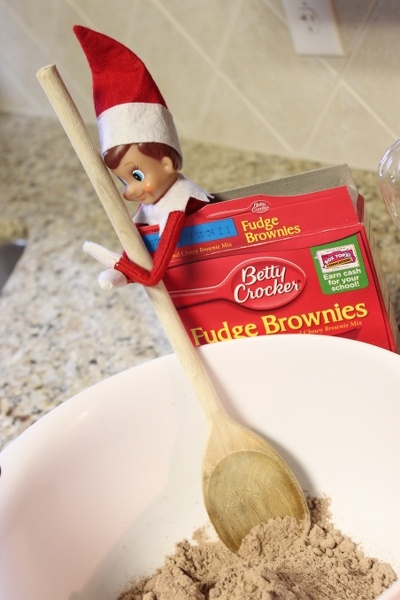 idea found via Pigskins and Pigtails
Disclosure:  In addition to my own gift ideas I have received compensation to add some businesses.  Paid affiliate links may be used throughout this series.