I've been abuzz with excitement for a few weeks now as we've been working on a Christmas project on the blog, which has been giving me all the joyful Christmas feels.  Even so much so I am considering putting up the Christmas tree this weekend!  Am I crazy?  We are going away first early December for a few weeks (heading to America for a big family holiday) so this will get us into the Christmas spirit before we go.  Speaking of, I have to be uber prepared for Christmas this year I'm aiming to have everything done by 25th November!  Good thing I am all over being organised at Christmas! Introducing…
The Organised Christmas: The Easiest Way to Enjoy a Memorable, Magical Holiday Minus the Overwhelm, Overcommitting and Overspending!
This mum-approved and kid-tested program is the perfect way to create a truly happy holiday season, filled with sweet memories and delightful moments! 
No stress.
No overwhelm.
No last-minute trips to the toy store on Christmas Eve!!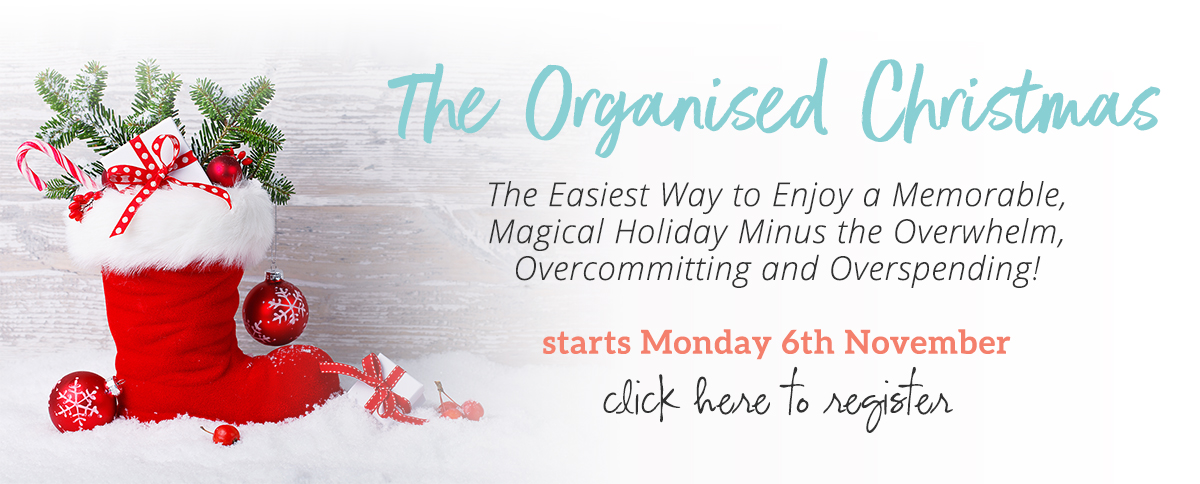 Yes, with The Organised Christmas you will have everything you need for your best Christmas at your fingertips.

With daily activities that start on November 6th, you'll get enough time to plan for everything including the Advent Calendar, Elf on the Shelf, sending Christmas cards, taking Christmas family photos or any other special tradition that your family may have! 

You'll even have the time to start new traditions – baking cookies for family or giving cute handmade gifts to the kids' friends and teachers and you'll also be well-prepared for hosting and attending Christmas dinner parties without having a nervous breakdown at the thought of planning outfits for the whole family! 

The Organised Christmas is the result of testing and tweaking my own Christmas planning system over the years so I could enjoy this time of year and not dissolve in a pile of nerves and stress at this season, every year. 

Best part? It's priced from an amazingly low $29.95 and comes with an incredibly supportive Facebook community so you can not only brainstorm and bounce ideas off other like-minded mums but also get support and encouragement when you need it the most. 


If you're ready to enjoy a Christmas that doesn't involve yelling at the kids, feeling guilty about forgetting a friend's gift or wishing that Christmas would just be over… I invite you to say 'yes' to The Organised Christmas and gift your family a very Merry, Mayhem-free, Christmas indeed.
Here's a quick peek at everything you'll get with The Organised Christmas: 
FULL Access to 35 Days of The Organised Christmas

 daily activities, cleaning tasks, traditions and gift ideas to help you nurture family traditions, create new ones and make memories that'll last a lifetime. 

The Organised Christmas Facebook Group

 so you can get support, encouragement and inspiration to create your own Organised Christmas with ease. 

The Organised Housewife 2017 Christmas Planner

: Available with the Premium version, this is my full-color, 70-page planner that'll help you create your personalised plan for an Organised Christmas. 

The Cut-the-Chaos Christmas Bundle:

 This pretty printables bundle includes a few of my best-selling Christmas printables including Letter to Santa, Christmas Gift List, Pre-Travel Checklist, Advent & Stocking Stuffer Ideas and more. Also available with the Premium version.  

Priced from a 

super-affordable

 $29.95, this is the ONLY program that'll help you give your family and YOU the Christmas you've been wanting for years! 

Register here.
Share with me, how do YOU want your Christmas to be this year?