If you have a little baby or toddler it's a good idea to 'toddler proof your Christmas tree'. I remember oh to well the days when my kids wanted to pull at the Christmas Tree, our first Christmas with the twins they were 10 months, they loved all the glitter and sparkles and just wanted to touch and if they got close enough I had the vision of them pulling a bauble and the tree falling on them.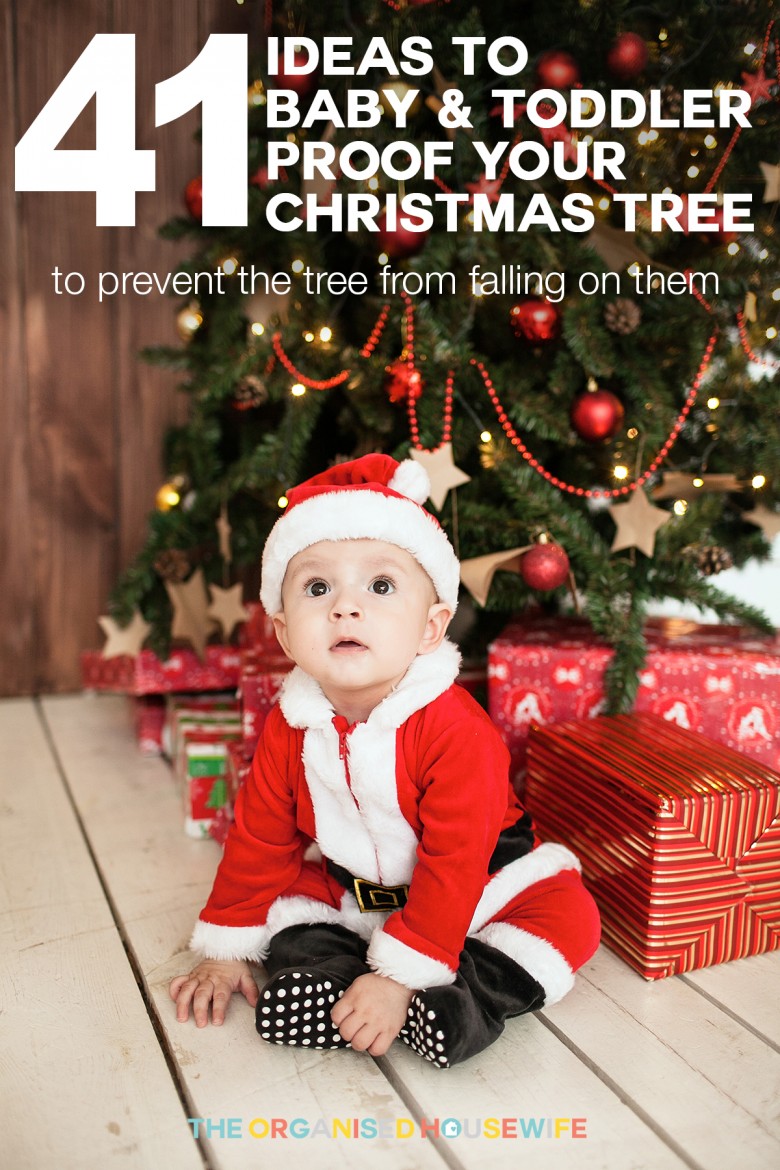 I don't have photo's to show but we placed the Christmas Tree in the corner of the lounge room and put our lounge suite around it to prevent the babies from getting too close.  Read further for more great ideas.
Ideas on how to Baby & Toddler proof your Christmas Tree
Tree inside a playpen
Only decorate the top half of the tree
Teach your child not to touch
Build a small picket fence from pine
Make a felt Christmas Tree with felt ornaments for your toddler to play with to deter them from the real thing
Place fragile/special decorations up higher out of reach
Use cheap decorations and no lights so it didn't matter if they were broken until they learnt not to touch
Put presents out on Christmas Eve
Use a portable clothes drying rack folded into an 'L' shape to create the boundary then use material and cardboard to weave through the gaps
Instead of putting a tree up use decorations/displays around the house. Eg. Baubles in vases
Use a smaller tree and place on a table, box or upturned Port-a-Cot (make sure it is secure)
Use a fireplace child proof guard
Let the kids help decorate the tree; might make them less likely to destroy
Christmas Tree wall sticker
Decorate with non-breakable or non-interesting ornaments
Hang bells on the tree that way you can hear if the toddler has gotten to the tree
Put some child friendly toys near the tree
Stick a paper tree to the wall
Put up a small fibre optic tree out of reach
On a trolley and secured tree to the wall
Buy a tiny tree for their own bedroom, they get to decorate and play with it as much as they like
Let them touch it, see what it feels like and after a while the novelty will wear off
Bribe them with "If you break something Santa won't come"
Block off with a couch diagonal across a corner
Place what they are terrified of around the tree
Put the tree up on Christmas Eve after they have gone to bed
Hang the tree upside down from the roof
Put in a room that is off limits already to the child/ren
** For pets ** Place pepper, moth repellents or alfoil in the tree. Use a pine cone strategically placed that when the cat jumps on the pine cone falls off
Just use tinsel and lights which made it look pretty without dangling ornaments
Wind tinsel through the playpen bars; use plastic baby rings to hang the stocking from the playpen. Also have Christmas toys outside of the playpen and teach them they can touch what is on the outside but not what is on the inside.
Place in a Port-a-Cot rather than a playpen
Use bare fallen branches in large heavy pots full of rocks
Just have a bare tree; no decorations
If your tree has individual branches you attach only insert the top half
Secure to the wall with fishing line or Zip ties
Wrap some presents in front of the children and let them put them under the tree. They will not be excited about them as they will know most of them were boring. Leave the kiddies things hidden away for Santa.
Suspend a large branch from the ceiling
Weigh down your tree so they can't pull it over on top of themselves
Use a pet pen
Don't put up a tree at all
Use a felt tree like Johnny in a Dress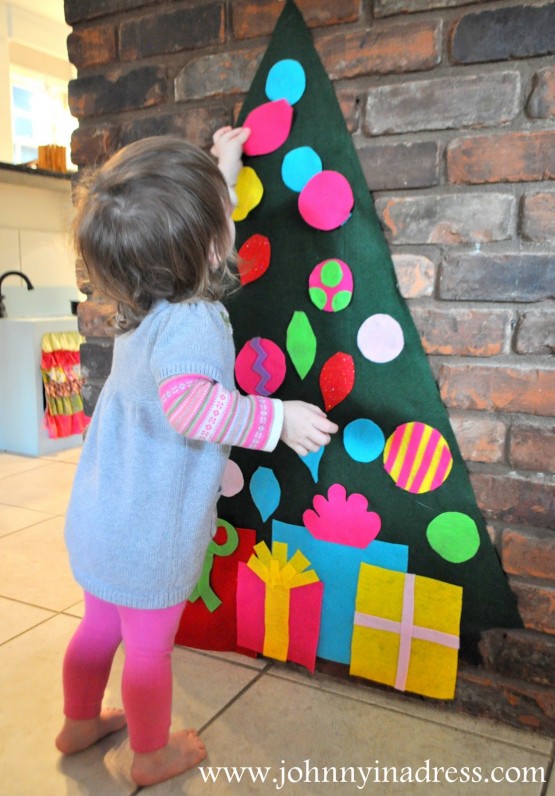 Put boxes around the tree similar to Grosgrain Fabulous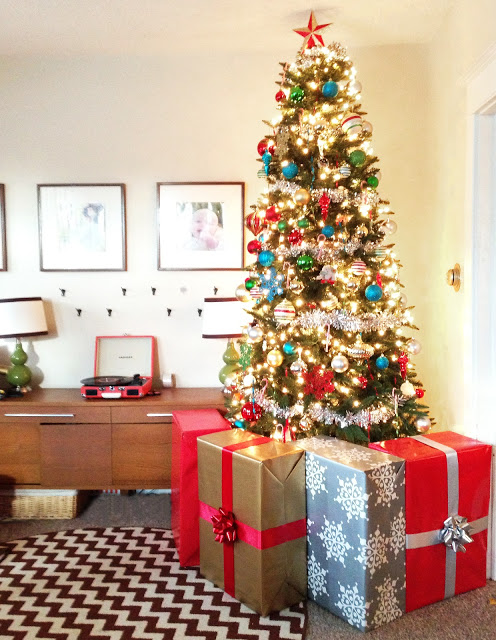 Jeni Weigel
shared this on Pinterest, at Christmas time she puts the tree behind a baby gate to keep little hands away from breakables and presents.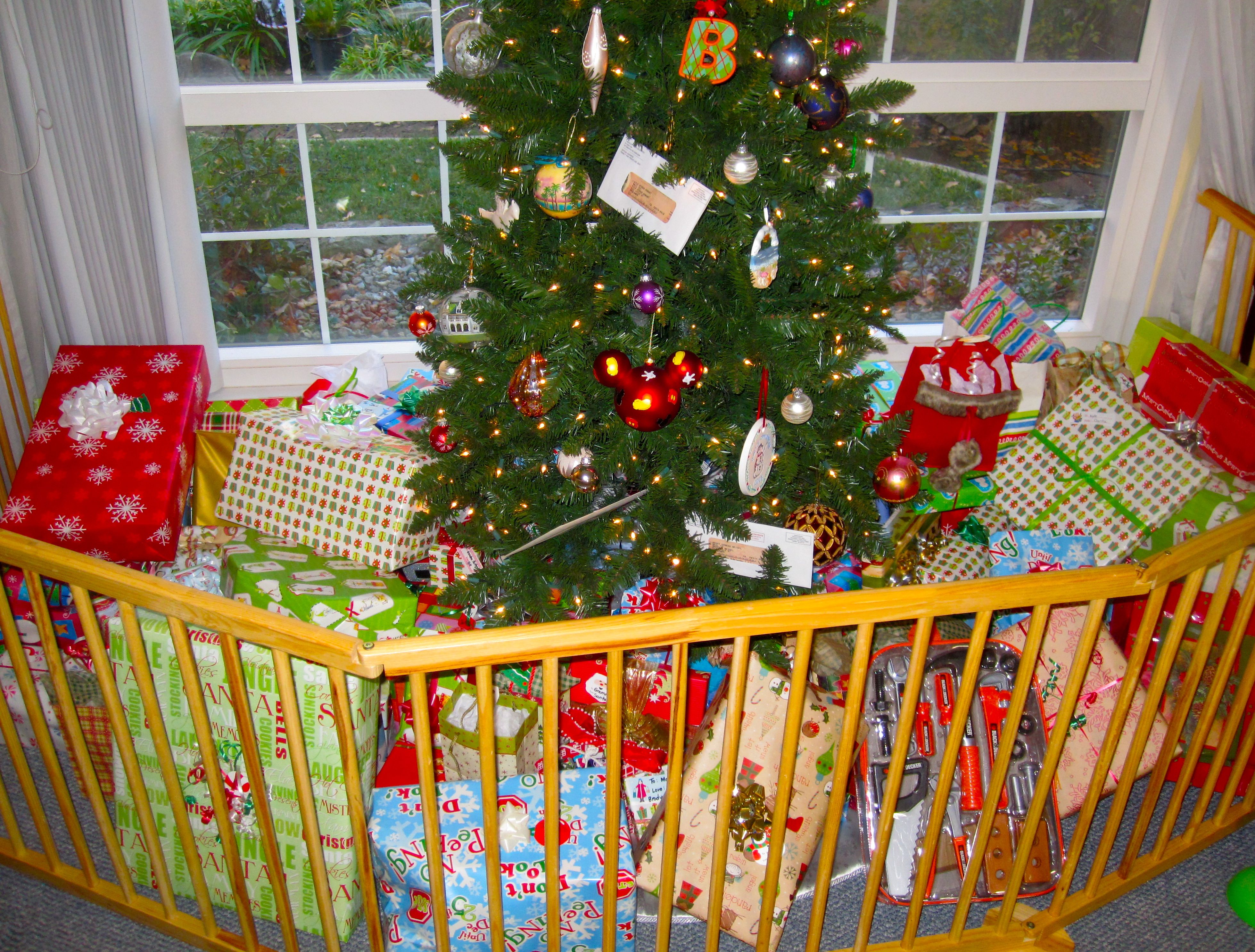 Do you have another idea on how to safely keep the Christmas tree out of the reach of young children?