This is a guest post by Louise Glendon from Click.Love.Grow
The Christmas lead up is always great with kids, and we had loads of fun shooting this tutorial on creating your own fabulous and sparkly celebration of Christmas.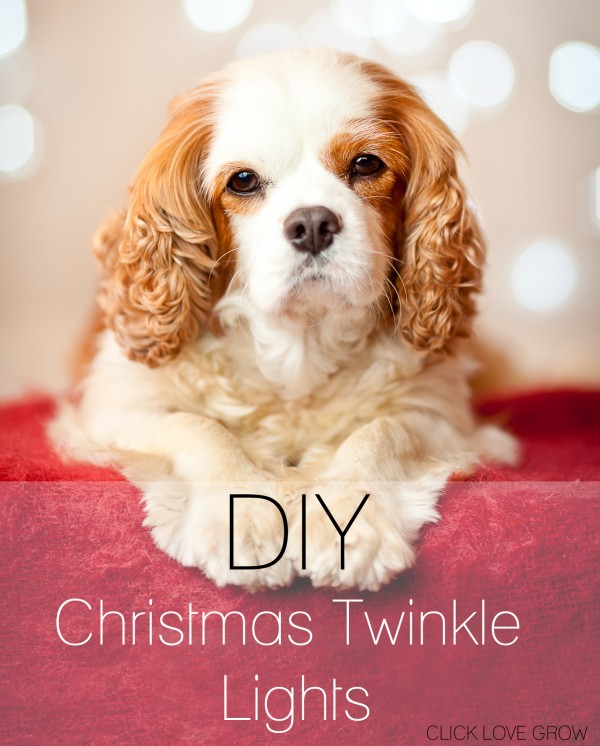 Christmas Twinkle Light images are the perfect backdrop to your holiday cards, or to get creative with image shareable. Simply follow our easy steps below…
What you'll need:
A light coloured background or wall
Christmas LED Lights with white cable (not green).
String, tacks or a stand to hang the lights on
A lens that lets you shoot with a wide aperture (low f-stop number) Preferably a prime such as the 50mm 1.8 or 85mm 1.8 etc
Lots of space (because the distance between your subject and the lights is what gives you the nice blurred effect)
Let's Make some Magic!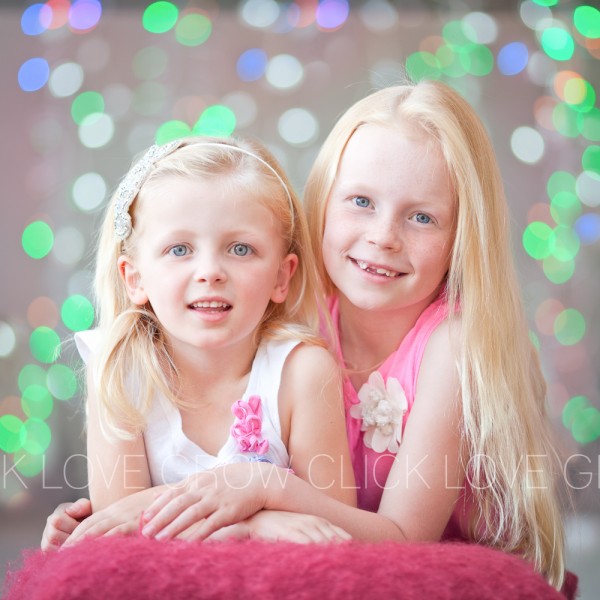 1. Set your Aperture
First step is to set your camera to the widest aperture setting your lens will allow.  You can do this by using AV mode and selecting your aperture or by manually adjusting your settings. I shot most of these with my 135L lens, which lets me go down to f-stop 2.0.
2. Hang your lights
If you don't have a backdrop stand there are plenty of ways to hang your lights such a stringing a piece of cord between two chairs and draping the lights over them, or draping them from tacks on a wall.  Regardless of how you hang them, ensure you have good coverage of an area in front of a wall or back drop so there are enough twinkle lights in the photo.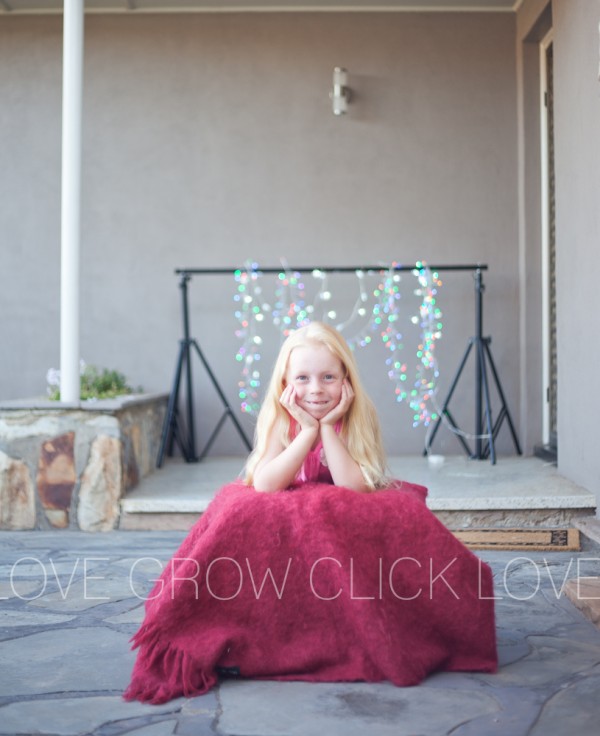 3. Set up your shot with plenty of room!
I shot outside against the grey wall on my patio for two reasons! Firstly because I didn't want to be moving lots of furniture in my house to have the space I needed, but also because I have nice soft afternoon light in this shaded area and its lovely for shooting portraits.   My subject was probably 4 metres from the backdrop.  This distance is required for the Christmas Lights to blur. If you're too close you simply won't get the twinkle effect you're looking for!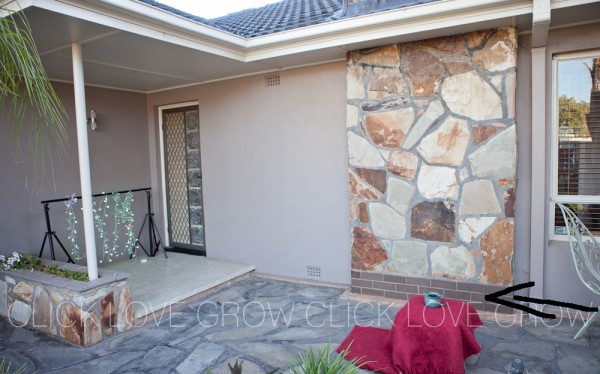 4. Place your subjects in front of your backdrop
Once I had the lights strung up, I did have to spend some time moving them around on the stand to make sure there were enough lights across the background of the photo.  It's best to practice on a non-moving subject before placing kids in front, as they'll get bored quickly and it could well lead to tears (yours, not theirs).  Once you're ready start shooting!!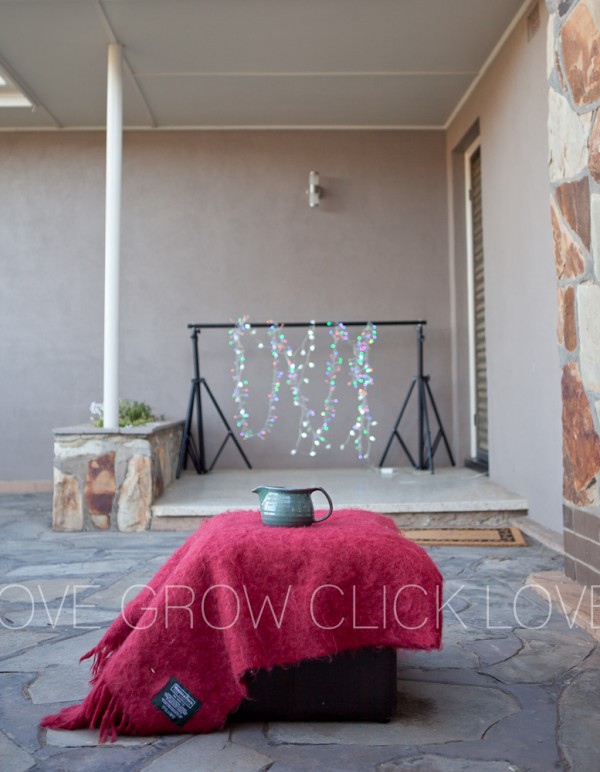 Other Notes for Twinkle Lights!
Lens Choice
If you're able to choose lenses then it will affect Christmas Twinkle Lights will affect how the lights appear.  Longer focal lengths will compress the background and therefore increase the size of the lights.  You can see the difference between the two images below shot with a 50mm lens and much longer focal length lens of 135mm. if you're taking photos with your kit lens then zoom it all the way in to 55mm.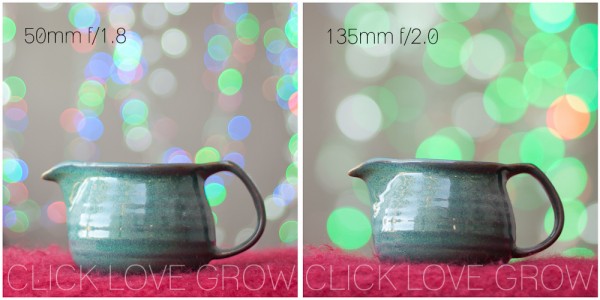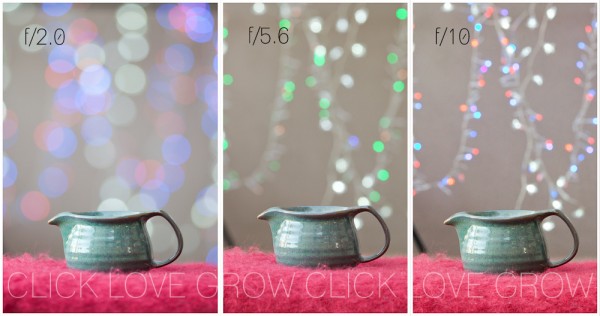 Aperture Setting
The aperture setting of your camera is really the key element in capturing beautiful Christmas Twinkle Light images and you can see the effect that the different aperture settings have below in the different images.  Have Fun!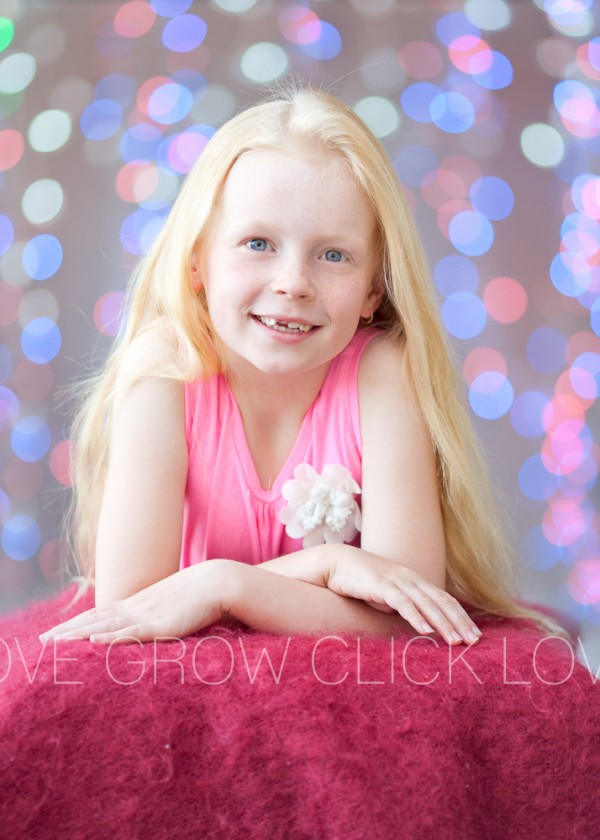 LOUISE'S ONLINE PHOTOGRAPHY COURSE FOR WOMEN
If you'd like even more fabulous tips on photography, or you're ready to master that camera of yours and start capturing great images that you love, check out Louise's Online Photography Course for Women.  Read more details here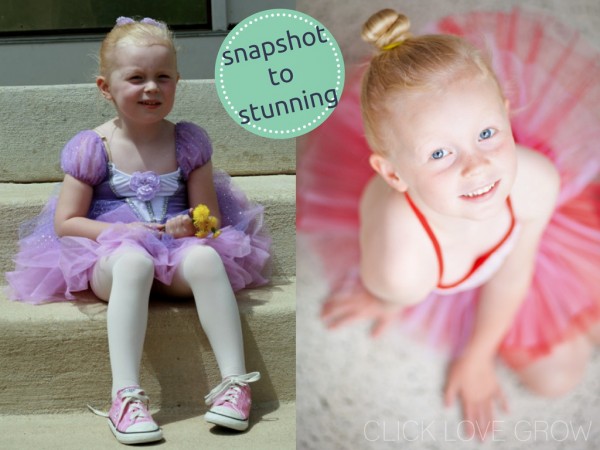 Easy to understand language, a fabulous community of women, and practical challenges and feedback so you can finally figure out how to use manual settings on your DSLR.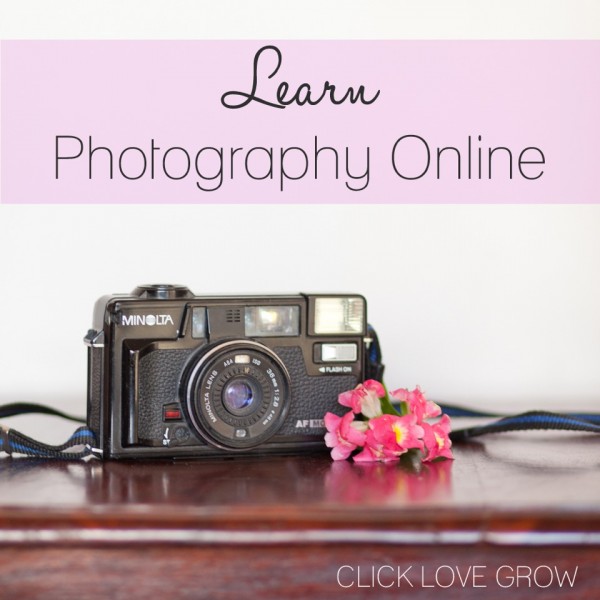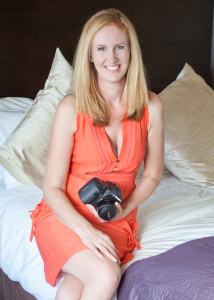 About Louise Glendon
My name is Lou, I?m a Boudoir Photographer in Adelaide Australia and I happen to love all things beautiful, colourful and filled with light!
Click Love Grow is here to inspire! We?re bringing you beautiful online photography courses for women who love photography, and for business women who?re looking to enhance their brand through strong imagery. We?ll help you connect and engage through your images whether you?re sharing with friends or reaching out to your online audience!
Check out our tips and tutorials for improving your own photography, and hang with us as we grow and build a community of women who love to take gorgeous photos and like the occasional wine.