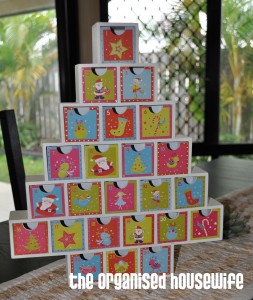 We have this gorgeous advent calendar that I purchased from Adairs a few  years ago.  I usually put little gifts in the calendar, nothing too expensive and other day's I put in a few little lollies.  If the gift I want to give them is too big I write a note and place that in the drawer with a clue on where it maybe hiding, it then becomes a treasure hunt….this is loads of fun.
We also hang Christmas stockings and fill them with the smaller Christmas gifts.
---
Here are some suggestions of gifts for the advent calendar or stocking stuffers:
Christmas Decoration for the tree or their room
Crayons
Hairclips, hairties
Marbles
Lip Balm
Watch
Bracelets
Christmas Earrings
Nail polish
Manicure set
Socks
Dress up accessories, eye patch, scarf etc
Underwear
Singlet
Matchbox cars
Christmas craft packs
Bubble bath
Key ring
Lollies or chocolates
Candy canes
Chocolate coins
Small toy
Action figures
Harmonica
Glow sticks
Lego
Card Games
Scratchey lottery tickets
Slinky
Backpack dangley label
Book
Bookmark
Money
Wallet/purse
Doll's clothes
Play-doh
Yo-yo
Toothbrush
Notebook
Colouring book
Stickers
Pencils
Pencil case
Erasers
Stamps and ink
Tattoo's
Cute stuffed teddy hanging out of the top of the stocking
Batteries for the toy's on Christmas Day
 What have I forgotten, can you add anything to the list??