During the Christmas Countdown Checklists series I will give you tasks 2do each weekday, to help you prepare, plan and be organised for the upcoming silly season and Christmas Day.  These tasks will help you to find time to write Christmas cards, create your Christmas budget, plan your Christmas cooking and so much more.
This series is published on the blog, free for you to following along.  You can subscribe to my emails to receive an email from me each morning, where I will share a link to the latest Christmas blog post, so you don't miss any of the Christmas Countdown tasks! Find subscribe form here.


Usually, there is so much to plan and organise for Christmas.  Make this Christmas calm and stress free by doing a few simple tasks each day to help you keep on top of the holiday madness. View all previous tasks here.
Today's Christmas Countdown Checklists Tasks are:
1. Update your budget
Update your budget with any items you purchased for Christmas, be it decorations or gifts, so you can keep on track with your spending.
2. Wrap presents
Spend 30 minutes or less wrapping presents, place in the wrapped storage box you allocated earlier this month, ready to put under the Christmas tree. You can find some wrapping inspiration here.

3. Don't forget the advent calendar
Don't forget to start the advent/countdown calendar on the 1st December.
I asked on the Christmas Countdown Checklist facebook group, Do you do advent calendars? If so do you put little gifts in them, activities, or use the chocolate version found at the shops? It was great to read what other families do, I've shared a few below.  Read the full list here.
We have 25 Christmas books that I wrap and randomly number every year. We chose that days one and unwrap it for a bedtime story each night. We also have an activity calander, which has a different craft or outing or Christmas activity in it for each day. We also have a special little Christmas tree that has 24 draws under it with a little ornament in each one. Each morning a new ornament gets put on the tree, and by Christmas eve it is fully decorated.  And they have their chocolate ones that we buy from the shops too. We love Christmas and counting down to it is a big part of that for us. I love how excited my kids get every day! – Cherie
I've done both, activities and chocolates. I also found 25 Christmas jokes, like the sort from crackers, and printed them out, one for each day. My son enjoyed that, and by the next year had forgotten them all so I could just reprint the file 🙂 – Jenny
I found a few sites that have some great Christmas Jokes, these would also be great if you are making your own Christmas Crackers.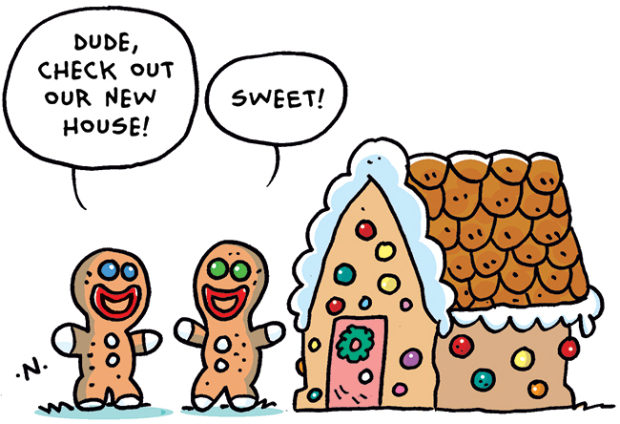 comic by Scott Nickel, image found via boyslife.org
My kids are 5 and 7, we have a house (kaiser craft) and a truck (bought online somewhere), The boxes are big enough for a little mini choc Santa which is every second day-ish, then on other days a note to find the item or telling them what we are doing that day that's a bit special. – Claire

Here's Claire's list for this year….
1 – choc
2 – Christmas tee-shirt each
3 – Christmas movie family night
4 – choc
5 – knickers/undies ?
6 – smiggle pen each
7 – choc
8 – sunglasses each
9 – choc
10 – R – clip on earrings and C – bouncy ball
11 – get the Christmas tree today! ?
12 – Christmas decoration
13 – choc
14 – lonely planet Travel book to share (if it ever turns up from book depository!!!)
15 – choc
16 – dinner out to celebrate the end of the school year
17 – a night before Christmas concert
18 – choc
19 – Christmas play date at the park
20 – make ginger bread men and reindeer food
21 – choc
22 – light trail tonight!
23 – choc
24 – open a present early!
ADVENT CALENDAR ACTIVITY NOTES – Use these Advent Calendar Activity Notes in your Christmas Advent Calendar instead of giving the kids a gift or chocolate each day. Available in my shop for only $1.95, download instantly so you can start planning!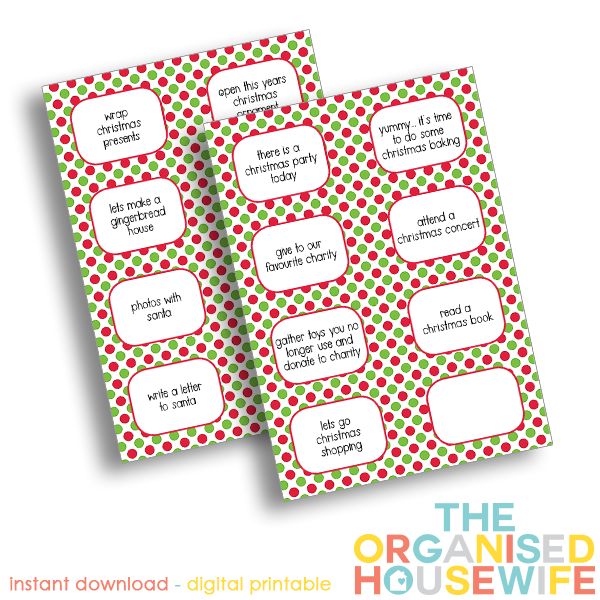 I found this 50 Acts of Kindness for Kids Advent Calendars at muminthemadhouse.com, it's obviously not Australian, but there are some really fabulous ideas, like donate food to a local pet shelter, give a lottery ticket to a stranger.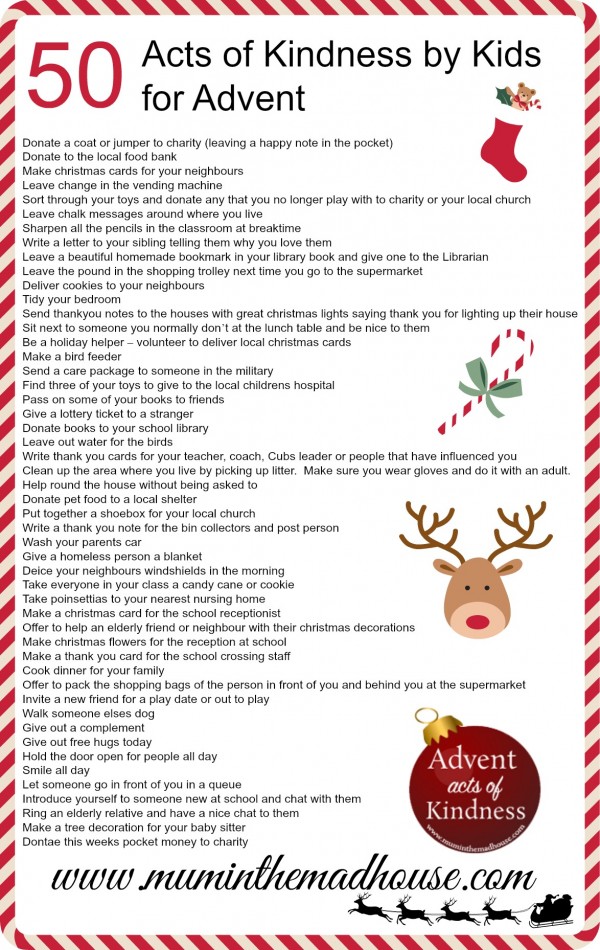 I've put together a collection of Christmas Gift Ideas to help you find the perfect gift for your family and friends. Gifts for him, the kids, teens and more.  View my full Christmas Gift Guide here. 
MINILAND SAND ROLLERS
Experience limitless sensations with this Miniland sand roller. Draw endless roads or railways and make up your own adventure. Great to use on the beach, in the garden, or even in the snow! Make a road or train track to anywhere for your minimobils vehicle or train.

Santa has many helpers who make the Christmas season fun. His elves visits the home of some children to help manage Santa's naughty and nice list.  Each morning the elf is found in a different place to watch over the kids through the day, he usually get's up to some mischief during the night. I have created The Elf Planner which includes one month of fun elf antics, see more details below.
Not sure what Elf on the Shelf is?  Read my full blog post here.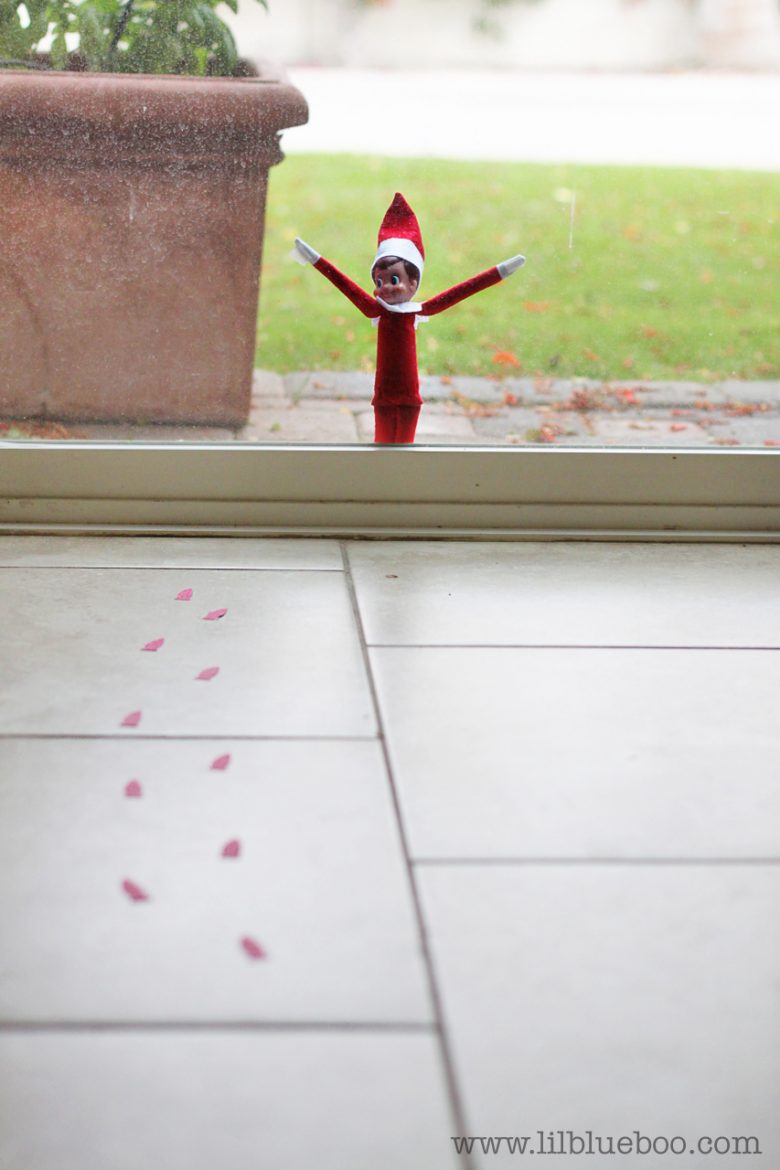 this fun elf antic idea was found via lilblueboo
---
ELF PLANNER
The Elf Planner is filled with 1 month of antic ideas, pages to encourage the kids to write and draw about their elf stay, 30+ notes from Santa and Elf to be left alongside Elf each night, editable (you can add your childs name and some text) letters from Santa and Elf, a list of suggested elf names and pages to help improve and acknowledge good and bad behaviours. Because… Elf returns to the North Pole each night and let's Santa know if they are being naughty or nice!! Some pages within this planner are editable where you can add your child's and Elf name.  AVAILABLE IN MY SHOP HERE

7 THINGS I DO EACH DAY TO KEEP THE HOME CLEAN AND ORGANISED
Subscribe to my weekly newsletter to receive blog updates in our inbox + this FREE eBook sharing some of my top tips that you can adapt in your own home.