Please note there is no Christmas task on Monday as I am travelling away for my Nan-in-law's funeral and time has got the better of me this week. Please use Monday as a catch-up day. 
During the Christmas Countdown Checklists series I will give you tasks 2do each weekday, to help you prepare, plan and be organised for the upcoming silly season and Christmas Day.  These tasks will help you to find time to write Christmas cards, create your Christmas budget, plan your Christmas cooking and so much more.
This series is published on the blog, free for you to following along.  You can subscribe to my emails to receive an email from me each morning, where I will share a link to the latest Christmas blog post, so you don't miss any of the Christmas Countdown tasks! Find subscribe form here.


Usually, there is so much to plan and organise for Christmas.  Make this Christmas calm and stress free by doing a few simple tasks each day to help you keep on top of the holiday madness. View all previous tasks here.
Today's Christmas Countdown Checklists Tasks are:
1. Plan gifts for kids school friends
Do your kids give gifts to their friends before school finishes? If so start thinking about what gifts to give. Our favourite gift for the kids school friends has been Reindeer Noses Treat Bags. Read how to make them here.
I recently designed some new Christmas Bag Toppers, they are all so super cute! My Christmas Bag Toppers are an instant download, so you can purchase, download, print and start creating within minutes.
2. Plan to get your advent calendar ready
The 1st December is next week, so start planning to get your advent calendar ready.  I will share some advent activities with you next week.
3. Finish your Christmas cards
Finish writing your cards, so they will be ready to post out soon.

I've put together a collection of Christmas Gift Ideas to help you find the perfect gift for your family and friends.  Gifts for him, the kids, teens and more.  View my full Christmas Gift Guide here. 
ROCK A LONG PUPPY
Styled from gorgeous natural wood with complete attention to detail, this perfectly-balanced ride-on can take kids for a slow-and-steady jog or an exuberant puppy-bounding. Designed with a wide base, the rocking puppy will make children feel safe and confident.

Santa has many helpers who make the Christmas season fun. His elves visits the home of some children to help manage Santa's naughty and nice list.  Each morning the elf is found in a different place to watch over the kids through the day, he usually get's up to some mischief during the night. I have created The Elf Planner which includes one month of fun elf antics, see more details below.
Not sure what Elf on the Shelf is?  Read my full blog post here.
This is a super cute idea, Elf gift wraps the kids lunch, making it a surprise at lunchtime!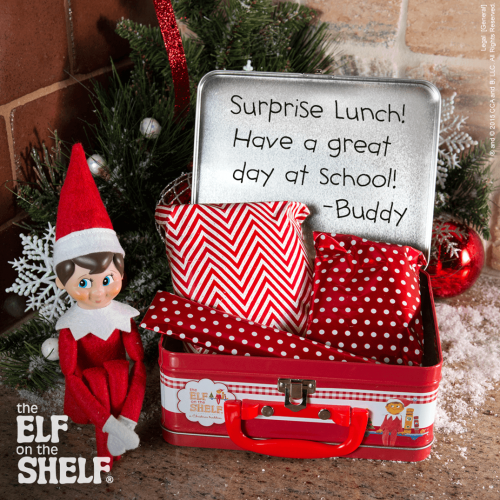 this fun elf antic idea was found via elfontheshelf.com
---
ELF PLANNER
The Elf Planner is filled with 1 month of antic ideas, pages to encourage the kids to write and draw about their elf stay, 30+ notes from Santa and Elf to be left alongside Elf each night, editable (you can add your childs name and some text) letters from Santa and Elf, a list of suggested elf names and pages to help improve and acknowledge good and bad behaviours. Because… Elf returns to the North Pole each night and let's Santa know if they are being naughty or nice!! Some pages within this planner are editable where you can add your child's and Elf name.


7 THINGS I DO EACH DAY TO KEEP THE HOME CLEAN AND ORGANISED
Subscribe to my weekly newsletter to receive blog updates in our inbox + this FREE eBook sharing some of my top tips that you can adapt in your own home.