We have a gorgeous advent calendar that we have used for years. As I mentioned yesterday, you can purchase or make you own. In our advent calendar I place small inexpensive gifts, a lolly or note with an activity we will complete that day. If the gift I want to give them is too big I write a note and place that in the drawer with a clue where it maybe hiding, it then becomes a treasure hunt….this is loads of fun.
Remember to keep track of your purchases, using the Advent Calendar gift page in your The Organised Housewife Christmas Planner.

Advent Calendar Activity Ideas
Suggested activities to place in advent calendar
Decorate the Christmas Tree
Open this years new Christmas ornament
Go for a drive to look at Christmas lights
Have photo's with santa
Do some Christmas crafts
Do some Christmas baking
Give to charity
Play some Christmas music
Read a Christmas book
Watch a Christmas movie
Make a gingerbread house
Wrap presents
Attend a Christmas Party
Attend a Christmas Concert
Christmas shopping
Do a family christmas tradition
Donate toy's to a local charity
FREE Printable here for you to add some of the activities above to your advent calendar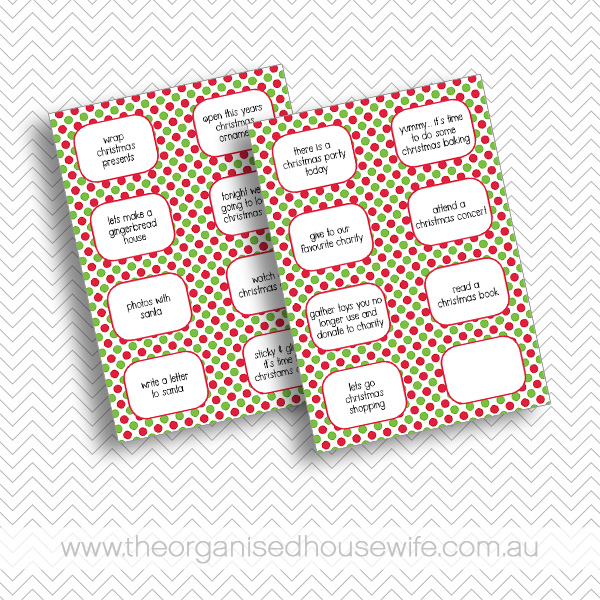 Advent Calendar Gift Ideas
Suggested items to place in advent calendar
Christmas Decoration for the tree or their room
Crayons for Christmas craft activities
Christmas Hairclips, hairties
Marbles
Lip Balm
Bracelets
Christmas Earrings
Nail polish
Underwear
Singlet
Matchbox cars
Christmas craft packs
Key ring
Lollies or chocolates
Candy canes
Chocolate coins
Small toy
Action figures
Glow sticks
Lego
Card Games
Book
Bookmark
Play-doh
Toothbrush
Notebook
Colouring book
Stickers
Pencils
Pencil case
Erasers
Stamps and ink
Tattoo's
What items do you place in your Advent Calendar?