I like to post my Christmas cards in the first week of December.  I don't have the time to write all my cards at once so I usually split my list into 4 and write them over a period of two weeks.
Use the card list page in the Christmas Planner to help you stay organised.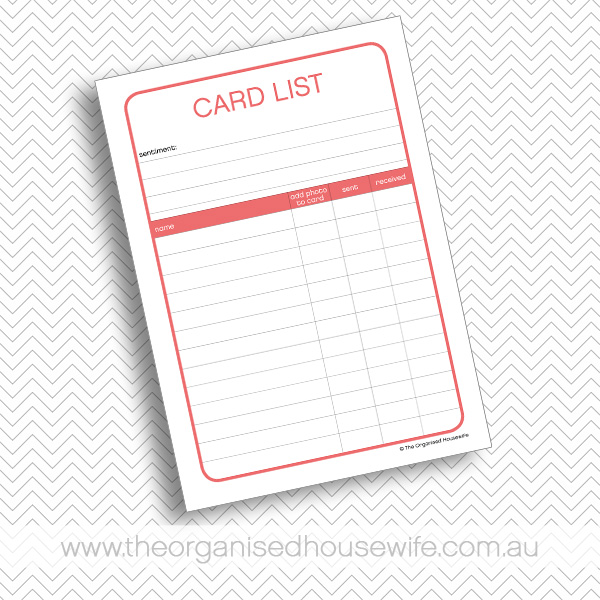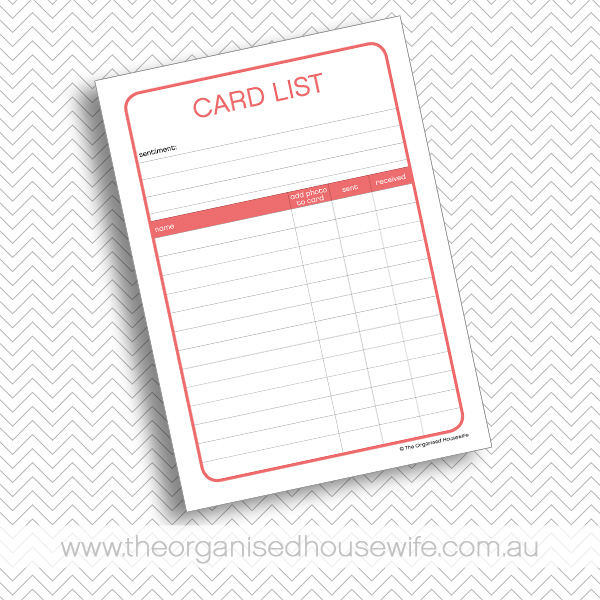 Items needed when writing Christmas cards
Christmas card list, found in your Christmas planner
Address Book
Christmas Cards
Photos to add to cards
Envelopes
Pen
Stamps
Return address labels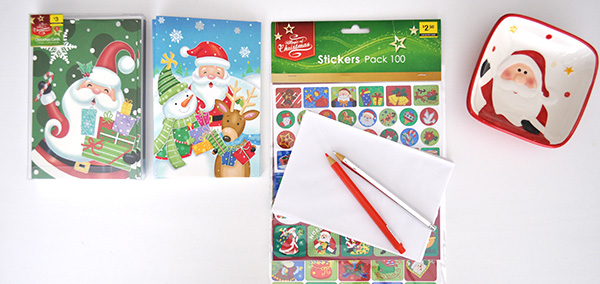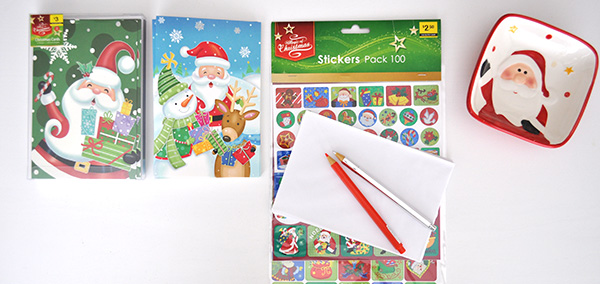 Writing Cards
I find it difficult to decide what sentiment to write in cards.  While it maybe tempting to just write 'Merry Christmas', I urge you to take the time to to write a personal message, I have included some below you may like.
For cards to friends and family keep it personal there is no need to sign your last name.
Remember you are not writing a letter, it's more like a note, quick hello.
Try and include a photo of the family, newest baby, pet, latest holiday or your house in the card for close family.  I'm sure they will appreciate something extra.
Addressing Envelopes
Don't forget to put your return details on the back so the recipient has your address if they need
Whilst it maybe easier to type out addresses and print on a label, I love the old fashioned handwritten envelopes.  Christmas is a rustic tradition, no need to put a modern spin on it!!
Decorate the envelope using 1 christmas sticker or place a sticker on the back to seal the envelope
Don't add the glittery sprinkles to your envelopes.  You may think they are cute and fun however I ensure you your friends may not think so after they have fallen over the floor creating a mess.
Remember to write 'card only' on the envelope to receive your postage holiday discount
I like to post my Christmas cards towards the end of the first week in December

Here are some possible messages you could use in your cards.  Remember you can replace 'Merry Christmas' with 'Happy Holidays' and 'you' with 'you and your family'.
May the Christmas season fill your home with joy,
your heart with love and your life with laughter.
*****
Merry Christmas and Best Wishes
for a Happy New Year
*****
May this Christmas end the present year on a cheerful note
and make way for a fresh and bright New Year.
Here's wishing you a Merry Christmas and a Happy New Year!
*****
With much love at Christmas time, and always.
*****
May love be in your life, May hope be in your heart, May peace be in our world.
*****
May your Christmas sparkle with moments of love, laughter and goodwill,
And may the year ahead be full of contentment and joy.
Have a Merry Christmas.
*****
 A wish for peace and happiness
at Christmas and throughout the New Year.
*****
May the miracle of Christmas fill your heart with warmth and love.
Merry Christmas!
*****
May the peace and blessings
of Christmas be yours;
And may the coming year
be filled with happiness.
*****
The gift of love.
The gift of peace.
The gift of happiness.
May all these be yours at Christmas.
What sentiment message do you usually write on Christmas cards?