Last year I created this look shelf nook for all my gift wrapping, but we have changed the room around and no longer have this space.  I have created a portable wrapping basket, which is working really well.  At Christmas time I like to sit in front of the TV and wrap my pressies, so now I can easily carry the basket into the loungeroom and have everything I need on hand.  Once christmas is over I will replace it all with normal birthday gift wrapping papers, ribbons, tags etc.
Gather your supplies:
Scissors – make sure you have a big comfortable pair that are sharp
Tape dispenser – use a dispenser that is easy to use and not too fiddly ie. can be used with one hand.  Have extra sticky tape rolls in case you run out
Pen – use a pen that won't smudge
Wrapping paper – you can never have too much
Ribbon – coordinate this to match your wrapping paper
Gift bag – for hard to wrap presents
Gift tags – to help identify which present belongs to who
Cards – to add to your presents rather than a tag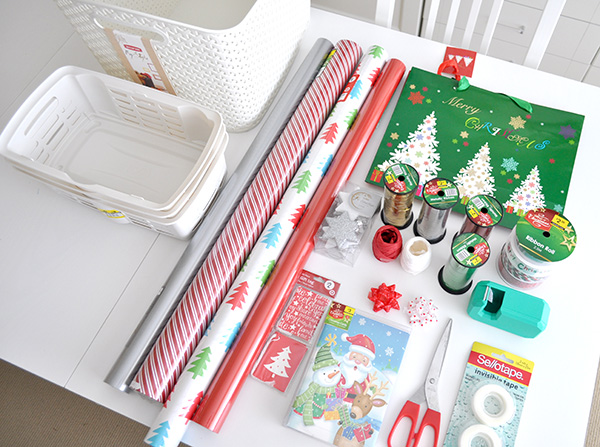 I like to add ribbons to all my gifts.  Most of these items below can be found at Coles, Target or The Reject Shop.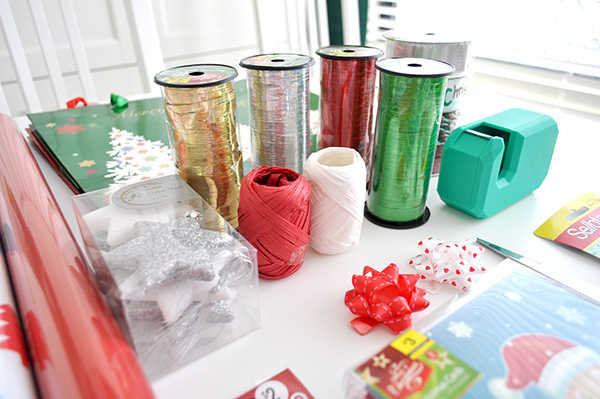 I have used some inexpensive baskets from The Reject Shop.  One large basket and the baskets on the left sit on top of each other.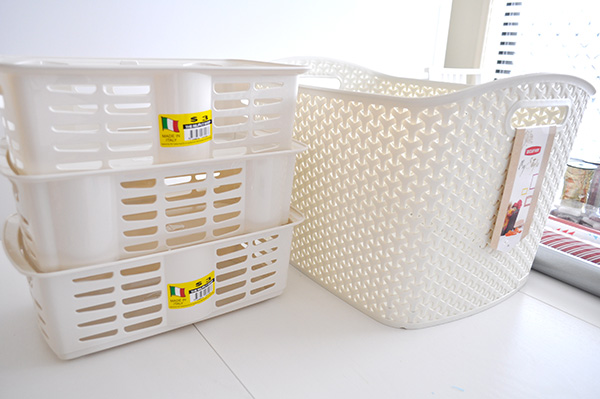 Everything fits so compact and perfectly within the large basket. To the left it stores gift bags, and the other side of the smaller baskets it holds rolls of wrapping paper.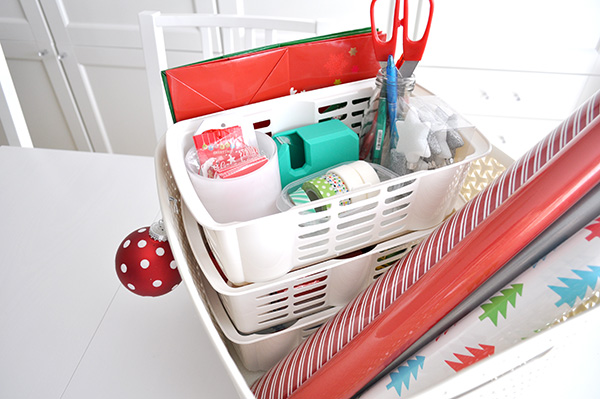 I've organised supplies between baskets, bottom basket holds my Christmas Cards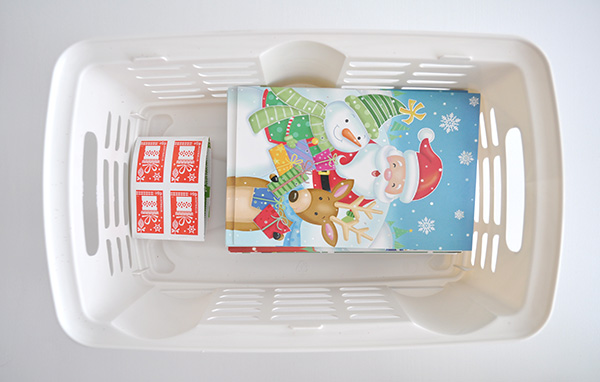 Middle basket keeps all my ribbons tidy.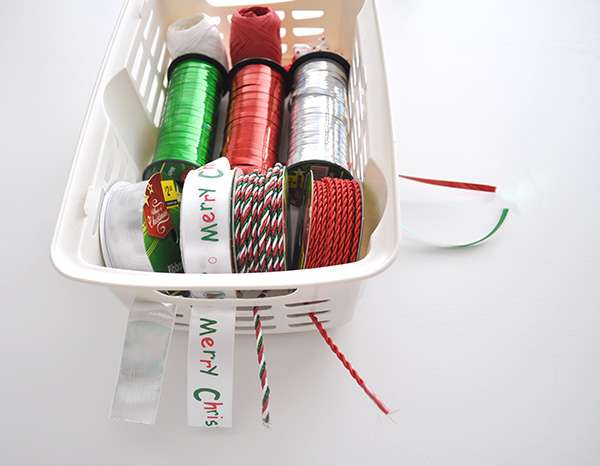 So when I am ready to wrap I take the little baskets out and have everything I need close by.  On another note, I'm so excited that Julie Goodwin has a new book out 20/20 meals, read more details here.  I have always loved Julie's recipes, they are so family friendly, her cookbooks are very easy to follow and filled with beautiful pictures.  Now available in stores.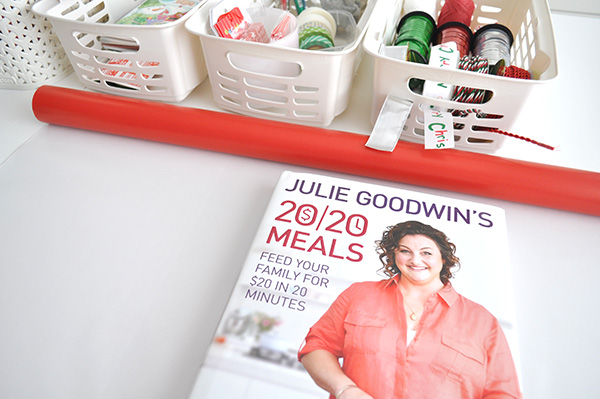 I have threaded the ribbons through the side of the basket which prevents the ribbons from tangling.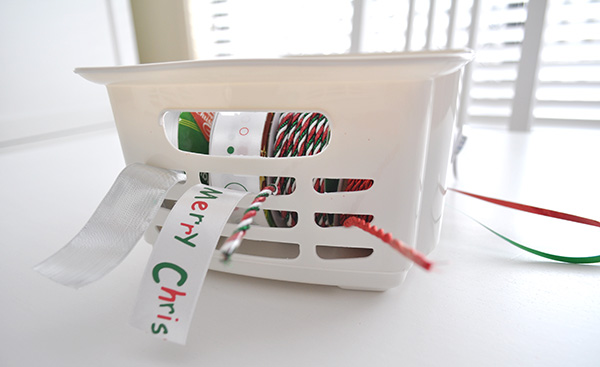 In the top basket I have pens, tape, scissors and gift tags.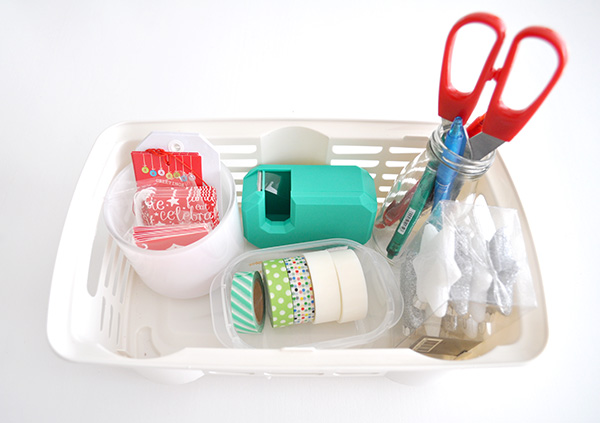 When not in use, it is stored in my wardrobe.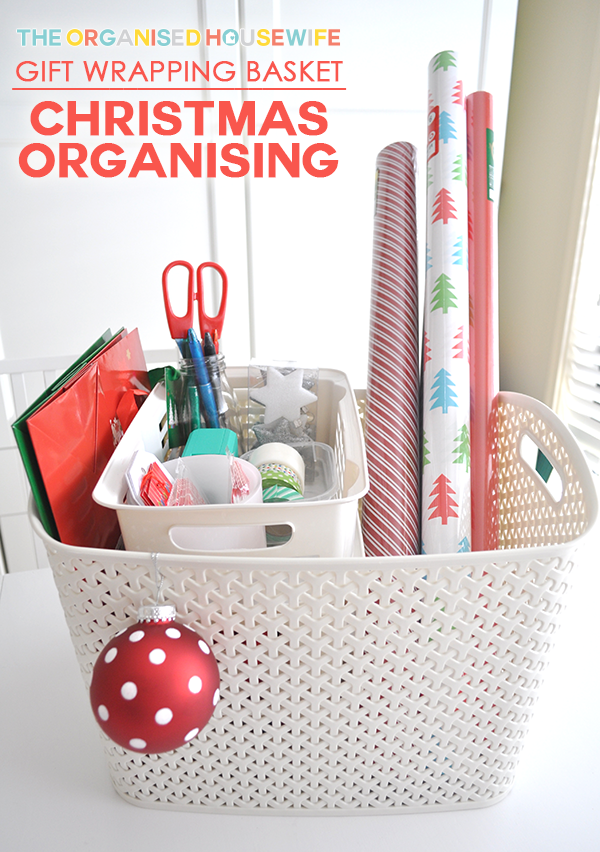 How do you store your gift wrapping?