This post is sponsored by ALDI
Christmas usually means indulging in a little more food and drinks than usual.  With a house full of family and friends, the last thing you want to be doing on Christmas Day is spending all day baking and cooking dinner.  It should be a time to sit with your loved ones, catch up, laugh and create memories.  We all enjoy a delicious Christmas Day feast, but you don't have to go to extraordinary lengths when feeding your guests.  Give yourself the gift of a stress-free, merrier Christmas by planning and preparing your Christmas feast, it's not too early to start planning now.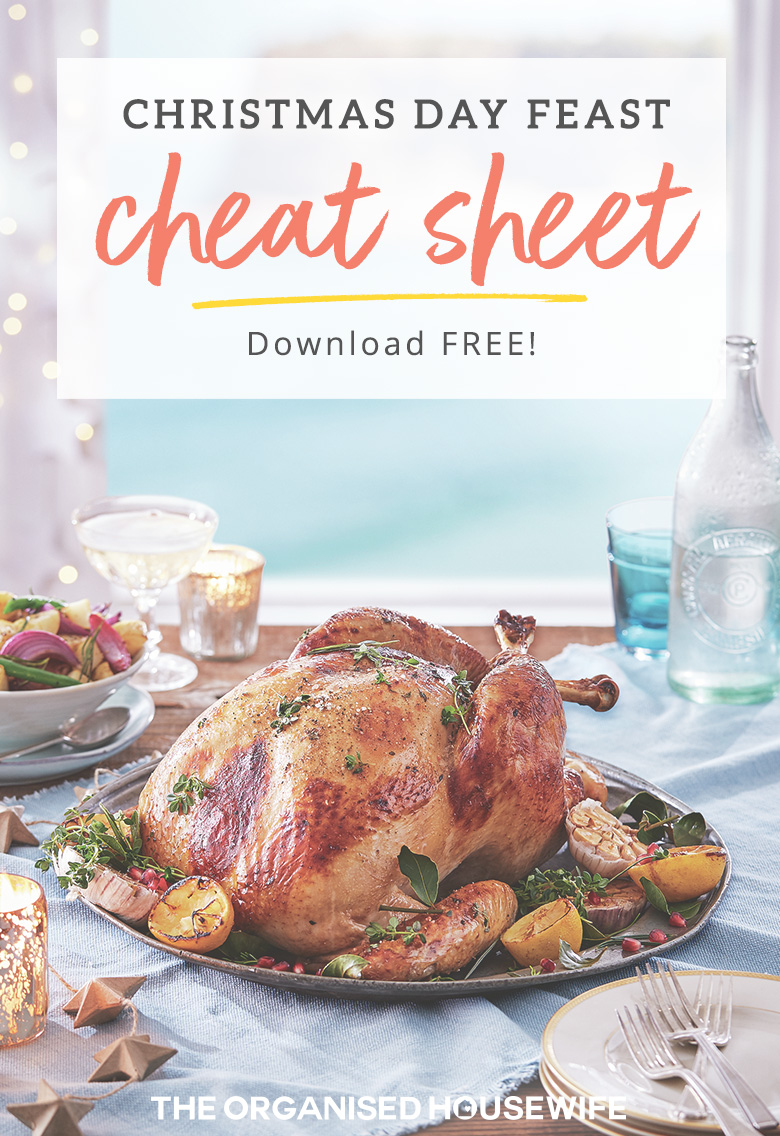 The key to a stress-free, merrier Christmas is in the planning and preparing in those days leading up to Christmas. I'm very excited to have teamed up with ALDI to share with you their unique and exclusive 2017 Christmas range. All products have been rigorously tested to ensure they are as good as, or better than, the brand equivalent.  I'm sharing with you my tips and processes for Christmas Day meal planning along with a cheat sheet for you to print out and put on your fridge to guide you through December and to help you remember when the latest ALDI products are available.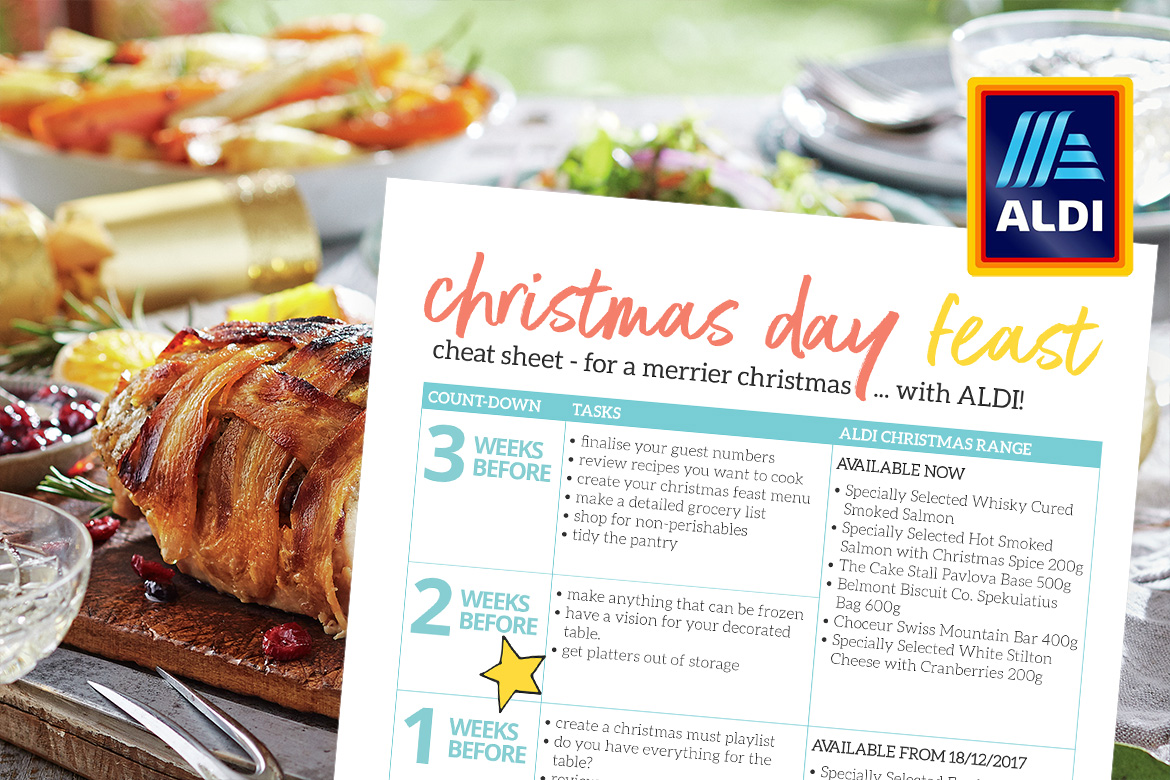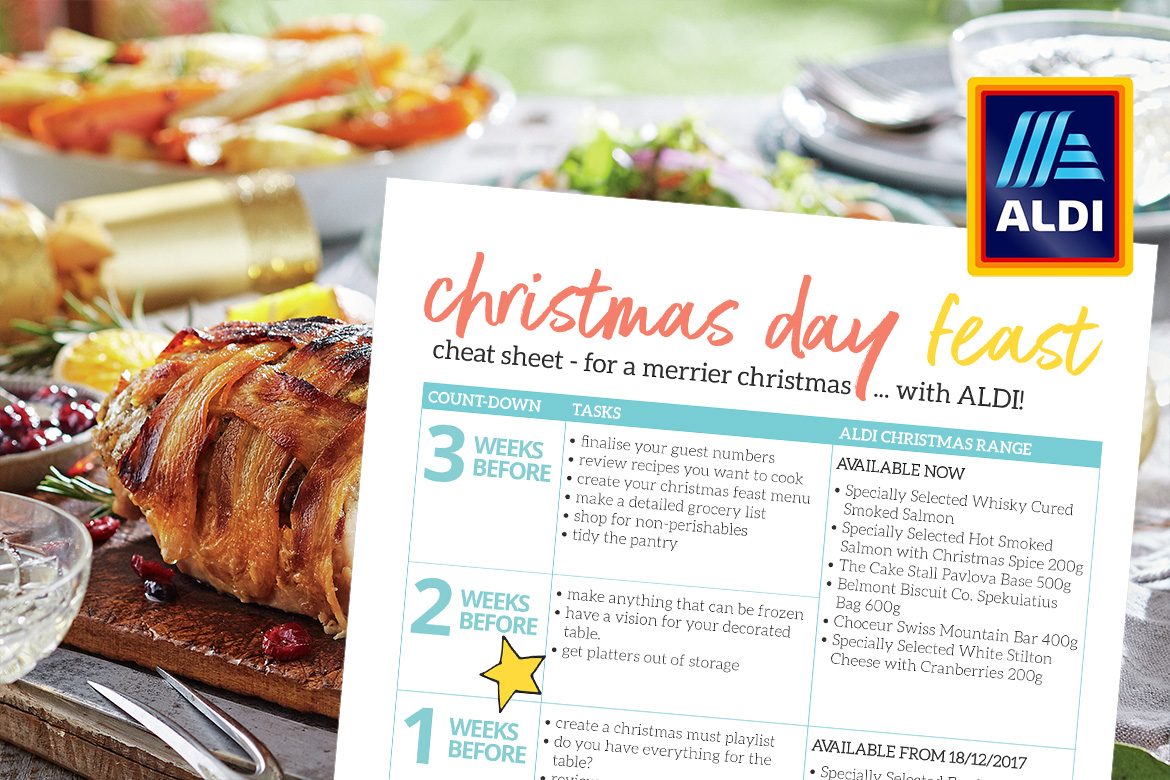 ALDI's extensive 2017 Christmas range features over 235 premium and affordable festive delicacies, drinks (liquor is available in selected ALDI stores in NSW, VIC, ACT and WA), decorations and gifts with everything from Aussie favourites to European treats.  Some of the new products for 2017 include:
Specially Selected Hot Smoked Salmon with Christmas Spice, 200g, $9.99
Specially Selected Fresh 4 Bird Roast (per kg), $18.99 (on sale 18/12)
Ocean Royale Frozen Butterflied Herb and Garlic Prawns 400g, $12.99
Specially Selected Turkey Breast Roast (per kg), $17.99 (on sale 18/12)
Specially Selected Sponge Bombe (Chocolate or Salted Caramel), $6.99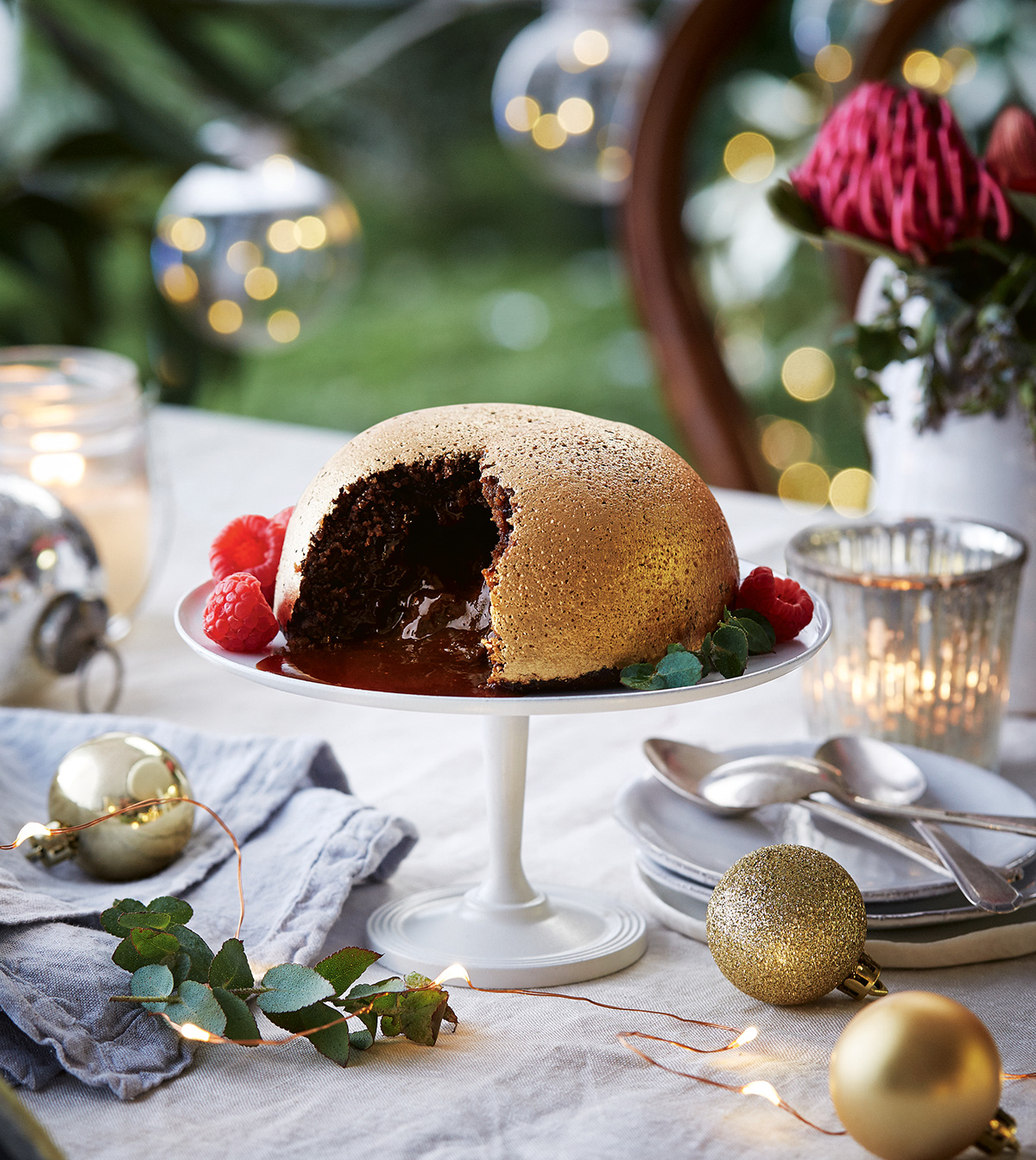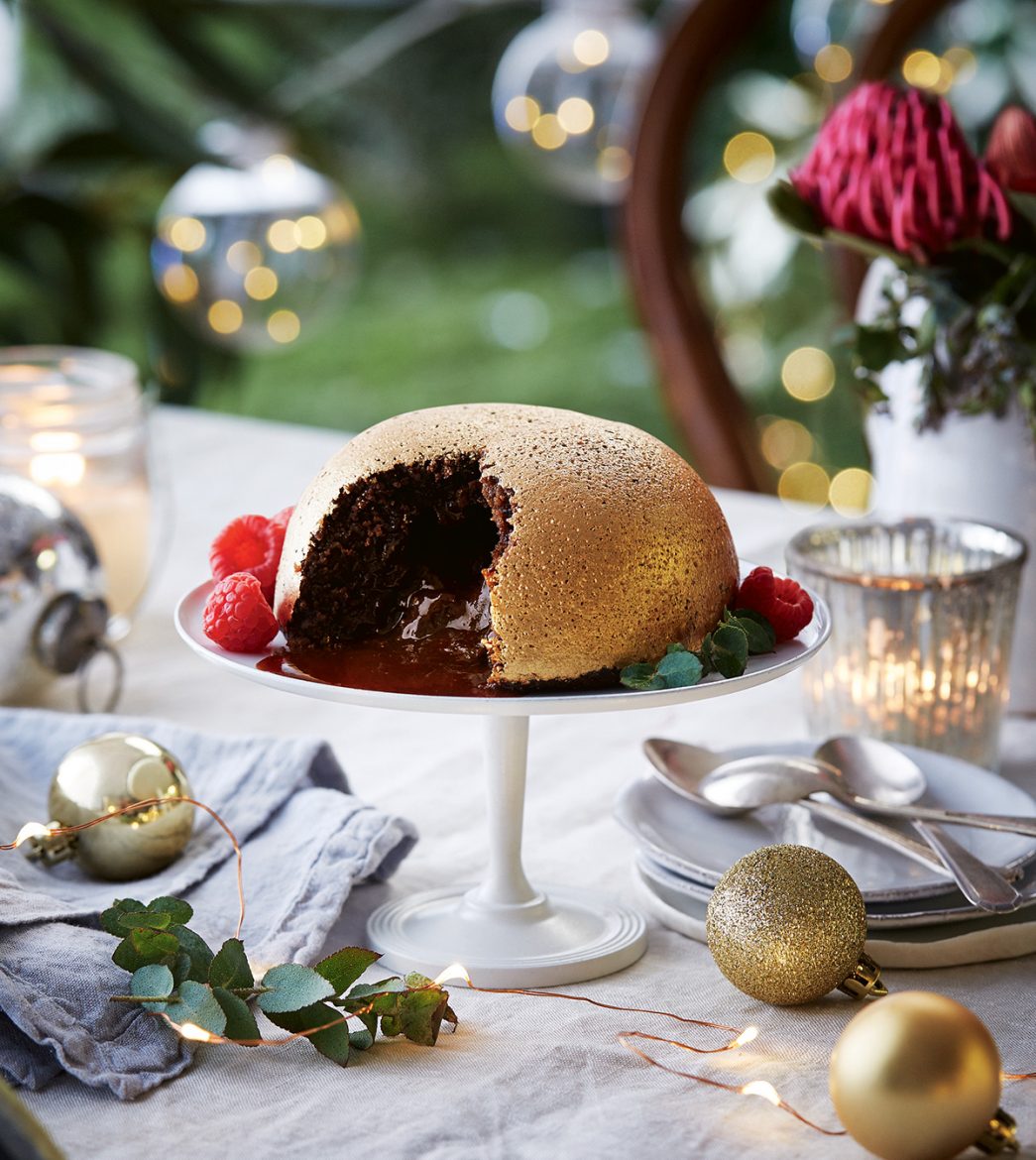 ---
WHAT I'VE PURCHASED FOR CHRISTMAS ALREADY
We are going away in December and will be home very late the night before Christmas Eve. I'm presuming we are going to be completely jetlagged on Christmas Day, so I have asked my brother to host Christmas this year.  This will be the first year I won't be baking or cooking, so this post is quite fitting as it has helped me come up with my plan on what to take to my brothers to contribute for Christmas Day.  ALDI has already released most of their Christmas range, I have purchased all I need already so I don't have to join the crowds at the shops on Christmas Eve.  I am taking: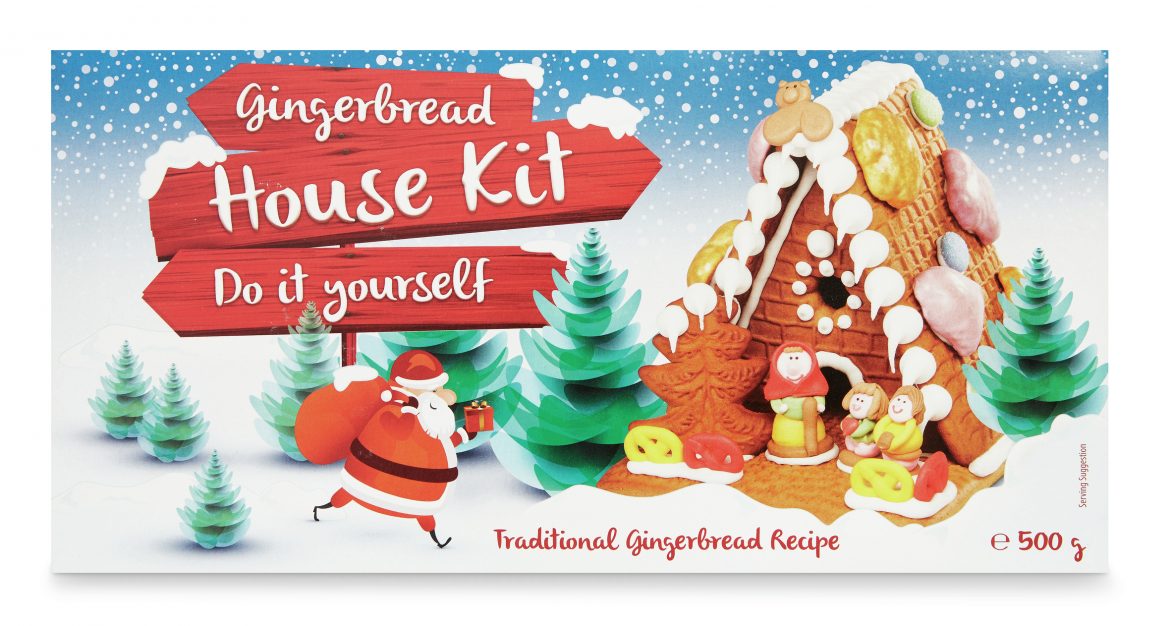 ---
WHAT'S CURRENTLY AVAILABLE FROM ALDI'S CHRISTMAS RANGE
ALDI's Christmas range went on sale from October, they release something new each week.  So to help you with your planning I have listed a few of the great Christmas products currently available (you can find the full list of products available now on ALDI's website) and I have also included when the new Christmas products will be available in my cheat sheet.  ALDI has everything you need for the perfect Aussie Christmas, no matter what your budget.
STAY UP-TO-DATE: Keep an eye out for ALDI's Special Buys that go on sale every Wednesday and Saturday, and sign up to their newsletter so you can get a sneak peak of what will be available the following week to assist with your gift planning.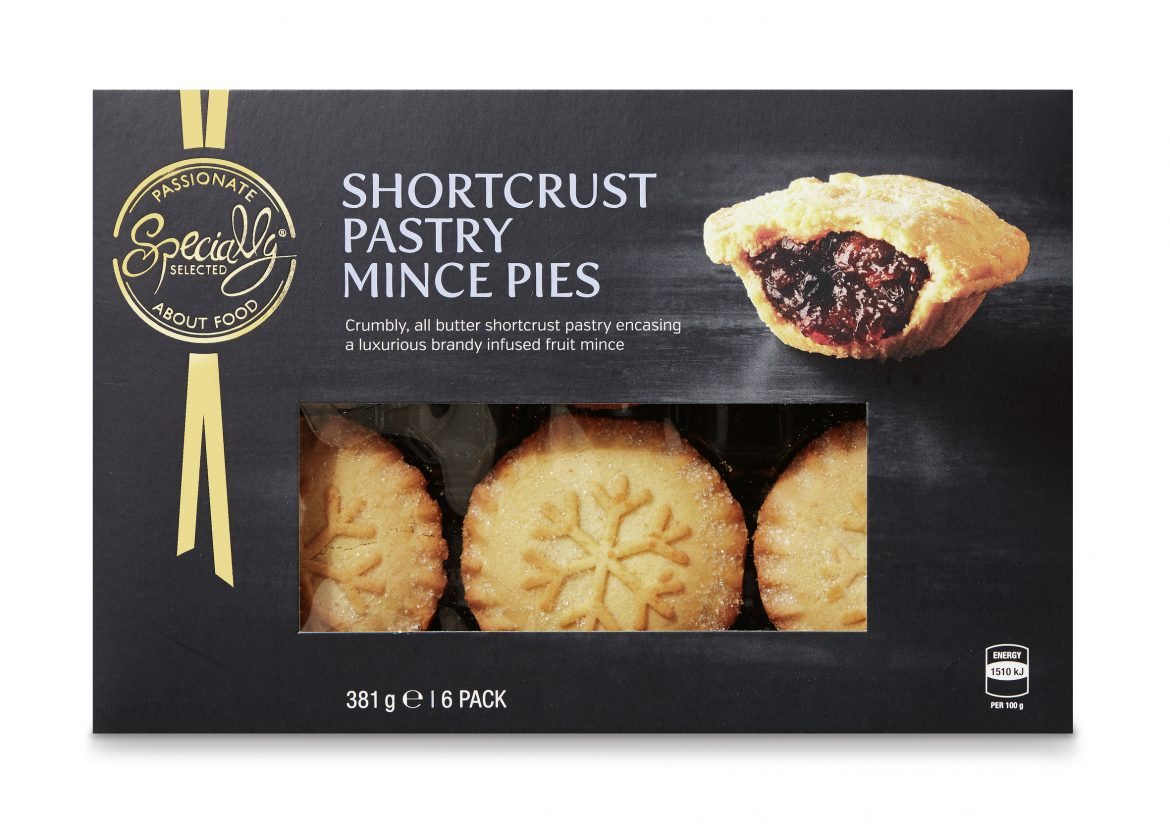 FESTIVE FAVOURITES
The Cake Stall Plum Pudding 700g, $3.69
DIY Gingerbread House Kit 500g, $6.99
Belmont Biscuit Co. Herzen Lebkuchen 300g, $3.99
Specially Selected Gourmet Nougat 150g, $4.99
Specially Selected Shortcrust Pastry Mince Pies 6pk/381g, $4.99
---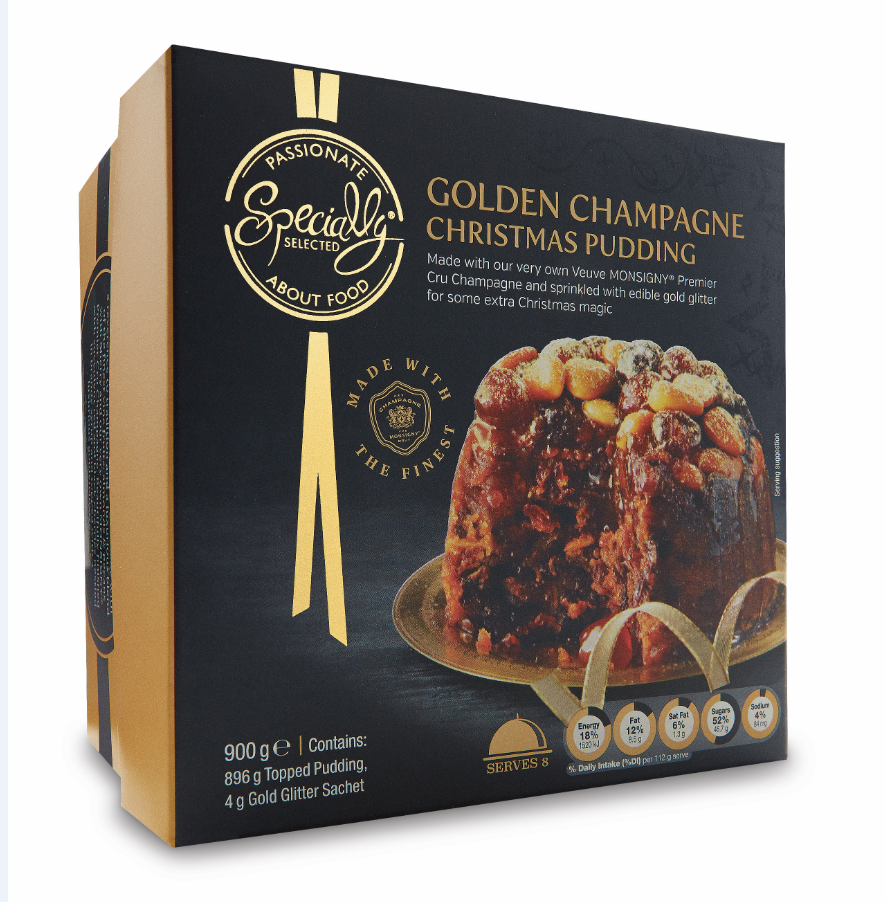 CHRISTMAS PUDDINGS, CAKES & TREATS
Specially Selected Vintage Christmas Pudding 700g, $13.99
Specially Selected Golden Champagne Pudding 900g, $9.99
Specially Selected Luxury Christmas Cake 800g, $10.99
Specially Selected Petit Fours 120g, $3.99
Specially Selected Luxury Christmas Fudge 150g, $4.99
Specially Selected Flaked Truffles 150g, $4.99
Specially Selected Premium Chocolates, $4.99
Specially Selected Marzipan Rounds 210g, $4.99
Moser Roth Finest Chocolate Baubles 150g, $3.99
Specially Selected Sponge Bombe 500g, $6.99
Specially Selected Mini Luxury Christmas Cake 200g, $3.79
Specially Selected Luxury Mini Champagne Pudding 100g, $2.79
---
CHRISTMAS MEATS
Specially Selected Frozen Scallops with Herbs De Provence Butter 8pk, $10.99
Ocean Royale Frozen Extra  Large Tiger Prawns 1.5kg, $39.99
Specially Selected Frozen Lobster Tails with Garlic Butter Glaze 380g/2pk, $29.99
Specially Selected Frozen Whole Cooked Lobster 400g, $19.99
Ocean Royale Frozen Butterflied Herb and Garlic Prawns 400g, $12.99
Specially Selected Frozen Turducken 1.5kg. $29.99
---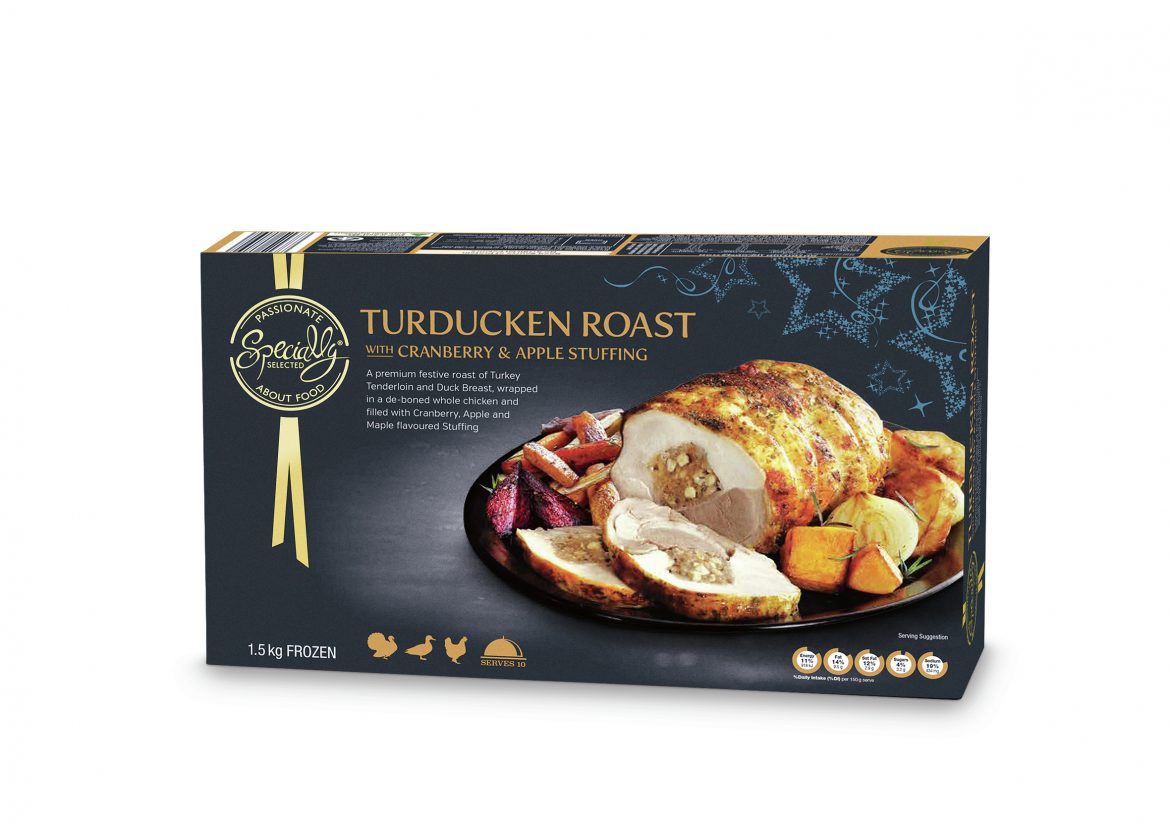 CHRISTMAS FREEZER
Frozen Scallops with Herbs De Provence Butter 8pk
Ocean Royale Frozen Extra  Large Tiger Prawns 1.5kg
Frozen Lobster Tails with Garlic Butter Glaze 380g/2pk
Whole Cooked Lobster
Ocean Royale Frozen Butterflied Herb and Garlic Prawns
Frozen Turducken
---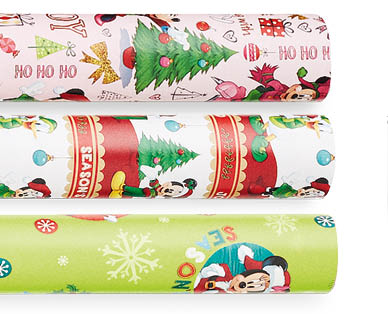 CHRISTMAS LIGHTING, PREPARATION, CRACKERS, TABLEWARE & MORE
25th Avenue Prelit Luxury Tree 7ft/213cm, $99.99
25th Avenue 250 LED Solar Fair String Lights, $16.99
25th Avenue Handcrafted Glass Baubles 6pk, Premium Baubles 7pk, Hand painted Glass Hanging Ornaments 3pk, $9.99
25th Avenue Jumbo Wrap 20m, $3.99
25th Avenue Deluxe Christmas Bon Bons 6pk, $12.99
Specially Selected Lingonberry or Cranberry Sauce 220g, $1.99
Specially Selected Gourmet Gift Box – Extra Virgin Olive Oil, Finishing Vinegar and Dukkah, $14.99
---
As I mentioned above, when hosting a Christmas Feast it's all in the planning to ensure that you, as host, also get to sit and spend time with your guests, rather than cooking in the kitchen all day.  I have put together a Christmas Day Feast Planner (and cheat sheet for you to download, see below) to ensure you enjoy more time with family for a merrier Christmas!

Some like to cook up a storm over Christmas, but perhaps you may like to take it a little easier (like me!!) and use pre-prepared dishes, like the Turducken and Champagne Puddings. I love that ALDI reduces the preparation and time with these pre-prepared dishes, saving you time and money.
3 WEEKS BEFORE
  this weekend
FINALISE YOUR NUMBERS – In order for you to plan and prepare you must first finalise your guest numbers so you know how many people you'll be feeding at your Christmas Day Feast!  Even if it's not exact numbers this can give you a good guide so you have the right amount of food, chairs, cutlery and gifts.
REVIEW RECIPES – Look through magazines, recipes books, the internet, or my blog for Christmas recipes and inspiration on what to serve at your Christmas Day feast.
CREATE YOUR MENU – Write down your meal plan, what you want to serve as snacks, sides, main dish, dessert and drinks. Consider dishes that can be made ahead so you can spend time relaxing with your family and friends on Christmas Day rather than pottering in the kitchen for hours.
ALDI CHRISTMAS PRODUCTS AVAILABLE NOW – Chilled Entertaining/ Smoked Salmon and Roasts / Xmas gifts and entertaining
Specially Selected Whisky Cured Smoked Salmon

Specially Selected Hot Smoked Salmon with Christmas Spice 200g

The Cake Stall Pavlova Base 500g

Belmont Biscuit Co. Spekulatius Bag 600g

Choceur Swiss Mountain Bar 400g

Specially Selected White Stilton Cheese with Cranberries 200g
Click here to see what other delicious products are available at ALDI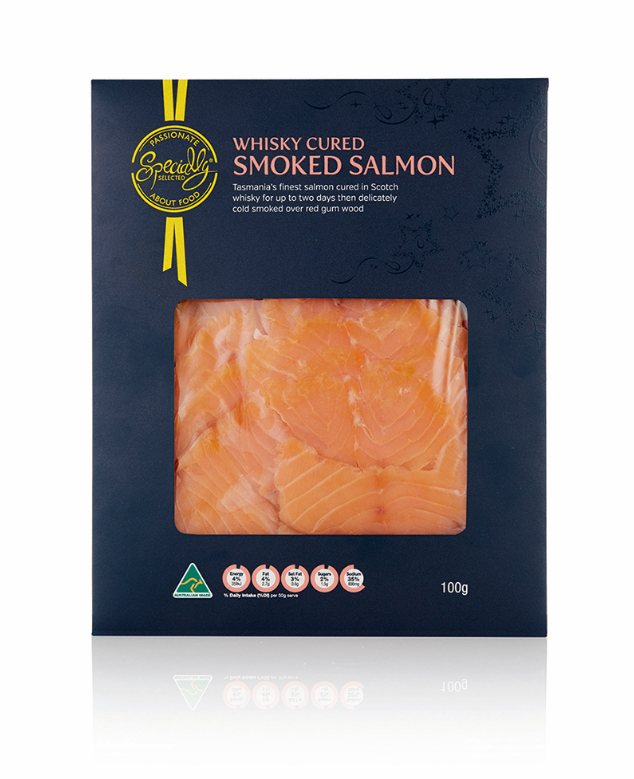 MAKE A DETAILED GROCERY LIST – Go through the menu you created adding all ingredients to your list, add everything you need and not forgetting the little things like condiments, bon bons, plastic cups etc.
SHOP FOR NON-PERISHABLES – It's not too early to start shopping for all the non-perishable food you'll need for Christmas Day.   Think about everything from Alcohol, canned goods, snacks, pantry staples (flour, oil, spices) and condiments. Check the pantry to ensure you're not purchasing something that may be hiding in the back of the cupboard.
TIDY THE PANTRY – While you're looking through the pantry of your non-perishable stock, give it a tidy to make space to store all the food that you are going to buy for your Feast.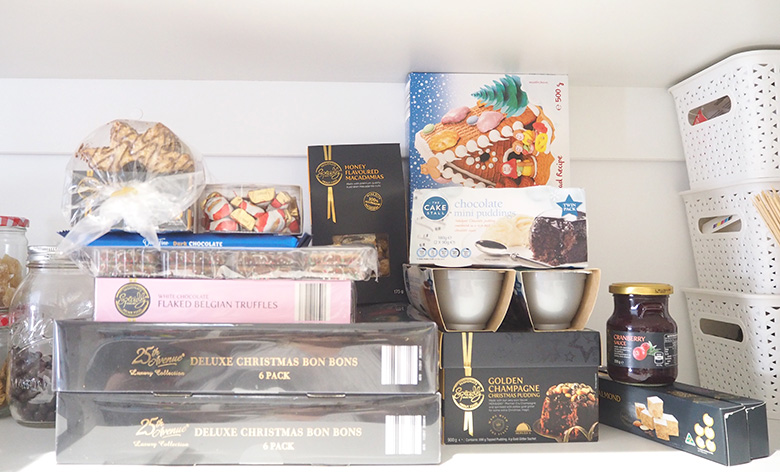 2 WEEKS BEFORE
  week of 11th December 2017
MAKE ANYTHING THAT CAN BE FROZEN – To help you save time closer to Christmas.
HAVE A VISION FOR TABLE DECORATIONS – If you like to decorate your Christmas table, think about your vision and ensure you have everything you need, if you don't add it to your shopping list.
GET PLATTERS OUT OF STORAGE – Some may think this is a little OCD, but by placing a post it note on each platter for what it will hold will help you determine that you have enough platters, but also help those helping you plate up know what goes on what plate.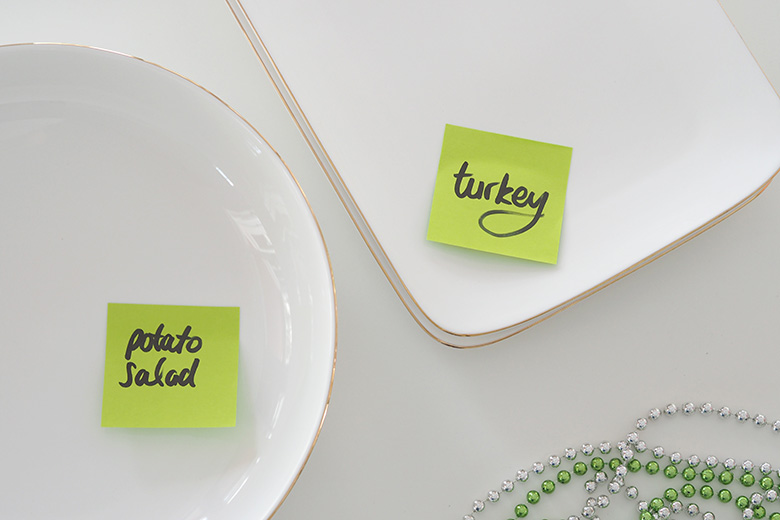 These are the gorgeous gold trimmed platters and salad bowls that I purchased from ALDI as a Special Buy.  
1 WEEK BEFORE
  week of 18th December 2017
CREATE A CHRISTMAS PLAYLIST – Create a playlist of some of your favourite Christmas songs to play in the background.
DO YOU HAVE EVERYTHING FOR THE TABLE? – Ensure you have everything for your serving table: tablecloth, decorations, cutlery, serviettes and platters.
REVIEW YOUR MENU – Determine if there is anything that can be prepped in advance or if you have forgotten something.
ALDI CHRISTMAS PRODUCTS AVAILABLE from 18th December – Fresh Turkeys and Seafood
Specially Selected Fresh 4 Bird Roast
Willowton Free Range Whole Fresh Turkey
Specially Selected Turkey Breast Roast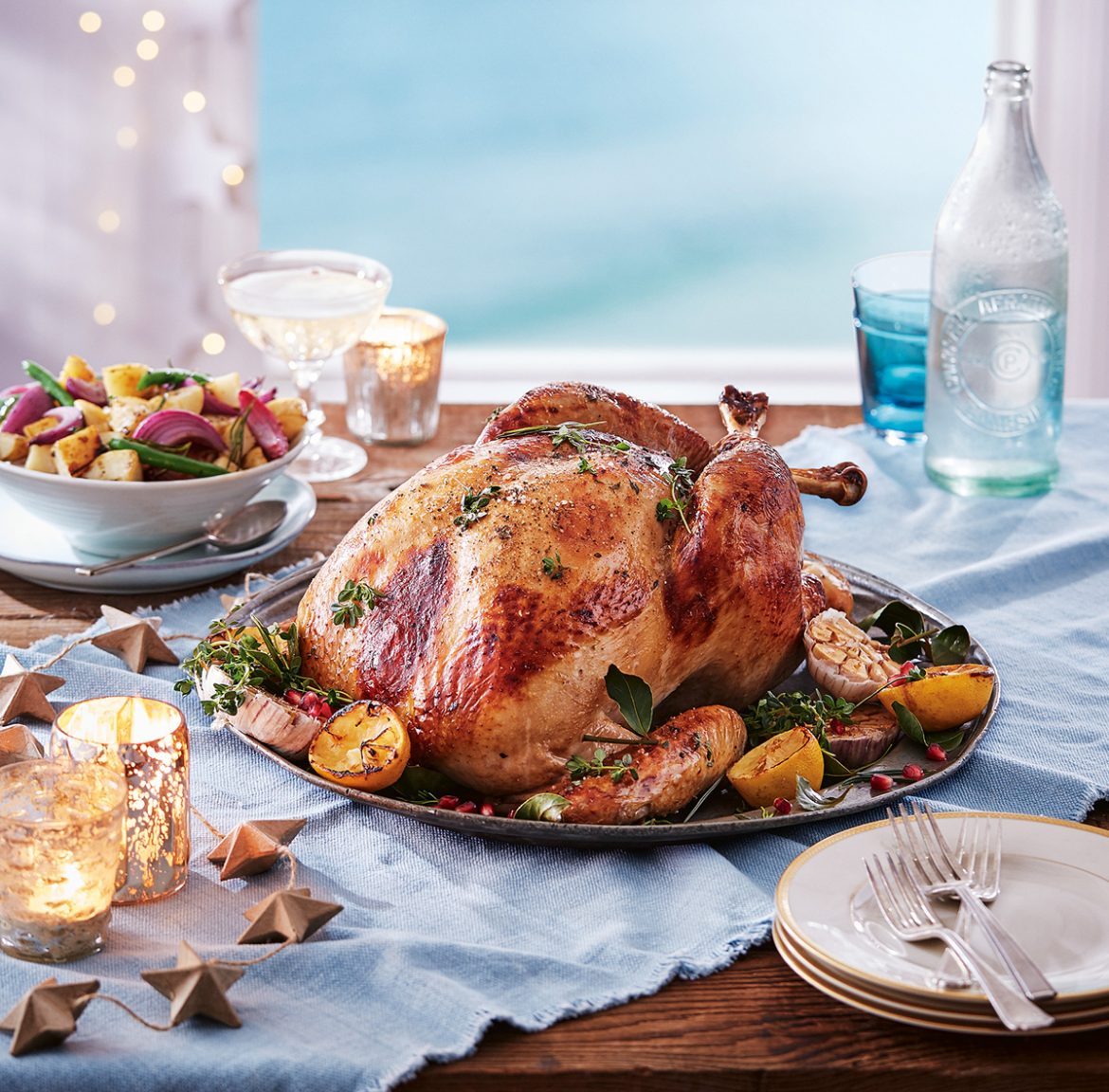 3-4 DAYS BEFORE
  21st December 2017
CLEAN OUT THE FRIDGE – To make room for all the fresh food you'll be purchasing soon.
SHOP FOR FRESH INGREDIENTS – Purchase the last-minute items from your grocery list like fresh meat, fruit and vegetables.
IRON TABLECLOTHES – Last thing you want to do on Christmas Day is ironing!
PREPARE FOR LEFTOVERS – Make sure you have enough food storage containers ready, or if your sending food home with family, have zip lock bags on hand so you don't have to worry about returning tupperware.  Did you know: If you put a tub of ice cream in a ziplock bag it softens the ice cream making it easy to spoon out.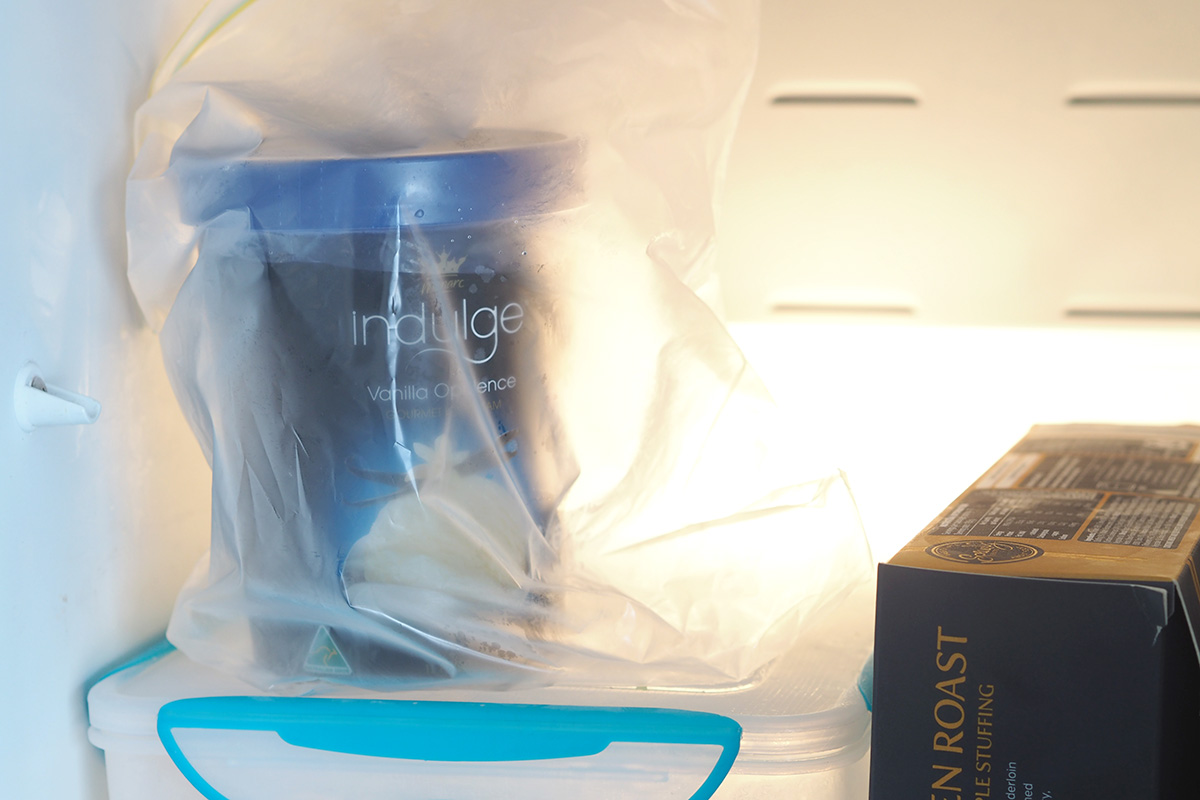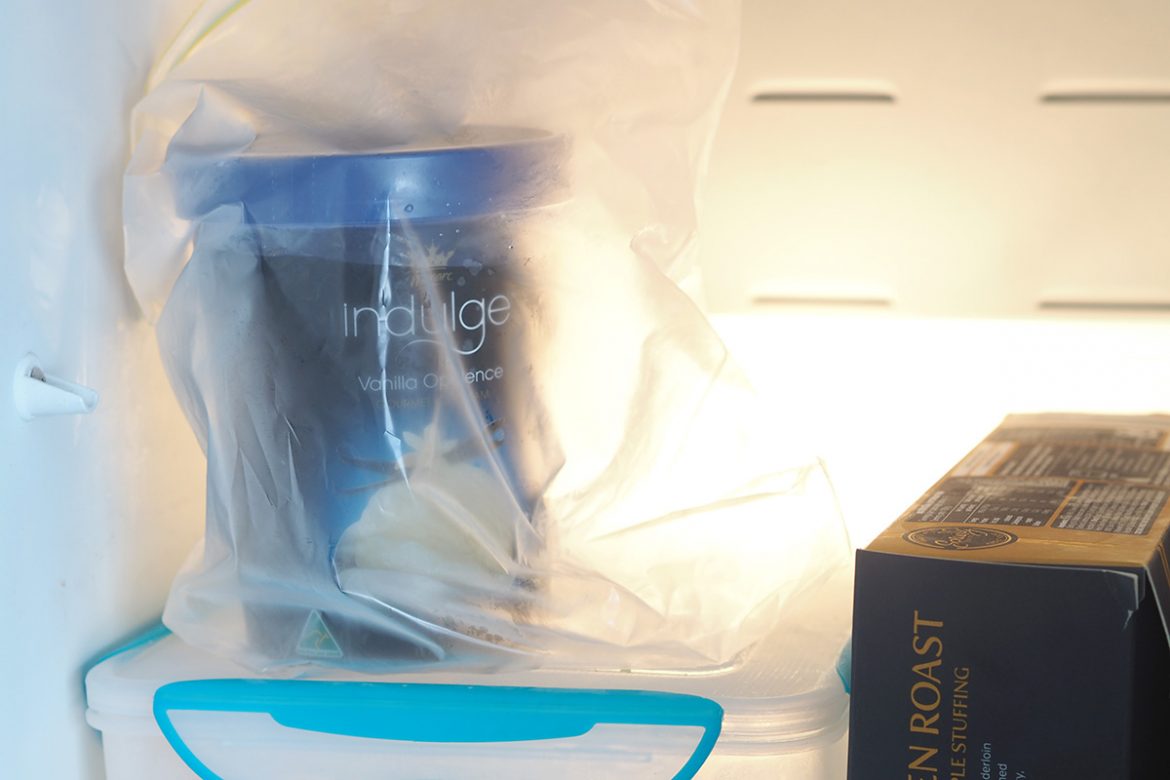 2 DAYS BEFORE
  23rd December 2017
CREATE A TIMELINE – Revise your Christmas Feast menu and write out a timeline, working backwards to help determine what time you need to start or pop dishes in the oven to serve on the table in time.
START PREPARING – Start preparing some of the food for your Christmas Feast.  Defrost the ham or turkey and make some Christmas treats. Cook anything that can sit for a couple of days in the fridge.
PUT DRINKS IN THE FRIDGE – So they are cold for Christmas Day.
CHECK THAT YOUR HOUSE IS GUEST READY – Hand towels, soap and enough loo paper in the bathrooms.
KIDS CUPS – Write names on your cups (I'm using plastic cups here and ALDI's Metallic Markers) to help people know which cup is theirs.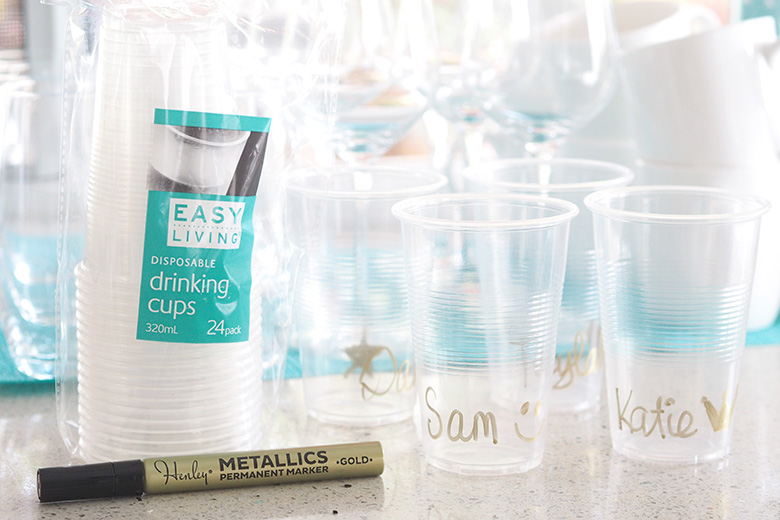 1 DAY BEFORE
  24th December 2017
ASK ONE OF YOUR GUESTS TO BRING A BAG OF ICE – So that you can put it in the esky in case you need extra room for food or drinks that can't fit in the fridge.  Asking a guest to pick up a bag of ice saves you from going out, they can pick it up from a local service station on their way to your place.
START PREPPING – peel the prawns, prepare the vegetables, peel potatoes (store in a bowl of water in fridge) chopping onions etc.  Doing this now means you'll have less to do tomorrow!
SET TABLE – I like to do this on Christmas Day, but you can do this the day before to save time.
CREATE A DRINKS STATION – For guests to use during the day so they can help themselves to glasses, straws, cups, mug, tea, coffee and sugar.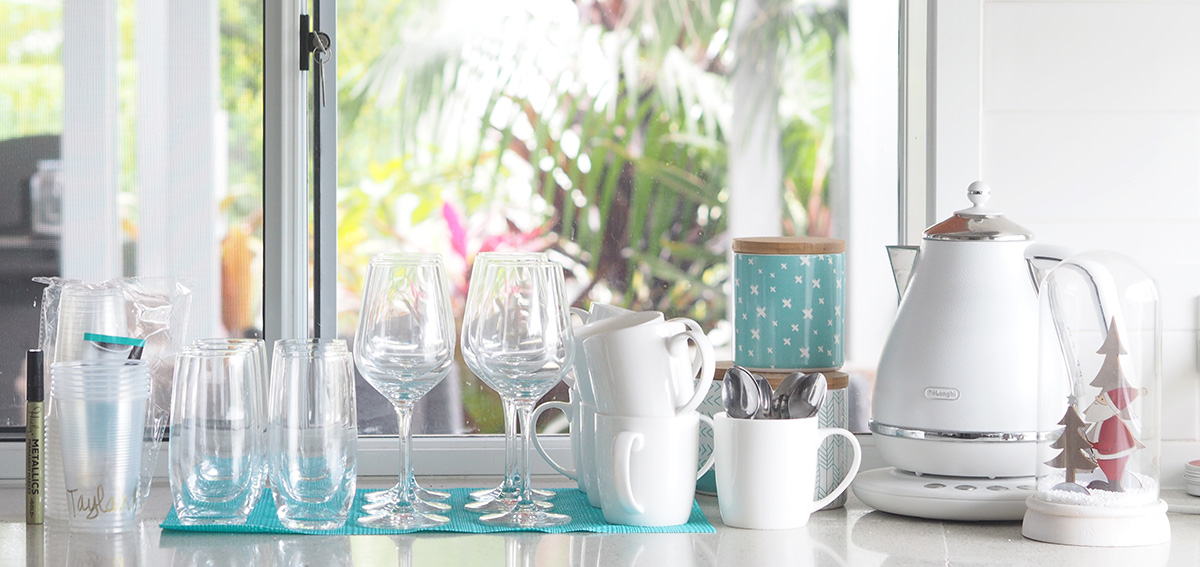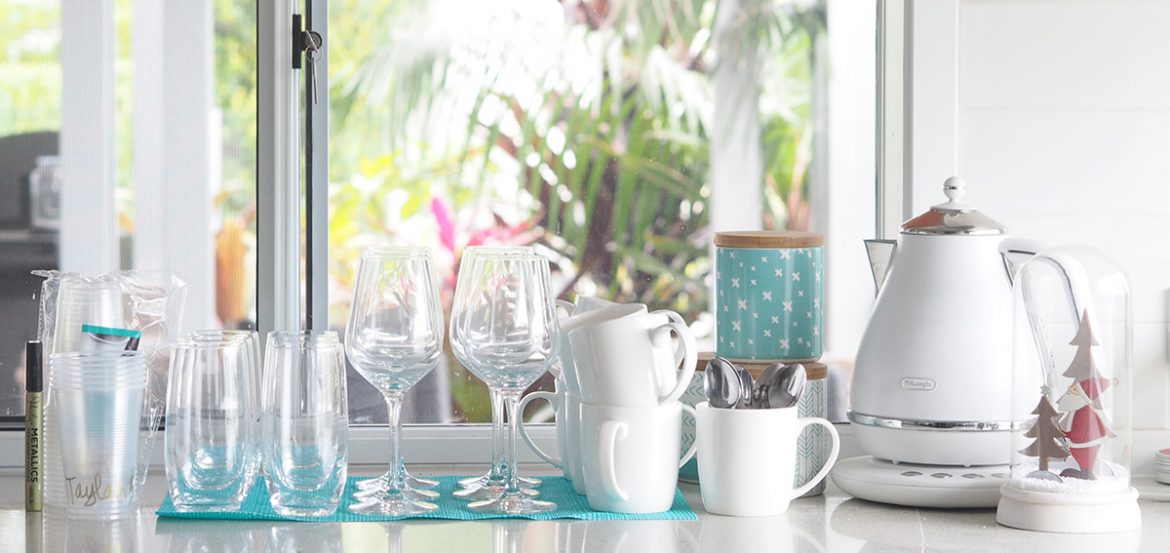 CHRISTMAS DAY
  25th December 2017
PUT OUT SNACKS – Place snacks out for your guests to enjoy.
PUT TOGETHER YOUR FEAST – Cook and/or plate up your dishes for your Christmas feast following your prepared timeline.
ACCEPT HELP – Take all the help offered so that you aren't spending all your time in the kitchen, plus it's also a nice time to chat together while pottering in the kitchen.
WASH AS YOU GO – Fill the sink with hot soapy water to clean dirty dishes as you finish with them, also adding dishes to the dishwasher, to help keep the kitchen tidier and less work for you to do after the feast.
SIT BACK, RELAX AND ENJOY YOUR MEAL! – Enjoy the time with your family and friends.
---
DOWNLOAD – CHRISTMAS FEAST CHEAT SHEET
I have put all the steps above in a downloadable Christmas Feast Cheat Sheet for you to print and put on your fridge to help you plan your Christmas Feast and use as a reminder of when the newest ALDI Christmas products are available.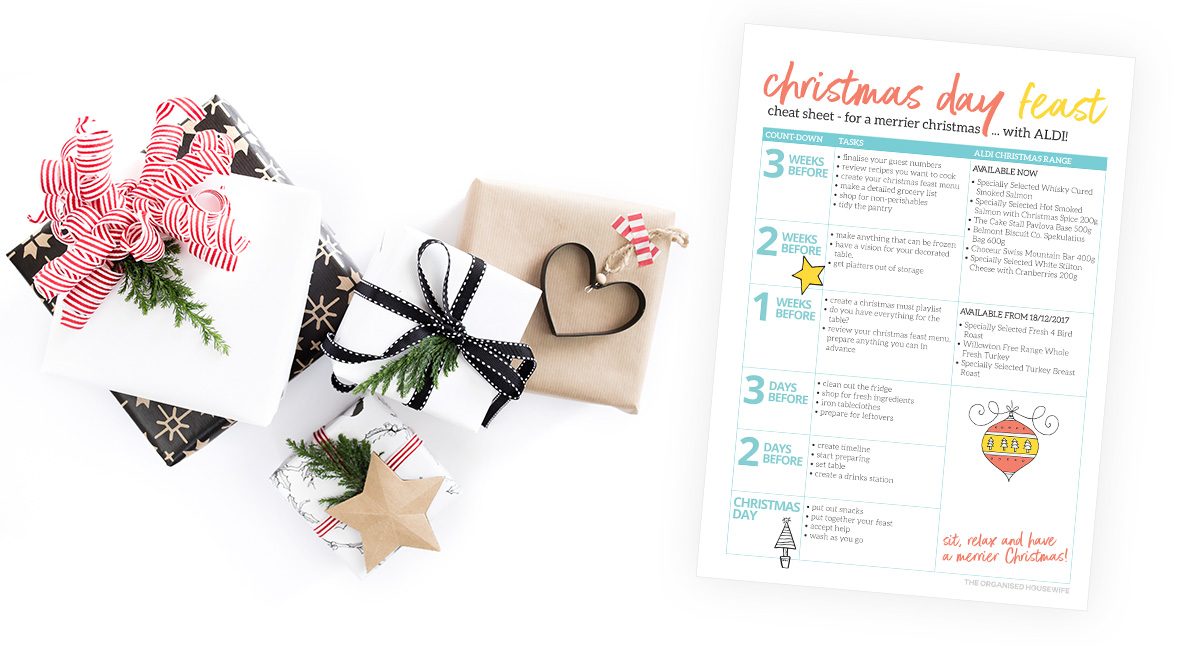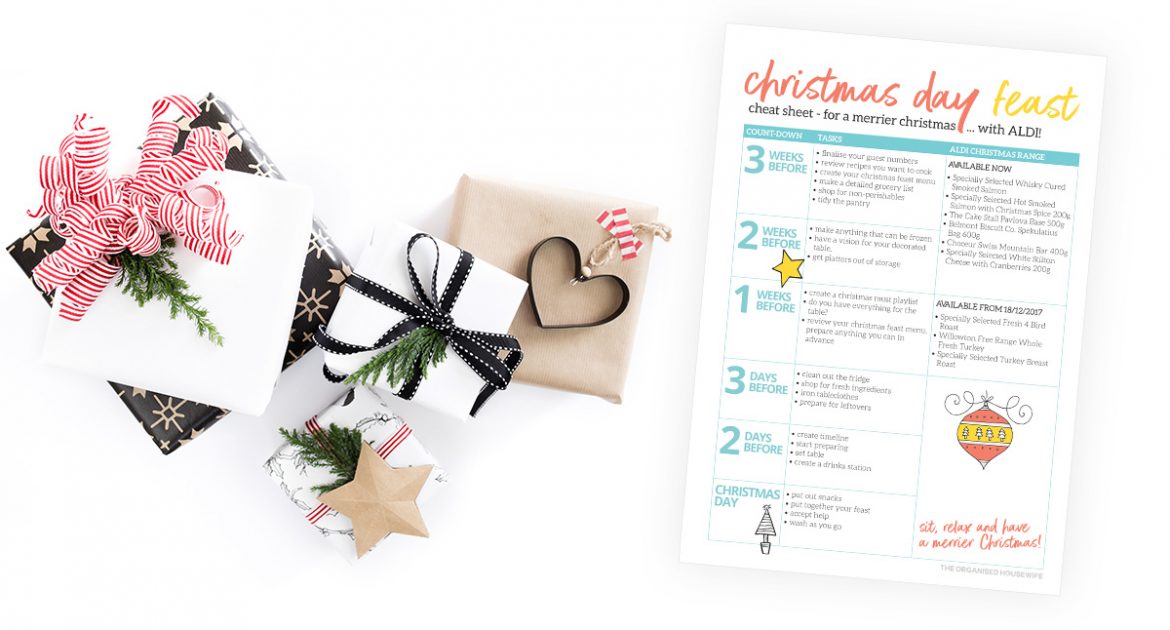 Guaranteed to have full tummies and happy faces at your Christmas Feast!
This post is run in accordance with my disclosure policy.