There is nothing quite like the gift of giving and, you know me, I like to be organised and prepared for any occasion that life throws at me.  If this sounds like you too, you'll appreciate the blessing of a gift cupboard. A gift cupboard is a well-stocked cupboard filled with gifts, cards and wrapping for all your celebration needs. It ensures that you will be prepared for children's birthdays, Secret Santa, spur of the moment invites and any last minute gift emergencies. Instead of rushing around at the last minute, here are my 9 steps to an organised gift cupboard so you can give a gift organised with love and ease.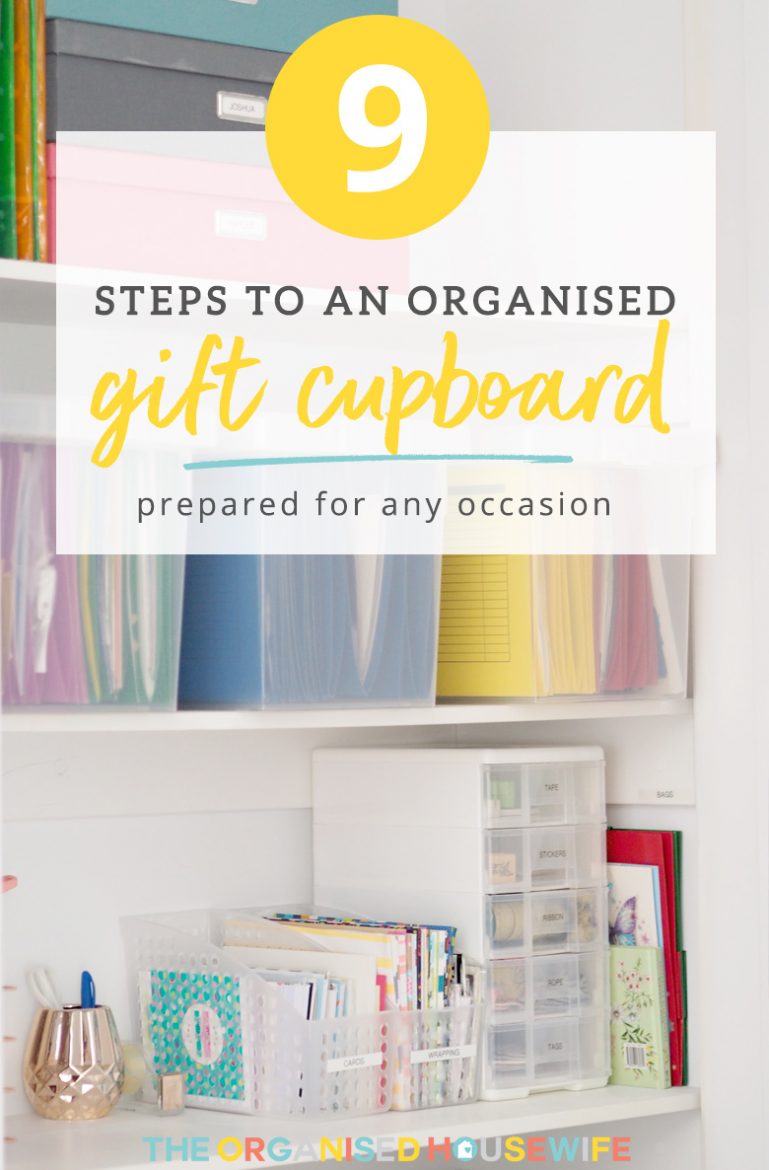 I have a shelf in my hall cupboard to make gift giving easier.  With a little planning ahead it helps to make it an easy and relaxed process.
Speaking of relaxed…. don't forget to register to The Organised Christmas series, which starts this Monday 6th November! The Organised Christmas is your easy-button solution for a seriously stress-free Christmas. It gives you everything you need to know and do…so you can sit back and enjoy listening to carols or savour the sweet smells wafting from your oven…make sweet memories with your kids. REGISTER HERE.

1. CREATE A DESIGNATED GIFT STORAGE / WRAPPING AREA
Create a designated box, shelf, drawer or cupboard to tidily stash away gifts and all your gift wrapping supplies.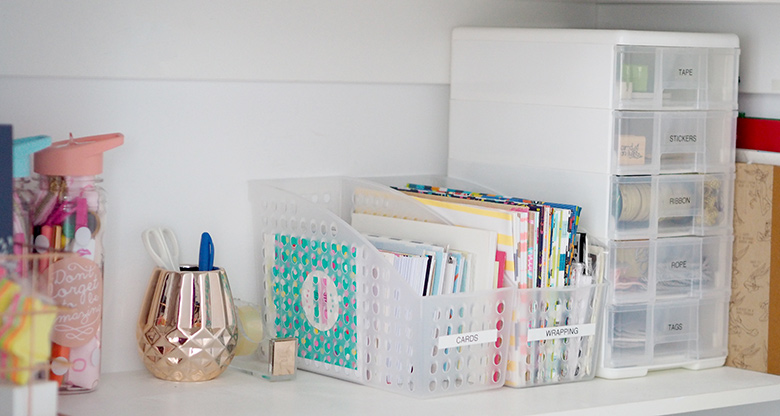 2. CREATE A BIRTHDAY SCHEDULE
I am extremely forgetful! If it wasn't for Facebook or having some birthdays stored in the calendar of my phone, I would probably forget them. Using my phone calendar and Facebook is a helpful way for me to remember to wish somebody a happy birthday that day.  But when I need to organise a gift,  I use my Birthday's to Remember printable, which I have stuck onto the door cupboard of my gift cupboard.  I look at this printable at the beginning of each month, browse the current and following month, make a plan of gifts I need to organise and set aside time to do some physical or online shopping.
BIRTHDAY PRINTABLE: Available in my shop here.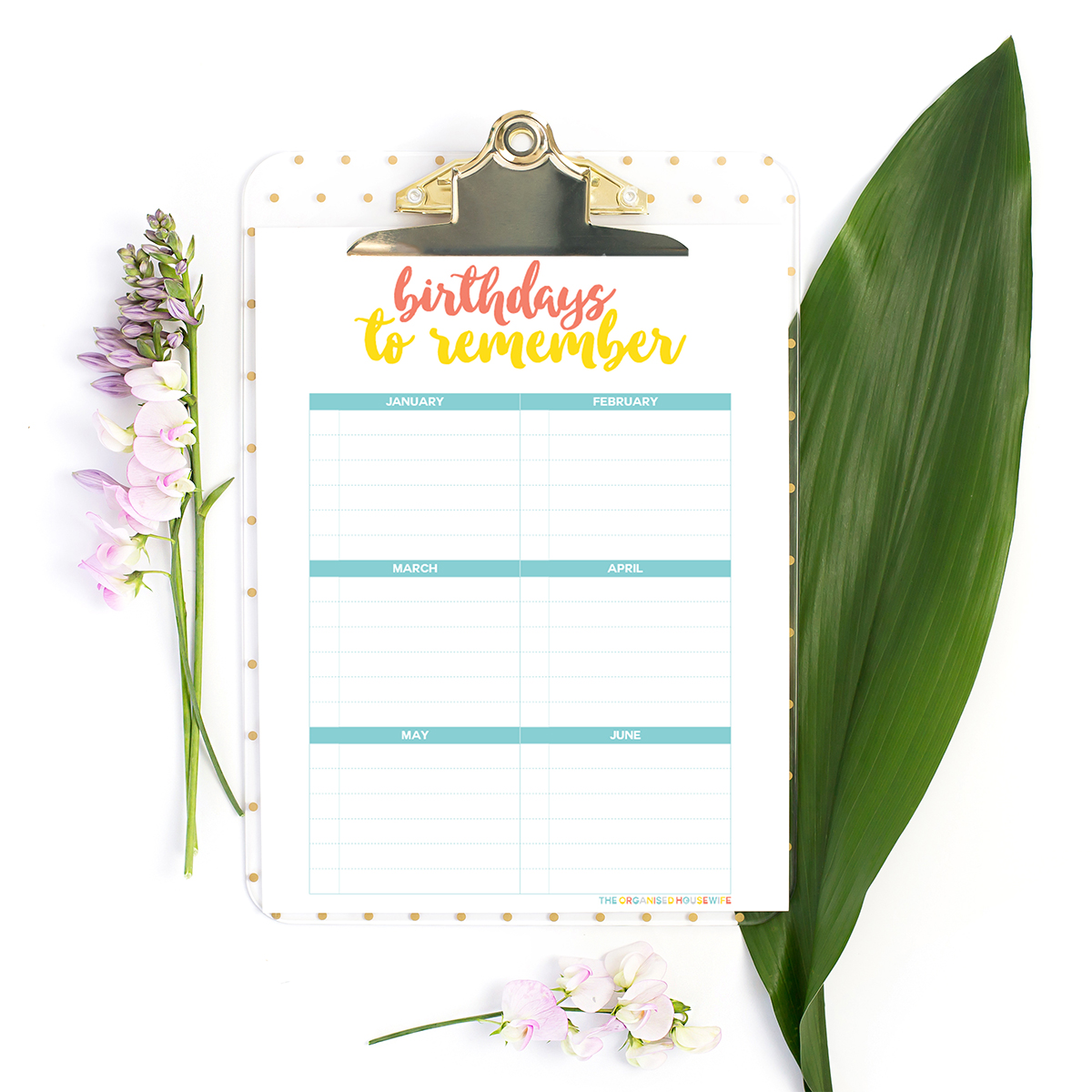 3. HAVE A SUPPLY OF WRAPPING PAPER AND RIBBONS
Similar to my card supply, I keep gift wrapping handy too.  I prefer to have sheets of paper, as I find this easier to store in the space I have.  I like to have a mixture of masculine, feminine and neutral designs. I don't purchase paper that says anything specific like 'happy birthday'. This way it can be used for all different occasions.=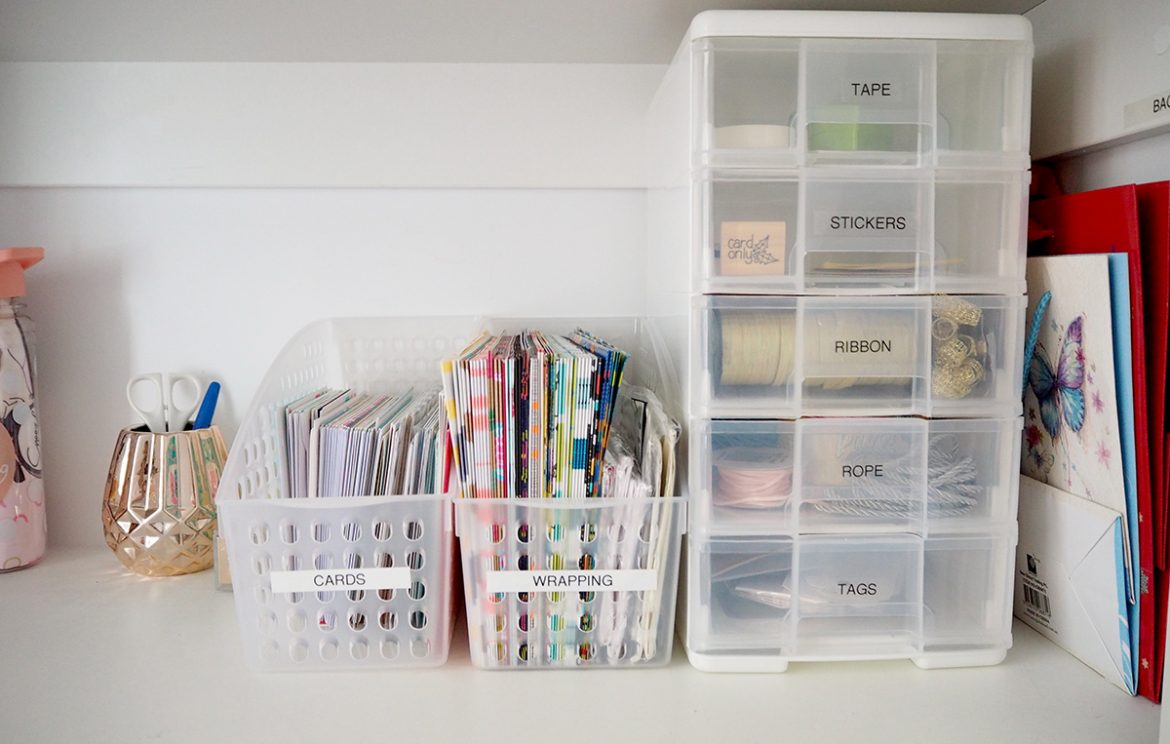 4. HAVE A SUPPLY OF CARDS
I have a supply of cards on hand for every occasion.  I like to give a card with our birthday gifts, but I also like to send friends and family random cards to just let them know we are thinking about them, congratulate them, etc.  I find it easiest to have this supply so I can send cards when it suits me, rather than having to find the time to go find a card.  I usually like to try and find cards that are blank inside and personalise them with my own message.
Card supply ideas:
Birthdays for Girls
Birthdays for Boys
Birthdays for Ladies
Birthdays for Adults
Anniversaries
Weddings
Births
Expecting
New House
New Job
Thinking of You
Get Well Soon
I find most of my cards and gift wrapping for $1 at chemists.
5. KEEP TOOLS HANDY
Not sure about your household, but I am forever losing scissors and pens! The kids grab them and never return them. With strict instructions, the tools I have in my gift cupboard are to NEVER be removed. I find it so much easier to wrap a present when I have everything easily on hand.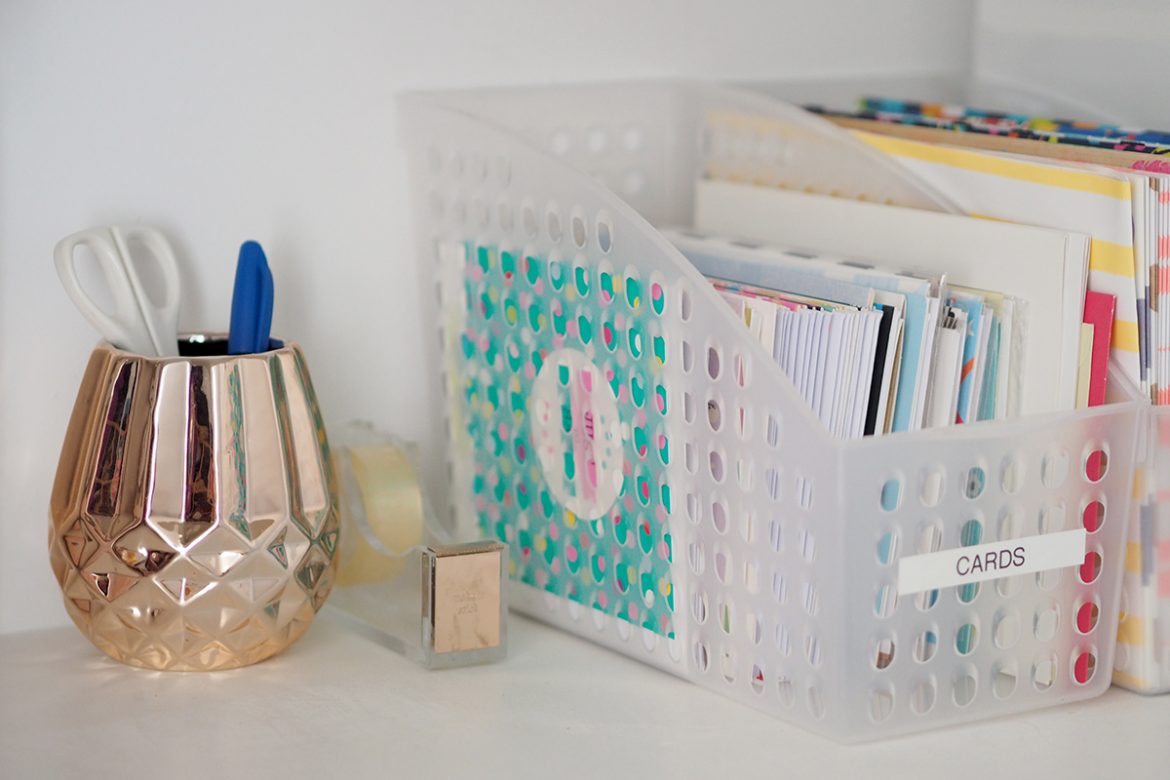 6. HAVE A GIFT STASH
I like to keep a stash of gifts on hand for when kids are invited to friends' birthday parties, as there always seems to be a party around the corner. I also keep all the presents that I have planned for upcoming birthdays here, ready to wrap when needed.
As I mentioned above, I like to buy gifts 1-2 months in advance. This helps me stick to a budget and find something that I know the recipient will love.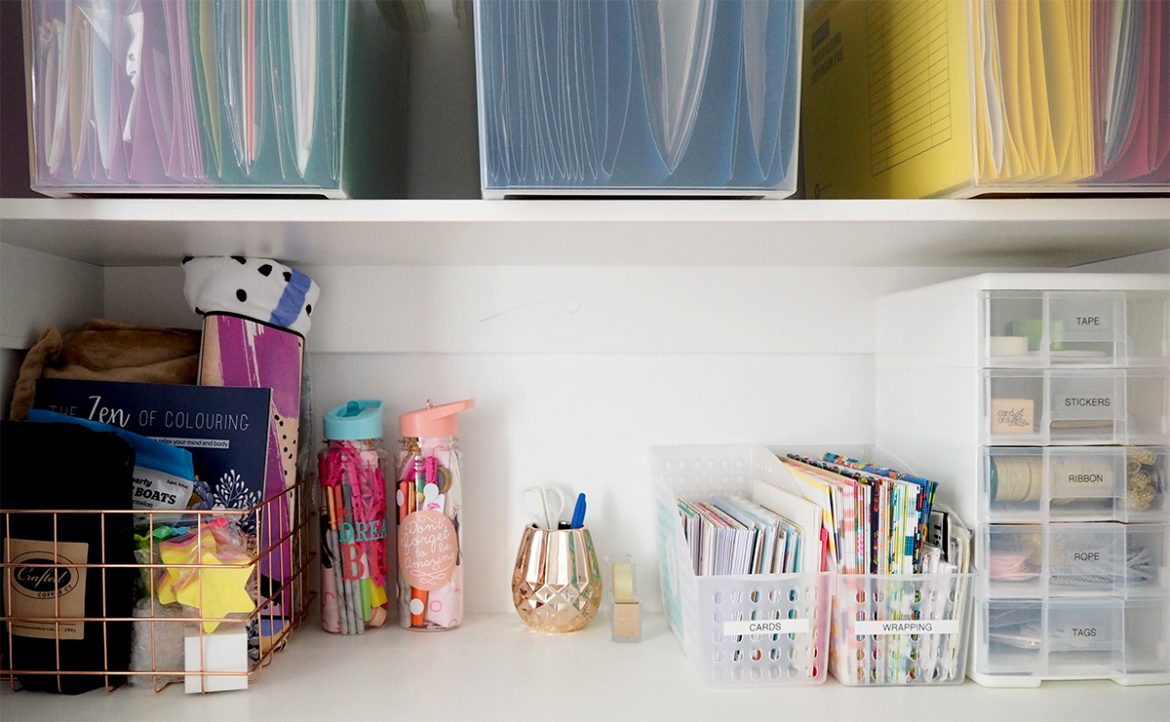 7. HIDE CHRISTMAS GIFTS
If you are my children: PLEASE STOP READING HERE as this will defeat this step's purpose. I may have to rename and hide this box elsewhere!! I have a box at the top of my wardrobe cupboard labelled 'old ornaments' where I keep gifts for my kids that I have found throughout the year. Big tip though: don't stockpile more than you can store.  It's a good idea to lay-by the big bulky gifts.
8. KEEP A LIST
If you are organised and pick up gifts when you spot them throughout the year, remember to keep a list of what you have purchased.  This will help you stick to your gift budget and not over buy. I use my Christmas Planner for this.  Read more about my 2017 Christmas planner here.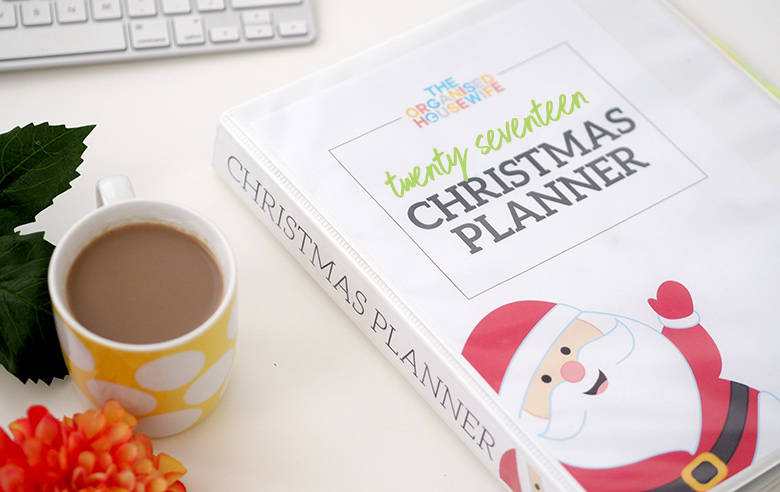 9. TAKE A PHOTO
Another great idea is to create an album in your phone and take photos of gifts that you have purchased. This is good if you are wanting to bundle gifts together to make a gift pack and is a great visual if you need it.  However, if you add in your kids' gifts, don't make the album name obvious for kids to find (although kids are and savvy on phones these days, it maybe hard).
10. KEEP RECEIPTS
I keep all my receipts tidily in my office. I do like to keep receipts for gifts in my gift cupboard for easy access if needed.  I have always kept a pocket at the back of my christmas planner, but now I have this cupboard I store the receipts ………..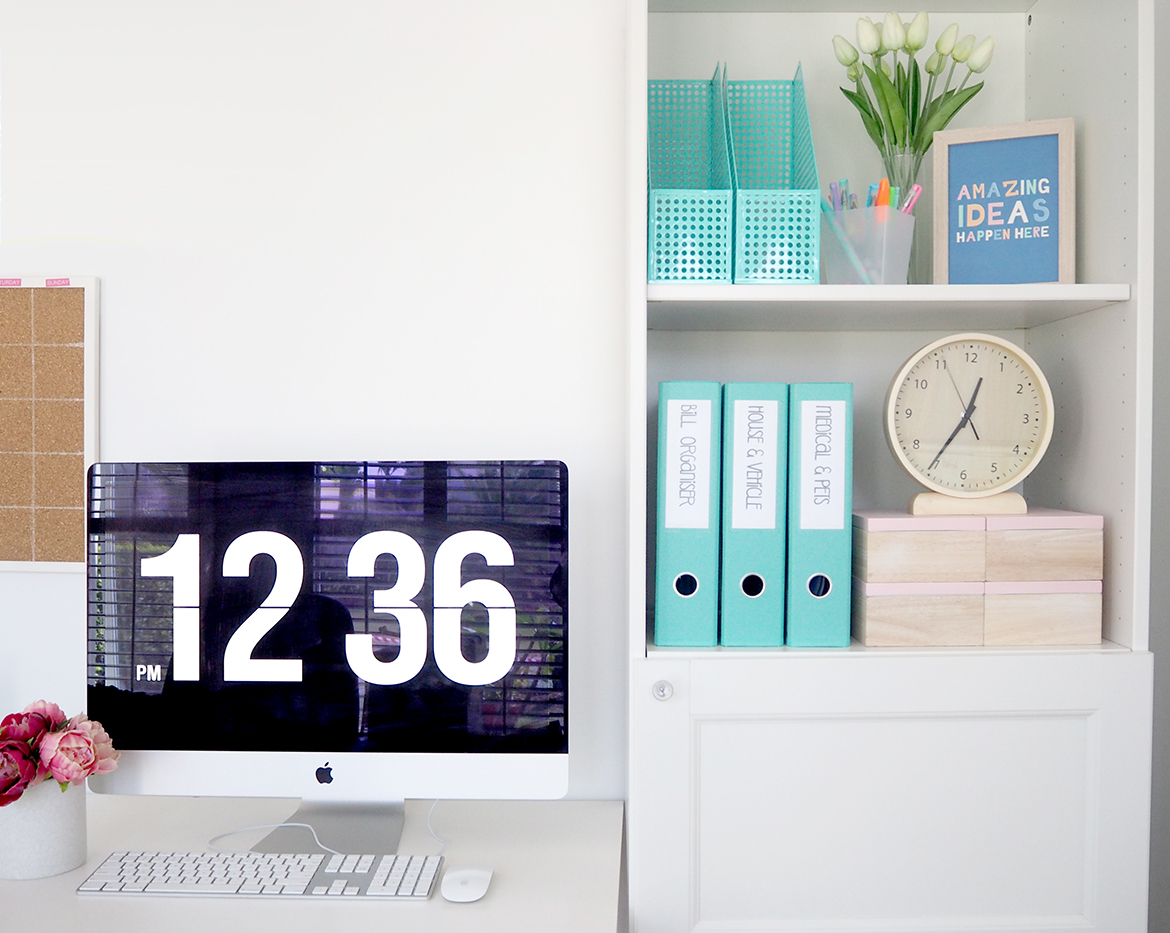 Do you have a gift stash?