Christmas and school holidays are the best time to relax and watch binge-worthy TV shows on Netflix, Stan, Fetch, Hayu and Hulu.
The Christmas holidays bring so many opportunities to veg out and watch good TV shows – whether it's enjoying some time alone (I crave it sometimes and binge-watching TV is a good way I tune out and just be still for awhile) watching a good family series with the kids, or passing the time whilst travelling (plane trips are the best for this!). Netflix is my go-to for binge-worthy shows, but there are a few series I love from Fetch, Stan, Hayu, and Hulu too. Below is a must-watch list of TV shows that come strongly recommended by me, and The Organised Housewife community. Enjoy!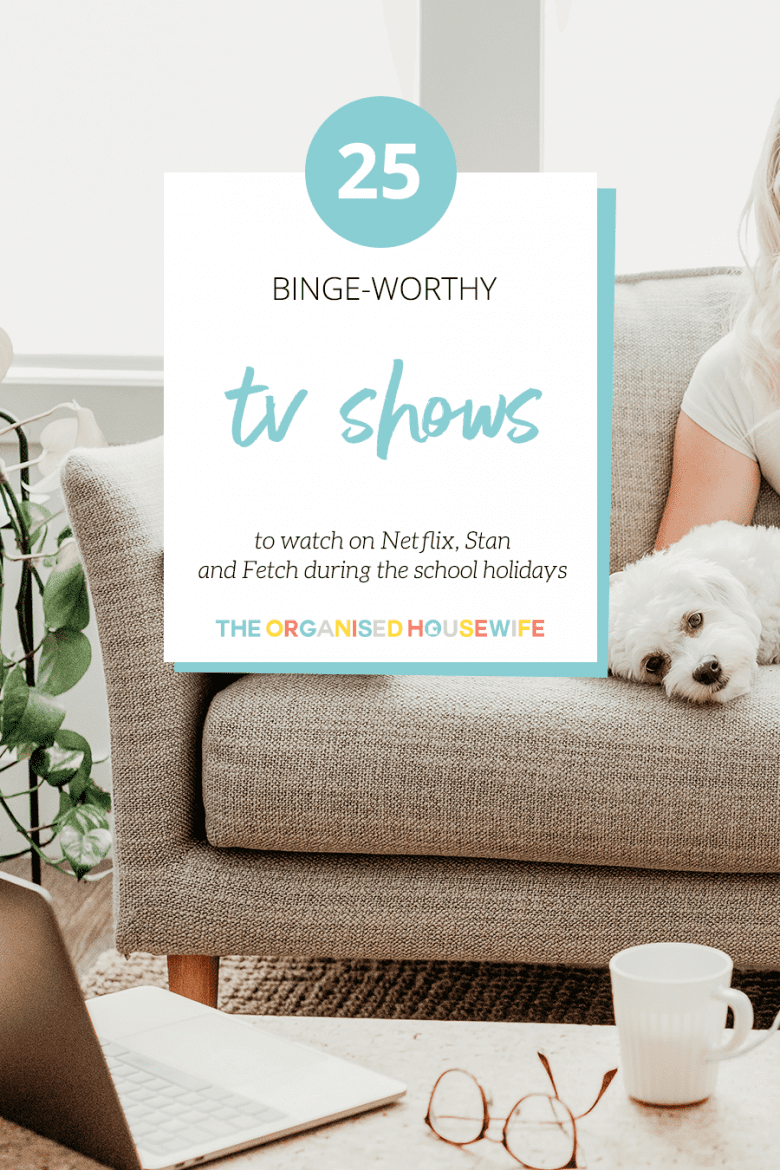 The Crown
Season 1, 2, and 3 on Netflix.
I plan to binge watch this one on the plane to Japan these holidays. This drama follows the political rivalries and romance of Queen Elizabeth II's reign and the events that shaped the second half of the 20th century.
Sugar Rush
Season 1 and 2 on Netflix.
Time's the most important ingredient as teams race against the clock — and each other — to bake up the best-tasting sweets.
You
Season 1 on Netflix.
Season 1 was awesome and season 2 is coming Boxing Day! You is about an aspiring writer who is obsessed with a charming bookstore manager, and he goes to extreme measures to insert himself into her life.
That 70's Show
Season 1 – 8 on Netflix.
There's nothing like old school shows like this one to re-watch. If you haven't seen That 70's Show before, prepare to feel groovy in 1970s suburbia, where a teen and his pals hang in the basement, listening to rock and indulging other hazy benefits of '70s culture.
Jane The Virgin
Season 1, 2, 3, 4 and 5 on Netflix.
After vowing to remain chaste until marriage, Jane Villanueva learns she's pregnant due to a medical slip-up and has to rethink her future. I just binge watched all these episodes and loved it!
Longmire
Season 1 – 6 on Netflix.
This contemporary crime thriller focuses on a Wyoming sheriff who's rebuilding his life and career following the death of his wife.
Grace and Frankie
Season 1, 2, 3, 4 and 5 on Netflix.
They're not friends, but when their husbands leave them for each other, proper Grace and eccentric Frankie begin to bond in this Emmy-nominated series.
Arrested Development
Season 1, 2, 3, 4 and 5 on Netflix.
It's the Emmy-winning story of a wealthy family that lost everything, and the one son who had no choice but to keep them all together.
The Good Place
Season 1, 2, 3 and 4 on Netflix.
Due to an error, self-absorbed Eleanor Shellstrop arrives at the Good Place after her death. Determined to stay, she tries to become a better person.
Dolly Partons Heartstrings
Season 1 on Netflix.
Eight stories celebrating family, faith, love and forgiveness come to life in this series inspired by Dolly Parton's iconic country music catalog.
Vikings
Season 1, 2, 3, 4 and 5 on Netflix.
I love love loved Vikings! It was my go-to after I finished Game of Thrones. I wish they would bring out another series that was like this one. This gritty historical drama charts the exploits of Viking hero Ragnar Lothbrok – it's a great watch!
Magic For Humans
Season 1 and 2 on Netflix.
From baffling people on the street to orchestrating elaborate tricks, Justin Willman blends good-natured magic with grown-up laughs.
Riverdale
Season 1, 2, 3 and 4 on Netflix.
While navigating the troubled waters of sex, romance, school and family, teen Archie and his gang become entangled in a dark Riverdale mystery.
The Good Doctor
Season 1, 2 and 3 on Fetch.
I love to watch Fetch as well as Netflix – in my opinion the more binge-worthy shows the better! The Good Doctor is about Shaun Murphy, a young surgeon with autism and savant syndrome who relocates from a quiet country life to join a prestigious hospital's surgical unit. Alone in the world and unable to personally connect with those around him, Shaun uses his extraordinary medical gifts to save lives and challenge the skepticism of his colleagues.
The Blacklist Redemption
Season 1 on Fetch.
I watched this series with my teenage son and we both loved it! The Blacklist: Redemption follows undercover operative Tom Keen who has been recruited into Grey Matters, a secret and lucrative private military organisation that executes the impossible assignments that governments and corporations must otherwise disavow. Grey Matters is headed by mysterious leader Susan "Scottie" Hargrave.
Jack Ryan
Season 1 and 2 on Fetch.
This is a great family-friendly series to watch. Jack Ryan is about an up-and-coming CIA analyst who is thrust into a dangerous field assignment for the first time. He uncovers a pattern in terrorist communication that launches him into the middle of a dangerous gambit with a new breed of terrorism.
All American
Season 1 and 2 on Stan.
Another great watch for you and the kids (probably for the teenager children) is All American which is on Stan (I pretty much have all the platforms for epic tv shows! – LOL). When a rising high school football player from South Central L.A. is recruited to play for Beverly Hills High, two families from vastly different worlds begin to collide.
Veronica Mars
Season 1, 2, 3 and 4 on Hulu.
In the wealthy, seaside community of Neptune, the rich and powerful make the rules. They own the town and are desperately trying to keep their dirty little secrets just that…secret. Unfortunately for them, there's Veronica Mars, a smart, fearless private investigator dedicated to solving the town's toughest mysteries.
The Walking Dead
Season 1 -10 on Fetch.
A group of survivors led by police officer Rick Grimes travel in search of a safe and secure home after a zombie apocalypse spreads across the USA.
Catfish
Season 1 -6 on Stan.
From the producers of the acclaimed documentary film, Catfish, comes the MTV series where young couples take their online romances into the real world.
Grey's Anatomy
Season 1 -13 on Stan.
Medical show are my favourite, and I wish they would bring out some new ones. I am so excited to see Grey's Anatomy now available to stream on Stan, and will certainly ben watching this with my teenage daughter over the holidays.
Unreal
Season 1, 2, 3 and 4 on Stan.
This drama comedy mix follows producer Rachel and the crew of a not-so-realistic dating reality show, where convictions are ignored and moral lines blurred.
Hamish & Andy's Euro Gap Year
Season 1 on Stan.
If you need a good laugh, these are your guys! After previously immersing themselves in American culture, Hamish and Andy decided that you can never stop learning and it would therefore be irresponsible not to take another gap year in 2012, this time heading to Europe.
Hamish & Andy's Caravan of Courage – Australia vs. New Zealand
Season 1 on Stan.
If you're still wanting more of these funny guys, their Caravan of Courage is always a good laugh! Australia vs New Zealand sees these explorers get back behind the wheel of a motorhome to drive the length of New Zealand and the breadth of Australia in an attempt to compare and contrast the people and the places that make our region so unique.
Keeping Up With The Kardashians
Season 1 -17 on Hayu.
There is nothing like a little mindless TV to help you relax, and Keeping Up With The Kardashians certainly ticks that box! Go inside the lives of Kim, Kourtney, Khloé, Kendall, Kylie and mum Kris – the original reality TV superstars. Born into Hollywood royalty, they're gorgeous, curvaceous, and absolute drama queens – LOL!
What's your favourite TV show at the moment?