If you have a little girl in your life then this is the place for you. Full of delicious Christmas gift ideas for girls this is the answer to your gift search. From pretty and delicate to fun and fabulous look below for great gifts.
---
KIDS TEEPEE – FLAMINGO PRINT
There are hours of fun to be had in this fantastic Teepee tent! With a gorgeous flamingo print and plenty of space, you'll love having it in your home.
AVAILABLE ONLINE HERE
---
PERSONALISED NAME PUZZLE
These handmade, personalised jumbo puzzles are the perfect gift to help the little gift receiver learn and practise their name, as well as keep them busy and advance their fine motor skills!
---
PERSONALISED SPOTTY REINDEER XMAS STOCKING
Perfect for hanging on the fireplace, filled with awesome presents for your little ones to enjoy on Christmas morning. With four fun designs to choose from, there's one to suit everyone in the family – just add a name on the front!
AVAILABLE ONLINE HERE
---
BENTO LUNCH BOX
These gorgeous lunchboxes are a perfect gift, they eliminate the need for plastic wrappings and are perfect for little fingers!
---
MIFFY LAMPS
Miffy is a bunny, fluffy and white. A special friend that will fill your dreams with light. If you have a little girl who has a hard time at night or a little girl who wakes with a fright, miffy will be waiting to light up their night with a warm ambience to cuddle up next to tonight.
---
DAISY DOLLS HOUSE
How gorgeous is this…. This traditional doll house style will keep you little ones creativity and imagination flowing for hours on end.
AVAILABLE ONLINE HERE
---
PERSONALISED LETTER FROM SANTA
I will post a personalised letter from Santa to your child.
This item includes:
– Letter from Santa
– Personalised with childs name, behaviour and 2 achievements
– Envelope addressed to your child
– I will post the letter to your address, sealed from Santa
AVAILABLE ONLINE HERE
---
IQ XOXO – KIDS LOGIC GAME
Featuring 120 challenges and a compact travel case, IQ XOXO offer endless brain-teasing fun and will get your little one thinking!!
---
NO NASTIES PRETTY PLAY MAKEUP
An all-natural play makeup set perfect for those little ones who love to dress up and try Mum's makeup on. No Nasties Pretty Play Makeup is handmade in Australia. 'Nisha' Pretty Play Makeup is an 8 piece pack.
---
TABLET CUSHION
This handy tablet cushion is super comfy with a side compartment for little belongings. Perfect for travelling – imagine how handy this would be on the plane!
AVAILABLE ONLINE HERE 
---
DOCTORS SET
Wooden pretend play toys are delightfully fun for little ones. This kids doctor's set is no different with its bright and cheery colours, vintage styling and chunky, wooden medical instruments and bottles!
---
MAGIC ENGRAVED BEANS
These magic beans are laser engraved with different messages. The beans quickly sprout to reveal a special personalised message engraved on the plant's central bean. A guaranteed hit to watch them grow!
---
PERSONALISED TOOTH FAIRY BAG
Little one got a wobbly tooth? These tooth fairy bags are just the thing! This little keepsake is one they will use continuously throughout their cchildhood years to save their teeth for the tooth fairy.
---
UNICORN TEA SET
Children will love having tea parties with their friends and siblings using this beautiful tea set. Packaged in a smart suitcase to keep all the pieces together, this is a classic gift to be played with and treasured for years.
AVAILABLE ONLINE HERE
---
BATH CRAYONS
These bath crayons will make bath time fun!! The perfect size for little hands, these are made specifically for use on smooth wet surfaces like bathroom tiles and bathtubs. They are also super easy to clean, simply washing off with a damp cloth.
---
KIDS APRONS
How absolutely adorable are these, the perfect gift for a little girl who loves helping mum in the kitchen – or tinkering with her own imaginary kitchen!
---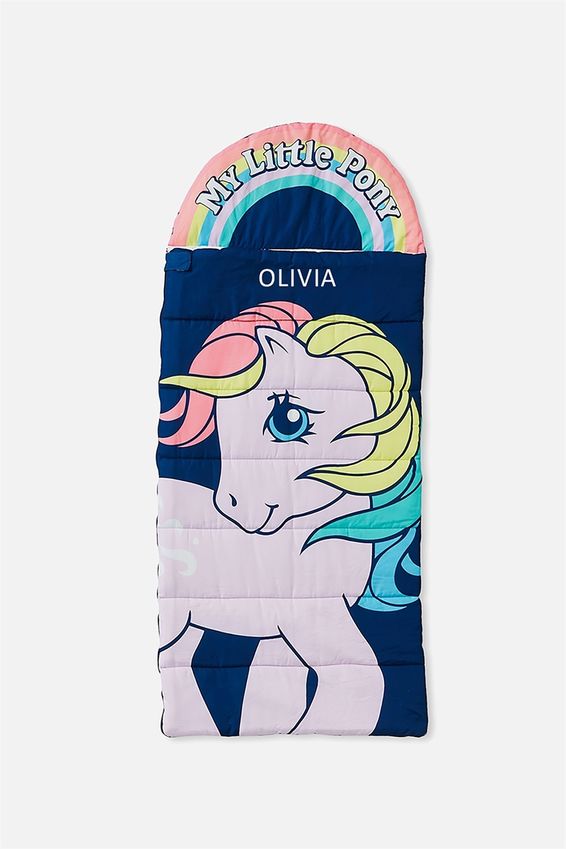 PERSONALISED MY LITTLE PONY SLEEPING BAG
Grab your sleeping bag, it's camping time! And by camping, we mean a sleepover inside, obviously! You can't go wrong with one of these gorgeous sleeping bags, personalised with the name of the gift receiver. Adorable!!
AVAILABLE ONLINE HERE
---
WOODEN ICE LOLLIES
Wooden play food from Le Toy Van is delightfully detailed and fun for little chefs to  serve up! This set of 6 delightfully colourful ice lollies in a wooden holder are no different.
---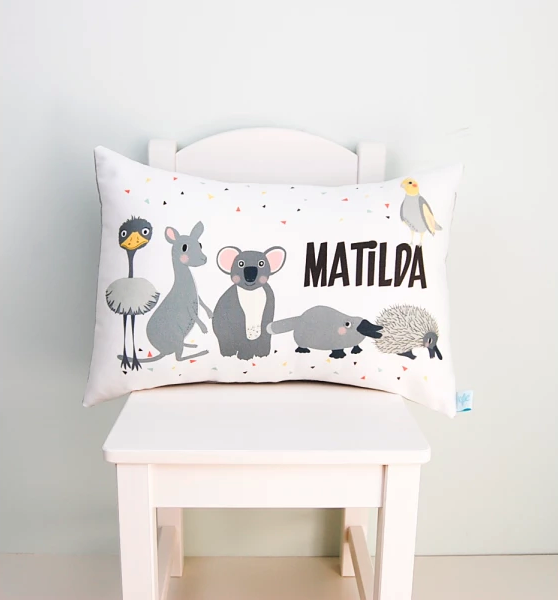 AUSTRALIAN ANIMALS KIDS PERSONALISED CUSHION
Gift your little one with this personalised cushion showing some of Australia's most lovable animal icons, an emu, kangaroo, koala, platypus, echidna & cockatiel.
---
SEA SHELL BAG
The perfect bag to keep their little treasures safe, this sparkly bag is a wonderful gift for a little fashionista you know.
---
HONEYBAKE MIXER SET
Beautifully designed with full attention to detail, safety and durability, these toys are built to last. This gorgeous Honeybake mixer comes with a detachable bowl and blade that's exactly like Mum's!
---
Click here to view the complete 2018 Christmas Gift Guide