Rough and tumble or more the enquiring mind? Whatever the boy I have the best Christmas gift ideas for boys. They are sure to excite and please the boys in your world. 
---
JUNGLE FUN TEEPEE
There are hours of fun to be had in this fantastic Teepee tent! Standing at 165cm tall, there's plenty of room to move around and play inside and the fun Jungle design is perfect for little animal lovers.
AVAILABLE ONLINE HERE
---

BATMAN HOODED TOWEL
This Batman towel will have your little one running around like the superhero he is.
AVAILABLE ONLINE HERE
---
TOOLBOX SET
Calling all builders! Designed for little hands that are ready to work, this set gives children the chance to hammer, saw, twist and pull to their heart's content.
AVAILABLE ONLINE HERE
---
BENTO LUNCH BOX
These gorgeous lunchboxes are a perfect gift, they eliminate the need for plastic wrappings and are perfect for little fingers!
---
PERSONALISED NAME BOOK
Make a child the star of there very own personalised storybook. This is no ordinary children's book, every personalised book is entirely unique as each illustration and rhyming story is purely based on the letters of the child's name.
---
ORIGAMI DINOSAUR NIGHT LIGHT
These lamps make perfect night lights, quirky extra lighting, and gifts! Each dinosaur is powered by batteries or via the USB lead, both of which come included with your dinosaur lamp.
---
PERSONALISED NAME PUZZLE
These handmade, personalised jumbo puzzles are the perfect gift to help the little gift receiver learn and practise their name, as well as keep them busy and advance their fine motor skills!
---
MONSTERS LOVE CUDDLES
Scare the kids silly with this ultra-cute Monster Loves Cuddles cushion. Zippered cushion cover with insert
AVAILABLE ONLINE HERE
---

ART EASEL
Let their imagination run wild with this art easel, perfect for drawing, learning and creating!
AVAILABLE ONLINE HERE
---
PERSONALISED LETTER FROM SANTA
I will post a personalised letter from Santa to your child.
This item includes:
– Letter from Santa
– Personalised with child's name, behaviour and 2 achievements
– Envelope addressed to your child
– I will post the letter to your address, sealed from Santa
Various designs available.
---
MARBLE RUN
Fast, fun and thrilling – that's marble run! The Quadrilla marble run offers a world of unlimited possibilities for 3-dimensional thinking, creativity and technical understanding
---
PETER PAN PJ SET
Never grow up with this Peter Pan themed boys PJ set! Send them on an adventure and let their imagination run wild as they run around in these gorgeous pyjamas.
---
HOT WHEELS RIDE ON CAR
Start your engines! Their tiny Hot Wheels toy cars come to life with this colourful, durable Ride-On Car. It's easy for kids to push and steer whether they're playing indoors or outdoors.
AVAILABLE ONLINE HERE
---
EASYREAD TIME TEACHER
There are 2 equally popular ways to express time, and worldwide, both are equally acceptable. This 33mm diameter watch will help your child master telling-the-time in terms of 12/24 hour time, using our unique EasyRead 2-Step Teaching System.
---
LUNCH PUNCH DINOSAUR CUTTERS
Lunch Punch Dinosaur cutters are here to create adventurous lunches! Make full-size sandwich fun or bento sized sandwich bites to go. Great for making imprints on cookie dough before baking too!
---
DIY MINI SPORTS BAG KIT
Make a smiggle backpack truly unique with this super-fun smiggle DIY poppin sport backpack.
---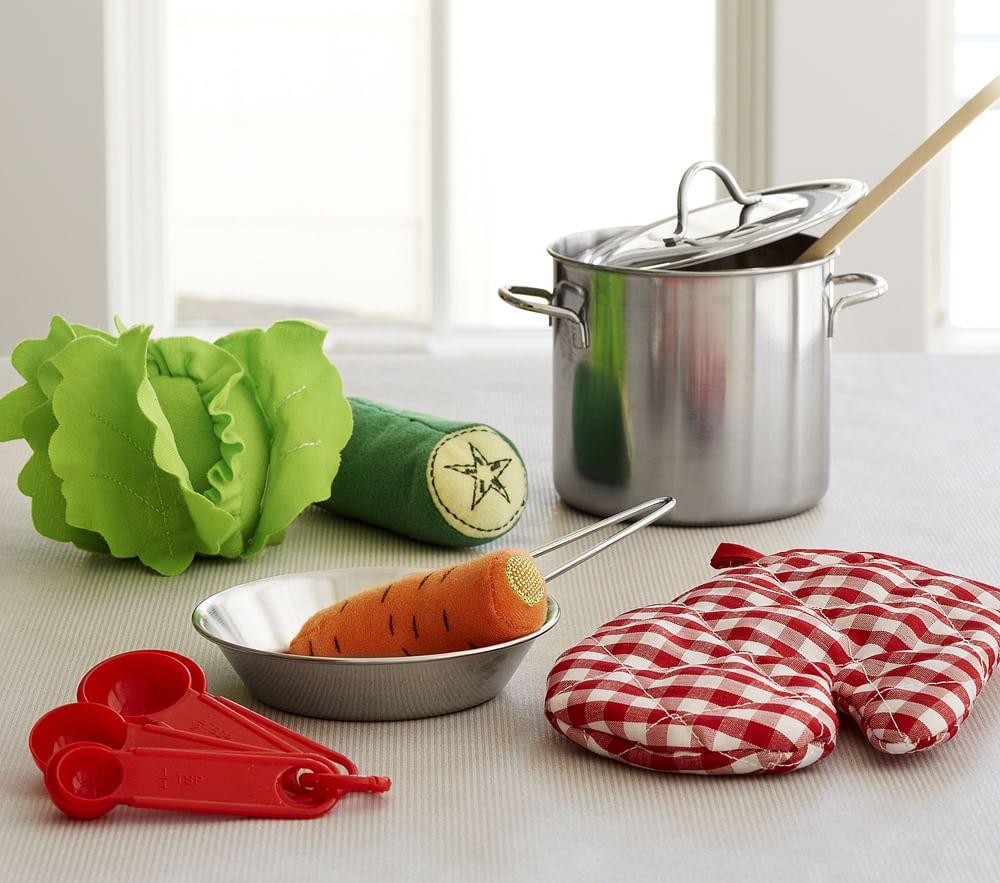 MINI COOKING SET
From salads to soufflés, it's easy to cook up something delicious with these chef's tools, accessories and ingredients.
AVAILABLE ONLINE HERE
---
MAGIC ENGRAVED BEANS
These magic beans are laser engraved with different messages. The beans quickly sprout to reveal a special personalised message engraved on the plant's central bean. A guaranteed hit to watch them grow!
---
PERSONALISED TOOTH FAIRY BAG
Little one got a wobbly tooth? These tooth fairy bags are just the thing! This little keepsake is one they will use continuously throughout their childhood years to save their teeth for the tooth fairy.
---
WOOD WORKBENCH
They'll be able to get any job done in style with this classic woodwork bench.
AVAILABLE ONLINE HERE
---
Click here to view the complete 2018 Christmas Gift Guide