Looking to buy something special for the lady or ladies in your life but not quite sure where to start? I've gathered some of my favourite Christmas gift ideas for women. The best part is you can buy them online – quick, easy but greatly appreciated by the receiver.
---
HIDDEN JEWELLERY BATH BOMBS AND CANDLES
These are no ordinary bath bombs… they have hidden jewellery inside! Pick from a ring, earrings or necklace, all guaranteed sterling silver products valued between $90 and $5000! These come in the form of a bath bomb, candle, body scrub and so much more.
Use discount code 'Organised5' for 5% off your purchase!!
---

BRIGHT FLORAL PJ SET
Be pretty as a picture and a bouquet of bright beautiful flowers in this women's PJ set. They are able to be personalised with names or initials, making them the perfect gift!
---
ENGRAVED CHEESE BOARD SET
A stunning cheeseboard and knives gift set engraved with a classic personalised design.
The engraved cheese board gift set is made from environmentally friendly hevea hardwood.
---

FRENCHIE COLLECTION TAKEAWAY CUP
This eco friendly takeaway keep cup is made from borosilicate glass with a silicon sleeve and features a removable lid.
AVAILABLE ONLINE HERE
---
ECO FRIENDLY SHOPPING SET
Shop sustainably with this starter set of certified organic, unbleached cotton produce and tote bags. Ever Eco have curated all of the essentials into one oh-so-cute bundle that represents amazing value for money.
AVAILABLE ONLINE HERE
---
DOTERRA INTRODUCTION KIT
The Introduction Kit is a perfect kit for those new to essential oils, it includes 3 of doTERRA's popular essential oils, Lavender, Peppermint and Lemon.
AVAILABLE ONLINE HERE
---
PERSONALISED DOUBLE HEART CHARM NECKLACE
A delicate and sentimental double heart pendant necklace, this mixed metal necklace is fully customisable with your choice of small and large heart charms and chains in a selection of gorgeous mixed metal options.
---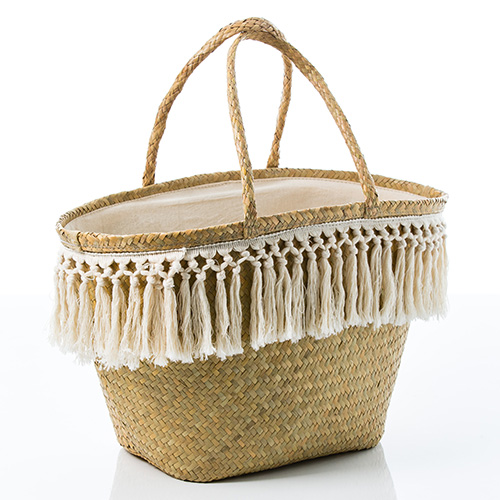 SEAGRASS BEACH BAG TASSELS
Handmade in Vietnam by local artisans this beautiful Seagrass Beach bags come in an array of fun styles. Choose from Tassles or Pom Poms features or our Circle design for something a little bit different. Mix and match to suit your style or mood.
AVAILABLE ONLINE HERE
---

PINEAPPLE & FLAMINGO A5 NOTEPADS
Whether it be at school, on your desk or by your bedside table these pretty yet practical pads will always have you covered when you need a something quick and easy to write on.
AVAILABLE ONLINE HERE
---

DIY CANDLE JASMIN ROSE
Looking for a fun project? Then this is for you! Do It Yourself and make a candle at home! Offered in a range of different fragrances these DIY candles are the perfect gift for someone you love or for a fun project for yourself. These are sure to be popular and bring a beautiful range of fragrances indoors.
AVAILABLE ONLINE HERE
---
EARRING HOLDER
Know someone who needs a place to store and organise their earrings? These fabulous A4 Bon Maxie earring holders come in a hanging option OR a standing option with super cute easel.
Three designs to choose from.
---
MAGIC ENGRAVED BEANS
These magic beans are laser engraved with different messages. The beans quickly sprout to reveal a special personalised message engraved on the plant's central bean. A guaranteed hit to watch them grow!
---
THE INSPIRED LITTLE BOOKS
The Inspired Little Book is a collection of natural body care and cleaning recipes. Prepare to find inspiration from the pages within, and be empowered to create for yourself, a cleaner, greener and healthier lifestyle.
AVAILABLE ONLINE HERE
---
PERSONALISED SQUARE TRAVEL JEWELLERY BOX
This gorgeous square jewellery case is the perfect piece to pop in your luggage to keep your jewellery safe when you're on the move.
---
GRANDMA'S FAVOURITE PEOPLE
This is a beautiful gift to give to any Grandmother this Christmas. Something pretty for the wall and also a great reminder of birth dates for them.
21 different colours available, two other design options are available.
---
GRAPEFRUIT & JUNIPER CANDLE
There's something simply wonderful about a bright and breezy Australian summer shared with family and friends. Go back to 1973, when relaxed informality slid right on in with a refreshing cocktail of Grapefruit & Juniper Berries combined with earthy Vetiver and a hint of Ginger.
AVAILABLE ONLINE HERE
---
CLAY BEAUTY KIT
This DIY facial kit comes with everything that you need to create a clay combination to reduce wrinkles, shrink pores and promote firmer, healthier skin like a professional in less than 20 minutes – for flawless skin.
AVAILABLE ONLINE HERE
---

BREAKFAST TRAY
The perfect way to have breakfast in bed! The Florence Breakfast Tray is made from MDF and metal for a sturdy station for your utensils.
AVAILABLE ONLINE HERE
---
FANTASY BUBBLE POP EARRINGS
Wear a POP of colour with these Bubble Pop earrings! They will brighten your day and fill it with candy-coloured smiles and laughter.
---

PASSPORT HOLDER AND LUGGAGE TAG SET
Wander into your holidays by travelling in style and feeling super organised with this set. Many different colours and designs to choose from!
AVAILABLE ONLINE HERE
---

POOL FLOATS
The makeover your pool has been waiting for. Make the sunny season one to remember with Sunnylife's Insta-famous floats. A great addition for your next pool party or family cool down session.
---
URBAN GREENS GROW YOUR OWN TEA KIT
This Urban Greens Grow Kit contains everything you need to grow and brew your very own cup of herbal tea.
---
SIPSKI
Kick back and relax at the end of a long day by taking your wine in the shower with this SIPSKI wine glass holder.
Silicone backing adheres to your shower or bath wall and holds your wine steady when you're done taking a sip. Easily removes without leaving residue behind.
---

PERSONALISED FLORAL PJ'S
Sleep in a bed of bright bold Flowers in this pretty & girly ladies PJ set.
Click here to view the complete 2018 Christmas Gift Guide