Know someone who is heading back to school in the new year? Make the journey a little easier with some of my Christmas back to school gift ideas below.
---
BENTO LUNCHBOX
These bento Lunch boxes come in three different sizes and come in many gorgeous designs! Bento style lunch boxes are perfect for both children and adults that like variety. If you are looking for a way to say good buy to packaged foods and ziplock bags these are the perfect solution as each compartment is sealed and easy to wash.
---
LLAMA BACKPACK
Backpacks with personality and practicality, the Skip Hop Zoo Pack is absolutely adorable with its cute design and great features! Skip Hop backpacks are "where fun meets function!"
---
EQUATE TELLO GAME
A super mathematical-play puzzle game that makes learning fun!
The objective of the game is to group tree fruit pins, dots, and number cards by the same value. Includes 5 game boards, 20 number and pie chart cards, 55 chips in 5 colours and 55 tree "fruit" pins in 5 colours, 135 pieces in total. Designed to enhance visual perception, symbol formation and number comprehension skills.
---

BEESWAX FOOD WRAPS
Keep food fresh in style. These gorgeous colourful Polka Dot printed wraps come in different pack sizes containing small, medium, large and extra large wraps.
AVAILABLE ONLINE HERE
---
HARD TOP PENCIL CASE
Fall in love with the sweet smelling, amazing embossed designs on the Smiggle favourite hardtop pencil case! With so many different colours and designs, you are sure to find one that's perfect for your little miss or Mr!
---
PHONICS FLIPPERS
The 3 visually engaging phonics flippers will help children with letter recognition, blends, digraphs and more. By sounding out words, then finding correct letters to complete the sound and match to the corresponding picture card, children will develop basic reading and spelling skills.
---
MARVEL AVENGERS GLOW-IN-THE-DARK LUNCH BAG
Before they go on their next big adventure with their favourite Avengers, the need to fuel up!
AVAILABLE ONLINE HERE
---
REUSABLE FOOD POUCHES
These are Australia's highest quality reusable food pouches. Perfect for yoghurt for older ones or mashed food for the littlies. Easy to fill and clean, they have fun monster designs that kids love. Less single-use products going to landfill.
---
123 FLASHCARDS
A set of 30 cute and colourful flashcards perfect for helping children learn basic number skills.
Includes number cards 0-20, 30,40,50,100 and mathematical symbol cards as well as suggestions for how to use the cards.
---
LIGHT UP UNICORN DIGITAL CLOCK
This enchanting Light-Up Silver Unicorn Digital Clock helps them start their day off right with a dose of magic. The clock face lights up to display the date and the time plus easy-set buttons make this kid-friendly clock perfect for their room.
AVAILABLE ONLINE HERE
---
TIMES TABLES SNAP CARDS
Have lots of fun building sums and answers with Times Tables Snap Cards, the next step form My 1st Times Tables Snap Cards, by playing either Snap or Pairs.
Try to Snap consecutive cards that match, such as 'twenty' and '5×4' , and call snap!
---
INSULATED FOOD JARS
This colourful stainless steel container keeps kid-sized portions warm or cold.
Store the spork, or most utensils, in the handy built-in holder so your little one is ready for meals on-the-go.
---
LEARN TO TELL TIME CLOCK
Kids in the digital era need a little extra help learning to read a standard clock. This educational toy is made of wood with movable hands and a chalkboard for writing out the time.
AVAILABLE ONLINE HERE
---
MORNING ROUTINE CHART
Streamline your morning by creating a checklist of tasks that need to be completed each morning to help you get out the door on time. Younger children may need assistance and encouragement, however, getting them to follow a checklist will eliminating you nagging and allow the kids to learn how to independently be ready each morning.
AVAILABLE ONLINE HERE
---
THE WRITING C.L.A.W
C.L.A.W. Controlling Letters of Adolescent Writing.
A fun and effective way to teach young children how to hold their pencil correctly. Easy to use, ensures correct finger position, latex free.
---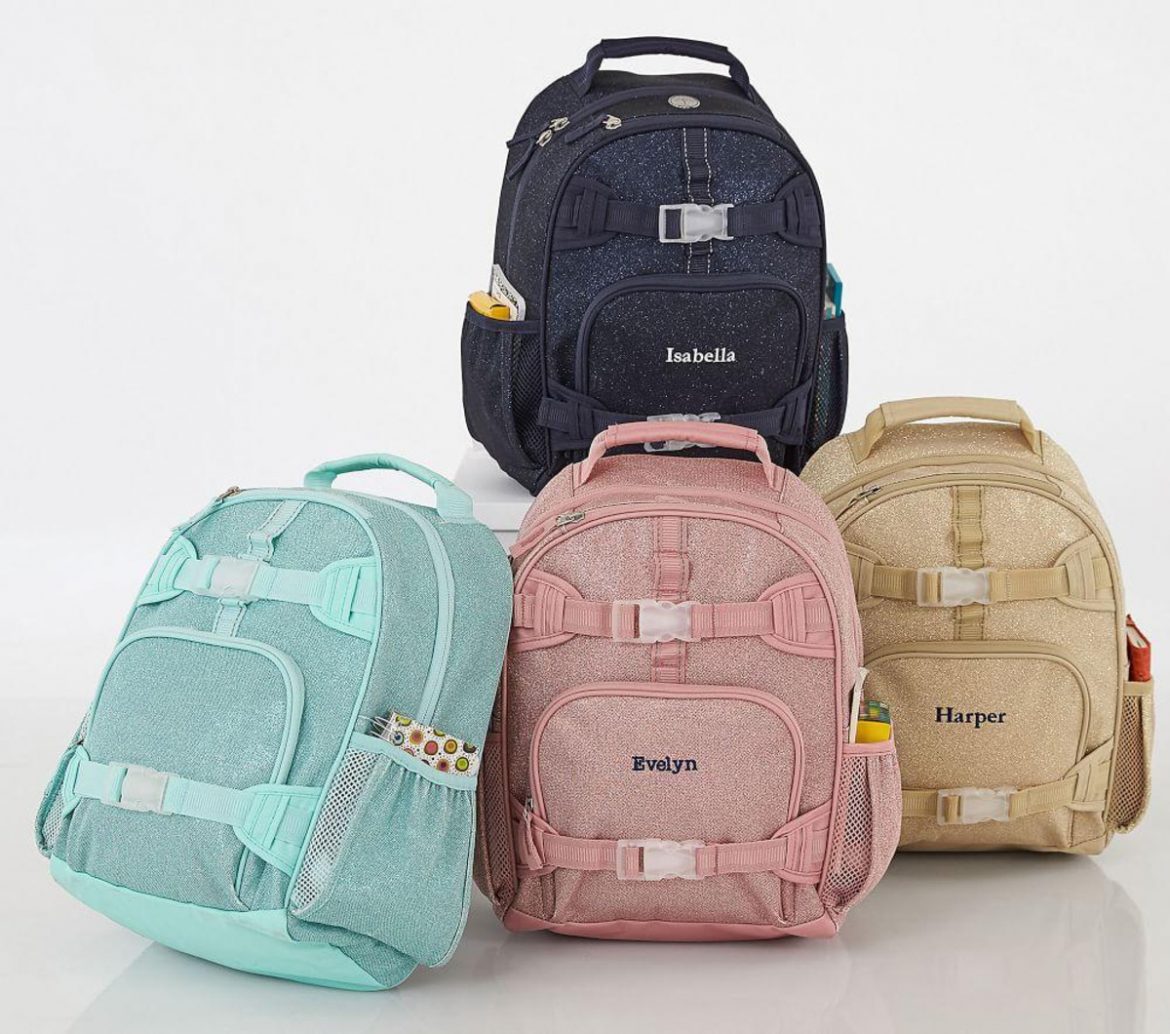 MACKENZIE GLITTER BACKPACKS
Durable, functional and oh-so-whimsical, these sturdy, roomy Mackenzie backpacks are packed with pockets, straps and gear loops to keep everything in place.
AVAILABLE ONLINE HERE
---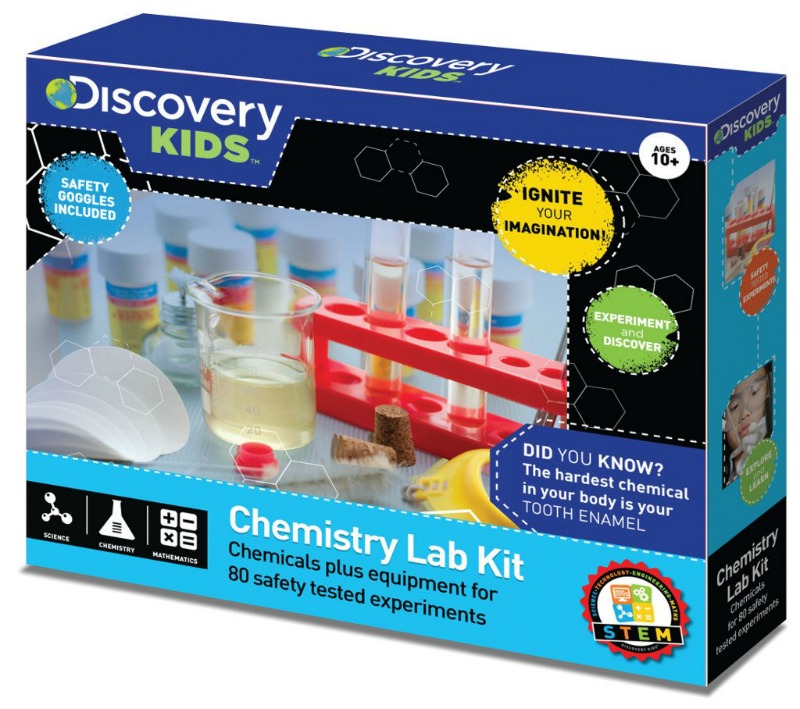 DISCOVERY KIDS CHEMISTRY SET
Explore and discover the wonders of Chemistry and more! This exciting kit includes 80 fun experiments! The Set includes Chemicals, lab kit and safety goggles – all your child will need is their love of science and learning.
---
Click here to view the complete 2018 Christmas Gift Guide