Being a grandparent seems to be one of the best jobs in the world – watching your precious grandchildren grow and celebrating special occasions right by their side. One of the ways you can best express your love on Christmas is through the gift of giving. However, finding a gift for these special family members can be a bit daunting and difficult.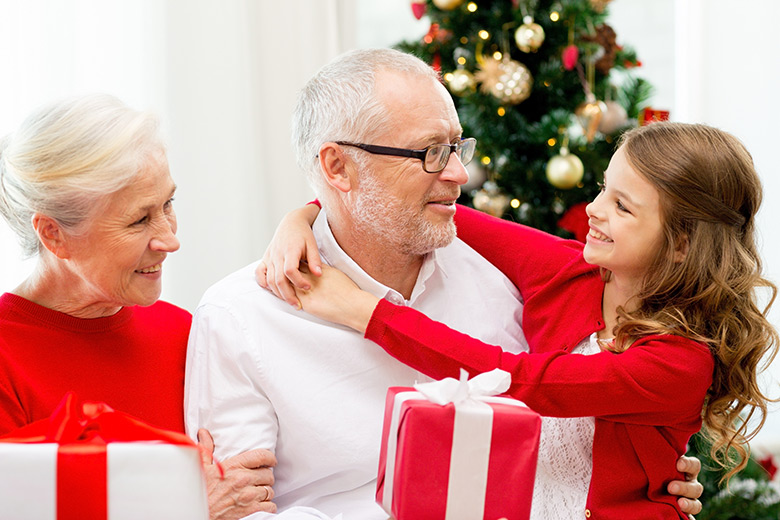 A reader sent me a question asking if I had a suggestion on how to tell Nanna to not buy the kids little nic-nacs, those gifts they will play with for 5 minutes and not look at again.  For nanna to not waste her money, but if she insists on buying a gift for it to be practical.
This is a tender spot, as many pensioners don't have a big budget, I asked the community what they could suggest and this is a list of gift ideas for grandparents to give to grandkids. I'm sure the kids will love these ideas!
Vouchers to the zoo or museum
coupons for day trips: movies, shopping, golf
Money into their bank accounts
Donate gifts together to less fortunate kids
Ask for experiences: feeding the giraffes at the zoo
Recycle gifts: put some away and half way through the year rotate them around
Donate to the childrens hospital
Take the toys the the granparents house for them to play with there
Ask to donate towards extra sporting activities: dance, cheer sports
Buy sports shoes
Bank account for school expenses: excursions, camps, shows
Buy them music or swimming lessons
Start a UNI fund
Out with the old in with the new
Buy educational toys/ books
book sets
clothes
Outing to the circus
toy library membership
Lots of books
A ride on a Harley or race car
Something they want, something they need, something to wear and something to read
Spend time together as a family: baking, going on holidays together making memories
Sewing lessons, concert tickets, theater tickets
Get them a gift voucher to their favourite store
Ice skating
Suggest a wish list
A subscription to Reading Eggs or Maths Eggs
Cooking classes or art classes
Horse riding adventure
Please share in the comments below some of your ideas!
---
Check out my 2016 Christmas Gift Guide for some fun and practical gift ideas


Here are some of my favourite gift ideas from each of the categories:
GIFTS FOR BABY
SECURITY BLANKET
Security blankets are a baby's best friend. They need them to scare away monsters from under the bed and to soothe them when they feel unsettled. You can be sure your little one will sleep with a smile when he has a security blanket like these cute, adorable and safe blankets and plush toys. Various colours available.
---
GIFTS FOR YOUNG GIRLS
BABIATORS SUNGLASSES
Baby and kids sunglassess – 100% UV protection with rockin' style
Babiators are the BEST kids sunglasses available in Australia and New Zealand! Your kids will love the style, colours and comfortable fit of these rockin' sunnies. And you'll love the awesome sun protection, how durable they are and how easy it is to get your kids to wear them. They are tough enough to withstand all kinds of adventures your kids put them through, we guarantee it.
---
GIFTS FOR YOUNG BOYS
EASYREAD TIME TEACHER
This good looking 33mm diameter watch will help your child master telling-the-time using the unique EasyRead 3-Step Teaching System. The large clear dial shows every detail your child needs and the hands them which numbers to read. It's as simple as 1-2- 3.
AVAILABLE ONLINE HERE
---
GIFTS FOR TEENS
THINK POSITIVELY WALL DECAL
100% removable, this wall sticker is super easy to apply, it is as simple as peel & stick. Perfect for nursery, bedroom and great decoration for any walls!
Easy installation with step-by-step instructions are included in every package.
AVAILABLE ONLINE HERE
---
GIFTS FOR HER
THE ORGANISED HOUSEWIFE 2017 CALENDAR
My 2017 Calendar is the perfect way to stay organised, inspired and motivated. This calendar is inspiring and vibrant, because being organised shouldn't be boring! Filled with bright and colourful designs to inspire and motivate you. I want you to look at the calendar and feel encouraged to achieve new things! Each month has a unique feel and features fun and quirky graphics
---
GIFTS FOR HIM
JUMBO WOVII TOWELS
Wovii® towels are lightweight and uniquely designed to absorb 4 times their own weight in water so you'll get the coverage you want and still be able to zip up your bag.
There's no annoying fluff, they dry quickly and they're luxuriously soft.  JUMBO wovii® towels are as big as a bath sheet and have been designed to give you plenty of coverage and room to move. Use the code ' ORGHW2016' at checkout for 10% OFF
AVAILABLE ONLINE HERE
---