Bath blocks
Bathblocks let your child's imaginations explode all whilst bathing. Every piece can float on the water and when wet, the blocks get sticky and building becomes easy. A handy play base is included to build upon or you can stick the blocks to the tiled wall.


Mailboxes for Kids
This beautifully crafted Mailbox is a brilliant way to engage your child to write, be creative and to have fun. There are a million things your child can do with the mailbox for kids, so start with encouraging your child to write letters to grandparents, cousins, friends, Santa, the Tooth fairy, Easter bunny, or whoever their heart desires.


Easy Squeeze Bottle Brushes
Kids love to paint and with these Easy Squeeze Bottle Brushes, painting is super easy and virtually mess-free with our innovative plastic bottle brushes!The shape of the bottles is perfect for littlehands to grip and works on fine motor skill development, colours recognition and creative play. Simply fill with paint, give a little squeeze and start painting!


Dollhouses
Kids doll houses from Le Toy Van are stunning and gorgeous with their delightfully detailed exteriors and pretty as a picture interiors. The lovely lilac and vintage rose colours of Bella's House are bound to delight your little ones.


Melody Mix
This gorgeous and fun musical activity centre is the perfect item to introduce babies into the wonderful world of music. It is made from sustainable wood and is finished with non-toxic paints that are completely child safe.

Fairy or Elf Door
Handmade wooden fairy doors will delight both your kids and you with their playfully appeal. Doors come with its own golden key and a personal note, will be perfect for welcoming the little people into your home.
Available in a range of colours


Tape and Race Car Kit
If you have a little one that loves cars then this product is a must have. This amazing Tape and Race Car Kit lets your kids set up a track wherever they are. All you will need is a floor to stick it on, peel of the tape and the kids will be off to the races. Great for at home, on holidays in a hotel or at grandma's house.


Kinetic Sand
Kinetic Sand is 98% Sand and 2% Magic! Kinetic Sand flows and shapes just like wet sand, but will leave all surfaces dry and mess-free making it a wonderful inside activity for kids. When kids mould Kinetic Sand, it will keep it's shape and allows for rolling, sculpting and molding, but when finished goes back to it's orginial state; sand. This is a must have Christmas idea that will allow for your kids to work on fine motor skill and sensory play.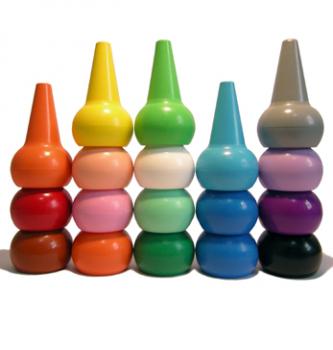 Baby Crayons
These fantastic stackable baby crayons are a wonderful introduction to babies which are not only great for colouring, but also a good tool to develop fine motor skills, colour recognition and imaginary play. In addition, these baby crayons are hard to break, which means they reduce the risk of being a choking hazard for your little ones.


The Little Grocery Store
The Little Grocery Store is designed to look just like an old-fashioned general store, complete with awning flags, chalkboard sign and a variety of groceries, fruits and vegetables. It's perfect for encouraging imaginative play and role playing in pre-school aged children.


Wooden Toy Camera
Our Wooden Cameras come equipped with moveable parts, a turnable mode dial and lens, and also a small view finder. The Camera is sanded smooth and left unsealed for a raw and authentic feel. Many colours available.


Waterfall Mountain Train Set and Table
Our Waterfall Mountain Train Table and Set is full of colorful detail and would make a great gift for any occasion. Young conductors will love moving their trains across the long, winding track and under the tall waterfall.


Sonny Angel-Minifigure Collectible Dolls-Animals
Adorably cute, sweet and fun to collect, Sonny Angel minifigure dolls are a rage all over!! With their unique and fun headgear, the Sonny Angel dolls will make life brighter for everyone!


Sophie the Giraffe – Wooden Toy – Stacking Pyramid
Wooden baby toys get cuter when they feature the adorable Sophie the Giraffe. This lovely stacking pyramid is bright, cheery and just right for little ones who're ready to explore the world of colours and movement.


Brikbag – variety of designs
No more tripping over building bricks. Your feet will be forever thankful. This large 140cm diameter bag is perfect for LEGO®, DUPLO®, wooden blocks and more. With one swoop you can pull the bag's green drawstring and pick everything up to store for later play. Packed in an attractive gift box.


Balloon Balls
Do your kids like to play with balloons, but pop them in an instant? Have you ever worried that your child would put a balloon in his mouth and choke? Would you like your child to be able to play with a "ball" in the house without breaking things?


Police Tandem Trike
This trike is great for twins, infant and toddler or friends. Large 30cm chrome wheels with direct drive front wheels make it easy to pedal. All steel construction for added strength and EVA tyres make for quiet road noise.