Clever and creative ways to hide Christmas and birthday gifts from your kids (or partner!), so that their present is a surprises on the big day!
If you have started your Christmas gift shopping you may need to think of some clever and creative ideas to hide the Christmas gifts so the kids don't find them. I do this purely because, I confess, I was one of those kids that went looking for my Christmas gifts. I even went as far as unwrapping some to see what was inside (yes I know naughty me). Hopefully, this list of quite a few Popular Spots to Hide Christmas & Birthday Gifts will help you keep those pressies out of sight from the kids.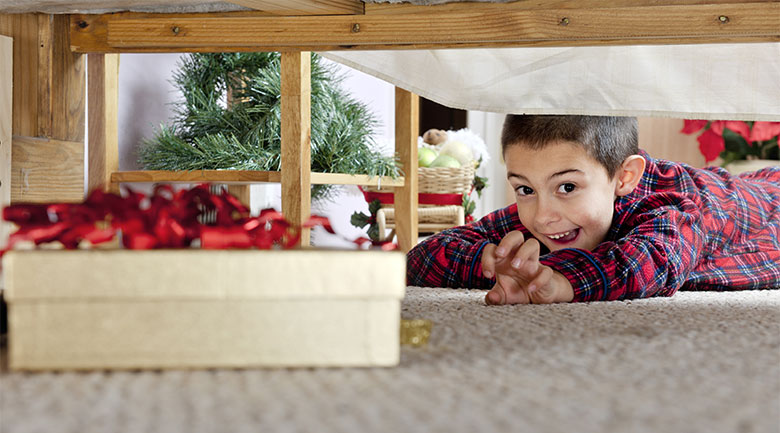 Over the years I have given large gifts (like bikes) to family members to hide, wrapped trampolines in old blankets, put hubby's present in my winter PJ drawer, and hidden gifts at the bottom of the ironing pile.
Where To Hide Your Presents?
Remember to keep your gifts in mind where hiding them, for example you don't want to hide chocolates in the garage or shed as they may melt. Here are some popular spots to hide Christmas and birthday presents:
Mislabeled Box – put a box at the top of a cupboard labelled, 'Grandma's ornaments', 'old magazines', or 'baby clothes'. The kids will never think to look inside!
Garage – hide presents in a black rubbish bag.
Laundry – at the bottom of the ironing pile (I know nobody in my family ever ventures there!).
Shed – put items in a plastic storage tub in the garden shed. The tub will also help to keep moisture or pests from getting into the gifts.
Friend/Family's Home – got little ones that like to go looking for their gifts? Then hide them at your parent's, sister's, or friend's home. This is particularly helpful for large items like bikes.
Locked Filing Cabinet – keep smaller items locked away safely.
Car Boot – if the kids can't access the boot of the car, this is a great place to store presents.
Shoe Box – hide your partner's gift in a shoe box (if it fits).
Suitcase – lock your gifts away in a suitcase so they can't see inside.
Your Underwear Drawer – hopefully your kids aren't searching through your delicates drawer.
In The Washing Machine – this is a great temporary hiding spot while the machine isn't in use.
Right Under Their Nose – hide gifts in the top of their own wardrobes in a box labelled 'hand me down clothes' – surely they wouldn't look there!
In A Bag Of Spinach – I buy my kids a chocolate bar each for their Christmas stocking. I hide the chocolate in a bag of spinach so they don't find it in the fridge.
Need Help Finding The Perfect Present?
If you're not sure what to get the special people in your life I have you covered with a HUGE range of gorgeous, unique, and thoughtful Christmas present ideas in The Organised HQ 2020 Christmas Gift Guide. There is something in the gift guide for everyone, and each product has been personally approved by me (so it is awesome!).

Don't Forget Where You Hid Them!
Don't be so clever with your hiding spot that you forget where you put your presents! I have created a page in the Christmas Planner for you to write down where you have hidden the gifts – just remember to keep your planner out of sight of the kids.
TIP: In the past I have shopped the mid year toy sales to get Christmas present for my kids, as well as birthday presents for all their friends to see us through the rest of the year. I use this page in my Christmas Planner so that I can remember what I have hidden away, and more importantly, where it's hidden!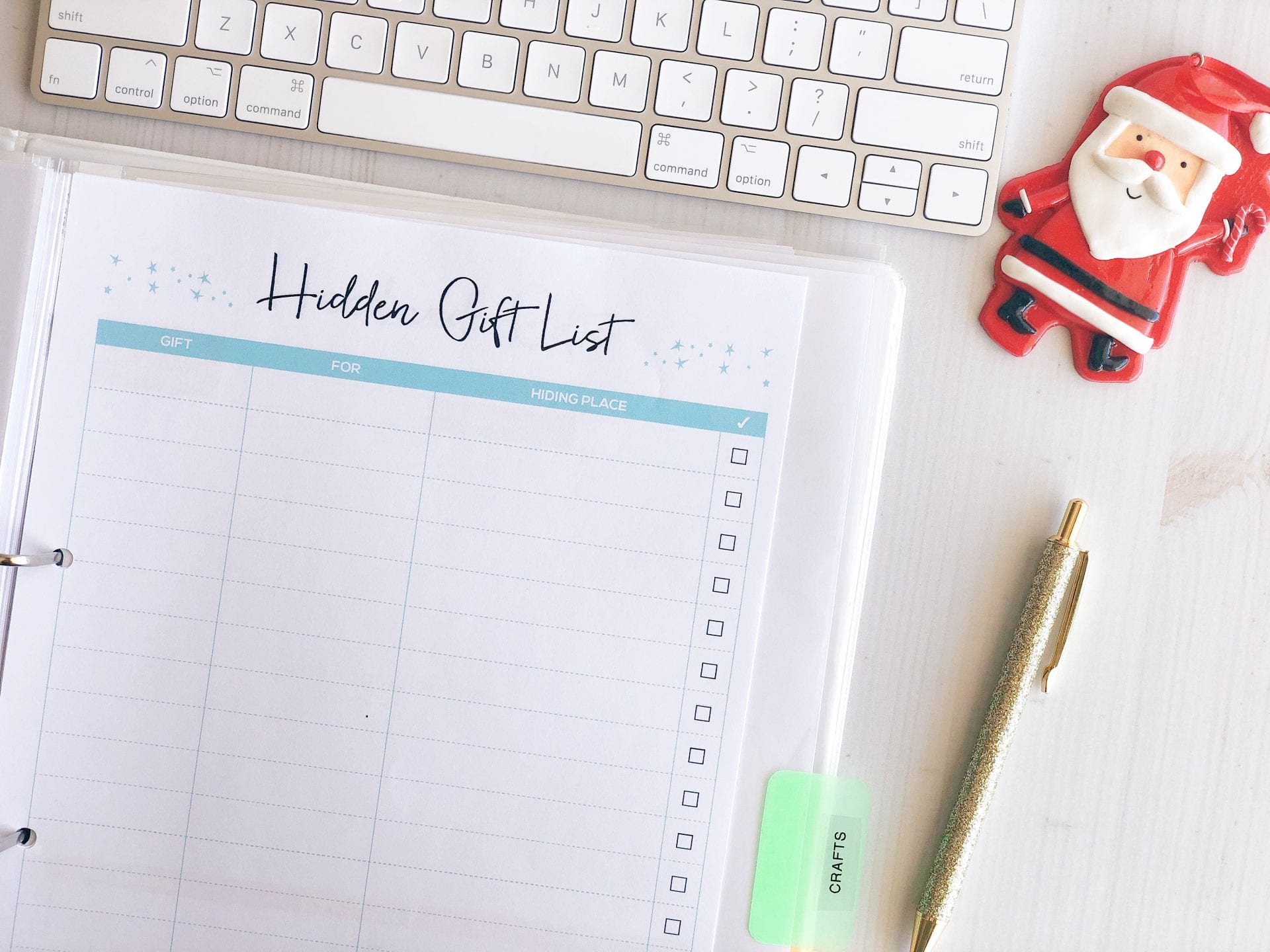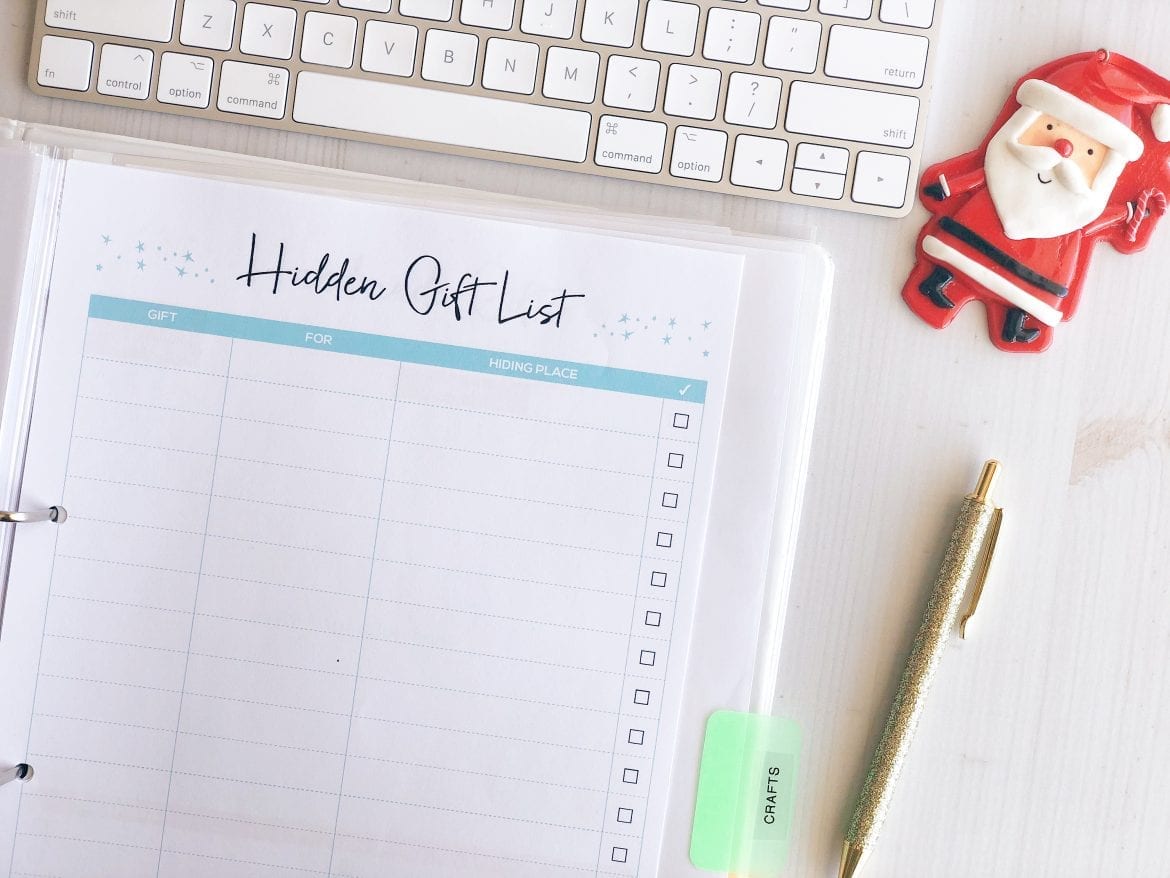 More Clever Spots for Hiding Christmas and Birthday Gifts
Some lovely members of The Organised Housewife Community shared some of their hiding spots:
I used to leave them on lay-by as long as I could. This year it will the top of my wardrobe (I have floor to ceiling built ins at the moment, they couldn't even reach if they were standing on a chair) –
Packing boxes taped up in the garage… lol they have no idea! Right now my son's birthday presents are hiding there for next weekend hahaha
In my wardrobe. Top shelf
In the suitcases on the top shelf of our walk in wardrobe.
Wardrobe top shelf until I get around to packing then under tree. They then spend 2 weeks trying to figure out who gets what.
The kids presents go in suitcases in our bedroom or the cleaning cupboard. No one ever looks in the cleaning cupboard.
Top of the wardrobe. In big baskets or the coloured containers with lids. I've heard of some parents labelling them, 'bras, undies etc' to deter older kids from searching
In some large Kikki-K post boxes in the garage
---
THE ORGANISED HOUSEWIFE CHRISTMAS PLANNER
Tackle Christmas like a boss – and a very calm stress-free boss at that – by keeping track of your gift giving, budgeting, meal prep, Christmas events, and SO MUCH MORE with my epic Christmas Planner.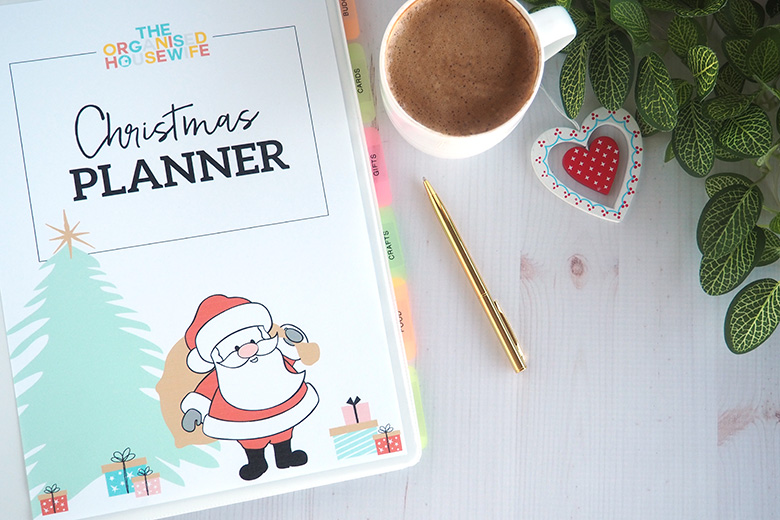 Where do you hide your kids Christmas presents?
---
Pin this image below to Pinterest!