It's often a tradition in most households to start an Advent calendar on the 1st December.  A special calendar used to count down the days with anticipation to Christmas. Some Advent calendars hold chocolates, sweets, a small gift, a poem, or a kind gesture.
Below you'll find 100+ ideas of how to fill your calendars with something other than the usual piece of chocolate that you get from the supermarket Advent calendars (Even though there is nothing wrong with that).
If you need some ideas on how you can create your very own Advent calendar, you'll find my 15+ Christmas Advent Calendar Ideas here.
This is a sweet idea, painting stockings and adding your personalised message to the top.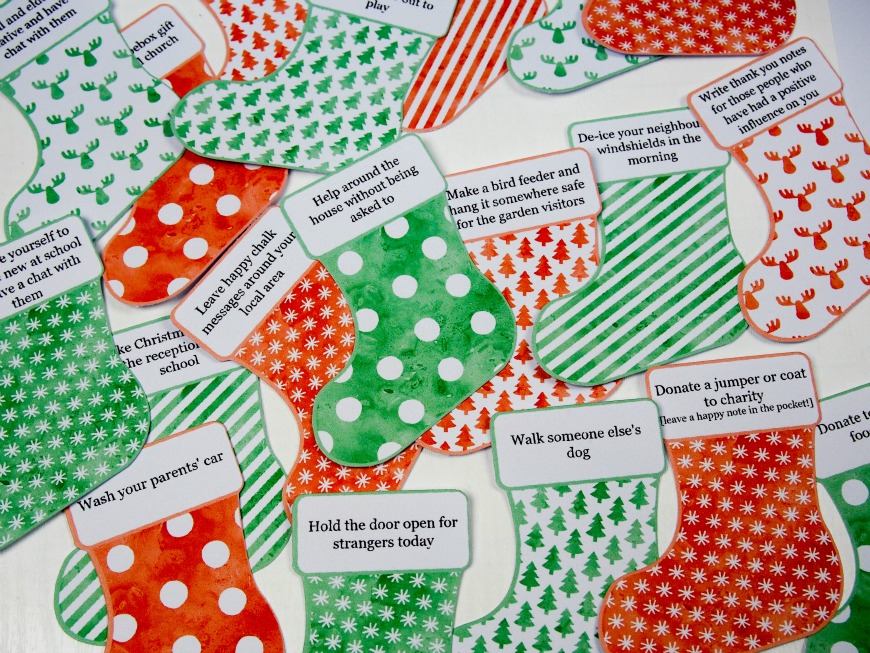 Image found at muminthemadhouse
Donate a coat or jumper to charity (leaving a happy note in the pocket)
Decorate cookies
Read a christmas story
Watch a Christmas movie
Drive around and look at Christmas lights
Make some Christmas craft
Play games by the tree
Send Christmas cards
Make an ornament
Make a gingerbread house
Have breakfast for dinner
Wrap a gift for dad
Colour a Christmas Picture
Bake cookies for a friend
Build a blanket fort
Give to others
Write a letter to Santa
Play festive Christmas songs and dance
Go to watch some Christmas Carols
Make reindeer food
Take some homemade cookies to a neighbour
Donate toys to your favourite charity
Tell a silly joke to make someone laugh
Donate food to your local food pantry
Let someone go ahead of you in a line
Make a coupon for a hug to give to someone you love
Give candy canes out to your friends
Call a faraway friend or relative to say Hello
Give a random act of kindness
Pay it forward at your local coffee shop
Take supplies to your local animal shelter
Do a chore for someone in your family
Give a compliment to a friend or family member
Thank your local postman
Pick some flowers and give them to someone you love
Pick some flowers and leave them at your neighbours doorstep anonymously
Leave a post-it-note on a mirror that says 'You are Beautiful'
Volunteer your time or make a donation to those less fortunate
Take your kids to a charity centre where they can help the less fortunate
Let 5 people you know how thankful you are that they are in life
Have some Me-time doing what you love
Collect and decorate pinecones for the christmas table
Take a walk with your family looking at Christmas lights in your local community
Make up a Christmas board game
Learn a new carol
Write your Christmas cards and deliver local ones
Make up a Christmas story
Have a picnic under the light from the christmas tree
Hang a Christmas wreath on your door
Make Thick Hot Chocolate with marshmallows
Make a family traditional dessert
Sing Christmas carols
Write a Christmas poem
Choose three of your toys and give them away to a charity shop.
Write a Christmas wish and hang it on the tree
Hang up your Christmas stocking
Help wrap presents
Research christmas jokes
Make some crackers
Get a photo with Santa at your local shopping centre
Visit an elderly neighbour and take them a Christmas gift
Donate to the local food bank
Make christmas cards for your neighbours
Leave change in the vending machine
Sort through your toys and donate any that you no longer play with to charity or your local church
Leave chalk messages around where you live
Sharpen all the pencils in the classroom at breaktime
Write a letter to your sibling telling them why you love them
Leave a beautiful homemade bookmark in your library book and give one to the Librarian
Leave the pound in the shopping trolley next time you go to the supermarket
Tidy your bedroom
Write a note and mail them to the houses with great christmas lights saying thank you for lighting up their house for you to see
Sit next to someone you normally don't at the lunch table and be nice to them
Be a holiday helper – volunteer to deliver local christmas cards
Make a bird feeder
Send a care package to someone in the military
Find three of your toys to give to the local childrens hospital
Pass on some of your books to friends
Give a lottery ticket to a stranger
Donate books to your school library
Leave out water for the birds
Write thank you cards for your teacher, coach, Cubs leader or people that have influenced you in a positive way
Clean up the area where you live by picking up litter.  Make sure you wear gloves and do it with an adult.
Help round the house without being asked to
Donate pet food to a local shelter
Put together a shoebox for your local church
Write a thank you note for the bin collectors and post person
Wash your parents car
Give a homeless person a blanket
Deice your neighbours windshields in the morning
Take everyone in your class a candy cane or cookie
Take poinsettias to your nearest nursing home
Make a christmas card for the school receptionist
Offer to help an elderly friend or neighbour with their christmas decorations
Make christmas flowers for the reception at school
Make a thank you card for the school crossing staff
Cook dinner for your family
Offer to pack the shopping bags of the person in front of you and behind you at the supermarket
Invite a new friend for a play date or out to play
Walk someone elses dog
Give out a complement
Give out free hugs today
Hold the door open for people all day
Smile all day
Let someone go in front of you in a queue
Introduce yourself to someone new at school and chat with them
Ring an elderly relative and have a nice chat to them
Make a tree decoration for your baby sitter
What is your families favourite Advent Calendar activity?